Strasburg focused on helping Nationals win in 2016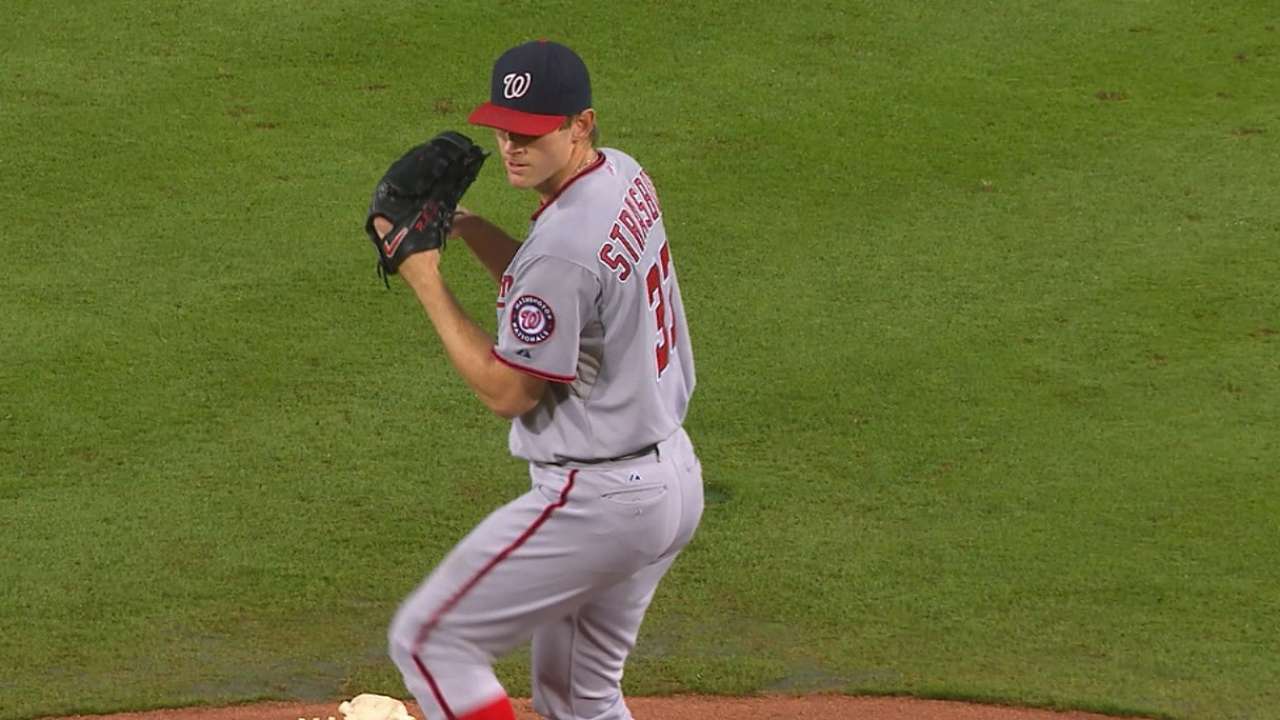 WASHINGTON -- Before long, Stephen Strasburg will begin what could be his final season with the Nationals, as the right-hander is due to reach free agency at the end of 2016.
But as he looks to reestablish himself following an injury-plagued campaign, Strasburg is trying not to look too far into the future.
"I found with pitching that I pitch better if I don't stress out as much, if I just focus on the now," he said on Saturday at the Nationals' Winterfest event.
"This team, we have the potential to win and do a lot of good things, so I'm just going to focus on that, and winning cures a lot of things. So i'm just going to do everything in my power to get better and help this team win some games. When the time comes to make decisions, it'll happen."
The biggest question surrounding the 27-year-old has to do with health. He tweaked his left ankle during Spring Training, which didn't cost him any games but led to altered mechanics. That, in turn, might have contributed to later injuries -- a left trapezius strain, a strained left oblique and upper back tightness -- that put him on the disabled list twice and limited him to 23 starts.
There also was another issue with which Strasburg had to contend. His agent, Scott Boras, revealed last month that Strasburg had undergone a "minor procedure" to remove a benign growth from his back after the season. Strasburg confirmed on Saturday that he had a lipoma, which the Mayo Clinic describes a typically harmless "slow-growing fatty lump" between the skin and muscle. The procedure to remove it took about 15 minutes, Strasburg said, and doctors told him there is almost no chance it will return.
Strasburg didn't want to use the condition as an excuse for his pitching, but acknowledged it could have played a role.
"It was more affecting just the mechanics of how the muscles were working around it," he said. "Everything feels great now. Been working out for a while now. So I'm just excited to get back to throwing and get ready for Spring Training."
Strasburg has been working out with teammate Joe Ross in San Diego, looking to carry forward the success he experienced in the latter part of this past season. After posting a 6.55 ERA over his first 10 starts, he went 8-2 with a 1.76 ERA in 13 starts following his first DL trip, striking out 110 batters in 82 innings.
"My arm felt good, strong all year, and everything's still feeling good," Strasburg said. "So I'm really not going to change anything besides just maybe not doing some exercises in the gym that might cause a severe ankle sprain."
Andrew Simon is a reporter for MLB.com. Follow him on Twitter @AndrewSimonMLB. This story was not subject to the approval of Major League Baseball or its clubs.