Fernandez paying attention to business side
Star right-hander says trade rumors don't bother him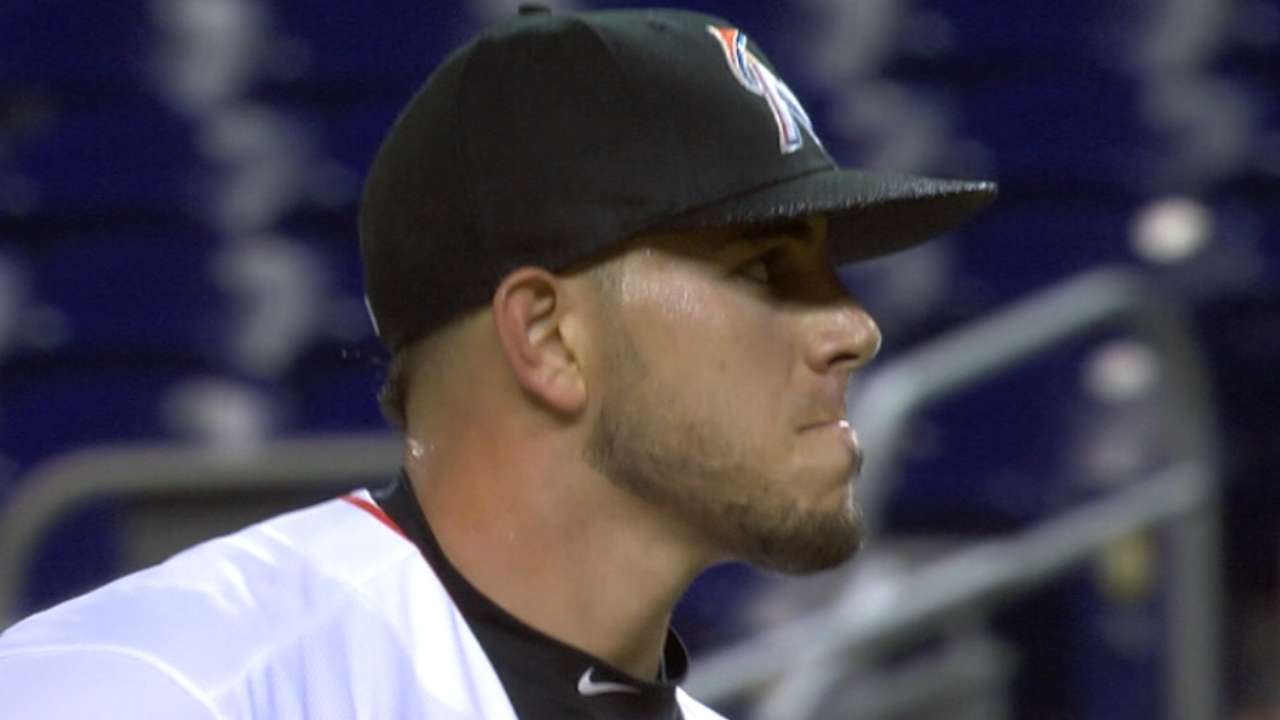 MIAMI -- Maybe the business side of baseball is getting to Marlins star Jose Fernandez.
The fun-loving, highly quotable version of Fernandez, who broke into the Majors at age 20 and won the National League Rookie of the Year award, has been replaced -- at least publicly -- by a 23-year-old veteran pitcher who measures his words carefully.
After news broke over the past several days that the Marlins were engaged in trade talks for Fernandez, the pitching star made an appearance on Saturday at a baseball camp for kids.
Did the rumors bother him?
"Not at all," he said as he held court at the AARP Jose Fernandez Parent & Child Baseball Pro Camp at Miami's Hank Kline Boys & Girls Club. "I didn't pay attention to it. I've got to get ready to pitch. That's the only thing I can control."
Fernandez did seem bothered, however, that the Marlins have done little to improve the team so far this offseason.
Within their own division, the Marlins will have to contend with the Mets, who won the National League pennant this year and just added Neil Walker at second base and Asdrubal Cabrera at shortstop to upgrade an already strong roster.
Miami must also compete with the Nationals, who underachieved last season but still have tremendous talent, starting with reigning NL Most Valuable Player Bryce Harper.
Outside the division, Fernandez has surely noted that other NL teams have made major splashes this offseason, including the Cubs, D-backs and Giants.
Does Fernandez believe the Marlins can compete?
"I can't comment on that," Fernandez said.
Fernandez, whose agent is Scott Boras, was then asked if he wanted to stay in Miami.
"I've got no comment on that," said Fernandez, who is set to become a free agent in 2019 and has reportedly rejected offers from the Marlins to sign a long-term extension. "I'm not allowed to comment on it."
Boras' clients have a lengthy track record of preferring to let their contracts expire so that they can become free agents and entertain offers from any team that has an interest.
The Marlins, who had the third-lowest payroll in the Majors in 2015 at $62.3 million as per Spotrac, have said they are not shopping Fernandez. But given the likelihood that they will lose him in a couple of years, they at least are listening to offers.
Contract talks aside, Fernandez was a bit more verbose on the Marlins hiring Don Mattingly as manager and Barry Bonds as the hitting coach.
"It's incredible," Fernandez said of the Bonds hire. "It's an honor. I want to ask him how to get batters out. I think it will be a beautiful experience for the team."
As for Mattingly, Fernandez said he has spoken to the new boss a few times over the phone and is excited to meet him in person.
"I like it," Fernandez said. "I think [Mattingly] is going to be great for us."
Fernandez missed most of the 2014 season after having Tommy John surgery, but he came back on July 2 and finished 6-1 with a 2.92 ERA.
In three seasons in the Majors, he has pitched 171 2/3 innings in 2013, 51 2/3 innings ('14) and 64 2/3 innings ('15).
How much Fernandez will pitch in 2016 is in question, especially given that this will be his first full season after surgery.
In addition, there was a significant controversy last season regarding another Boras client, Matt Harvey of the Mets, as to how many innings he should throw as he came back from the same injury.
"I would lie to you if I would tell you something exactly, and I don't want to do that," Fernandez said when asked about any possible innings limits. "I'm pretty sure I'm going to go every five days. [But] I've still got to talk to the doctor."
Walter Villa is a contributor to MLB.com. This story was not subject to the approval of Major League Baseball or its clubs.