Giles to Astros official; Appel, 4 others to Phils
Former No. 1 Draft pick among package sent to Philadelphia for closer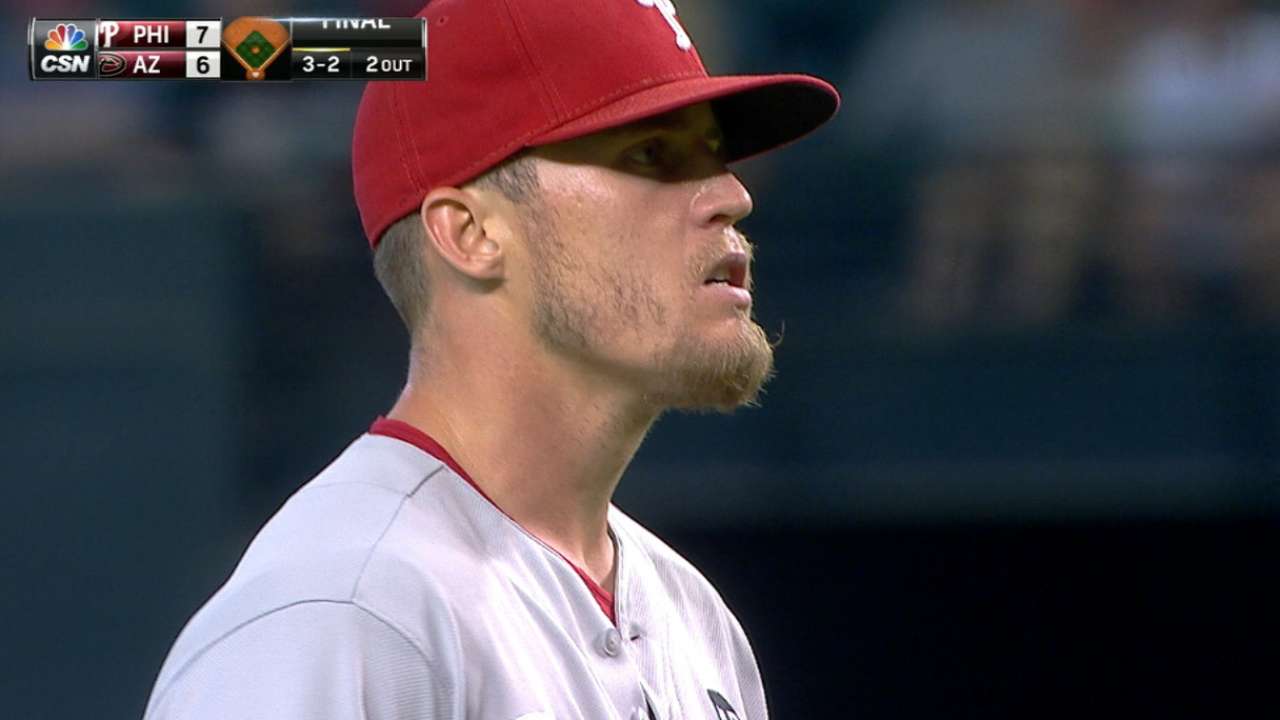 Appel is the second former No. 1 pick to be dealt in the past week, after infielder Dansby Swanson was traded from the D-backs to the Braves. The most recent No. 1 overall pick that still plays in the system of the team that drafted him is Houston's Carlos Correa.
The package headed to Philadelphia is different than the original one, which the Phillies and Astros agreed to Wednesday at the Winter Meetings in Nashville, Tenn. Concerns about the physical of one of the players heading to the Phillies caused the deal to be augmented. Astros Minor League outfielder Derek Fisher had been part of the original four-player return, but he stays with Houston while Appel, Jonathan Arauz and Harold Arauz were added.
• Giles the ideal acquisition for Astros
"It's a high price to pay, but we do feel like in order to take the next step next year and get back and win the division and go further in the playoffs, we needed to continue to improve the bullpen," general manager Jeff Luhnow said. "We made big strides last year ... but another big arm in the bullpen was an important part of the equation.
"In order to get a guy like Giles, who is early in his career and already established, he can be dominant, you have to pay a price. We expected that going into the discussion, and the reason it took so long is we were going back and forth on exactly how high of a price we were willing to pay. We found a spot that made sense for both clubs, and that's where the deal got done."
Giles is likely to become the Astros' closer, a role he held for the Phillies last season. He had a 1.80 ERA and 15 saves in 17 opportunities as the Phillies' closer. Luke Gregerson did a solid job at closer last season for the Astros, but it's likely Giles' job now.
"I'm excited, for one," Giles said. "I watched Houston this past season and saw what those guys did and everything like that and they went to the playoffs and all that. It's just amazing. Being a part of that is a great opportunity, and I'm really excited to come and take it to the next level."
In his 20 combined appearances in August and September, he posted a 1.21 ERA with 27 strikeouts in 22 1/3 innings pitched with a .159 opponents' batting average. Giles finished the season ranked third among National League relievers in ERA and tied for fourth in strikeouts.
"This guy has all the characteristics you look for in your closer," Astros manager A.J. Hinch said. "I haven't met him yet, haven't shaken his hand and I've got to get a feel for him. We certainly acquired him to pitch at the back end. I certainly understand the value of a closer.
"Luke did a great job for us last year. I've got a veteran I really appreciate and respect and I want it to be handled the right way, and a new weapon that throws 100 and comes with some success early in his career. I'm excited about having as many good arms as possible in the 'pen."
Jonathan Arauz, only 17, was ranked as the Phillies fifth-best infield prospect by MLB.com. Arauz was the youngest player in the Gulf Coast League in 2015 in what was his first professional season, committing just three errors in 44 combined games at shortstop and second base. He hit .254 for the season with 10 doubles, two triples, two home runs and 18 RBIs.
Appel, 24, was expected to be a key part of the Astros' rotation for years to come after they took him No. 1, but he didn't live up to expectations throughout the Minor Leagues despite having great stuff. In 54 career Minor League appearances, he is 16-11 with a 5.12 ERA.
"It's every kid's dream to be drafted by your hometown team," said Appel, who grew up mostly in Houston. "Some of the -- not really bitterness -- but some of the sadness is knowing that my Major League debut most likely won't be in Houston in front of my friends and family in my hometown. Definitely, my friends and family will still be there when that time comes, but it will be in a different city."
Fantasy spin | Fred Zinkie (@FredZinkieMLB)
With stellar lifetime marks -- a 1.56 ERA, a 1.04 WHIP and an 11.7 K/9 rate across 115 2/3 innings -- Giles has needed less than two full seasons to establish himself as one of baseball's most dominant relievers. The right-hander maintains solid control over his devastating fastball-slider arsenal, and he has been virtually immune to round-trippers despite making roughly half of his appearances at Citizens Bank Park. Now on a rapidly ascending Astros squad, the 25-year-old should be a top-tier fantasy closer for 2016. Giles' arrival in Houston should end the mixed-league usefulness for Gregerson, who is expected to slide back into the setup role that he has worked for much of his seven-year career.
The Phillies do not have a ready-made replacement for Giles. If Philadelphia does not add a more qualified reliever, a combination of David Hernandez, Luis Garcia and Jeanmar Gomez could handle the ninth inning. Because the Phillies are unlikely to generate a multitude of save chances in '16, they may not produce a mixed-league-worthy reliever.
Brian McTaggart is a reporter for MLB.com and writes an MLBlog, Tag's Lines. Follow @brianmctaggart on Twitter and listen to his podcast. This story was not subject to the approval of Major League Baseball or its clubs.