MLB.com Columnist
Bernie Pleskoff
Scouting profile: Pierce Johnson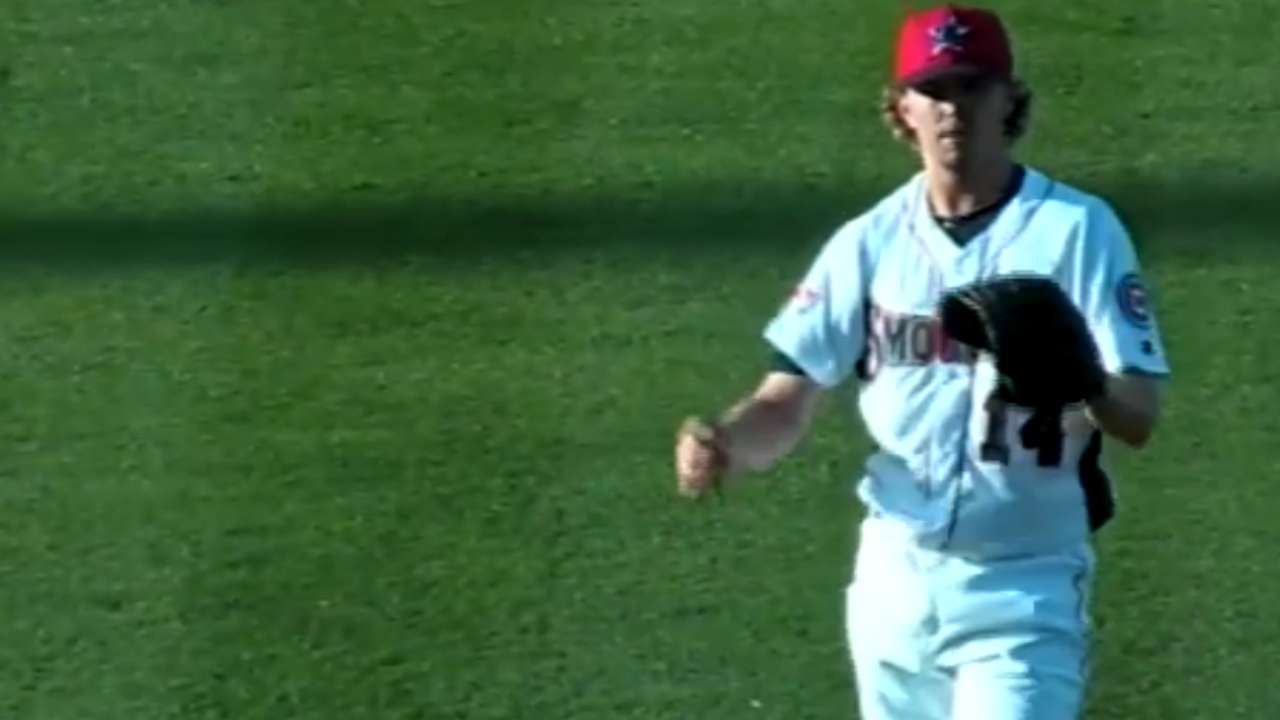 Background
Right-hander Pierce Johnson was a starter for three years at Faith Christian Academy in Arvada, Colo. His 1.98 ERA and 45 strikeouts in 25 innings as a senior helped lead to the Tampa Bay Rays selecting him in the 15th round of the 2009 Draft.
Rather than signing with the Rays, Johnson decided to pitch for the Missouri State Bears. He also pitched in the Cape Cod League before the Cubs made Johnson a supplemental first-round pick in the 2012 Draft. He is ranked No. 7 on the Cubs Top 30 Prospects list.
By his own admission, Johnson was a "thrower" in high school, as opposed to being a pitcher. He learned to use all four quadrants of the plate and change speeds during college.
I scouted the 6-foot-3, 200-pound Johnson in the recently completed Arizona Fall League. His autumn in the desert came after he completed his second stint at Double-A Tennessee. He finished 2014 at Tennessee with a 2.55 ERA. He improved upon that this year with a sparkling 2.08 ERA in 16 starts pitching for the same club in the Southern League. In 2015, he had a 1.14 WHIP in 95 innings pitched at Double-A and, most impressively, yielded only 76 hits.
Repertoire
When I scouted Johnson in Arizona he threw a very complete repertoire including a 90-93-mph fastball with late inside run, an 82-83-mph curveball, an 88-mph cutter, an 84-mph changeup and an occasional 83-mph slider.
Hitters have a difficult time making solid contact against Johnson's fastball. The pitch becomes even more effective when his sequencing includes his outstanding curveball, his best secondary pitch.
Mechanics
Johnson uses a traditional windup, bringing his hands over his head with a three-quarters arm slot delivery. He does fall off a bit toward first base when he lands rather stiffly.
The primary issue I noticed in his Fall League appearances was inconsistency in Johnson's release point. When his fastball doesn't move and when his breaking balls hang up in the zone, he gets hit hard. In addition, Johnson's inconsistent release point leads to a lack of control and a high number of walks. In Arizona, he struck out 21, but walked 13 in seven starts covering 24 2/3 innings.
Strengths
Johnson can be a very good starting pitcher when he concentrates on his mechanics from pitch to pitch. He has to have confidence in his ability to throw strikes, gain rhythm quickly and retain his rhythm from inning to inning.
Johnson has a deep and effective repertoire that serves him best when he uses all his pitches and doesn't just throw his fastball. His curveball is really an old fashioned "yellow hammer" with crisp movement and a 10-mph difference from his average fastball.
Weaknesses
Johnson has to throw more strikes. He has to get ahead in counts and put the hitter away in an economical manner. Once Johnson is out of sync he has difficulty finding the groove. When that happens his vast arsenal becomes less effective and he wastes his greatest strength. Johnson has to avoid reverting back to his high school days when he was a thrower as opposed to a pitcher.
I find this interesting
Johnson has had a few injuries in his brief career, including forearm strains and a dislocated knee, but a strained lat muscle caused him to miss about two months this past season. He made up those innings in the Fall League. To be effective, he has to stay healthy.
The future for Johnson
Johnson's career can ultimately take a couple of paths. He can gain confidence by repeating his delivery and improving his command. If that happens, Johnson can become a mid-rotation starter. If he is inconsistent but can keep his team in the game for five innings, he will be best used at the back end of the rotation.
Johnson's fastball/curveball combination can miss bats and induce strikeouts. But his inconsistent command and control can quickly derail his rhythm.
Johnson in a word
Erratic
Bernie Pleskoff has served as a professional scout for the Houston Astros and Seattle Mariners. Follow @BerniePleskoff on Twitter. This story was not subject to the approval of Major League Baseball or its clubs.