MLB.com Columnist
Bernie Pleskoff
Scouting profile: Bradley Zimmer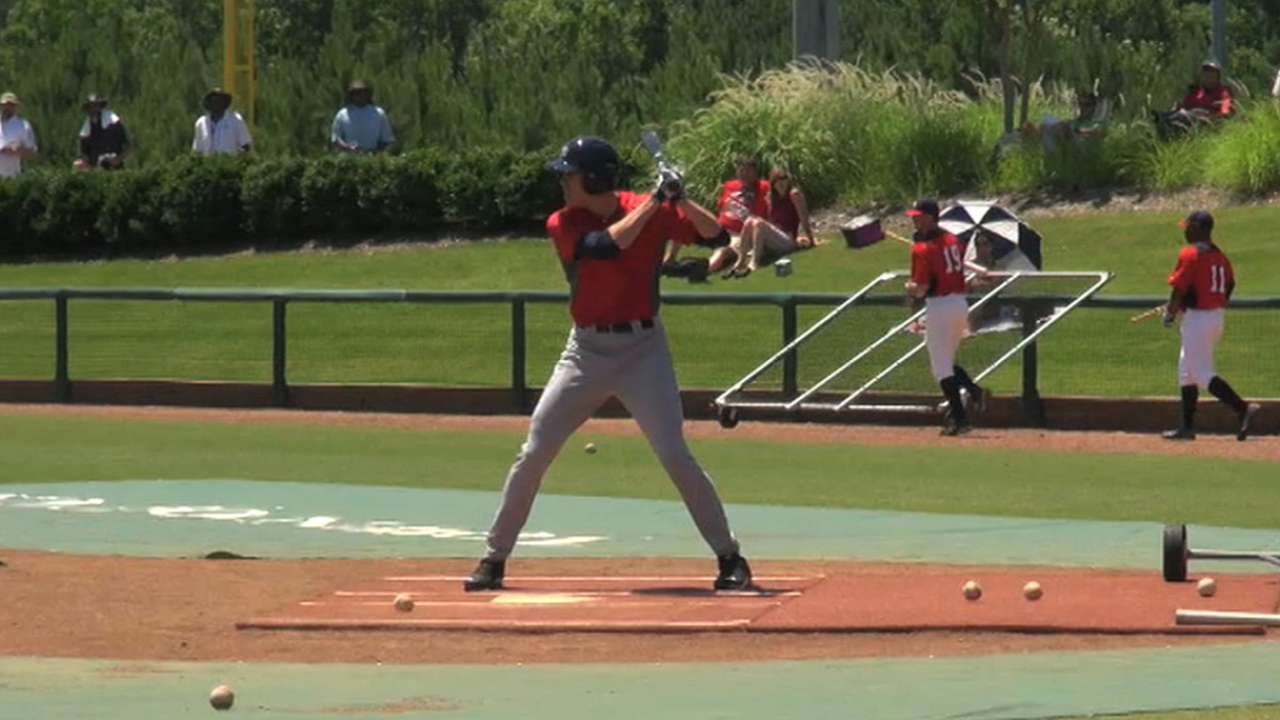 Background
Some baseball fans may remember Von Hayes, the former Indians, Phillies and Angels outfielder who played for 12 years in the 1980s and '90s. He was a solid line-drive hitter. The Indians' Bradley Zimmer reminds me of Hayes. Both are tall and slender left-handed-hitting, right-handed-throwing outfielders with good bat speed and barrel-of-the-bat type production.
Zimmer went to La Jolla (Calif.) High School where he was named to the All-County team twice and led his team with a .446 batting average. The Chicago Cubs selected Zimmer in the 23rd round of the 2012 Draft, but he did not sign with the team.
A good student-athlete, Zimmer went on to play baseball for the University of San Francisco Dons. Zimmer hit .368 with seven homers and 31 RBIs in the 2014 season and was named to an All-America team for his outstanding play. The Indians selected him in the first round of that year's Draft.
Hitting
I watched Zimmer this past season when he played for Lynchburg of the Class A Advanced Carolina League. I was hoping to see him again in the Arizona Fall League, but a hairline fracture of his right foot kept him out of Fall League action. He incurred the injury fouling a ball off his foot.
Zimmer is ranked No. 1 on the Indians Top 30 Prospects list for his outstanding approach at the plate and multiple tools.
His easy, simple swing and quick hands through the ball allow Zimmer to take pitches where they are thrown. Using the entire field, he targets the middle of the diamond in a classic manner.
Zimmer has excellent plate discipline and very quick pitch recognition.
While his swing lacks some loft, he gets enough strength and bat speed from his athletic frame to power doubles to the gaps.
Defense
Zimmer has the quickness, the instincts and the range to play all three outfield positions. He can play center but has to continue to smooth out some of the kinks in his outfield play. Overall, I think he projects best as a fast, athletic, and capable right fielder and may be more comfortable in the corner.
His good speed allows him to close on balls well.
Strengths
Zimmer is a good hitter with strong wrists and quick reactions. His game is tailored for him to get on base, perhaps steal a base and score. He can drive in runs with timely hits.
I would call Zimmer a solid four-tool player with the hope that power will improve with more physical development.
Zimmer's good speed is a tremendous asset to every part of his game.
Weaknesses
Like most young players, Zimmer can scuffle a bit with offspeed and breaking balls. He struck out 131 times in 549 plate appearances this past year combined at Lynchburg and Double-A Akron.
To date, power has not emerged from his 6-foot-4, 185-pound frame. Having just turned 23 in late November, Zimmer can still add some strength and muscle to his body.
I find this interesting
Zimmer gets his athletic ability from his dad, who played baseball at the University of California San Diego, and his mom, who ran track at San Diego State. His brother Kyle is a pitcher in the Royals organization.
The future for Zimmer
The Indians have a need for outfielders. Zimmer may very well be on the fast track due to his hitting style and the upside that waits with his smooth swing. He should consistently deliver a high batting average and a high number of stolen bases.
His broken foot set his timetable back a bit, as the Fall League experience would have benefited his development against quality pitching.
Unless he is part of a package the Indians use to fetch a power hitter he could be ready to emerge on the big league scene in Cleveland at some point in 2017.
Zimmer in a word
Valuable
Bernie Pleskoff has served as a professional scout for the Houston Astros and Seattle Mariners. Follow @BerniePleskoff on Twitter. This story was not subject to the approval of Major League Baseball or its clubs.