Angels staying focused on roster improvements
Eppler still looking for left fielder, offense following Escobar trade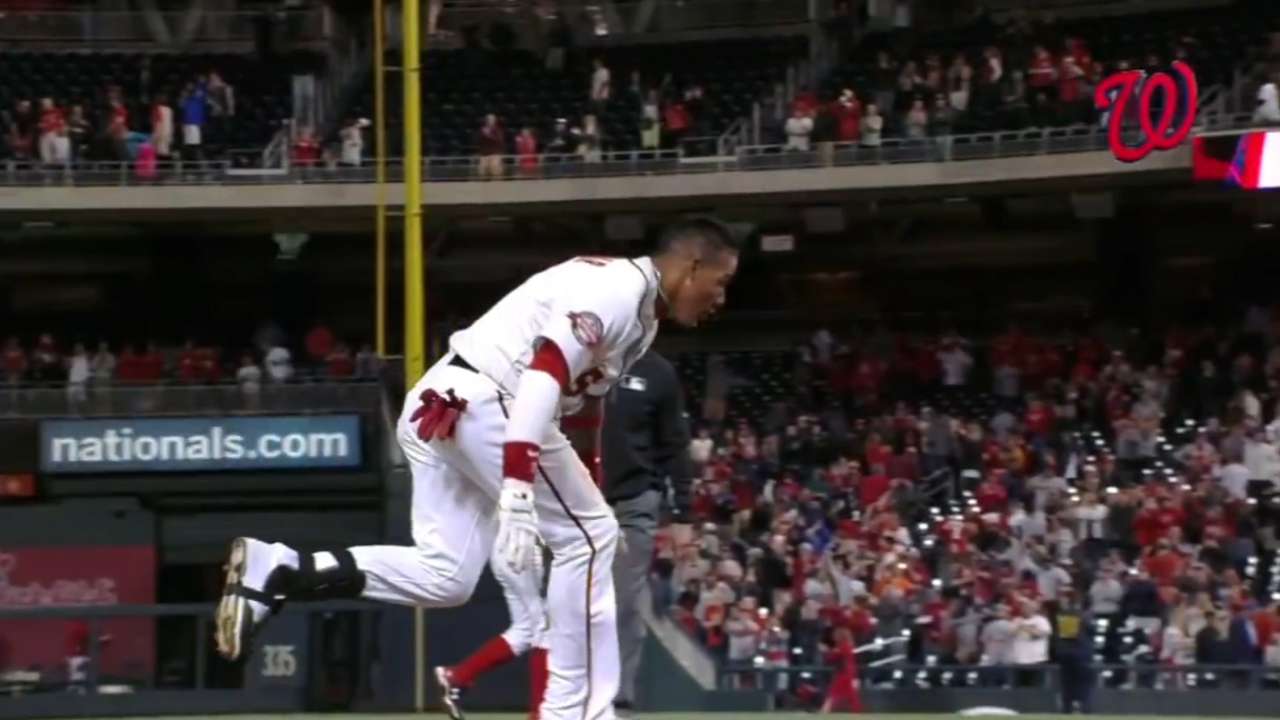 ANAHEIM -- The days march on, the names keep coming off the board and the budget, perceivably, continues to shrink. The Angels weren't finalists for Jason Heyward -- though general manager Billy Eppler said he had conversations with Heyward's representatives up until the night before he signed -- and now they're somewhere between $10 million and $15 million below the luxury-tax threshold, which has previously marked their spending limit.
On Friday, about 24 hours after trading for veteran third baseman Yunel Escobar, Eppler said he's still "having conversations" with big-name outfielders, a list that includes Justin Upton, Alex Gordon, Yoenis Cespedes and, to a lesser extent, Chris Davis. That has been Eppler's go-to line for weeks now, with little materializing. And as the days go by, the possibility of accent moves as opposed to the acquisition of star power appears more likely.
The question, one many pondered during the just-completed Winter Meetings in Nashville, Tenn., is whether the Angels can field an above-average offense without acquiring an additional impact bat. Can this team -- which ranked 20th in the Majors in runs last season and isn't necessarily elite in other departments -- contend in an increasingly more difficult American League West without Upton, or Gordon, or Cespedes, or Davis?
"Yes, I think it can be an above-average offense," Eppler said on a conference call. "One of the areas of focus that we've talked about within our front office, within our scouting department, within our Major League staff, is getting guys that make contact, getting guys that have an idea of the strike zone. We don't have to chase after multiple 20-plus-home-run guys. They're fun, and when they're out there, there definitely is an attraction towards them. But you can have an above-average offense and not have to just sit and spin and look at the ball, and put it out of the ballpark. You can still have an above-average offense, and you can still be a championship-caliber club without that."
In Escobar, the Angels, in Eppler's mind, have locked down third base and given themselves a potential top-of-the-order hitter in front of Mike Trout and Albert Pujols. His acquisition prompted the departure of young, hard-throwing reliever Trevor Gott and will cost the Angels $5.5 million in 2016, with the Nationals picking up the remaining $1.5 million.
It also basically means third baseman and clubhouse favorite David Freese will not return.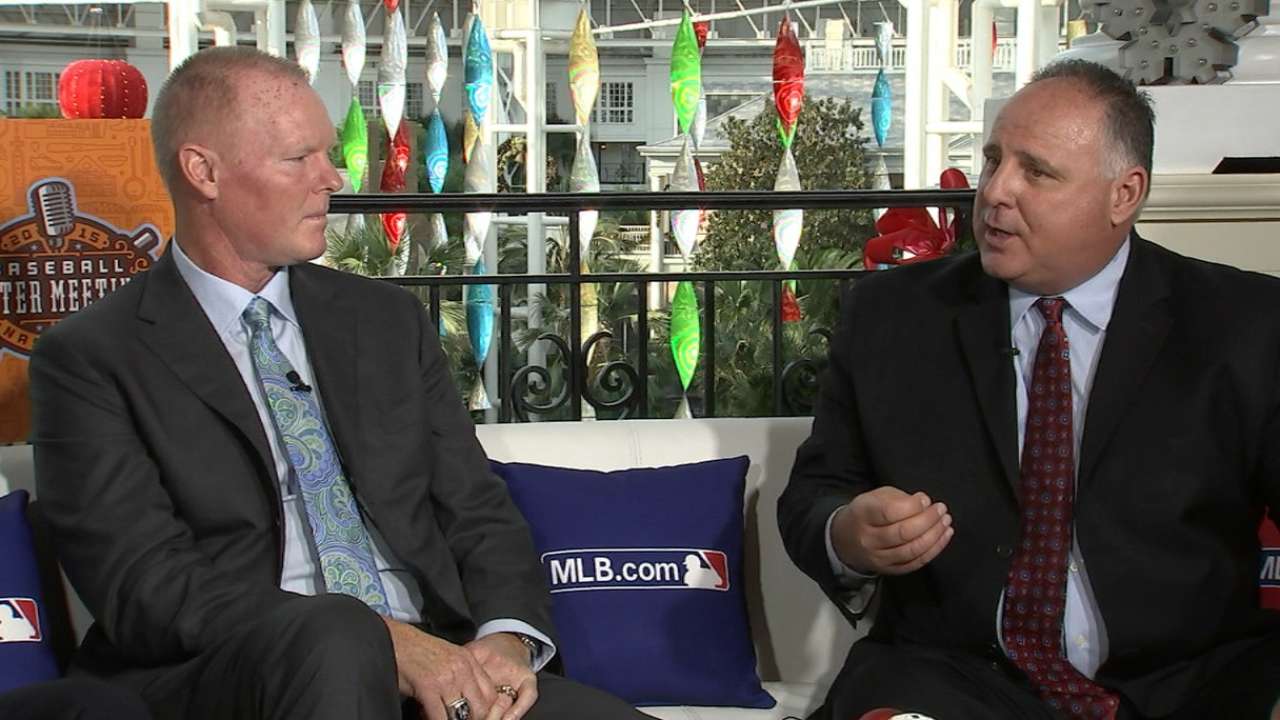 Escobar has some experience at second base, but very little (164 1/3 of his 10,182 1/3 innings in the Major Leagues). When Eppler recently spoke to Escobar on the phone, third base was the only position that came up.
"While it doesn't rule out the possibility of anything coming at third base, it does narrow it," said Eppler, who wouldn't comment on specific free agents. "Our focus is very much sharpening towards the outfield. So, if something were to present itself as a third baseman, it would have to be special enough that we will not say no to it."
Gott is 23, with five years of control, a lively, upper-90s fastball, a breaking ball with upside and a solid rookie year in his back pocket, one that included a 3.02 ERA in 48 appearances, most of them as the seventh-inning reliever. Eppler believes Gott is "going right into his prime," and called this an opportunity for the likes of Mike Morin, Cam Bedrosian and Rule 5 pick Deolis Guerra to "grab some relevant innings for us."
"These deals -- and I think I addressed this with Andrelton Simmons -- they hurt," Eppler said. "Figuratively, you bleed in these types of transactions."
Asked if he'll look to add a second baseman and look to replenish some depth in the bullpen, Eppler said: "Anywhere on that 25-man roster that we can get better I'll do it. I'll recommend it. Our baseball-ops group, our player personnel, our scouting group -- they're all looking to find ways where we can improve the 25-man."
Eppler's focus remains on left field, where platoon additions and everyday players continue to be considered.
Escobar, who also comes with a $7 million club option for 2017, can be a fit alongside Kole Calhoun at the top of the lineup, though Eppler said he'll leave that decision to Mike Scisocia. The 33-year-old right-handed hitter sports a career .350 on-base percentage and is coming off one of his most productive seasons, batting .314/.375/.415 in a year that saw him transition from shortstop to third base.
Eppler called Escobar "solid defensively," even though the popular metrics -- Ultimate Zone Rating, Defensive Runs Saved -- had him below average at third base last season.
Fair or not, Escobar has built a reputation as being something of a difficult personality for players and coaches. Some consider the fact he'll be joining his fifth team in 10 years -- previously the Braves, Rays, Blue Jays and Nats -- as an indication of that. But Eppler doesn't see it that way, chalking it up more so to the logistics of prior rosters.
"No concern whatsoever," Eppler said of bringing Escobar into his clubhouse. "I had those conversations prior to acquisition with a number of different people, both on the playing side and the coaching side, and people that have had him before. We're good to go."
Alden Gonzalez is a reporter for MLB.com. Follow him on Twitter @Alden_Gonzalez and Facebook , and listen to his podcast. This story was not subject to the approval of Major League Baseball or its clubs.