Axford, Madson excited to join A's new-look 'pen
Club makes multiyear deals official with veteran righties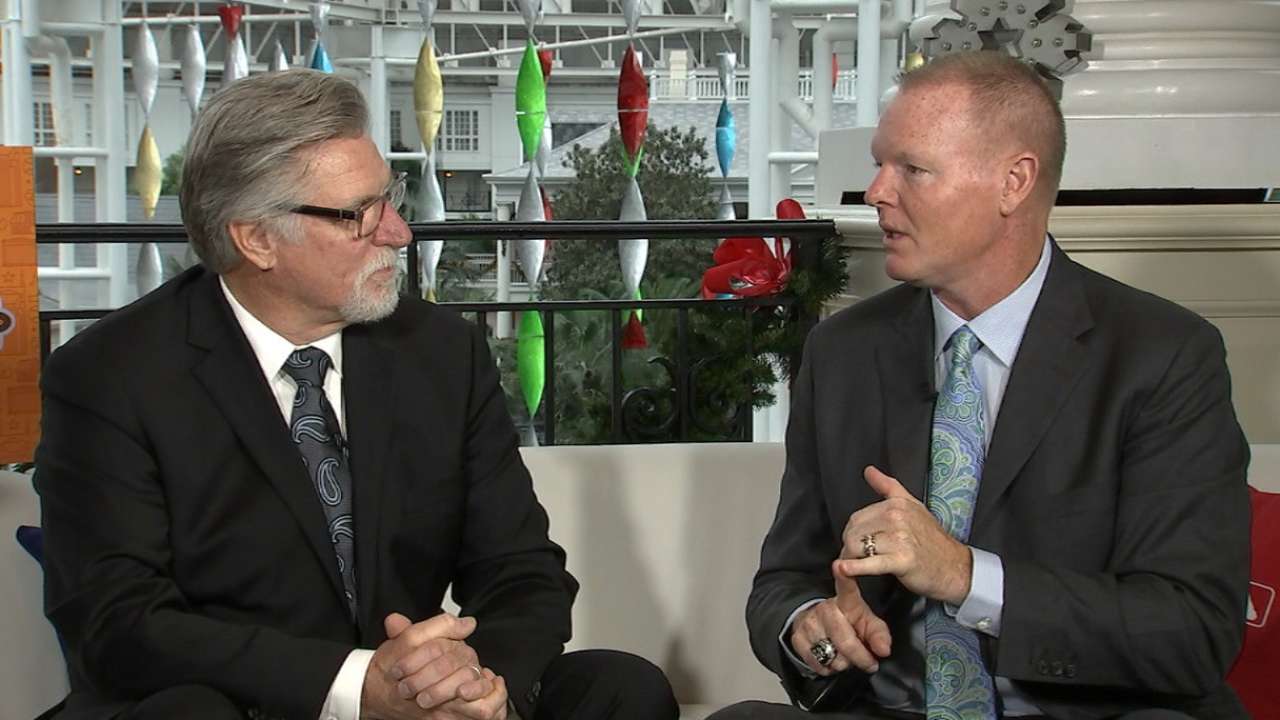 OAKLAND -- The weakest link of a disappointing 2015 A's club has quickly transformed into a formidable force. With prominent bullpen additions, among them Ryan Madson and John Axford on multiyear deals that were made official Friday, Oakland is already a significantly improved team.
Sean Doolittle will assume his role as closer, A's general manager David Forst said Friday, but the lefty now has a double dose of insurance behind him in hard-throwing righties Madson and Axford, both of whom have closing experience.
"I think it's nice that we've added their experience at the back end of the game," Forst said. "So whether that's the seventh, eighth or the ninth innings, I think we feel very covered."
Forst christened the launch of the free-agent season with calls to agents of both players, and it was Forst's aggressiveness, Madson noted, that contributed to what the veteran righty deemed a "pretty easy" decision. Like Madson, Axford kept watch of the A's concerted efforts to reconstruct their bullpen, which is also expected to include the recently acquired Liam Hendriks and Marc Rzepczynski, as well as returning pieces Ryan Dull and Fernando Rodriguez.
"Getting this opportunity is great, knowing that the A's have that kind of confidence in me to do something like that and to be part of what appears to be a revamped bullpen," said Axford, who signed a two-year, $10 million deal. "To be a piece of that and a part of that and hopefully contribute and get this club back to the playoffs is exciting."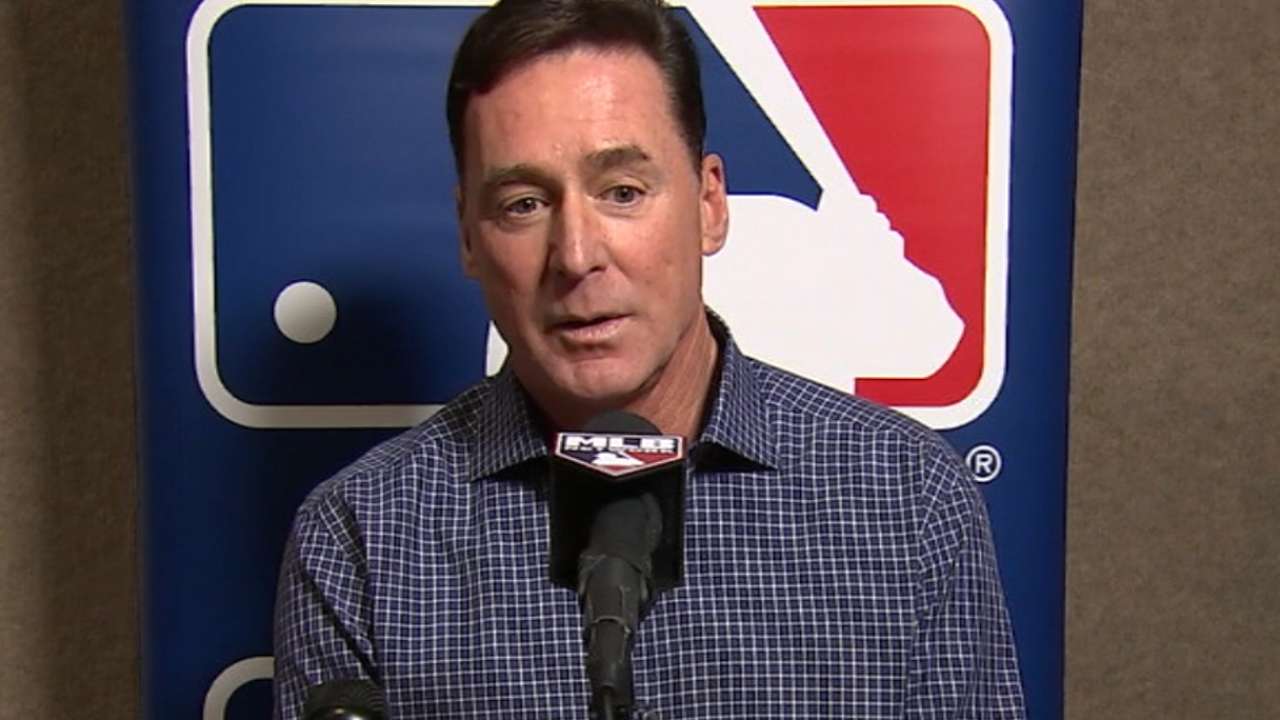 Madson, 35, had multiple offers in hand following a resurgent season in which he compiled a 2.13 ERA with a strikeout rate of 8.2 per nine innings for the World Series champion Royals. He recorded a 0.96 WHIP, and opponents hit just .205 off him across 63 1/3 innings.
Madson missed each of the previous three seasons with injuries after a dominant year as the Phillies' closer in 2011, when he tallied 32 saves with a 2.37 ERA, but that wasn't cause for pause when the A's decided to lock him up for three years.
"Certainly on the medical side we did our due diligence," Forst said. "We felt comfortable with how he was able to stay healthy last year. On the other side, this was a guy who, as long as he's been healthy, he's never not performed in his career."
Madson believed his career to be over in 2014. Restricted by elbow issues, "I was 99 percent sure I was done, if not 100," he said.
His revival happened by accident, through the practice of teaching a high school pitcher. Jim Fregosi Jr., the scout who signed Madson out of high school for the Phillies in 1998, introduced Madson to Johnny Morrell, and the two became immediately immersed in workouts.
"That's exactly what I want to do when I'm done playing," Madson said. "I want to work with kids that are on the bubble and need a little help to make it to professional baseball.
"It was like a test for my arm a little bit, but it was also a test for my heart."
Madson was continually asked, "Can you be done with the game and be OK with it?"
Fregosi helped him seek the answer by way of a Minor League deal with the Royals, who brought the right-hander to Spring Training in February and kept him on board the rest of the way. Now he has a three-year, $22 million contract.
"Everything worked out the way it was supposed to and I had a great year, probably one of the best seasons I've ever had," Madson said. "I think it's very repeatable for me to do that again, and over the next three years. I look forward to continuing that."
Axford, who will be 33 in April, spent 2015 with the Rockies, pitching to a 4.20 ERA with 25 saves in 31 chances over 60 appearances, averaging 10 strikeouts to 5.2 walks per nine innings.
"I think what the A's have done this year, obviously with the bullpen, the guys they've added, I can't wait to pitch with these guys," Madson said. "I saw Axford at the doctor's office and I said, 'Man, this is going to be a lot of fun.'"
Jane Lee is a reporter for MLB.com. This story was not subject to the approval of Major League Baseball or its clubs.