D-backs owner: Still more work to do
Even with Greinke and Miller, Kendrick willing to add payroll for right player
PHOENIX -- D-backs managing general partner Ken Kendrick was asked how he celebrated when he got word that Zack Greinke had accepted his six-year, $206.5 million offer.
The answer was he didn't.
Not because of the large financial outlay, but rather he knew there was still more to be accomplished, so the organization went right to work identifying another starting pitcher it could acquire.
• D-backs' interest excited new ace Greinke
That turned out to be Shelby Miller, whom the D-backs got this past week in a deal with the Braves.
Still, there were no champagne corks popping around Kendrick.
"You can't really celebrate until you get to a real goal," Kendrick said. "Even now, we're not at a real goal. A real goal is to bring winning baseball back to Arizona."
And it looks like the D-backs might not be done adding to the roster. As of Thursday, they had not closed the door on signing free-agent pitcher Mike Leake.
Kendrick was asked if there was any room left in the budget to add another player.
"If there's the right player we want to add, we could increase payroll," Kendrick said. "That said, we feel competitively that we have a very strong club right now."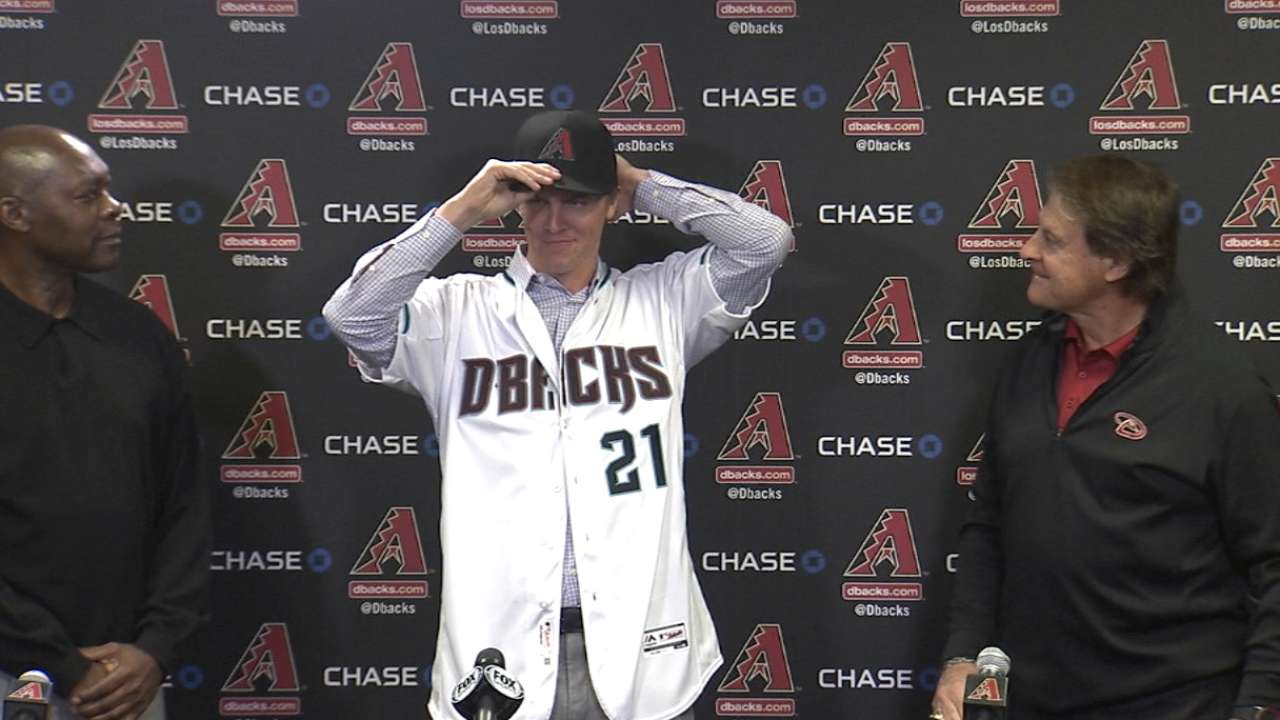 The revenues from the D-backs' new television deal with FOX Sports Arizona is what allowed the team to pursue Greinke, Kendrick said. It also allowed them to do something they had never done since he took over ownership of the team -- include deferred salary in the deal.
"I think it's been written about, but the 2016 season is the first year of our new media deal, our regional television deal," Kendrick said. "Our revenue streams are substantially different now going forward for the next 20 years. It puts us in a place where we can be financially more competitive."
With Paul Goldschmidt under contract for the next three years (with a club option for a fourth), A.J. Pollock bound to the club through arbitration for another three seasons and other young position players also under club control, Kendrick's ownership group was ready to go all in.
"We have a core of really good young players who had performed well and had years to go with the Diamondbacks at monies that are not extraordinary," Kendrick said. "We felt like there was a window, a multiyear window, to compete if we had a significant improvement to the rotation. We said our battle plan is possibly sign a free agent and possibly trade for another top-of-the-rotation guy. The stars aligned and we were able to do it."
Steve Gilbert is a reporter for MLB.com. Read his blog, Inside the D-backs, and follow him on Twitter @SteveGilbertMLB. This story was not subject to the approval of Major League Baseball or its clubs.