Strong Draft evaluation gives Sox quick return
Fourth-round pick Erwin was key piece in trade for infielder Lawrie
CHICAGO -- The instantaneous reaction from Nick Hostetler to the White Sox trade made Wednesday night at the Winter Meetings was disappointment.
Not disappointment over the addition of Brett Lawrie, who will be a valuable and versatile piece for the 2016 club. The initial -- but brief -- sense of disappointment came from the departure of left-handed pitcher Zack Erwin to Oakland, the same Erwin who Hostetler, Chicago's director of amateur scouting, studied and scouted frequently before making him the White Sox fourth round selection in the 2015 MLB Draft out of Clemson.
Hostetler understands firsthand that though neither Erwin nor J.B. Wendelken were ranked among MLB.com's Top 30 White Sox prospects, Chicago certainly gave up something valuable to get something in return.
"I know the respect that Zack garnered during the Draft from other clubs. I know that other clubs had liked him," Hostetler said of Erwin, who posted a 1.34 ERA over 40 1/3 innings during stops at Rookie Level Great Falls and Class A Kannapolis last season. "I know he was in the mix for a lot of clubs right around where we picked him.
"Quite frankly, Oakland got themselves a solid potential starter in the big leagues. Most of the amateur scouting industry saw that last year in Clemson. It's a little shocking the quickness of it, but at the same time, as far as the player and the player's talent, no, I wasn't shocked."
• White Sox acquire energetic Lawrie from A's
A new provision allowing teams to trade Draft picks following the World Series conclusion in the same season made it possible for Erwin to move to the A's. That provision won't cause a change in focus for Hostetler, who is running the White Sox Draft this season after serving as Doug Laumann's assistant, with the team always looking at present value, future value and whether that pick still has value even if he doesn't pan out for the team.
Chicago general manager Rick Hahn could have even tougher decisions to make in regard to his organization's more established young talent, with these players standing as a premium in acquiring the offensive upgrades he still wants. It's a delicate balance found between considering a trade for immediate and significant help involving someone such as Tim Anderson or Trayce Thompson, who project out beyond the White Sox three-year board, or hanging on to players who could represent and lead the team's future core.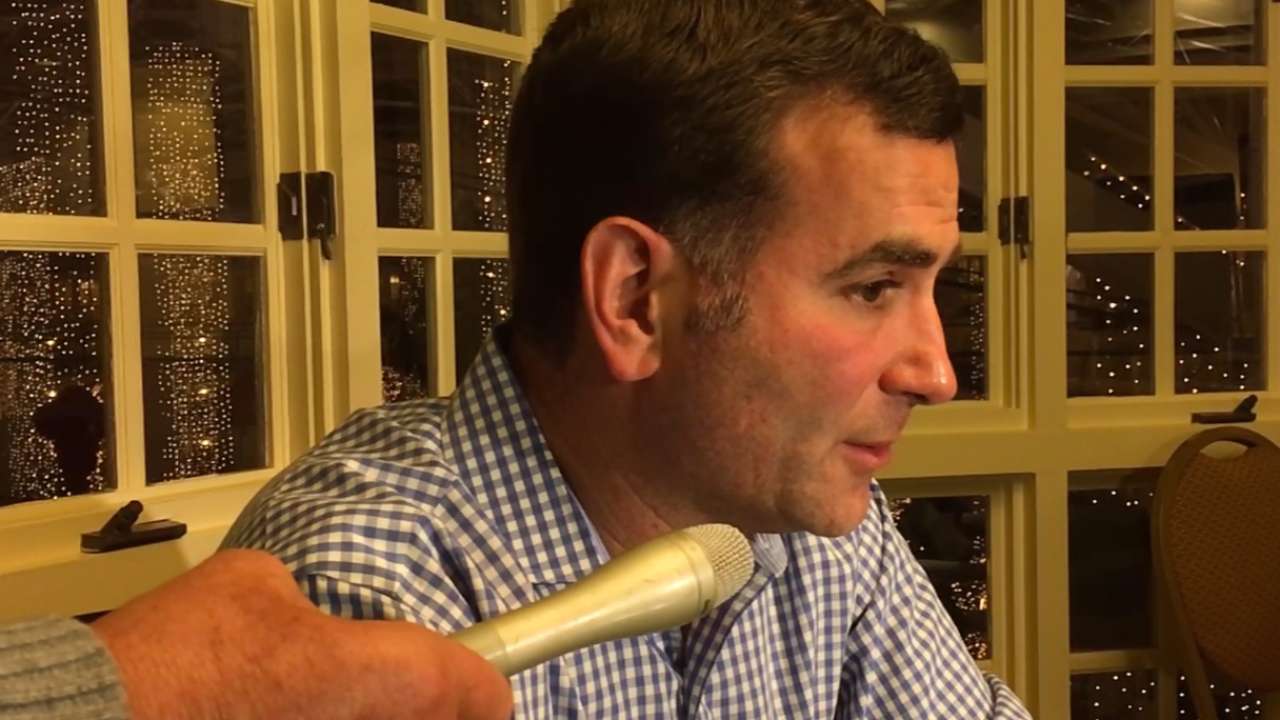 Hahn admitted that the high-ceiling position player types and near-ready pitching were garnering attention from other teams.
"We're certainly in good position with the resources to be able to execute trades," Hahn said. "We have guys that people want. It's just a matter of being comfortable with the matchup."
This trade of Erwin gives the White Sox an instant return on last year's Draft. Hostetler said it's also "a feather in the cap of our scouting department and player development guys and front office."
"Myself, our staff, even the front office, we are going to continue to root for Zack to be very good," Hostetler said. "It only shows we were right in our evaluation, but at the same time, we made the right pick in the fourth round and other teams coveted a piece of what we had. It's pretty exciting to see."
Scott Merkin is a reporter for MLB.com. Read his blog, Merk's Works, follow him on Twitter @scottmerkin, on Facebook and listen to his podcast. This story was not subject to the approval of Major League Baseball or its clubs.