MLB.com Columnist
Phil Rogers
With Heyward, Cubs boast monster lineup
Top to bottom, it'll be tough to contain North Siders
Go ahead, Kris Bryant. Let's see if you can wipe that smile off your face.
Bet you can't do it.
You, too, Anthony Rizzo.
How about you two, Jake Arrieta and Jon Lester? Or you guys, Kyle Schwarber and Jorge Soler? How long is it going to take you to stop smiling about president of baseball operations Theo Epstein's latest master stroke?
Gold Glove-winning on-base machine Jason Heyward is joining John Lackey in leaving the Cardinals to jump into the Cubs' pursuit of their first World Series championship since 1908.
• Hey! Hey! Cubs reportedly land Heyward
How big of a deal is this?
Well, the 26-year-old Heyward compiled a 31.2 WAR through his age-25 season. Only three active players had more at the same point -- Alex Rodriguez, Mike Trout and Albert Pujols. It's a big deal.
Heyward's getting the biggest contract in club history, but the eight-year, $184 million deal makes sense given the long-term potential of manager Joe Maddon's team and how owner Tom Ricketts has invested in Wrigley Field to awaken a franchise that had been a sleeping giant.
There are no guarantees in the Major Leagues, but the Cubs should be a monster team in 2016 and for many years to come. Heyward and the switch-hitting Ben Zobrist, who was signed to a four-year, $56 million deal Tuesday, will bat in front of Rizzo and Bryant, who could combine for 70-plus home runs and 250-plus RBIs.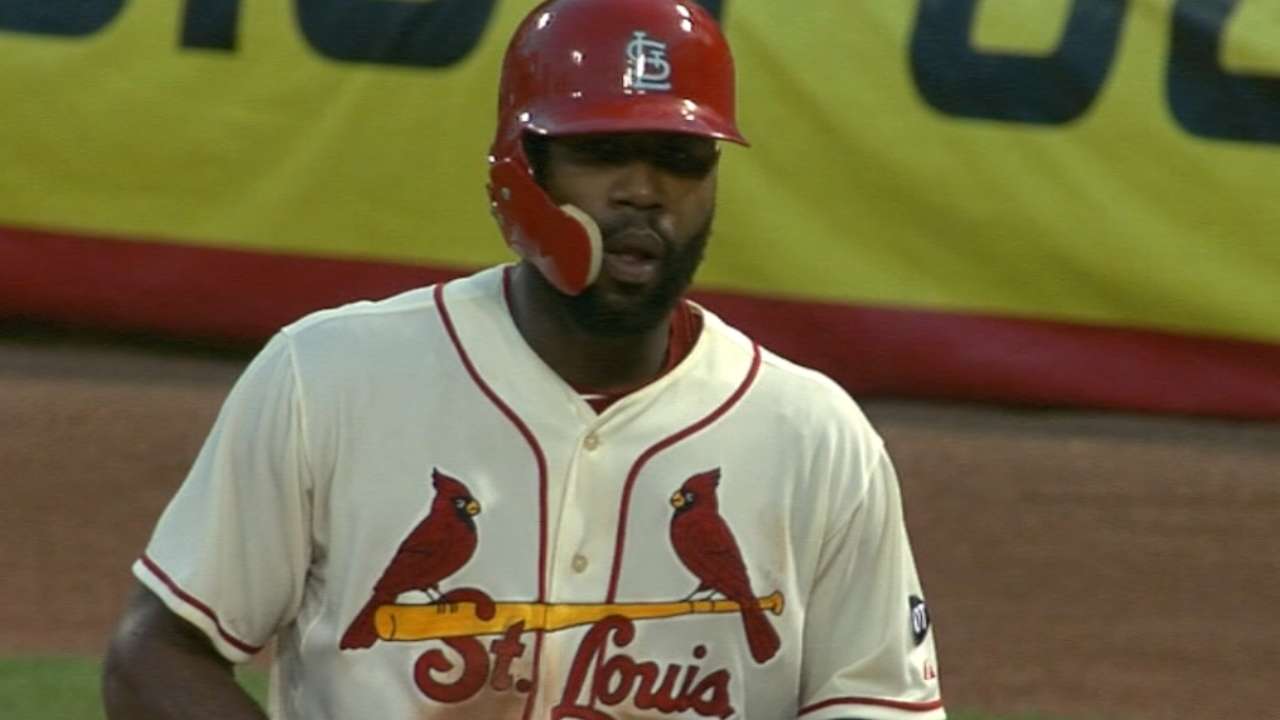 The lineup that has come together over the last year hardly stops there, either.
From top to bottom, it should look like this:
1. Heyward, CF
2. Zobrist, 2B
3. Rizzo, 1B
4. Bryant, 3B
5. Schwarber, LF
6. Soler, RF
7. Miguel Montero, C
8. Pitcher's spot
9. Addison Russell, SS
This could change between now and Opening Day, of course, but there's no reason that it must. Javier Baez is likely to also find his way into the mix when the designated hitter rule opens another spot for the April 4 opener against the Angels, and with Arrieta as the likely starting pitcher, the Cubs can go 10-for-10 in putting potential All-Stars on the field.
How do you follow up a 97-win season? Epstein's answer is by fielding a stronger team.
Before Schwarber joined the Cubs for good July 17, they were winning with their pitching more than their lineup. They averaged 3.9 runs in the first half of 2015, which ranked 11th in the NL. But only the Yoenis Cespedes-driven Mets outscored them in the second half, and they're deeper now with Heyward and Zobrist.
The Cubs' hitters worked more than their share of deep counts, and at two strikes had contact issues. They led the Major Leagues with 1518 strikeouts, 126 more than any other team. But Zobrist (62 walks, 56 strikeouts) and Heyward were both under-100 strikeout guys, which is going to help a lot.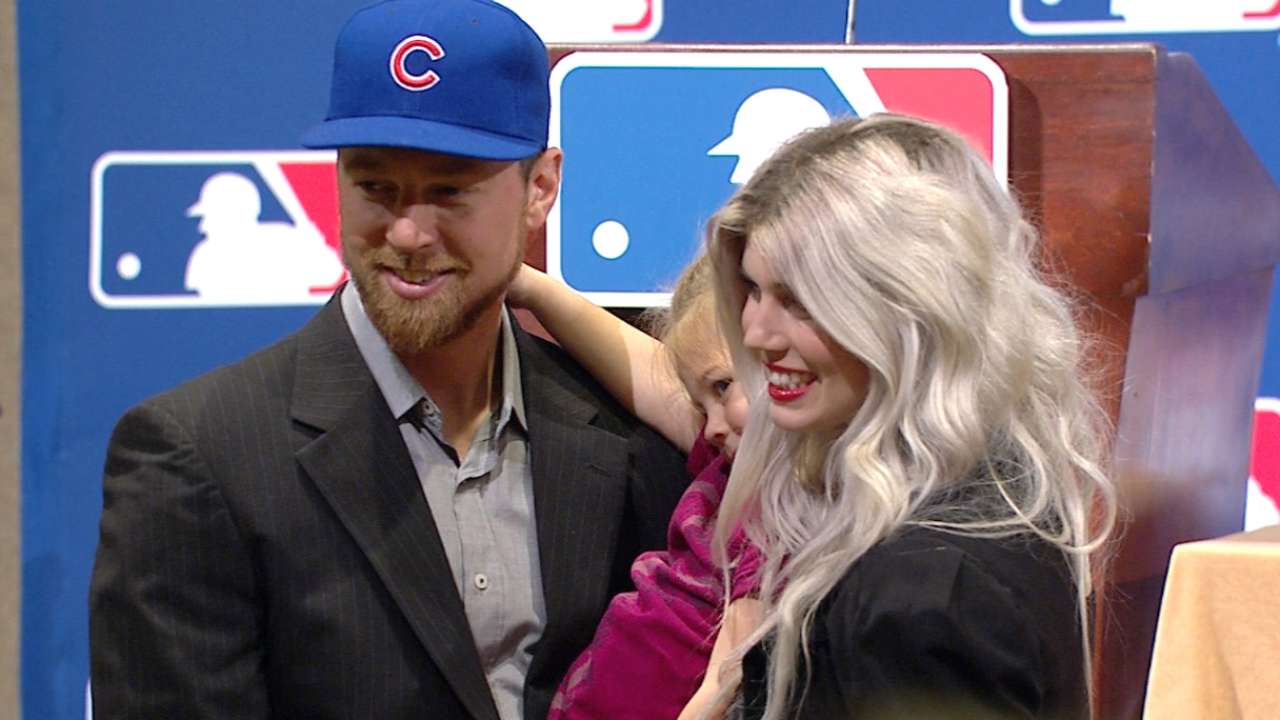 Heyward and Zobrist posted identical .359 on-base percentages last year. For context, only 23 NL qualifiers had .350-plus OBPs last season.
The Cubs now have five hitters who did that: Rizzo (.387), Bryant (.369), Zobrist, Heyward and Schwarber (.355).
Heyward, only 26, fits Epstein's long-stated aversion to "post-prime'' free agents, even if he will be 33 at the end of the deal. He's being valued more highly than any position player who isn't a true run producer (13 homers, 60 RBIs last season; career highs of 27 homers, 82 RBIs), but his best years as a hitter could very well come in the next few years, riding the Cubs' momentum into annual trips to the postseason.
Outside of the Rays' Kevin Kiermaier, he's arguably the second-best defensive outfielder in the Major Leagues, and has played enough center field (most recently against the Cubs in the NL Division Series) to make Epstein and Maddon confident that he'll be a valuable security blanket playing between Schwarber and Soler. Defensive metrics support the eye test, as well, as he picked up two defensive runs saved in 51 regular-season innings last season, with a ridiculously high UZR/150 of 75.5.
Heyward could easily shift back to right field in a year or two if Albert Almora, Billy McKinney or recently signed Cuban Eddy Julio Martinez pushed their way into the center-field picture. Baez could become at least a part-time option if he learns the position.
Maddon will have a lot of fun being creative with his lineups. He could start six of eight left-handed hitters against right-handers (including Chris Coghlan in right) and six of eight right-handed hitters against lefties (with Baez playing second and Zobrist moving to left) on a regular basis.
It had to be a squeeze to fit Heyward's $23 million AAV into the 2016 payroll. But as Starlin Castro was traded to the Yankees to provide room for Zobrist, a salary or two could be moved to make things more comfortable. Jason Hammel seems the most vulnerable, as Epstein has lined up four veterans who could replace him as the fifth starter (Adam Warren, Travis Wood, Trevor Cahill and Clayton Richard).
While Heyward's contract includes an opt-out clause that could shorten it to three years, the Cubs were comfortable going eight years because they project an increase in resources by 2020. They're likely to launch their own television network when their contract with Comcast expires, and what better to sell than a team that knows its way to the World Series. Both Heyward and Zobrist turned down bigger deals elsewhere to join the Cubs. That speaks to how Epstein and Maddon have made the franchise a destination for players.
Epstein had a plan and stuck to it through some tough times. It was easy to see what he was trying to build but nobody saw this monster coming together so quickly.
When does Spring Training start?
Phil Rogers is a columnist for MLB.com. This story was not subject to the approval of Major League Baseball or its clubs.