Reynolds sees Rockies, park as good fit
Weiss plans to give slugger time at first base as well as outfield, third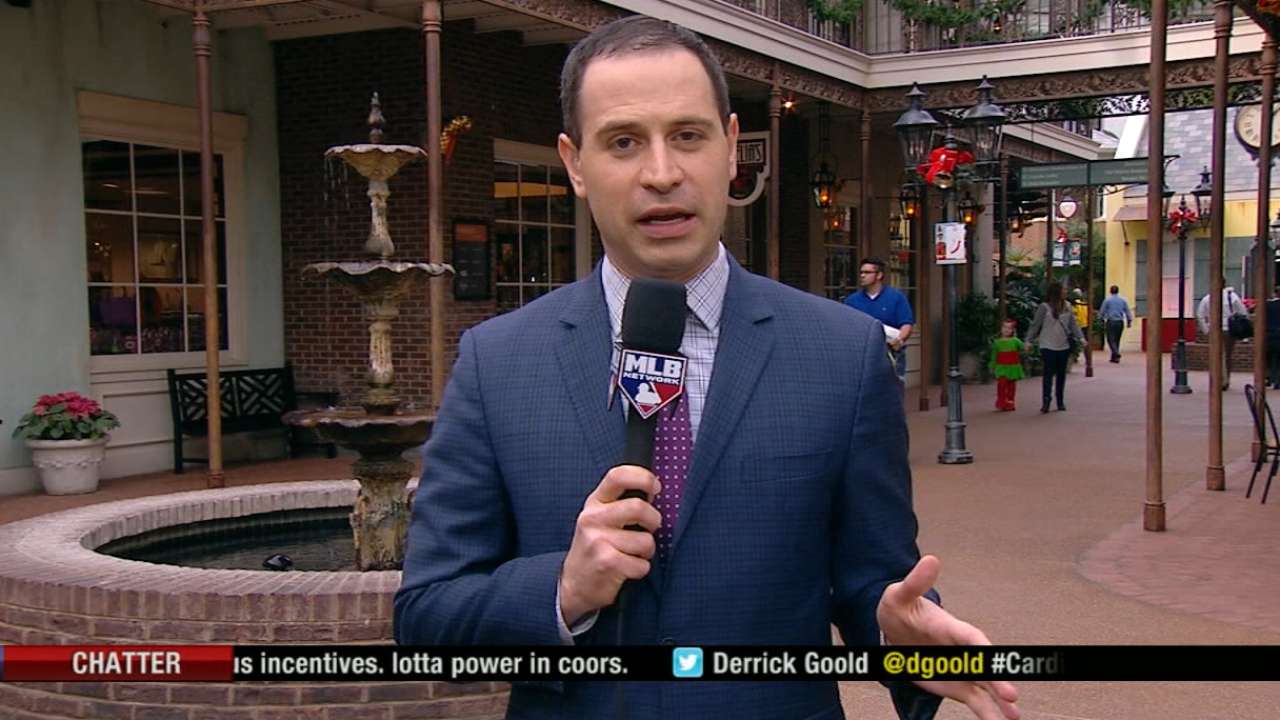 DENVER -- Mark Reynolds' swing and his career statistics offered clear evidence that signing with the Rockies and playing home games at Coors Field was a prudent move. And a former Rockies star's recommendation made it a no-brainer.
Reynolds, 32, who Thursday agreed to a one-year, $2.6 million contract with performance bonuses, spent last season with the Cardinals and hit .230 with 13 home runs and 48 RBIs in 140 games that included 72 starts at first base. Discussions with Cards teammate Matt Holliday, who broke in with the Rockies, were instrumental in Reynolds' choice of his new team.
• Rockies agree to deal with Reynolds
"I see it as a good fit for me, and if I play well I'll have a good opportunity to get a lot of at-bats in, obviously, a great place to hit," Reynolds said Friday from his offseason home in Charlotte, N.C. "When I played in the NL West when I was with Arizona, Denver seemed like a great city, then I mentioned it to Matt Holliday and he had a lot of great things to say about the city and the organization. His wife and my wife are good friends, and from what they said, I'm excited to get there."
The Rockies are expected to officially announce Reynolds' signing next week.
Reynolds, whose value to the Rockies is balancing a lineup that is heavily left-handed, figures to share the position with left-handed-hitting Ben Paulsen. Reynolds arrives with undramatic splits -- .804 OPS against left-handed pitchers, .765 against righties. Paulsen has struggled against lefties in the Minors but has had an encouraging number of quality at-bats against them in Major League stints the last two seasons. Manager Walt Weiss could go with the hot hand, or play matchups.
"[Weiss] let me know that he sees a lot of at-bats for me at first base, or in the outfield or at third if Nolan [Arenado] needs a day, and he likes the fact I can hit some homers," Reynolds said. "So opportunity is there for me, and that's all I can ask at this point of my career -- to prove I can be the type of hitter I know I can be."
Reynolds received high marks for makeup, professionalism and the ability to mesh with new teammates during his time in St. Louis. He, outfielder Carlos Gonzalez -- who currently is starring in a series of trade rumors -- and catcher Nick Hundley stand as the only regulars to have appeared in the postseason.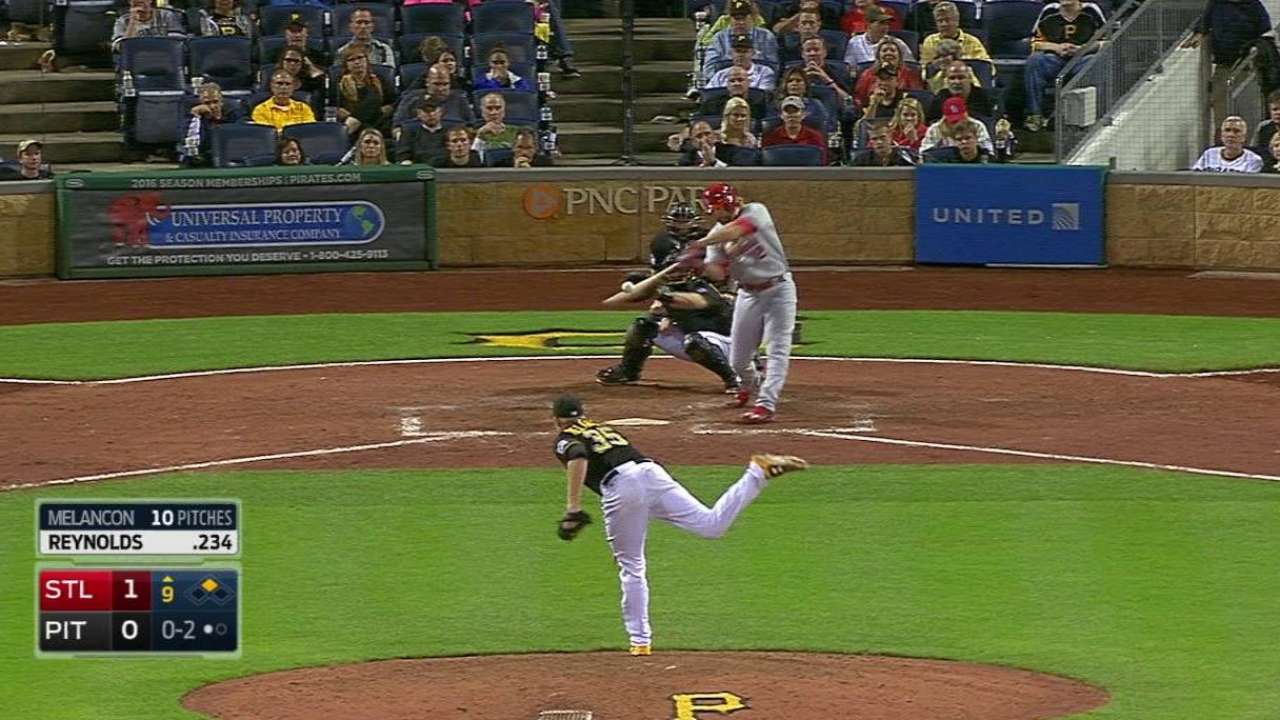 Beyond his clubhouse presence, Reynolds could bring a tangible on-field trait -- the willingness to adapt.
A four-time league leader in strikeouts earlier in his career, Reynolds is always going to whiff a high number of times because of his big natural strike zone and unbridled swing. But he credits Cards hitting coach John Mabry offering adjustments that helped him execute better in situations. He'll have to continue developing in that area as he joins a Rockies offense that is challenged when playing outside of Coors Field and at times last year didn't execute the finer points at home.
"A lot of reporters have asked me for a long time about strikeouts, and it used to anger me because I never really struck out before, and I feel I was still productive in how I hit," Reynolds said. "But I've been working on things, and last year I cut down on strikeouts. Working with John Mabry, my batting average went up. I feel overall better in my approach. There are still going to be strikeouts, but hopefully that will keep trending downward and my other numbers will go up.
"One thing I learned with the Cardinals last year was we were playing for one goal, and it was simple -- to win, and not worry about anything else. They pounded that message home. The Rockies are a young team still finding their way, and hopefully I can bring to the table the importance of playing for that goal. When you win, it's more fun."
Thomas Harding is a reporter for MLB.com. Follow him on Twitter @harding_at_mlb, and like his Facebook page. This story was not subject to the approval of Major League Baseball or its clubs.