D-backs' interest excited new ace Greinke
Veteran right-hander meets with media after signing club-record contract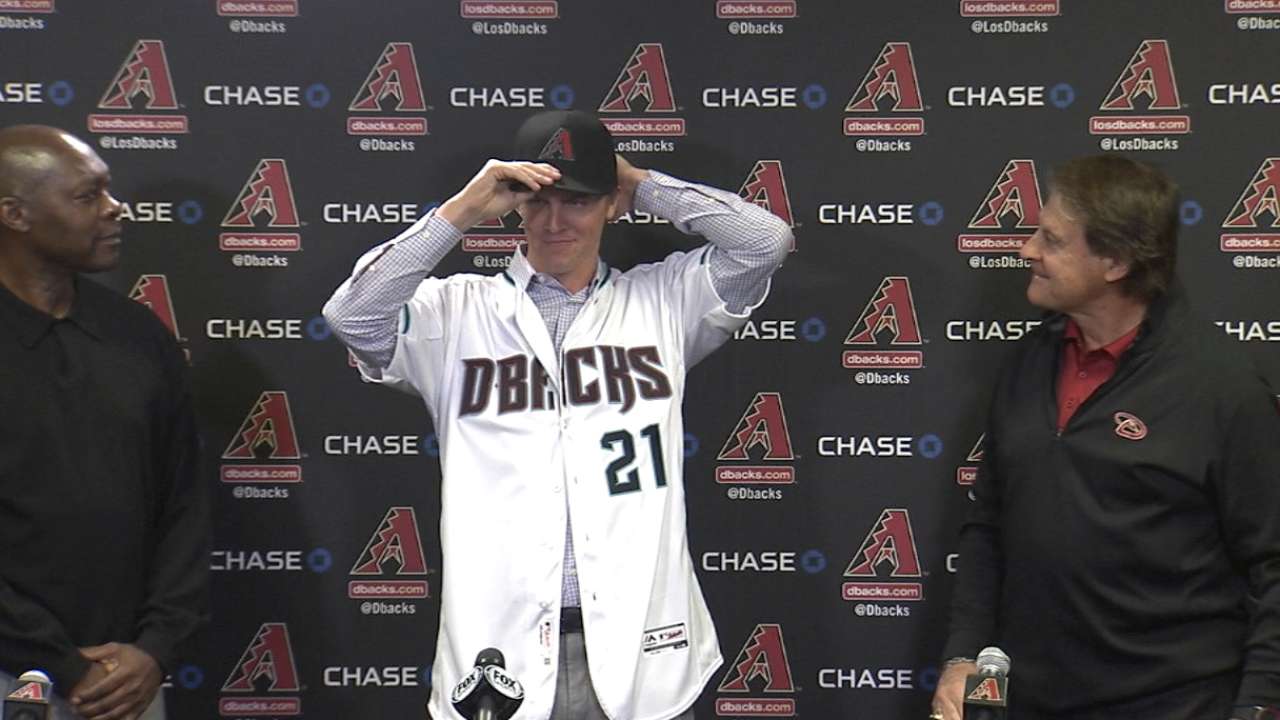 New D-backs ace Zack Greinke was introduced on Friday in Phoenix, positioning Arizona as a team to be reckoned with in the National League in 2016 and beyond.
The 32-year-old right-hander, who finished second in the NL Cy Young Award voting this year and won the American League Cy Young Award with the Royals in 2009, signed a six-year, $206.5 million deal with the D-backs, who are in "win now" mode after a number of key offseason moves.
"It's a pretty good future for multiple years," Greinke said. "Not just now."
The pact is a record amount of money for the D-backs, with the previous high having been the $68.5 million paid to Yasmany Tomas for his six-year deal last offseason.
Greinke led the Majors in both ERA (1.66) and WHIP (0.84) last season. He has had an ERA below 3.00 each of the past three seasons (all with the Dodgers), and won 51 games in that span.
"We were looking for a true No. 1, a true leader of the staff that would take the ball on Opening Day, and every day in the toughest game [he] would want to be out there," D-backs chief baseball officer Tony La Russa said. "We're very fortunate. This young man's in the midst of a great career, and now the next six years -- he'll be having them with us."

Photos: D-backs introduce Greinke
Over Greinke's career (including three seasons in the NL West and four total in the NL), he has gone 6-2 with a 3.34 ERA in 10 starts at Chase Field.
"As soon as [agent Casey Close] told me the D-backs called, it got me excited, and just went from there," Greinke said of the courtship, which also included the Dodgers and Giants and went down to the wire. "It happened pretty fast, but it was a team I had a lot of experience with and knew really well, so it wasn't like I needed a bunch of extra time to get to know people or get to know the city."
Greinke is a three-time All-Star, a two-time Gold Glove Award winner, and he won a Silver Slugger Award in 2013.
Joey Nowak is a reporter for MLB.com. Follow him on Twitter at @joeynowak. This story was not subject to the approval of Major League Baseball or its clubs.