MLB.com Columnist
Jim Callis
Top 10 prospects traded this offseason
Swanson, Newcomb, Margot lead list of young phenoms moved since season's end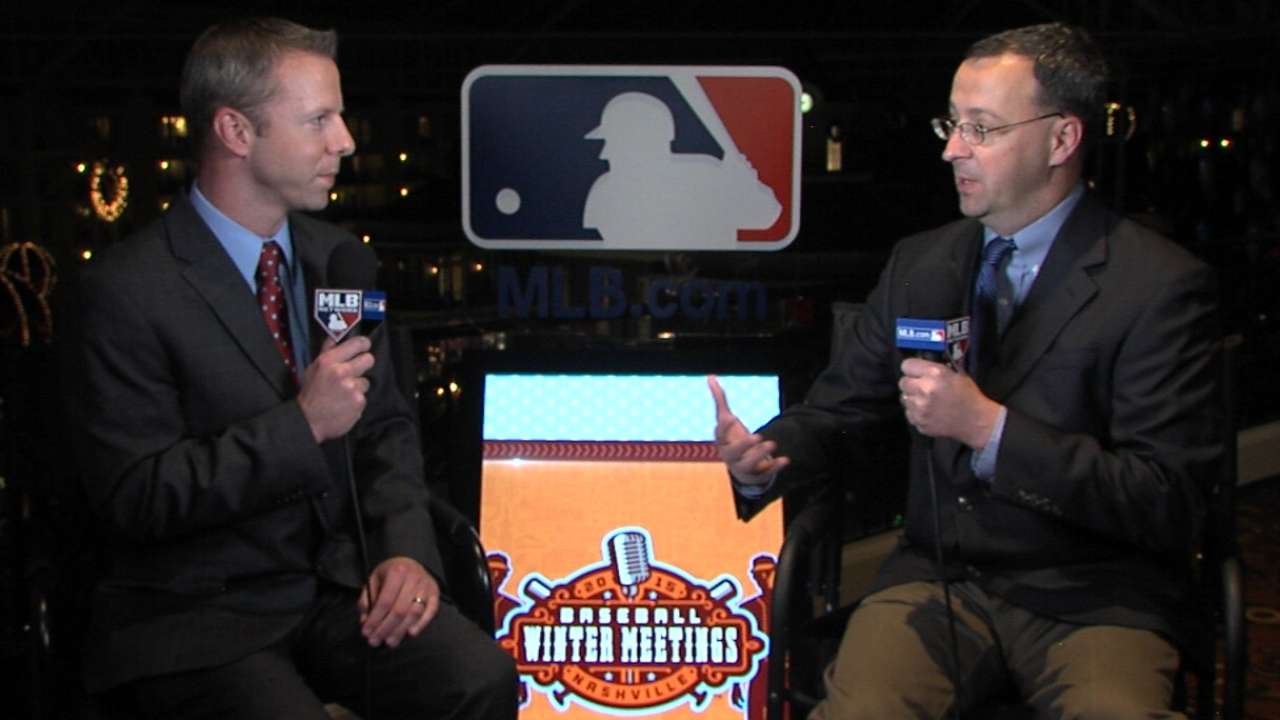 The most shocking move of the Winter Meetings came on Tuesday night, when word leaked out that the D-backs would send No. 1 overall pick Dansby Swanson to the Braves as part of a trade for Shelby Miller.
Arizona didn't create nearly as much furor as when it essentially gave away 2014 first-rounder Touki Toussaint to Atlanta for Phil Gosselin to facilitate dumping Bronson Arroyo's contract in June. Miller is no slouch, a potential No. 2 starter with a track record of three solid years of performance in the big leagues and three more before he becomes a free agent. But multiple executives with other teams said they would have traded Miller to get Swanson alone, and one suggested he might have dealt Miller for the other two pieces of the package, right-handed pitching prospect Aaron Blair and outfield defensive whiz Ender Inciarte.
Swanson became just the third No. 1 overall selection traded by the team that drafted him before he reached the Majors, following Shawn Abner and Adrian Gonzalez. Abner changed addresses 2 1/2 years after going No. 1 and Gonzalez did so three years afterward, while Swanson spent just five months as a D-back. Four days later, Mark Appel became the fourth when the Astros traded him to the Phillies a year and a half after selecting him.
Swanson is clearly the best prospect to get traded since the offseason began, but with plenty of young talent dealt, here's a look at the 10 best prospects moved, eight of whom ended up with either the Braves or Padres:
1. Dansby Swanson, SS, Braves (from Diamondbacks)
He has two plus tools in his bat and speed, two solid ones in his arm and glove, and the potential for average power. Throw in Swanson's off-the-charts makeup and charisma, and the suburban Atlanta native should be the face of the franchise in the very near future. He has played in just 22 games in short-season ball at this point, yet he could be the Braves' Opening Day shortstop in 2017.
2. Sean Newcomb, LHP, Braves (from Angels)
Just like it did in the Miller trade, Atlanta got an organization's best prospects when it sent Andrelton Simmons to Anaheim in November. The 15th overall selection in the 2014 Draft -- which made him the highest pick in University of Hartford history, surpassing Jeff Bagwell -- Newcomb has a pair of potential out pitches in a 92-96 mph fastball that reaches 99 and a hard curveball. If he can refine his control and command, he can become a front-line starter.
3. Manuel Margot, OF, Padres (from Red Sox)
In order to acquire Craig Kimbrel, Boston surrendered four quality prospects in a deal that could look one-sided in San Diego's favor if they all pan out. Margot profiles as a quality hitter and center fielder who also has well-above-average speed. He won't be a power hitter, but he has the bat speed and savvy to provide double-digit homers on an annual basis.
4. Mark Appel, RHP, Phillies (from Astros): Ken Giles has been spectacular since arriving in Philadelphia in mid-2014, but Houston gave up a lot to get him and sleeper shortstop Jonathan Arauz: big leaguers Vincent Velasquez and Brett Oberholtzer, plus prospects Appel and Thomas Eshelman (a strike-throwing righty who was a second-rounder in June). The No. 1 overall pick in the 2014, ahead of Kris Bryant, Appel hasn't lived up to that Draft status yet and looks more like he'll fit in the middle of a rotation than at the front. He still has a mid-90s fastball, but his slider looks more solid than plus, and his command has been sporadic.
5. Aaron Blair, RHP, Braves (from Diamondbacks)
The other prospect in the Miller deal has a ceiling that isn't too far removed from the pitcher he got traded for. A supplemental first-rounder in 2013, Blair ranked second in the Minors in strikeouts in 2014 and successfully navigated Double-A and Triple-A this year. He's ready to step into a big league rotation, armed with a heavy low-90s sinker as well as a curveball and changeup that can miss bats.
6. Javier Guerra, SS, Padres (from Red Sox)
If the power that he displayed while hitting 15 homers in low Class A this year is for real, then Guerra could surpass Margot as the best player San Diego received in the Kimbrel trade. Guerra entered 2015 with two homers in two pro seasons and was known best for being a gifted defender with a quick first step and a strong arm. Now he looks like he could make an impact on both sides of the ball.
7. Luis Perdomo, RHP, Padres (from Rockies)
Few players go from the SiriusXM Futures Game in July to the Rule 5 Draft in December, but he did exactly that when Colorado picked him from St. Louis and immediately dealt him to San Diego for a player to be named or cash. The Padres now have to keep Perdomo on their active big league roster throughout 2016, or else expose him to waivers and offer him back to the Cardinals, but he has enough stuff to survive a jump from high Class A and the upside to make him worth holding onto. A potential No. 3 starter, he sits at 93-95 mph with his fastball, flashes a plus breaking ball and throws strikes.
8. Chris Ellis, RHP, Braves (from Angels)
Another pitching prospect added to Atlanta's stockpile, he's a potential mid-rotation starter who advanced to Double-A in his first full season as a pro. Ellis' best pitch is his lively low-90s fastball, and his slider and changeup have their moments as well. He needs more consistency with his secondary pitches and his control.
9. Boog Powell, OF, Mariners (from Rays)
A year after Oakland included him in the Ben Zobrist /Yunel Escobar trade with Tampa Bay, Powell moved on again, this time to Seattle in a six-player deal highlighted by Brad Miller. A 20th-round pick who signed for $20,000 in 2012, Powell immediately became the best upper-level position prospect in the Mariners' system. He profiles as a No. 2 hitter with solid hitting, on-base and center-field ability.
10. Logan Allen, LHP, Padres (from Red Sox)
An eighth-round pick in June who signed for a well-over-slot $725,000, he's less proven than the other guys on this list but has a higher ceiling than a few of the guys ahead of him. Allen is an 18-year-old lefty who sits at 90-94 mph with his fastball and can throw strikes with three secondary pitches, all of which have the potential to be average or better.
Jim Callis is a reporter for MLB.com. Follow @jimcallisMLB on Twitter. This story was not subject to the approval of Major League Baseball or its clubs.