PirateFest concludes on Sunday
Fans can meet some of their favorite current and past players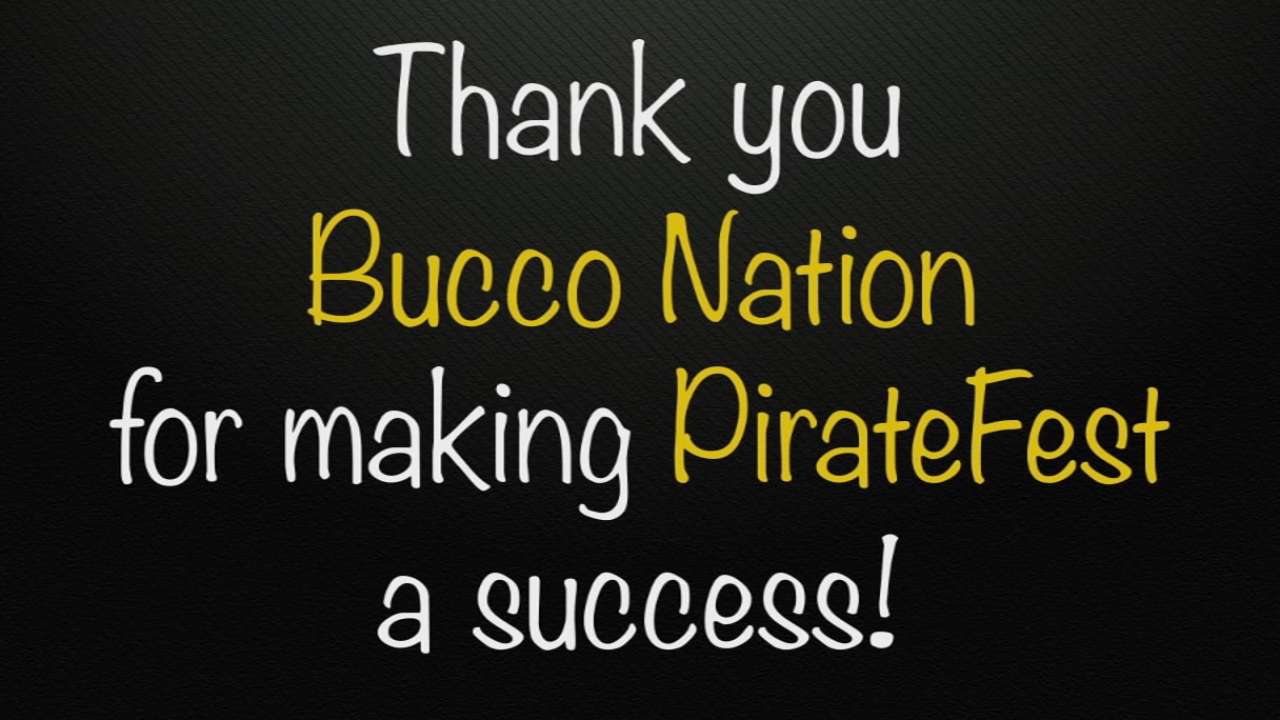 PITTSBURGH -- The Winter Meetings are over, as the yearly gathering of the baseball world under one roof came to an end Thursday. Now, it's time for PirateFest, the annual convention of Pirates players, coaches, alumni, executives and, of course, their fans.
The 26th PirateFest opened on Saturday and will conclude on Sunday from noon - 4 p.m. ET at the David L. Lawrence Convention Center. General admission on Saturday will be free to the public, with all proceeds from the general autograph sessions supporting the Greater Pittsburgh Community Food Bank, while Sunday's sessions are open exclusively to season-ticket holders who chose a PirateFest VIP experience.
This year's schedule is packed with events, shows, games and opportunities to meet current and former Pirates, as well as coaches and broadcasters. Among those scheduled to sign autographs:
Current Pirates: Francisco Cervelli, Jared Hughes, Bobby LaFromboise, Jake Goebbert, Josh Harrison, Starling Marte, Michael Morse, Tony Watson and prospect Nick Kingham
Former Pirates: Bob Walk, Bill Mazeroski, Kevin Young, Dave Parker, Kent Tekulve and the following members of the 1971 World Series champion club: Dave Cash, Steve Blass, Manny Sanguillen, Richie Hebner, Bob Robertson, Dave Giusti and Al Oliver.
The Bucs will be doing more than just signing autographs, however. Hughes will join PNC Park in-game host Joe Klimchak for the Pirates' version of Card Sharks. Pitching prospect Jameson Taillon will show off his cooking skills. Broadcaster Greg Brown will host separate question-and-answer sessions with the 1971 Pirates and current players and coaches.
Beyond the main stage, there will be plenty to see and do on the PirateFest Field, including photo opportunities, a Q&A session with Pirates coaches and two kids press conferences hosted by Walk: one with Goebbert, and the other with Andrew McCutchen.
As always, the event figures to be a welcome, enjoyable respite from the cold, baseball-less days of the winter. And when it's all over on Monday? Well, try to keep this in mind: Only 65 days until pitchers and catchers report to Pirate City.
Adam Berry is a reporter for MLB.com. Follow him on Twitter at @adamdberry. This story was not subject to the approval of Major League Baseball or its clubs.