Busy week ends for 30 teams with 30 needs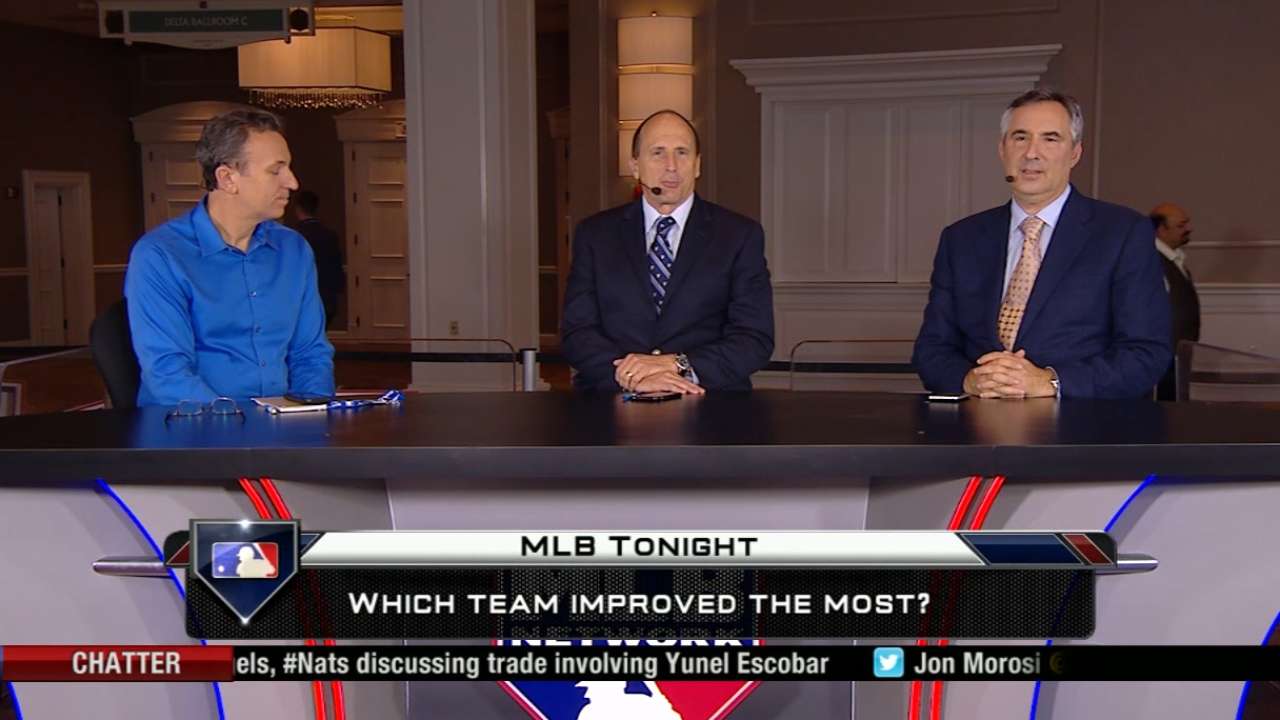 One of the busiest weeks on the baseball calendar is in the books as front-office executives, agents and scouts depart Nashville, Tenn., after a lively four days. The week featured a flurry of activity as teams continued to improve and shape their rosters for the upcoming season.
But just because this year's Meetings are over doesn't mean the league's Hot Stove season has ended. Discussions that began in Music City should continue to result in trades and signings in the coming months leading up to Spring Training.
Here's a look at what each team accomplished in Nashville as well as what remains on its offseason to-do list.
American League East
Baltimore Orioles
What they did: The Orioles struck a deal on Day 1 to keep setup man Darren O'Day in Baltimore, retaining one of the top bullpen arms on the market. They also added some outfield depth via the Rule 5 Draft, selecting former ninth-round pick and Rays Minor Leaguer Joey Rickard.
What's left to do: The O's biggest question remains unanswered, as Chris Davis has yet to make a decision on his 2016 destination. Baltimore's interest in bringing back the 29-year-old power hitter is high, though its patience may be wearing thin with other left-handed hitters likely to come off the market soon. More >
Boston Red Sox
What they did: The Red Sox acted quickly as the Winter Meetings began, acquiring right-hander Carson Smith and southpaw Roenis Elias from the Mariners in exchange for Wade Miley. Boston added that pitching duo to an already significant offseason haul that includes ace David Price, closer Craig Kimbrel and outfielder Chris Young.
What's left to do: The Red Sox have likely exhausted their major moves this offseason, addressing the roster's most glaring needs. But that doesn't mean they won't strike if an opportunity presents itself as the trade and free-agent markets continue to unfold. More >
New York Yankees
What they did: The Yankees picked up infielder Starlin Castro in a trade with the Cubs earlier this week, solidifying second base. They also dealt left-handed reliever Justin Wilson to the Tigers for a pair of pitching prospects -- Luis Cessa and Chad Green -- who could make their way to the big leagues in 2016.
What's left to do: The Yanks should remain active this offseason, looking to address their rotation and bullpen. It's likely they will work the trade market for additional starting pitching depth given the rising cost of free-agent hurlers. More >
Tampa Bay Rays
What they did: Following a busy November, the Rays were among the more quiet clubs at this year's Meetings. They were, however, active in discussions, which could lead to transactions in the coming weeks.
What's left to do: Tampa Bay didn't make a move in the past few days, but don't expect that inactivity to continue throughout the rest of the offseason. The Rays are seeking to add an impact bat to their lineup and have plenty of valuable assets to package should they pursue a trade for a marquee name. More >
Toronto Blue Jays
What they did: The Blue Jays were among the more active clubs in the early weeks of the offseason, which allowed them to stand pat at this year's Winter Meetings. Their lone transaction came on Thursday, when they selected right-hander Joe Biagini in the Rule 5 Draft.
What's left to do: Although no official moves came out of the team's discussions this week, the front office was able to lay the groundwork for transactions in the coming days and weeks. Toronto is expected to announce a deal with infielder Darwin Barney, pending a physical, and improving the bullpen remains a priority. More >
AL Central
Chicago White Sox
What they did: The White Sox addressed one of their primary offseason needs in acquiring third baseman Brett Lawrie from the A's in exchange for two Minor League pitchers, while also laying the foundation for future moves.
What's left to do: Chicago remains linked to Cincinnati infielder Todd Frazier, with the current demand of top prospect Tim Anderson seemingly too high to strike a deal yet. The club will likely continue to pursue offensive upgrades on the free-agent market, avoiding any players tied to Draft compensation. More >
Cleveland Indians
What they did: Other than claiming outfielder Joey Butler from the Rays on Day 1, the Indians appeared to have a quiet week. But the Tribe remained busy behind the scenes, maintaining open lines of communication with many clubs.
What's left to do: Cleveland isn't done shopping. The Indians need outfield and offensive depth, particularly with Michael Brantley set to miss time at the start of the year after offseason shoulder surgery. The club will likely be on the lookout for an impact bat, while also seeking additional left-handed relief options. More >
Detroit Tigers
What they did: Detroit was one of the more active clubs this week, making several smaller moves. The Tigers bolstered their bullpen with a pair of cost-effective additions, signing right-hander Mark Lowe and acquiring lefty Justin Wilson in a trade with the Yankees. They also added switch-hitting catcher Jarrod Saltalamacchia.
What's left to do: The Tigers are in the market for a left fielder and are searching for a right-handed bat to fill a utility infield/outfield role. They could also stand to add one more relief arm to finish their bullpen overhaul. More >
Kansas City Royals
What they did: The defending World Series champion Royals addressed a few needs this week, agreeing to a deals with free-agent right-hander Chris Young and reliever Joakim Soria. Young will help solidify the rotation, and Soria replaces the injured Greg Holland in the bullpen.
What's left to do: The biggest question for Kansas City this offseason remains the fate of Alex Gordon, whom the club hopes to retain. The Royals need a corner outfielder, one more starting pitcher and, potentially, another bullpen arm. More >
Minnesota Twins
What they did: The Twins' roster stayed as is in Nashville, as the only moves made were a pair of Minor League deals. The front office spent much of the week meeting with agents and other teams in search of bullpen help.
What's left to do: Minnesota's top priority remains improving the bullpen -- expect the Twins to acquire a few relievers either through free agency or trades before Spring Training. The club is also in the market for a fourth outfielder and has been linked to free agent Rajai Davis. More >
AL West
Houston Astros
What they did: The Astros set out to bolster their bullpen this offseason, and they did just that at this year's Meetings, acquiring Phillies closer Ken Giles via trade and signing free-agent reliever Tony Sipp, both deals pending physicals.
What's left to do: With an improved bullpen, Houston can now turn its attention to its starting staff. The club could add a middle-of-the-rotation starter, potentially via trade with the high price tags attached to this year's crop of free-agent pitching. More >
Los Angeles Angels
What they did: The Angels made headlines on the final day of Winter Meetings, adding veteran infielder Yunel Escobar in a deal with the Nationals. They also signed Craig Gentry to a one-year deal earlier this week, improving their outfield depth.
What's left to do: The Halos remain in the mix for Davis, but that would require a significant financial commitment, so trading left-hander C.J. Wilson remains an option to free up money for a high-priced signing. More >
Oakland Athletics
What they did: The A's were active this week, dealing Lawrie and reliever Evan Scribner to the White Sox and Mariners, respectively, in exchange for a trio of pitching prospects -- J.B. Wendelken and Zack Erwin from Chicago, and Trey Cochran-Gill from Seattle. Oakland also negotiated a yet-to-be-announced two-year deal with free-agent reliever John Axford.
What's left to do: The A's will continue to explore the trade and free-agent markets in search of a veteran No. 2 starter behind ace Sonny Gray, while still not ruling out in-house options. More >
Seattle Mariners
What they did: The Mariners' busy offseason continued this week, as they completed three trades, acquiring Miley and Jonathan Aro from the Red Sox, Scribner from the A's and first baseman Adam Lind from the Brewers.
What's left to do: Seattle's roster appears mostly in place. All that remains on the shopping list is a bullpen arm. More >
Texas Rangers
What they did: The final day in Nashville saw the Rangers make two moves to acquire pitching. They reached a tentative agreement with reliever Tony Barnette for a two-year deal and also completed a trade with White Sox, sending lefty reliever Will Lamb to Chicago for Minor League right-hander Myles Jaye. The club also inked outfielder James Jones to a Minor League contract.
What's left to do: Texas is expected to resume negotiations with Colby Lewis' agent in an effort to re-sign the 36-year-old hurler. Improving the pitching staff will likely remain a focus throughout the offseason. More >
National League East
Atlanta Braves
What they did: The Braves pulled off one of the blockbuster deals of the Winter Meetings, acquiring Ender Inciarte and a pair of highly touted prospects (Aaron Blair and Dansby Swanson) from the D-backs in exchange for Shelby Miller.
What's left to do: Atlanta doesn't want to block one of its deserving pitching prospects from a spot in the big league rotation, but the club could add a veteran starting pitcher to soak up some innings. More >
Miami Marlins
What they did: Listening to rumors surrounding Jose Fernandez was the story line of the Meetings for the Marlins, who ultimately stayed quiet despite fielding plenty of inquiries regarding their young ace.
What's left to do: Miami's focus continues to be on pitching, especially adding a front-end starter to pair with Fernandez atop the rotation. More >
New York Mets
What they did: The Mets missed out on their top target when Ben Zobrist opted to sign with the Cubs, but they wasted no time finding alternatives, acquiring second baseman Neil Walker from the Pirates and agreeing to a two-year deal with shortstop Asdrubal Cabrera.
What's left to do: New York is likely to add a veteran reliever in the coming weeks, while also checking the market for a back-end starter and left-handed-hitting center fielder. More >
Philadelphia Phillies
What they did: The rebuilding Phillies agreed to a significant deal with the Astros on Wednesday night that sends young, highly touted closer Giles to Houston in exchange for a sizable haul that includes four players.
What's left to do: Even after the Giles trade becomes official, the Phils could still use pitching depth, especially from a veteran starter. More >
Washington Nationals
What they did: The Nationals went into the Meetings looking to upgrade their bullpen, and they did exactly that, signing relievers Shawn Kelley and Yusmeiro Petit and acquiring a third reliever -- Trevor Gott -- from the Angels in exchange for Escobar.
What's left to do: The Nats still need to shore up the back end of the bullpen, which includes trying to trade Jonathan Papelbon and Drew Storen. They have also need to address their ongoing search for a left-handed bat. More >
NL Central
Chicago Cubs
What they did: Few teams were as busy as the Cubs this week, as they landed free agents John Lackey and Zobrist, while acquiring right-hander Adam Warren from the Yankees in exchange for Castro.
What's left to do: The Cubs needed to address their vacancy in center field, though they did that by reportedly signing Jason Heyward on Friday. More >
Cincinnati Reds
What they did: The Reds were reportedly involved in trade talks with a number of teams, but they ultimately left the Winter Meetings without making any deals.
What's left to do: One of Cincinnati's keys moving forward will be how the situation involving Aroldis Chapman plays out. The Reds were believed to have a deal in place to send Chapman to the Dodgers, but those talks were put on hold after reports of alleged domestic violence involving Chapman surfaced. More >
Milwaukee Brewers
What they did: The Brewers' biggest move came on Wednesday, when they traded first baseman and cleanup hitter Lind to the Mariners for a trio of teenage pitching prospects.
What's left to do: Milwaukee is likely far from done making moves, with center field the next priority. The club is also looking into infielders at each corner, including free agent Pedro Alvarez. More >
Pittsburgh Pirates
What they did: The Pirates potentially filled the vacancy in their rotation by acquiring Jon Niese from the Mets in exchange for Walker.
What's left to do: The Bucs could use a first baseman, whether it be someone to take over the everyday gig or simply a left-handed bat to platoon with Michael Morse. Pittsburgh is also seeking a utility infielder, a left-handed reliever and, possibly, more starting pitching depth. More >
St. Louis Cardinals
What they did: The Cardinals added a utility infielder this week, acquiring Jedd Gyorko from the Padres in exchange for Jon Jay.
What's left to do: Heyward was far and away their top target, so now they'll have to regroup. St. Louis is also keeping an eye out for possible pitching help, both in the rotation and in the bullpen. More >
NL West
Arizona Diamondbacks
What they did: The D-backs have owned the offseason thus far. After stunning the baseball world by agreeing to terms with Zack Greinke prior to the Meetings, they pulled off one of the biggest blockbusters this week by acquiring Miller and Minor Leaguer Gabe Speier from the Braves in exchange for Inciarte and prospects Blair and Swanson.
What's left to do: Arizona is pursuing yet another starter in Mike Leake; its other priority is adding depth to the bullpen. More >
Colorado Rockies
What they did: The Rockies signed a pair of veteran relievers -- Jason Motte and Chad Qualls -- and agreed to terms with right-handed-hitting first baseman Mark Reynolds.
What's left to do: Colorado is searching for a front-line starting pitcher and also reportedly listening to offers on all three of its starting outfielders -- Carlos Gonzalez, Charlie Blackmon and Corey Dickerson. More >
Los Angeles Dodgers
What they did: The Dodgers re-signed Chase Utley to a one-year deal and reportedly agreed to terms on a three-year, $45 million contract with free-agent starter Hisashi Iwakuma, though they have yet to officially announce that signing.
What's left to do: Los Angeles is looking to add another starter, a reliever and, possibly, an outfield bat. The Dodgers could also revisit the potential deal for Chapman. More >
San Diego Padres
What they did: The Padres addressed one of their major needs this week by acquiring left-handed-hitting outfielder Jay from the Cardinals in exchange for infielder Gyorko.
What's left to do: General manager A.J. Preller has a number of items on his to-do list, including finding a left fielder, a shortstop, a pitcher and depth for the bullpen. More >
San Francisco Giants
What they did: The Giants did their due diligence on a number of free agents and potential trade targets, but ultimately stood pat.
What's left to do: With San Francisco electing to be patient, the club left Nashville still needing to upgrade its rotation and add an outfielder. More >
Paul Casella and Chad Thornburg are reporters for MLB.com. This story was not subject to the approval of Major League Baseball or its clubs.