Bethancourt traded to Padres for Kelly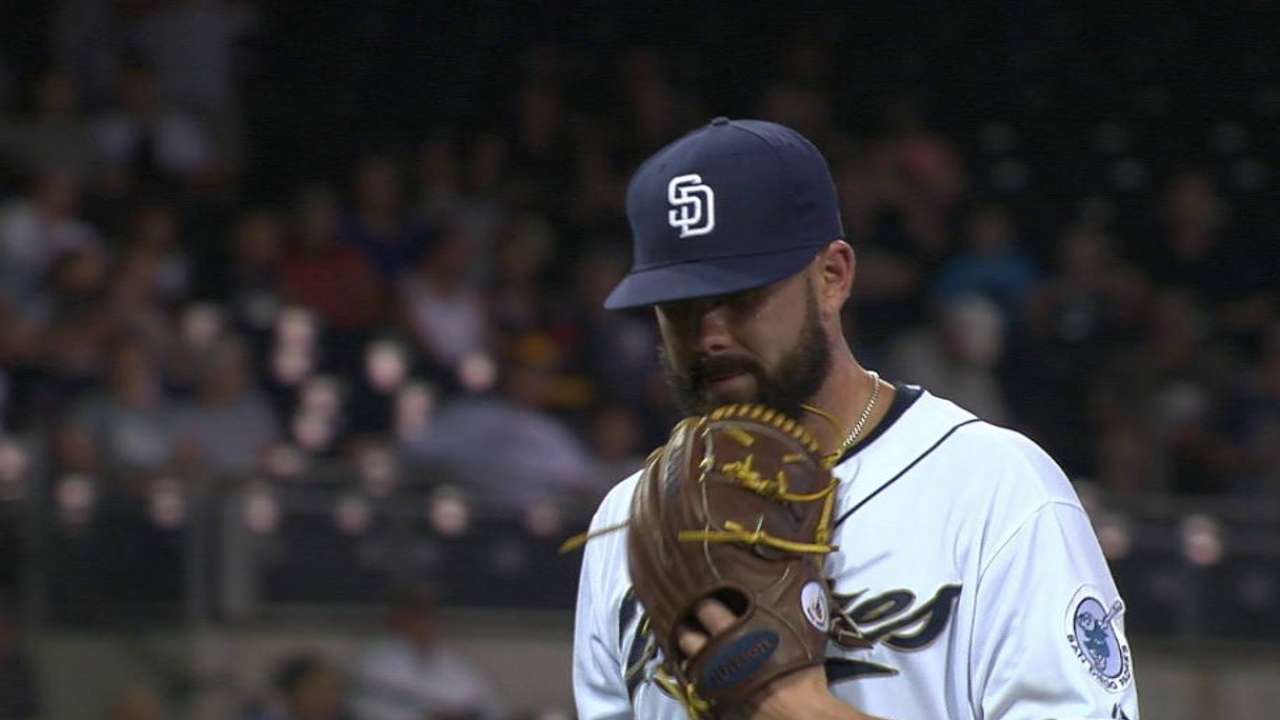 ATLANTA -- Christian Bethancourt's once-promising career with the Braves came to a close on Thursday evening, when he was traded to the Padres for right-hander Casey Kelly and catcher Ricardo Rodriguez.
Bethancourt, once one of MLB.com's Top 100 prospects, began 2015 as Atlanta's primary catcher, but his status as the Braves' backstop of the future evaporated when he lost the starting role less than two weeks into the season.
Though Bethancourt has great physical tools and a rocket arm, his glovework and pitch-calling frustrated the Braves, who sent him to the Minors in June. They brought him back on Aug. 24 with the intention of having him serve as the primary catcher for the remainder of the season, but his fate with the organization was seemingly sealed by the time September began, when he became A.J. Pierzynski's backup yet again.
The Braves spent most of the past month attempting to trade Bethancourt and earlier this week they agreed to a two-year deal with Tyler Flowers, who is slated to share catching duties with Pierzynski this season.
Bethancourt is out of Minor League options, so the Braves had little choice but to attempt to trade him.
Though the Braves have restocked their farm system over the past year, Lucas Herbert, who was drafted in June, is their only legitimate catching prospect. Rodriguez has the potential to strengthen this area of need. The strong-armed 17-year-old Venezuelan batted .266 with a .712 OPS while playing for two Rookie-level teams this year.
Kelly has produced a 6.69 ERA over nine Major League appearances (eight starts). The 26-year-old right-hander tossed six shutout innings in his big league debut against the Braves on Aug. 27, 2012. He was not nearly as successful in any of the five other starts he made that season and underwent Tommy John surgery the following March.
After making four starts at the Class A Advanced and Double-A levels in 2014, Kelly spent most of the first three months of the 2015 season as a reliever. He posted a 2.83 ERA in the seven starts he made for Double-A San Antonio from July 6 to Aug. 13 but was charged with 10 earned runs in just 2 2/3 innings against Northwest Arkansas on Aug. 19. He allowed six earned runs in both of the two starts he made after the Padres brought him back to the Majors in September. He has the potential to at least provide some organizational depth for the Braves at the Triple-A level.
Bethancourt has batted .219 with a .527 OPS through the first 269 at-bats of his Major League career. He retired 42 percent of the opponents who attempted to steal against him this year, but he has been charged with a passed ball every 44.1 innings he has completed during his young big league career.
Mark Bowman is a reporter for MLB.com. This story was not subject to the approval of Major League Baseball or its clubs.