MLB.com Columnist
Bill Ladson
Nats bolster bullpen, but upgrading not over
Club lands three relievers at Meetings, but back end still unsettled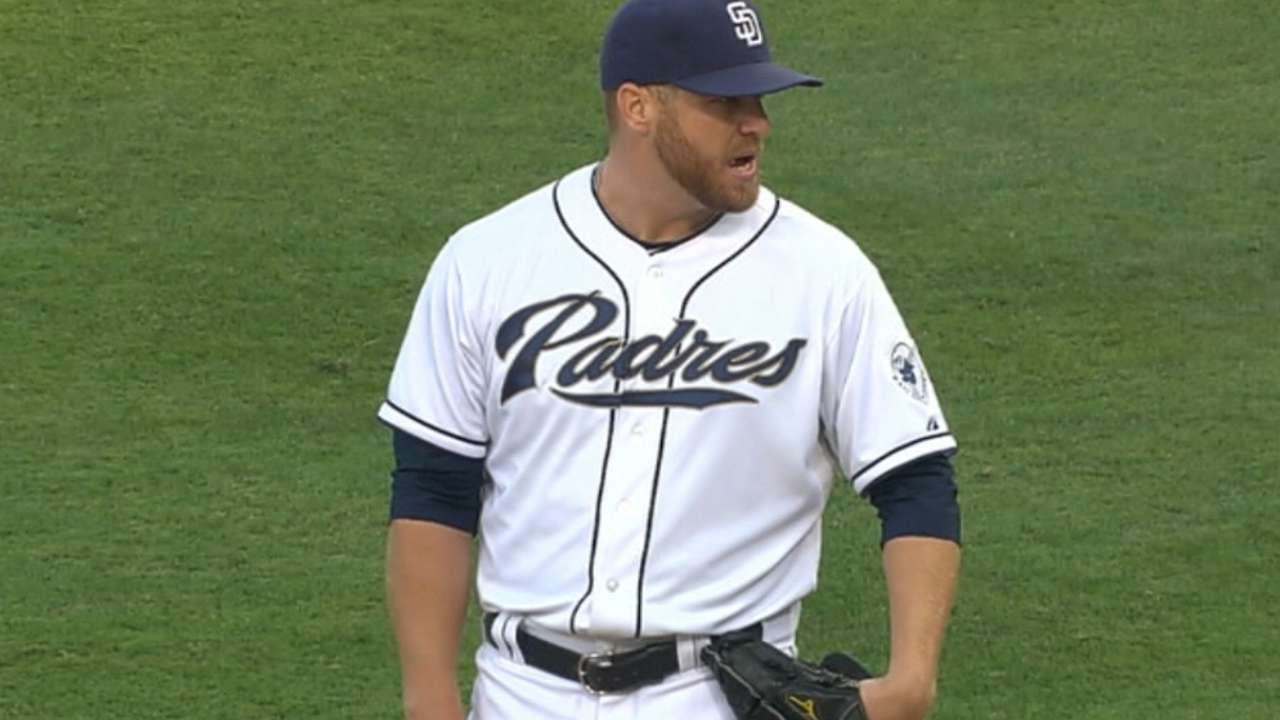 NASHVILLE, Tenn. -- The first two days of the 2015 Baseball Winter Meetings were quiet for the Nationals, but by the time Wednesday night came around, they improved their bullpen by agreeing to terms with two relievers -- right-handers Shawn Kelley and Yusmeiro Petit. By Thursday afternoon, as reporters were heading home, the Nats announced they acquired a third reliever -- Trevor Gott -- along with right-hander Michael Brady from the Angels for Yunel Escobar and cash.
Just imagine what the roster would look like if the Nationals were able to get that elusive left-handed bat to help balance the lineup.
• Nats get Gott, Brady for Escobar
"To me, I don't see [managing the Nationals] as nearly as big a challenge as I had in the past," Dusty Baker said. "Like I've said throughout my managerial career, I've been fortunate enough and forced to try to do more with less. Now I always said I wanted to have a situation where I could do more with more, so I'm looking forward to it. I think our players are looking forward to it."
Winter Meetings highlights
Below were the biggest moves of the Winter Meetings in Nashville, Tenn.
12/9: D-backs acquire RHP Shelby Miller from Braves for OF Ender Inciarte, RHP Aaron Blair, SS Dansby Swanson.
Mets acquire 2B Neil Walker from Pirates for LHP Jon Niese.
Astros to acquire RHP Ken Giles from Phillies for RHP Vincent Velasquez, LHP Brett Oberholtzer, others. Not official.
White Sox acquire IF Brett Lawrie from A's for two Minor Leaguers.
Mets to sign SS Asdrubal Cabrera to 2-year deal. Not official.
Mariners acquire 1B Adam Lind from Brewers for three Minor Leaguers.
12/8: D-backs sign 6-year deal with Zack Greinke.
Cubs sign 4-year deal with 2B Ben Zobrist.
Yankees acquire 2B Starlin Castro from Cubs for RHP Adam Warren, PTBNL.
Cubs sign 2-year deal with RHP John Lackey.
Cardinals acquire 2B Jedd Gyorko from Padres for OF Jon Jay.
12/7: Dodgers near 3-year deal with RHP Hisashi Iwakuma. Not official.
Mariners acquire LHP Wade Miley, RHP Jonathan Aro from Red Sox for RHP Carson Smith, LHP Roenis Elias.
Royals sign 2-year deal with RHP Chris Young.
Throughout the four days of the Winter Meetings, general manager Mike Rizzo was tight-lipped with local reporters, but he worked hard to improve the Nationals, who finished the season in second place in the National League East and were unable to make the postseason.
Rizzo is still looking for a leadoff hitter, a second baseman and an outfielder. The Winter Meetings may be over, but look for Rizzo to continue to wheel and deal.
Deals done
The Nationals' bullpen has been made over after acquiring Gott, Kelley and Petit. Gott is a young hurler who throws in the mid-90s and is going into his second year in the big leagues. Kelley could be a middle-inning or late-inning reliever. He's coming off the best season of his career while posting a 2.45 ERA with the Padres. Petit is a starter and a long man. He is best known for pitching six shutout innings out of the bullpen for the Giants in Game 2 of the 2014 NL Division Series against the Nationals, who lost the game, 2-1, in 18 innings.
Rule 5 activity
The Nationals selected third baseman Zack Cox in the Triple-A phase of the Rule 5 Draft. The Nats needed left-handed-hitting depth in their farm system, according to Mark Scialabba, their director of player development. Cox, 26, spent 2015 in the Marlins' farm system and hit a combined .304 with five home runs and 31 RBIs for Double-A Jacksonville and Triple-A New Orleans.
"He's a big right-handed arm," Scialabba said. "We felt like he was the kind of guy that might be able to impact us at some point down the line. He's a converted outfielder, so he's got a fresh arm. We feel like he's a guy our coaches can work with, and we're excited to get him in the organization."
• Kelley, Petit joining Nationals' bullpen
Goals accomplished
Rizzo did a great job revamping the bullpen, even though Washington lost a chance to acquire Darren O'Day, who signed with the Orioles. The Nationals were also willing to take on extra salary by sending the Angels cash to go along with Escobar. With Escobar gone, Anthony Rendon will return to third base, his natural position. Last season, when he was healthy, Rendon spent most of the season at second base.
Unfinished business
Despite the three reliever acquisitions, the Nationals are still looking for bullpen help, especially a closer and eighth-inning guy. Yes, they are still trying to trade Jonathan Papelbon and Drew Storen. They are also still looking for a left-handed bat. Even though Rizzo said he liked what he had in the middle-infield spots, look for him to look for a second baseman. Rizzo was unable to land Ben Zobrist, who signed with the Cubs.
GM's bottom line
"Last year, we had the sixth-best bullpen in the National League. It was better than league average. It didn't end well for us. They pitched poorly down the stretch, but there are a lot of good talented players in there. We don't have to move anybody if we don't want to. There are no money restrictions on us. It's just we're going to put the best bullpen that we can out there and the best 25-man roster that we can." -- Rizzo
Bill Ladson is a reporter for MLB.com and writes an MLBlog, All Nats All the time. He also could be found on Twitter @WashingNats. This story was not subject to the approval of Major League Baseball or its clubs.