'Statcast Year in Review' to air on Network today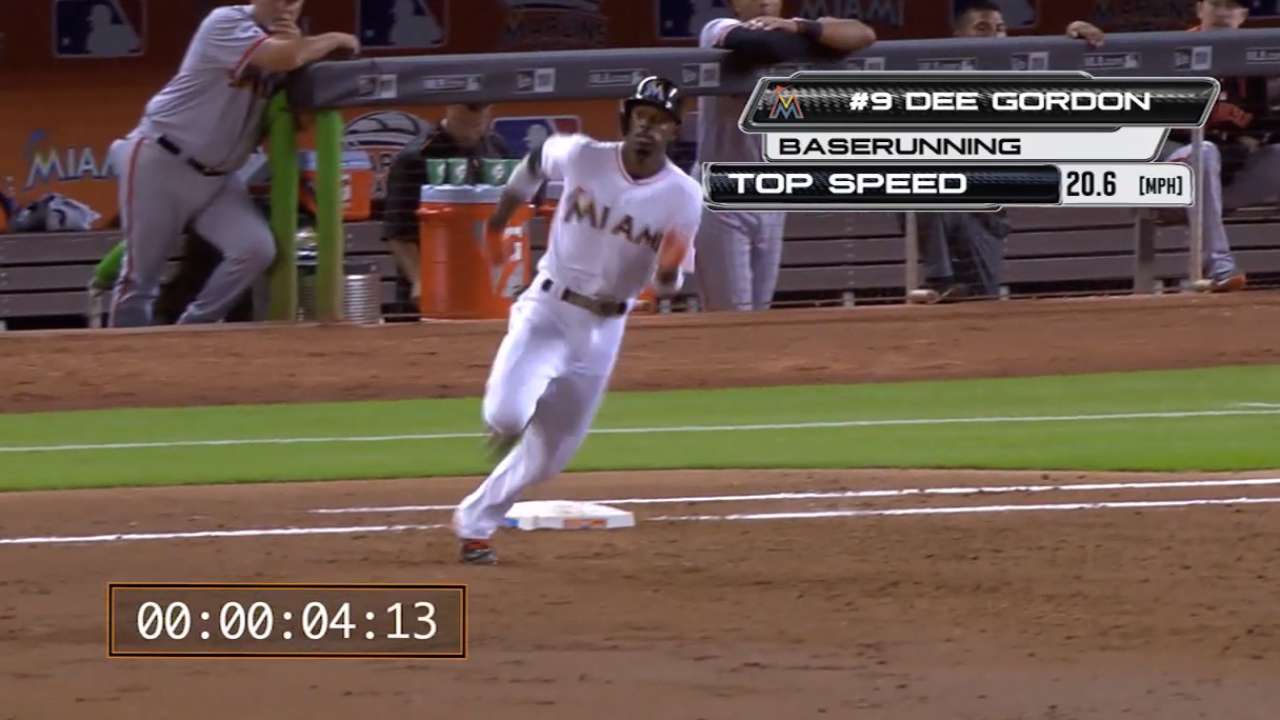 The first season of Statcast™ provided an innovative glimpse into a series of significant, albeit previously unmeasurable, metrics.
With that full season of data in the books, MLB Network will present "The Statcast™ Year in Review" today at 10 p.m. ET. The show will look back at some of the key lessons to be learned from this groundbreaking technology, which offered fans and executives alike a new way to evaluate the game.
For starters, Statcast™ finally put numbers to long-standing debates, such as which players run the fastest or hit the ball the hardest. In some cases, such as the latter, the results were exactly as expected. As tonight's show will break down, Marlins slugger Giancarlo Stanton dominated the Statcast™ leaderboard when it came to exit velocity, recording eight of the top 10 hardest-hit balls this season.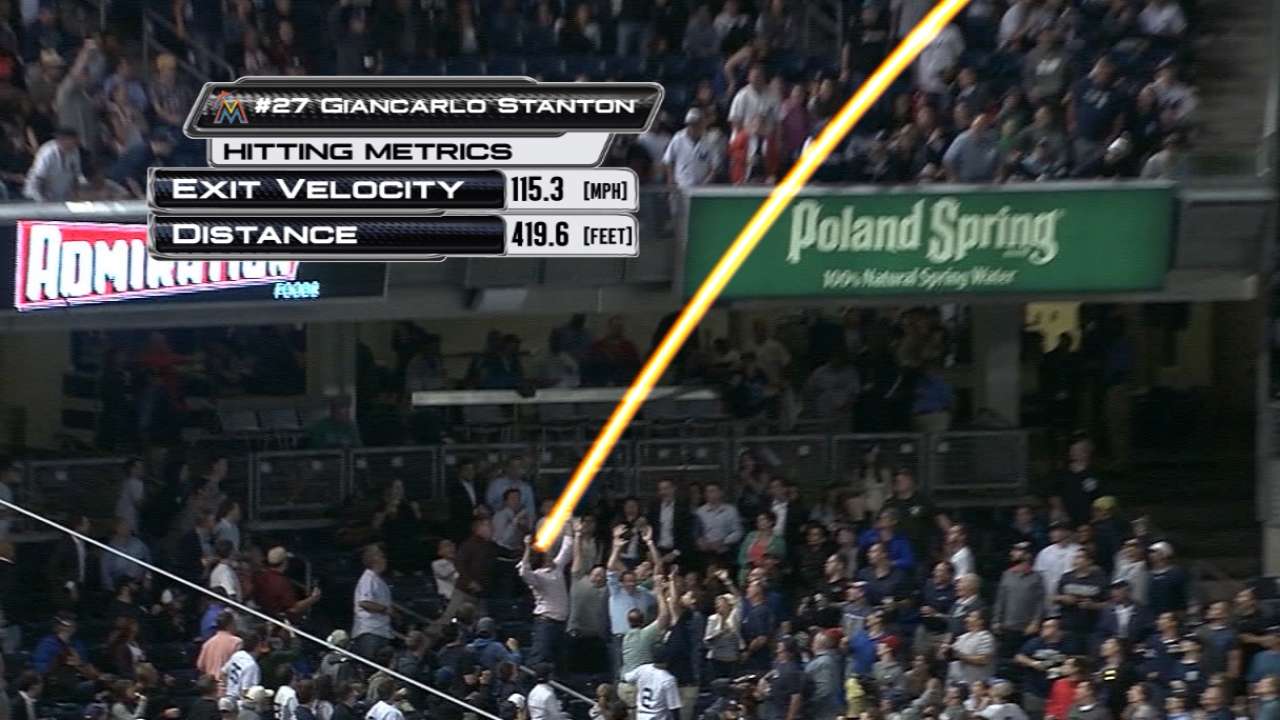 The show will also take a look at how that same exit velocity metric can be used to evaluate a hitter's health, much in the same way that a dip in pitching velocity can often indicate a potential injury for a pitcher. That concept was evident throughout the year, as such players as Ryan Zimmerman (foot), Andrew McCutchen (knee), Mike Trout (wrist) and Hanley Ramirez (shoulder) all experienced dropoffs in their average exit velocity as they attempted to play through their respective injuries.
It doesn't stop there, however, as the year-in-review episode will also demonstrate how Statcast™ can help analyze some of the game's most crucial individual plays. Take, for instance, Alex Gordon's rare game-tying homer off Mets closer Jeurys Familia in the ninth inning of Game 1 of the World Series.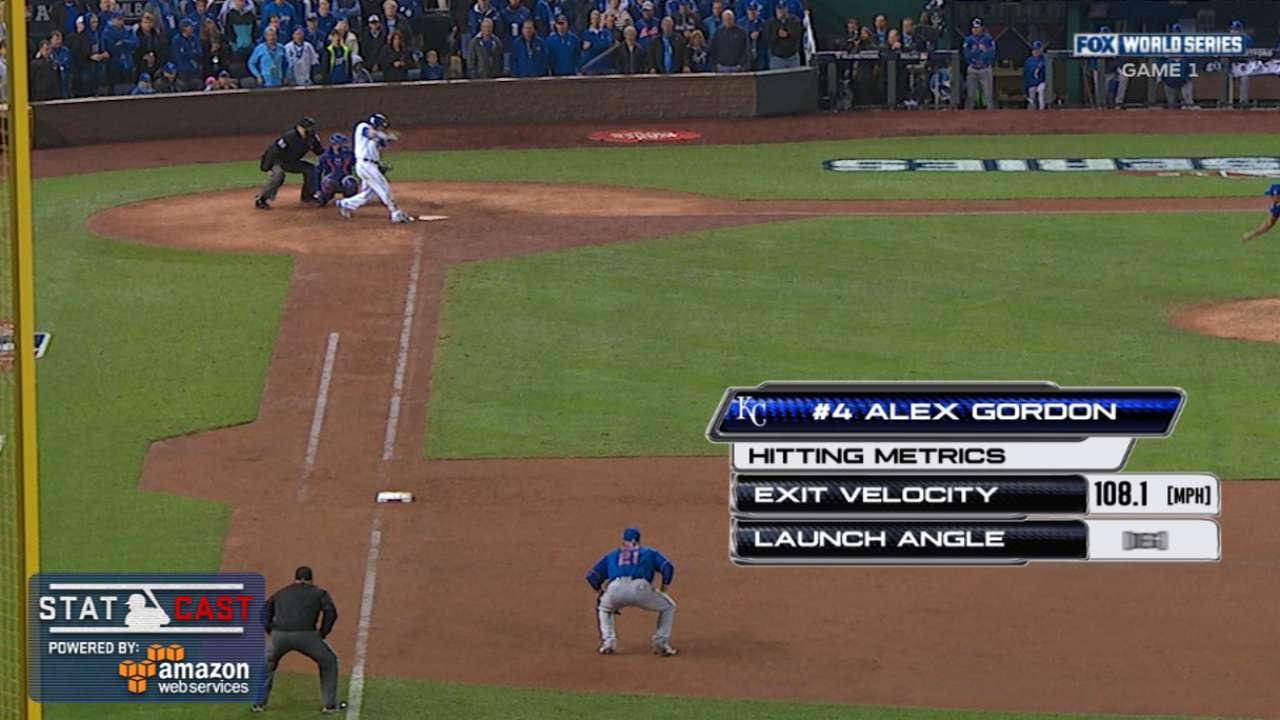 Consider that Familia's sinker this season had an average velocity of 97.2 mph and an average spin rate of 2,195 rpm, and he delivered it with an average six-foot extension. He nailed almost all of those averages (97 mph, 2,186 rpm, 6.04-foot extension) when he induced a groundout from Salvador Perez to begin the inning. Yet when he then tried to quick-pitch Gordon, he managed only a 5.7-foot extension, meaning his 97.2-mph pitch had a perceived velocity of only 96.4 mph. Even more telling is the fact that the pitch had an uncharacteristically high spin rate of 2,327 rpm.
Though not every play needs to be scrutinized in such detail, Statcast™ provides the capability to do so for the plays and situations that matter most, as tonight's broadcast will show as it wraps up all the best that Statcast™ had to offer in its debut season.
Paul Casella is a reporter for MLB.com. Follow him on Twitter @paul_casella. This story was not subject to the approval of Major League Baseball or its clubs.