MLB.com Columnist
Anthony Castrovince
Frazier deal could work for Tribe
Reds star is option for Indians team aiming to stay competitive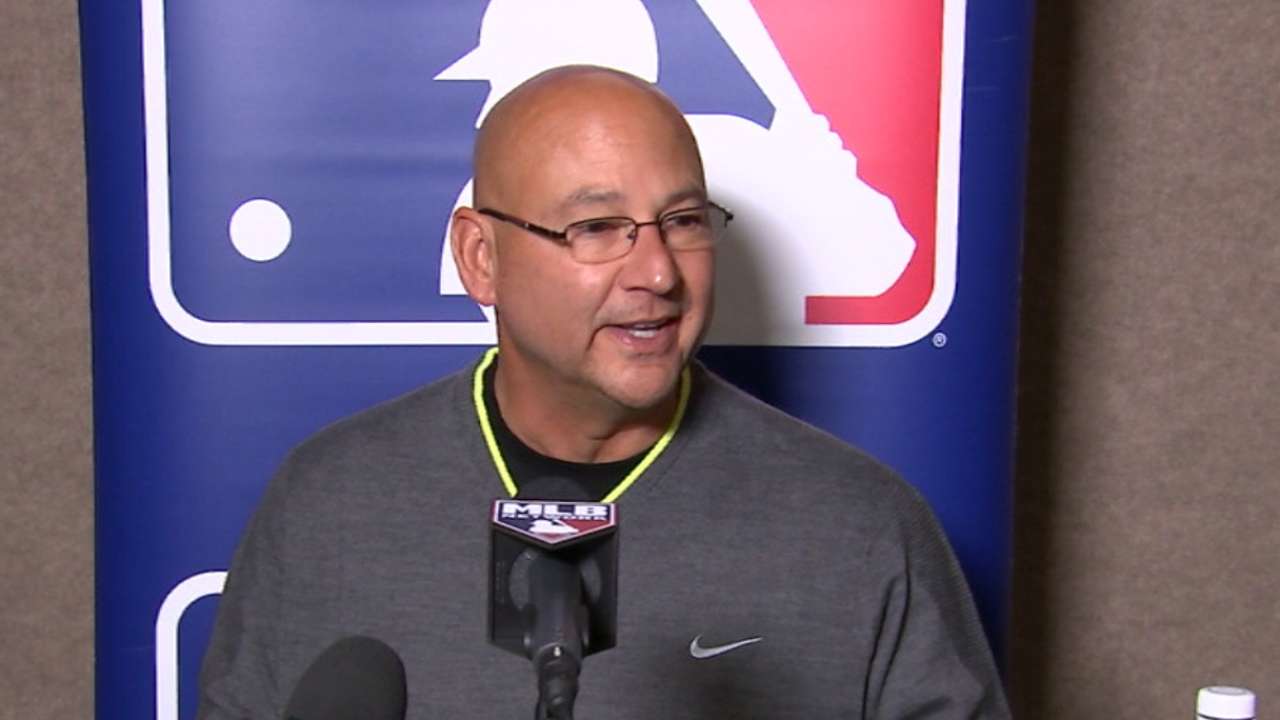 CLEVELAND -- Unless we were to investigate the call logs from the Gaylord Opryland Resort & Conference Center and the smartphone records of every Major League executive, there's no way to prove this point. But it seems we can safely guess that the Indians' ratio of conversation to action at this week's Winter Meetings had to be higher than most.
As we know, teams are very, very interested in the Indians' cost-controlled starting arms (Carlos Carrasco, Danny Salazar and, to a much lesser extent, Trevor Bauer), and that interest has only accelerated in light of the dollar costs in what is now a thinned-out free-agent class. As we also know, the Tribe hasn't moved any of those guys.
If it was hard to see the Indians parting with an arm at the outset of the offseason, it's even more certain they'll stay put now. In a weird way, the Shelby Miller trade orchestrated by the Braves and D-backs might have made it even less likely that the Tribe will make a trade. Yes, five years of Ender Inciarte and two big prospects -- No. 1 overall pick Dansby Swanson and Aaron Blair -- was a huge haul for Miller and Gabe Speier.
But A: How many clubs are in a position to be as aggressive as Arizona was?
And B: Why would Cleveland, in a bid to contend in the present tense, do a deal more weighted toward the future?
If anything, the Miller trade raised the trade value bar for Carrasco and Salazar, in particular, to an arguably unreachable level. And as Indians general manager Mike Chernoff noted, it's difficult for two teams with an eye on contention to make a blockbuster swap of immediate assets.
"You can almost always align in the offseason for a prospect type of deal for any of your Major League players," Chernoff said. "I think it becomes more challenging when your timing is more focused on how to improve your Major League club, because then you're trading Major League players for Major League players, or trying to find prospects in your system that you'd trade for Major League players. I think it's much harder to align on how you value those things with other teams when your time frame is the same as what other teams are looking at."
That's why a shift toward somebody like Todd Frazier makes so much sense. The Reds are going nowhere and have a distinct need to blow it up and build it up. We can debate all day the merits of moving a Brad Zimmer and/or a Clint Frazier (the Indians' top two prospects, both outfielders) for Frazier, a 29-year-old who is two years from free agency and had a miserable second half.
What matters, though, is that the Tribe does, indeed, has the currency of young talent to do a Frazier deal and add his right-handed bat to the middle of its lineup. And because the Major League landscape is not exactly replete with rebuilding teams these days, Cincinnati is one of the few situations in which the alignment Chernoff mentioned actually exists.
Ultimately, this sort of trade probably makes a lot more sense than shifting assets, robbing from the rotation to bring in a bat.
Maybe neither happens, and that sound you just heard was the collective groan of Cleveland fans. They want to see tangible signs that the Indians' middle-of-the-order production can be counted on to improve drastically. They see a huge hole in the outfield, one exacerbated by the uncertainty associated with Michael Brantley's lead shoulder and his timetable. They see a club built around a high-upside rotation and an improved defense, but one that's going to have to be more robust in the runs column if it's going to keep pace in the evolving American League Central.
The Indians have a tortured organizational history of poor April starts -- a problem that hasn't abated in the Terry Francona era. Brantley's situation only increases the emphasis on finding help in the here and now, rather than taking the sort of wait-and-see approach that worked for the Mets (another team built around young arms) in 2015. The Mets had the luxury of playing .500 ball for more than half a season because of the rapid erosion of the Nationals and Marlins and the presence of two rebuilding clubs -- the Phillies and Braves -- within their division. It's hard to imagine the Indians having so much good fortune smile upon them.
So yes, there's plenty of reason to hope for something impactful to happen here. Something more reliable and sustainable than, say, counting on Justin Morneau to avoid any concussion symptoms or hoping somebody like Will Venable can hold his own at the plate.
The Indians recognize that their pitching gives them an opportunity to show urgency in this marketplace, and urgency might be what it takes to keep pace with the defending World Series champions, a Tigers team that could be due for a big bounceback, a Twins team on the rise and a White Sox team not punting after 2015 went awry.
Nothing happened at the Winter Meetings, but no buzzer sounded. The offseason continues on in earnest, and the Indians remain a team active in conversation.
They are also a team that's going to need to be active in action.
Anthony Castrovince is a reporter for MLB.com. Read his columns and follow him on Twitter at @Castrovince. This story was not subject to the approval of Major League Baseball or its clubs.