Cubs build around young core with Zobrist, Lackey
Chicago also deals Castro for starter/reliever Warren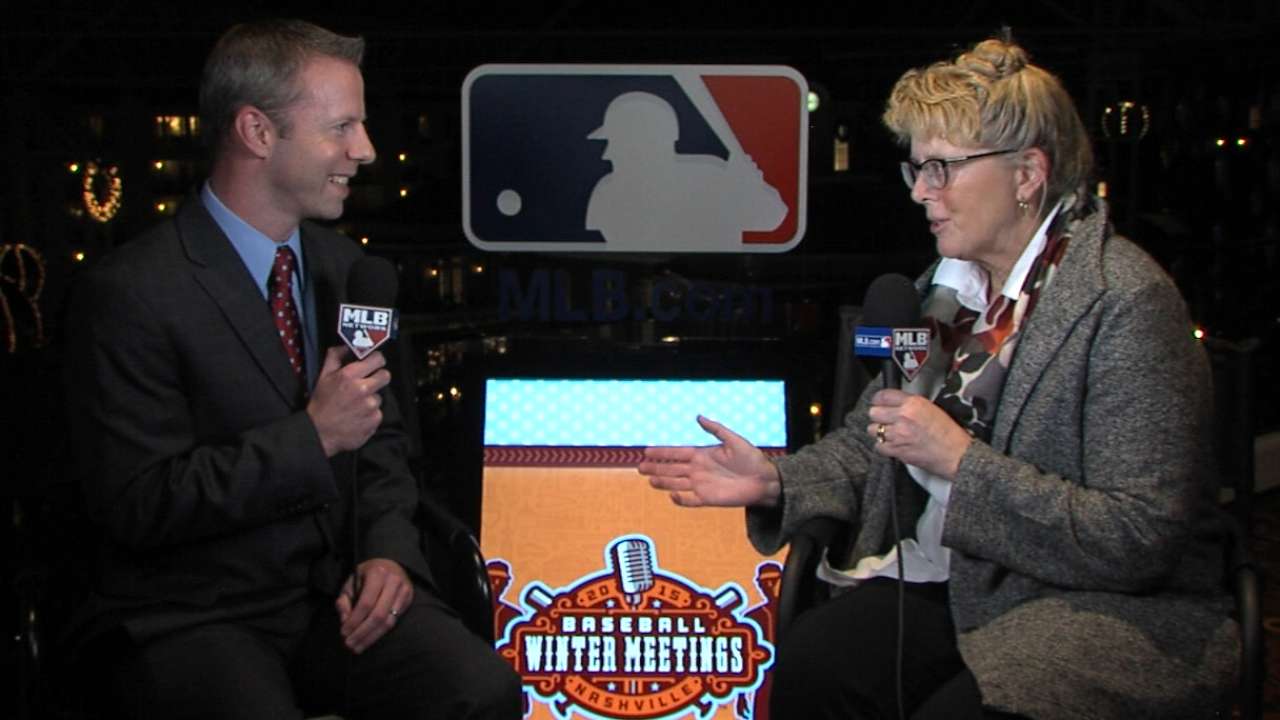 NASHVILLE, Tenn. -- The Winter Meetings for the Cubs the past few years were mostly about signing free agents who could possibly be flipped for prospects at the Trade Deadline. It was all part of the rebuilding plan. But this year was different.
After winning 97 games and reaching the postseason for the first time since 2008, the Cubs are looking for pieces that match well with the young talent, and they may still be in play for one more addition. Let's just say it was a productive few days in Nashville.
Winter Meetings highlights
Below were the biggest moves of the Winter Meetings in Nashville, Tenn.
12/9: D-backs acquire RHP Shelby Miller from Braves for OF Ender Inciarte, RHP Aaron Blair, SS Dansby Swanson.
Mets acquire 2B Neil Walker from Pirates for LHP Jon Niese.
Astros to acquire RHP Ken Giles from Phillies for RHP Vincent Velasquez, LHP Brett Oberholtzer, others. Not official.
White Sox acquire IF Brett Lawrie from A's for two Minor Leaguers.
Mets to sign SS Asdrubal Cabrera to 2-year deal. Not official.
Mariners acquire 1B Adam Lind from Brewers for three Minor Leaguers.
12/8: D-backs sign 6-year deal with Zack Greinke.
Cubs sign 4-year deal with 2B Ben Zobrist.
Yankees acquire 2B Starlin Castro from Cubs for RHP Adam Warren, PTBNL.
Cubs sign 2-year deal with RHP John Lackey.
Cardinals acquire 2B Jedd Gyorko from Padres for OF Jon Jay.
12/7: Dodgers near 3-year deal with RHP Hisashi Iwakuma. Not official.
Mariners acquire LHP Wade Miley, RHP Jonathan Aro from Red Sox for RHP Carson Smith, LHP Roenis Elias.
Royals sign 2-year deal with RHP Chris Young.
"It's totally different now," general manager Jed Hoyer said of the Cubs' approach this offseason. "Then, we were trying to be opportunistic. What things can we do to position ourselves for the future? We were pretty open with some free agents that you might sign here, and you might get traded.
"Now it's much more about rounding out the team and doing things to win," Hoyer said. "We're always active. We were probably that team that was simply being opportunistic as opposed to now, where we're much more focused."
The Cubs' staff did justify its expenses from the Gaylord Opryland Resort. But there is still work to do.
"We're much more focused on the short term than we were," Hoyer said. "You're always thinking about the future -- the future is going to come, and if you don't prepare for it, you'll really regret it. At the same time, we know we have a good team. We proved it last year. we have a great manager, great players. Our now is very bright, so I think we have to take advantage of that. That balance is different now than it was. As that balance shifts, I do think it creates more urgency."
Deals done
The Cubs had a busy day on Day 2 of the Winter Meetings, adding a starting pitcher, a second baseman and some pitching depth. Free agent right-hander John Lackey signed a two-year, $32 million contract, and he will be slotted behind Jake Arrieta and Jon Lester in the rotation. Lackey is coming off a 13-10 season with the Cardinals and will be reunited with his Red Sox teammates Lester and David Ross. Said manager Joe Maddon of Lackey: "He's almost a perfect fit for us after the season we just had."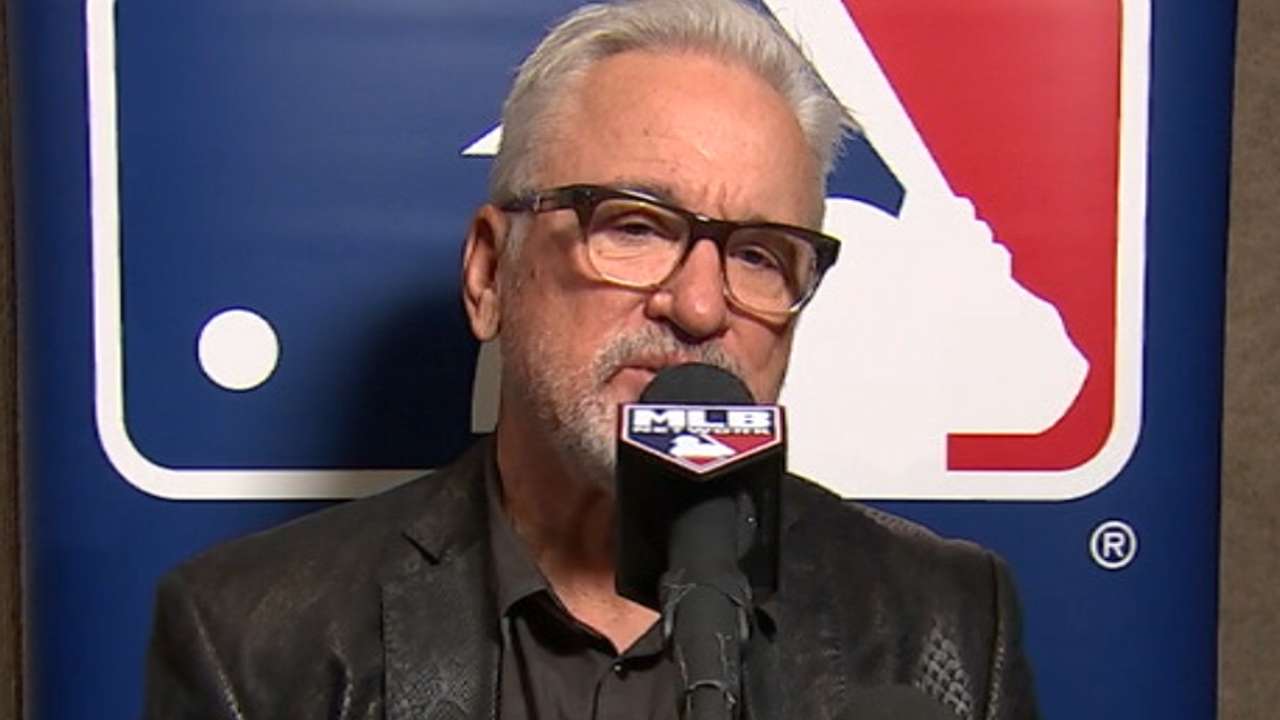 Maddon was pumped to be reunited with Ben Zobrist, who will be the regular second baseman, but also gets to put his super-utility skills to use. Maddon and Zobrist were together in Tampa Bay, and the free agent decided to come to Chicago after weighing his options. He signed a four-year, $56 million deal.
"In the end, the deal that I signed was exactly where I wanted to be as far as money goes and the fact that it was the Cubs and the lure of not only playing in Wrigley, but winning a championship in Chicago," Zobrist said. "That outdid a lot of the dollar amount figures in my mind."
To make room both in the lineup and on the payroll, the Cubs dealt Starlin Castro to the Yankees for right-hander Adam Warren and a player to be named. Warren, who has a career 3.39 ERA in 147 games over three seasons, could start or pitch in relief. Castro has grown up in the Cubs' system, and he and his walk-up music will be missed.
• Cubs add Zobrist, deal Castro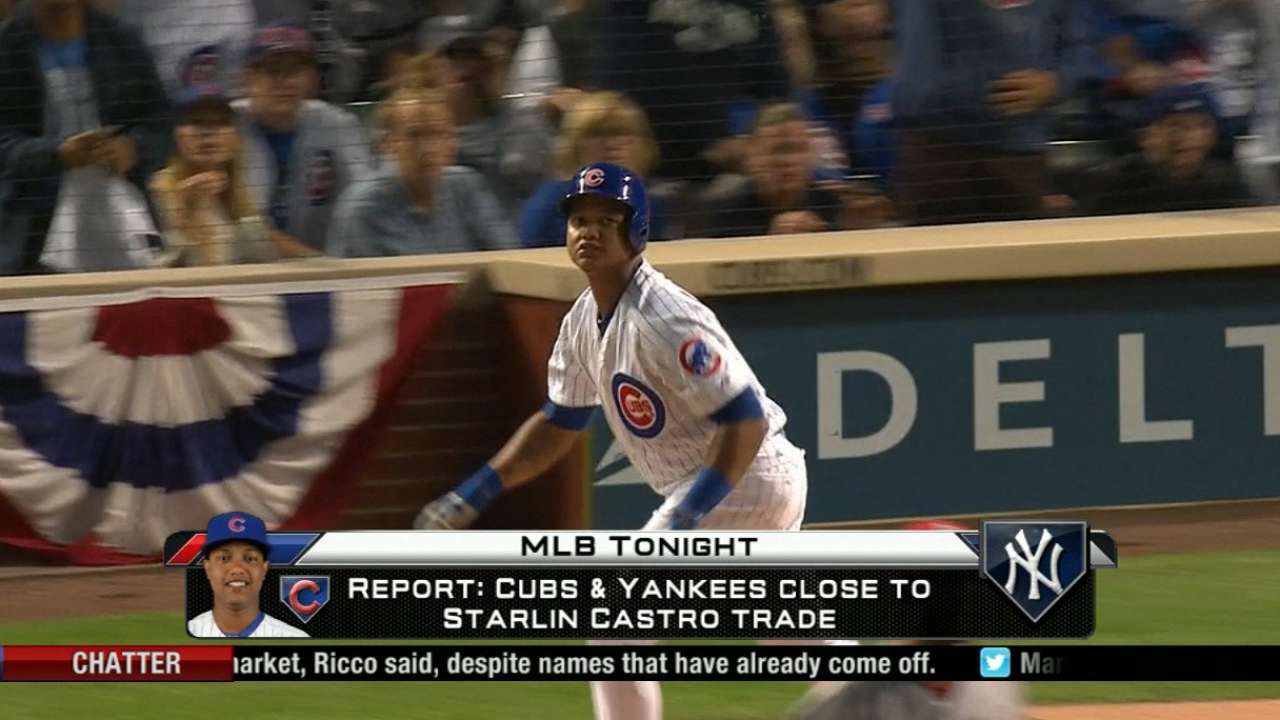 Rule 5
The Cubs did not select a player in the Major League phase of the Rule 5 Draft, but did pick three players in the Triple-A phase: catcher David Freitas, and outfielders Mike O'Neill off the Cardinals' roster and Jesus Loya from the Red Sox roster.
Freitas, 26, was a 15th-round pick by the Nationals in 2010, and last season, he batted .242 in 71 games with eight homers, 12 doubles and 33 RBIs at Double-A Bowie. O'Neill, 27, was a .289 hitter in 90 games last season at Double-A Springfield and Triple-A Memphis. He has a career .412 on-base percentage. Loya, 23, a left-handed hitter, spent last season in Mexico, where he batted .260 in 93 games.
The Cubs did not lose a player in the Major League phase of the Draft but had four prospects taken in the Triple-A phase. The Reds took infielder Pin-Chieh Chen, the Angels picked left-handed pitcher Ariel Ovando, the Yankees took right-handed pitcher Julian Aybar and the Cardinals took left-handed pitcher Michael Heesch.
• Cubs select three in Triple-A Rule 5 Draft
Goals accomplished
The Cubs know they were fortunate to get through the 2015 season without any significant injuries to their pitching staff. They want to make certain that in 2016, they're prepared for the worst. They added Lackey and Warren during the Winter Meetings, and just prior to coming to Nashville, acquired lefty Rex Brothers and signed lefty Clayton Richard to a one-year deal.
But pitching wasn't the only concern. The addition of Zobrist gives them more than a second baseman.
"He's the consummate team-player professional," Maddon said of Zobrist. "The kind of impact he can have on our young position players to me is going to be phenomenal."
• Hot Stove Tracker: Free agents and trades
Unfinished business
There's still a large gap in center field. The Cubs did make a qualifying offer to Dexter Fowler, who rejected that and has been exploring free agency. The Cubs left the Meetings as one of several teams considering free agent Jason Heyward, but they reportedly came to an agreement with him on Friday.
The Cubs also are still looking at adding more players for the bench, and looking for versatile high on-base types.
GM's bottom line
"We got a lot of different texts from guys on the team who were excited about bringing Zobrist in. They pay attention and watched the World Series and know what kind of player he is. They were sad about the departure of Starlin, but excited about the addition of Ben. These guys are so into what we do. I've never gotten so many texts from players about what we're trying to do and what they want us to do. I think they want to win and they're excited about it. That was not happening in 2012. It's a good feeling that in a great way, these guys want us to bring guys in who can help them win." -- Hoyer
Carrie Muskat is a reporter for MLB.com. She writes a blog, Muskat Ramblings. You can follow her on Twitter @CarrieMuskat and listen to her podcast. This story was not subject to the approval of Major League Baseball or its clubs.