Mets bolster infield at Meetings, eye additions
Trade for Walker, two-year deal with Cabrera follow Zobrist's signing with Cubs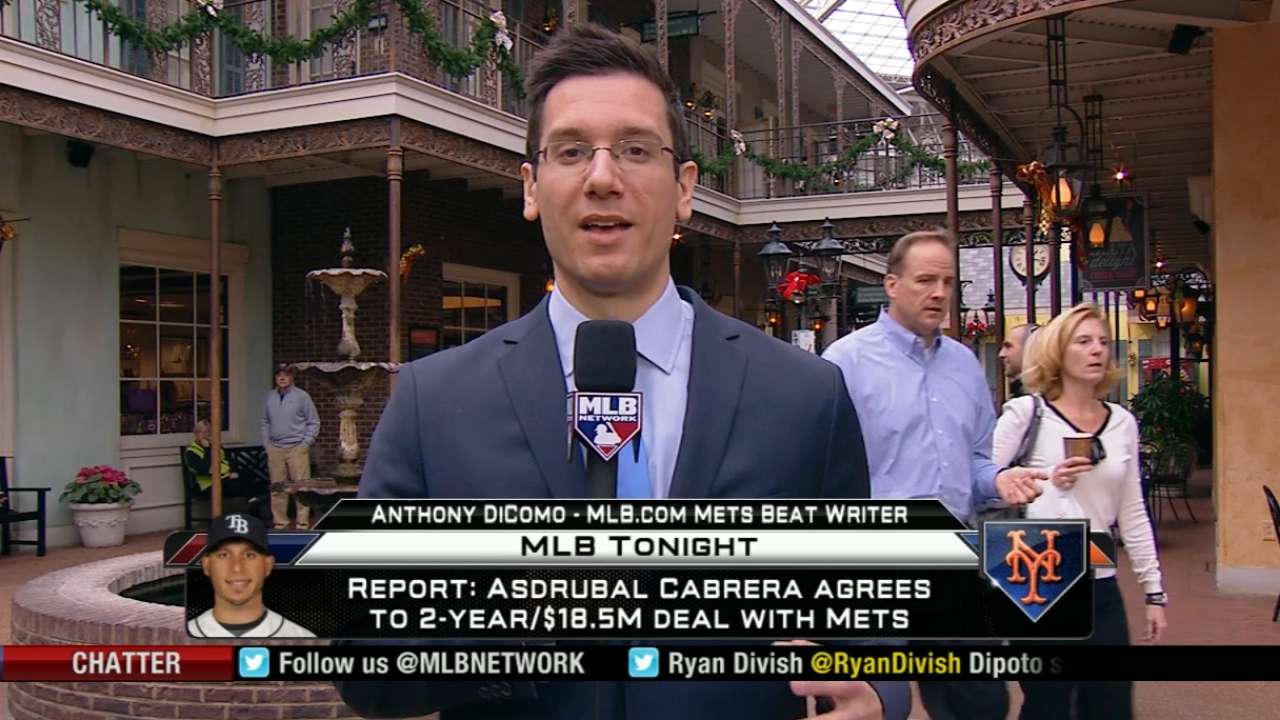 NASHVILLE, Tenn. -- Ask the Mets, and they'll rave about the importance of versatility. Infielders such as Ben Zobrist are valuable not only because they can jump around from position to position, but also because they allow their manager to rest other players, constantly putting everyone in the best situations to succeed.
New York came into the Winter Meetings craving versatility and missed out on Zobrist -- its primary target. But the Mets regrouped quickly enough to achieve their goals anyway, trading for second baseman Neil Walker and agreeing to terms on a two-year deal with shortstop Asdrubal Cabrera.
Winter Meetings highlights
Below were the biggest moves of the Winter Meetings in Nashville, Tenn.
12/9: D-backs acquire RHP Shelby Miller from Braves for OF Ender Inciarte, RHP Aaron Blair, SS Dansby Swanson.
Mets acquire 2B Neil Walker from Pirates for LHP Jon Niese.
Astros to acquire RHP Ken Giles from Phillies for RHP Vincent Velasquez, LHP Brett Oberholtzer, others. Not official.
White Sox acquire IF Brett Lawrie from A's for two Minor Leaguers.
Mets to sign SS Asdrubal Cabrera to 2-year deal. Not official.
Mariners acquire 1B Adam Lind from Brewers for three Minor Leaguers.
12/8: D-backs sign 6-year deal with Zack Greinke.
Cubs sign 4-year deal with 2B Ben Zobrist.
Yankees acquire 2B Starlin Castro from Cubs for RHP Adam Warren, PTBNL.
Cubs sign 2-year deal with RHP John Lackey.
Cardinals acquire 2B Jedd Gyorko from Padres for OF Jon Jay.
12/7: Dodgers near 3-year deal with RHP Hisashi Iwakuma. Not official.
Mariners acquire LHP Wade Miley, RHP Jonathan Aro from Red Sox for RHP Carson Smith, LHP Roenis Elias.
Royals sign 2-year deal with RHP Chris Young.
"We said at the beginning, we're trying to build a team with a lot of flexibility, versatility and depth," assistant general manager John Ricco said. "That's what we're doing, and we're going to continue to do that. ... Trying to acquire pieces that give us depth is the goal."
Along with special assistant to the general manager J.P. Ricciardi and vice president of amateur scouting and player development Paul DePodesta, Ricco spearheaded the Mets' team in Nashville while GM Sandy Alderson underwent cancer treatment back in New York. But Alderson still had his hands all over the Mets' moves, calling Pirates GM Neal Huntington personally to close the deal for Walker.
The acquisitions of Walker and Cabrera give New York a new-look infield, lengthening the lineup and allowing the club to use Wilmer Flores as a super sub next season. And the Mets are not done attempting to improve their club. With Jon Niese headed to Pittsburgh in the Walker trade, they are now looking into Bartolo Colon as an option at the back of their rotation. They also plan to sign a veteran reliever for the back of their bullpen, plus a left-handed center fielder to pair with Juan Lagares.
None of those moves appear imminent. For now, the Mets will head back to New York, reconnect with Alderson in person and take the next steps in their quest to make the defending National League champions even better.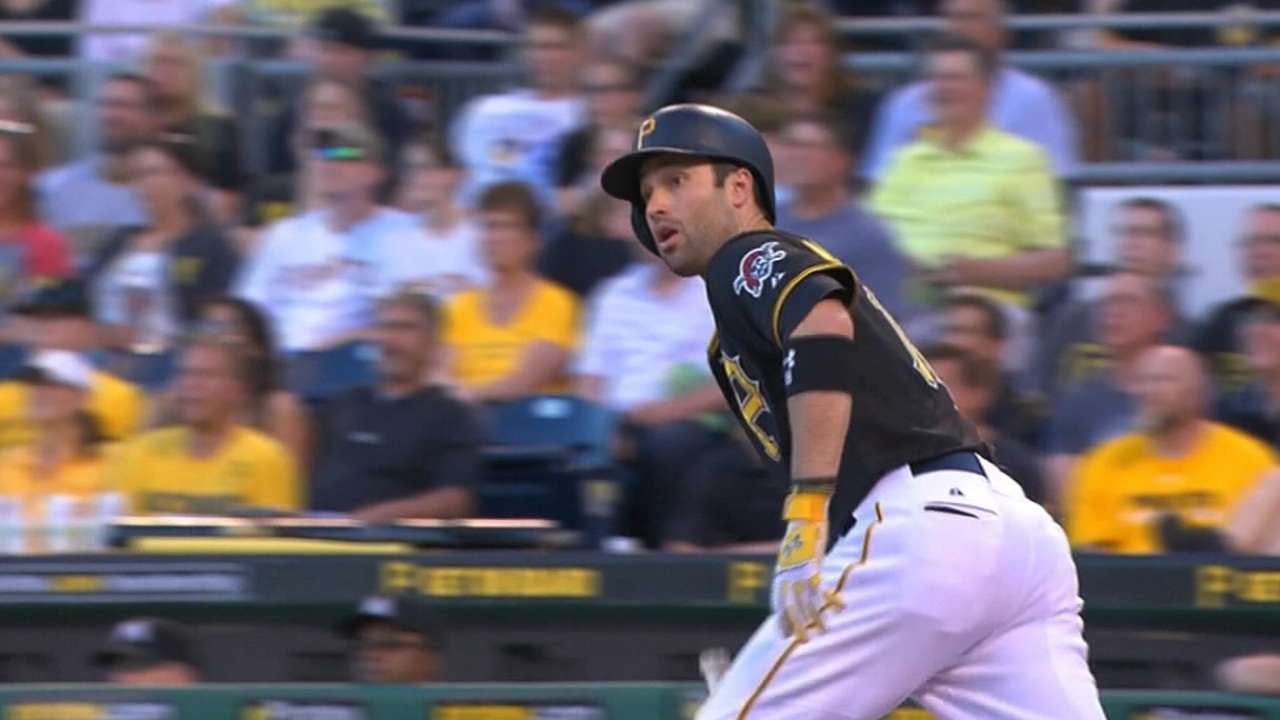 Deals done
In addition to trading Niese for Walker, the Mets agreed to terms on a two-year, $18.5 million deal (with a third-year club option) for Cabrera, who officially signed Friday.
Rule 5 Draft
Unlike last year, when the club selected left-handed pitcher Sean Gilmartin, New York did not make a pick in Thursday's Rule 5 Draft. But it did lose right-handed pitcher and No. 19 prospect Matt Bowman to St. Louis.
• Mets lose right-handed prospect Bowman in Rule 5 Draft
Goals accomplished
Coming into the week, the Mets considered signing Zobrist their top priority, and they were optimistic as recently as Tuesday morning that they could close on him. But when they lost Zobrist to the Cubs, they quickly regrouped with the acquisitions of Walker and Cabrera. The infield makeover now appears complete.
Unfinished business
Though New York touched base on back-end starters, left-handed center fielders and plenty of relievers at the Winter Meetings, it did not come close to deals on any of them. Ricco says the team has both the desire and the cash flow to acquire one of each, though the Mets will not stretch their budget for players they don't like. If nothing else, they are all but guaranteed to sign a veteran reliever in the coming weeks.
"I think we have the ability to do all three if the pieces that we like are there," Ricco said. "We have the resources to do it. I think we have the money to do it. Whether or not we do it probably depends on who the players are, and whether or not we view them as an upgrade to what we already have."
GM's bottom line
"We were pretty honest about the fact that we thought we could operate as normal with Sandy back in New York, and I think we were able to do that," Ricco said. "So we're happy with how the Meetings went. We still have more work to do over the next few weeks and heading into Spring Training, but I think we're in a good place."
Anthony DiComo is a reporter for MLB.com. Follow him on Twitter @AnthonyDiComo and Facebook, and listen to his podcast. This story was not subject to the approval of Major League Baseball or its clubs.