Mariners' roster 'pretty settled' after Meetings
Club continued active offseason for productive few days in Nashville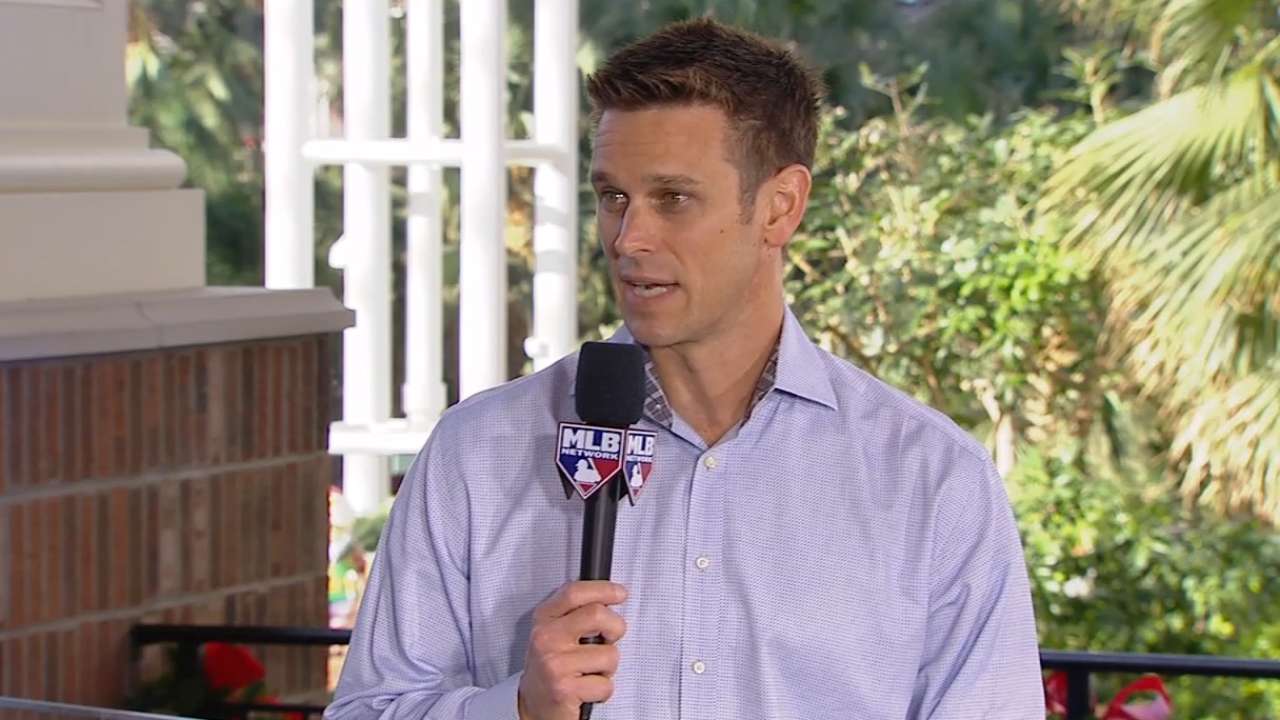 NASHVILLE, Tenn. -- As promised, Jerry Dipoto didn't do anything completely unexpected at the Winter Meetings, but the new Mariners general manager headed back to Seattle on Thursday feeling his team is now largely in place after completing three trades during the four-day gathering at the Opryland Hotel.
The Mariners again were more active than most clubs as they continued a busy offseason that has now seen nine trades involving 30 players, as well as four free-agent signings.
"The roster is pretty settled," Dipoto said Thursday as the Meetings were breaking up. "We have turned over a lot of the roster. It should now slow pretty significantly. The offensive club is kind of what you see is what you get. We like the group we have on the field. There might be a small twist, but nothing super significant. The pitching staff, we still have some tweaks to make, but nothing that is going to change the world. This is our team."
Winter Meetings highlights
Below were the biggest moves of the Winter Meetings in Nashville, Tenn.
12/9: D-backs acquire RHP Shelby Miller from Braves for OF Ender Inciarte, RHP Aaron Blair, SS Dansby Swanson.
Mets acquire 2B Neil Walker from Pirates for LHP Jon Niese.
Astros to acquire RHP Ken Giles from Phillies for RHP Vincent Velasquez, LHP Brett Oberholtzer, others. Not official.
White Sox acquire IF Brett Lawrie from A's for two Minor Leaguers.
Mets to sign SS Asdrubal Cabrera to 2-year deal. Not official.
Mariners acquire 1B Adam Lind from Brewers for three Minor Leaguers.
12/8: D-backs sign 6-year deal with Zack Greinke.
Cubs sign 4-year deal with 2B Ben Zobrist.
Yankees acquire 2B Starlin Castro from Cubs for RHP Adam Warren, PTBNL.
Cubs sign 2-year deal with RHP John Lackey.
Cardinals acquire 2B Jedd Gyorko from Padres for OF Jon Jay.
12/7: Dodgers near 3-year deal with RHP Hisashi Iwakuma. Not official.
Mariners acquire LHP Wade Miley, RHP Jonathan Aro from Red Sox for RHP Carson Smith, LHP Roenis Elias.
Royals sign 2-year deal with RHP Chris Young.
Dipoto said the Mariners got a jumpstart on their offseason work this winter because of the hiring process he went through before being named to replace Jack Zduriencik in late August.
"The process of preparing for the interview to come in and meet with the Mariners gave me a very clear idea of what I wanted to do," said the former Angels GM.
The amount of change Dipoto believed necessary led to an aggressive early approach this winter, and the Mariners made most of their moves even before getting to Nashville, then capped off their work with a productive Winter Meetings.
Seattle missed out on one primary offseason goal of re-signing veteran right-hander Hisashi Iwakuma, as he agreed to a deal with the Dodgers on Sunday. But Dipoto reacted quickly by acquiring Wade Miley in a trade on Monday.
For a front-office group where many of the participants are just getting to know each other, it was an impressive -- and cohesive -- start.
"We didn't spend a lot of time sleeping, but we got to a good place," Dipoto said. "It was a good room, and everybody contributed. That's part of the way I'm wired and the way we want to be wired as an organization. Everybody shares their opinion, it's inclusive. I want everybody to tell me what we're doing wrong and when it's right. We'll probably never reach a consensus on any decision we make, but there was a strong lean in one direction or another most of the time."
Deals done
The Mariners made a trade on each of the first three days at the Meetings. They acquired Miley and reliever Jonathan Aro from the Red Sox on Monday for starter Roenis Elias and reliever Carson Smith. On Tuesday, it was reliever Evan Scribner coming from the A's for Minor League reliever Trey Cochran-Gill. And Dipoto closed things out Wednesday by landing first baseman Adam Lind from the Brewers for a trio of Minor League right-handers -- Carlos Herrera, Daniel Missaki and Freddy Peralta.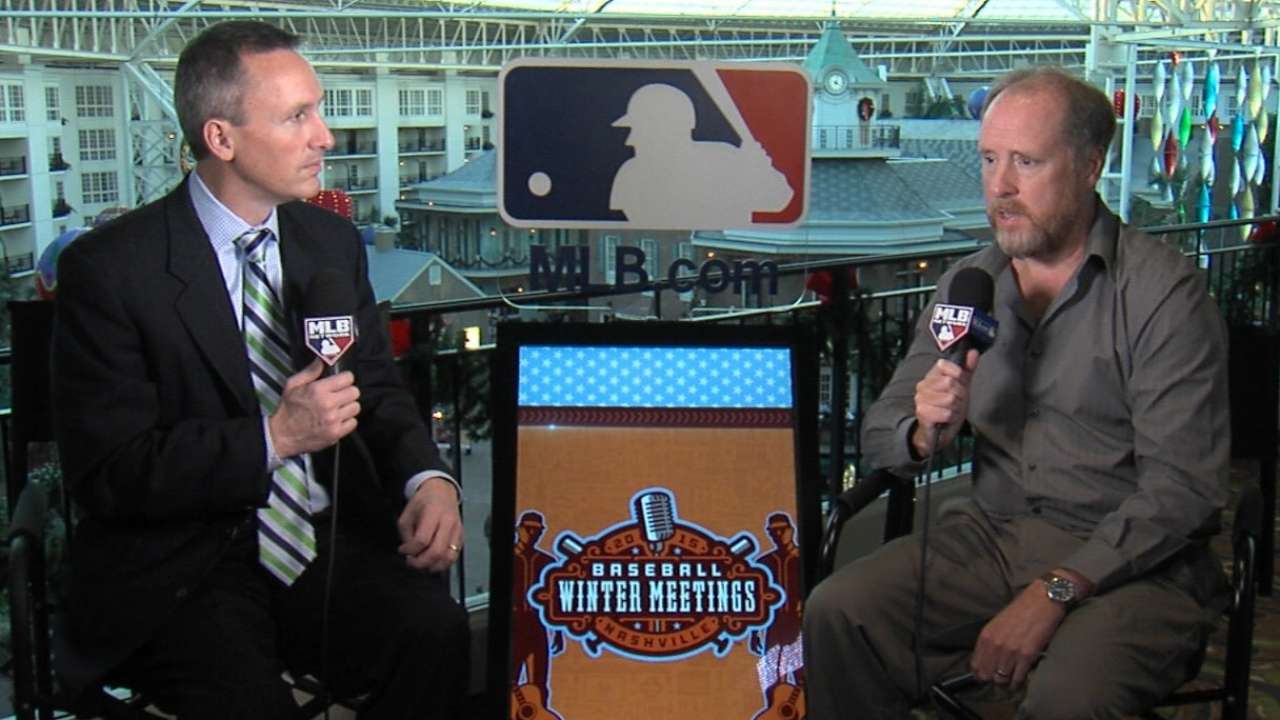 Rule 5 activity
Seattle didn't take anyone in the Major League portion of the Draft, but it lost outfielder Jabari Blash to the A's, who then traded him to the Padres. The Mariners picked up right-handed reliever Isaac Sanchez from the Pirates in the Triple-A portion of the Draft and lost lefty reliever Brian Moran to the Indians and right-handed reliever Logan Bawcom and outfielder Julio Morban to the Dodgers.
Goals accomplished
Dipoto found the first baseman he was looking for in Lind and upgraded his rotation with the addition of Miley, who he feels adds considerable stability to what had projected as a very young group behind Felix Hernandez. Scribner and Aro add two more arms to the bullpen mix.
Unfinished business
The only remaining target for Dipoto is the bullpen, where he'd like to sign at least one more free agent. The club will also add some Minor League free agents -- veterans on non-roster invitations to camp -- to provide some depth and competition, but most of the heavy lifting is now done.
GM's bottom line
"I don't know if you ever check off all the boxes, but we came into this offseason with a plan, and I think we stuck to it. We're very happy with the results to date." -- Dipoto
Greg Johns is a reporter for MLB.com. Follow him on Twitter @GregJohnsMLB, read his Mariners Musings blog, and listen to his podcast. This story was not subject to the approval of Major League Baseball or its clubs.