Niese is nice, but Bucs have holes to fill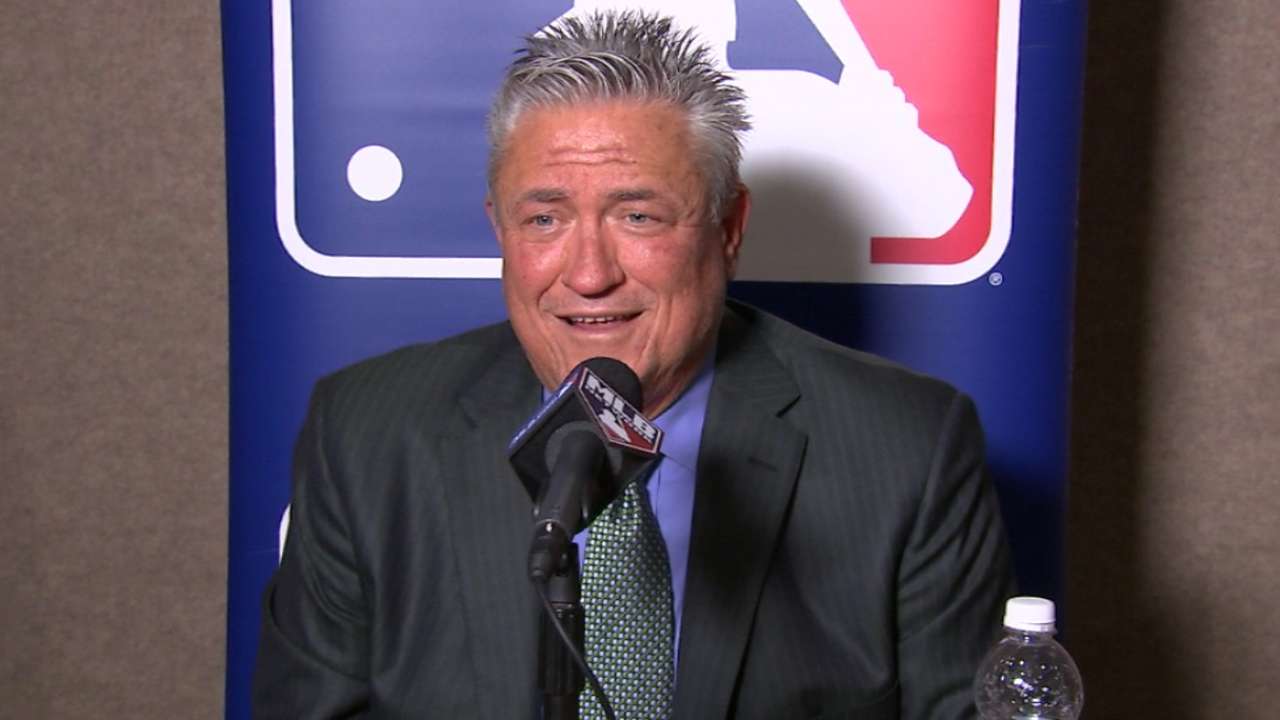 NASHVILLE, Tenn. -- This year's Winter Meetings may be better remembered for who the Pirates lost than who they picked up, but general manager Neal Huntington still left the Opryland Hotel on Thursday morning having accomplished one of his top offseason goals.
The Pirates traded second baseman Neil Walker to the Mets on Wednesday in exchange for left-hander Jon Niese, giving Pittsburgh a legitimate option to round out its rotation. That trade was the Pirates' only Major League move this week; they also signed a batch of Minor League free agent signings on Monday. But as usual, the meetings were a whirlwind of activity, filled with enough conversations and rumors to last the rest of the winter.
Winter Meetings highlights
Below were the biggest moves of the Winter Meetings in Nashville, Tenn.
12/9: D-backs acquire RHP Shelby Miller from Braves for OF Ender Inciarte, RHP Aaron Blair, SS Dansby Swanson.
Mets acquire 2B Neil Walker from Pirates for LHP Jon Niese.
Astros to acquire RHP Ken Giles from Phillies for RHP Vincent Velasquez, LHP Brett Oberholtzer, others. Not official.
White Sox acquire IF Brett Lawrie from A's for two Minor Leaguers.
Mets to sign SS Asdrubal Cabrera to 2-year deal. Not official.
Mariners acquire 1B Adam Lind from Brewers for three Minor Leaguers.
12/8: D-backs sign 6-year deal with Zack Greinke.
Cubs sign 4-year deal with 2B Ben Zobrist.
Yankees acquire 2B Starlin Castro from Cubs for RHP Adam Warren, PTBNL.
Cubs sign 2-year deal with RHP John Lackey.
Cardinals acquire 2B Jedd Gyorko from Padres for OF Jon Jay.
12/7: Dodgers near 3-year deal with RHP Hisashi Iwakuma. Not official.
Mariners acquire LHP Wade Miley, RHP Jonathan Aro from Red Sox for RHP Carson Smith, LHP Roenis Elias.
Royals sign 2-year deal with RHP Chris Young.
That tends to happen when all 30 clubs, dozens of agents and scores of reporters gather in one sprawling hotel for four straight days. You can count on one hand the number of times Huntington ventured away from his hotel room or the Pirates' suite, and three of those occasions were to accept or present awards.
"It's a fascinating time. We try not to get caught up in the emotion, because when you're emotional, you make horrible decisions," Huntington said Wednesday. "It gets a little bit hard sometimes, especially when you get in an environment like this and the time speeds up."
With that in mind, Pirates manager Clint Hurdle preached patience during his time at the meetings.
Last year, the Bucs tore through their to-do list, quickly accomplishing most of their goals. This offseason has been more of a slow burn, as the Pirates are looking to improve while listening to trade offers involving prominent pending free agents.
One of those players was Walker, who's now with the Mets. In one swift move, the Pirates made their toughest decision -- parting with Walker, the hometown hero -- and filled their biggest need, replacing A.J. Burnett and J.A. Happ in the rotation.
But Huntington's work is far from over, as the Pirates have a number of other holes to fill before they pack up and head south for Spring Training.
Deals done
The Pirates traded Walker, a pending free agent projected by mlbtraderumors.com to make $10.7 million next season, to the Mets and picked up Niese in return. Niese will fit into the middle of their starting rotation, likely filling the No. 3 spot occupied last season by Burnett and Happ.
Huntington described it as a simple trade, in one sense, because each club dealt from its depth and filled a need. But it was far more complex given Walker's relationship with the city and fans in Pittsburgh.
The Pirates added to their bullpen on Thursday, signing veteran right-hander Juan Nicasio to a one-year contract. The deal is worth $3 million, according to a source.
The team also invited five Minor League free agents to Spring Training, and Hurdle mentioned one of them -- left-hander Robert Zarate -- as a possible bullpen option heading into next year.
Rule 5 Draft
The Pirates lost reliever Deolis Guerra, one of their Minor League free-agent signings, to the Angels in the Major League portion of the Rule 5 Draft. Guerra would have otherwise been in big league camp with the Bucs, but he was probably ticketed for Triple-A Indianapolis next season.
For the fourth year in a row, the Pirates did not select a player in the Major League phase of the draft.
Goals accomplished
The Pirates didn't have a fifth starting pitcher on their depth chart before they acquired Niese, so that was clearly a significant move. And by trading Walker, they clarified their infield picture, putting Josh Harrison at second base and Jung Ho Kang at third when he returns to full health.
Unfinished business
They might not be done upgrading their rotation, as they have been linked to a number of starters, mostly those looking to bounce back from injuries or down years. They've had success with reclamation projects over the past few years, from Burnett and Francisco Liriano to Edinson Volquez and Happ.
The Pirates could also use a first baseman. Hurdle suggested they would like a left-handed platoon partner for Michael Morse, and they have expressed interest in Mike Napoli as well.
Huntington said he is searching for a utility infielder, either through free agency or trade, and that player may wind up being their Opening Day third baseman if Kang isn't fully recovered by then. Huntington has also reached out to every free-agent left-handed reliever, Hurdle said, as the Pirates look to bolster their bullpen.
GM's bottom line
"We'll never say we're set. It comes back to how do we continue to get better. Won't promise anything other than we'll continue to explore other ways to improve this roster, improve this organization." -- Huntington
Adam Berry is a reporter for MLB.com. Follow him on Twitter at @adamdberry. This story was not subject to the approval of Major League Baseball or its clubs.