Twins exit Meetings without reliever, but not worried
GM Ryan confident club will fill rest of offseason needs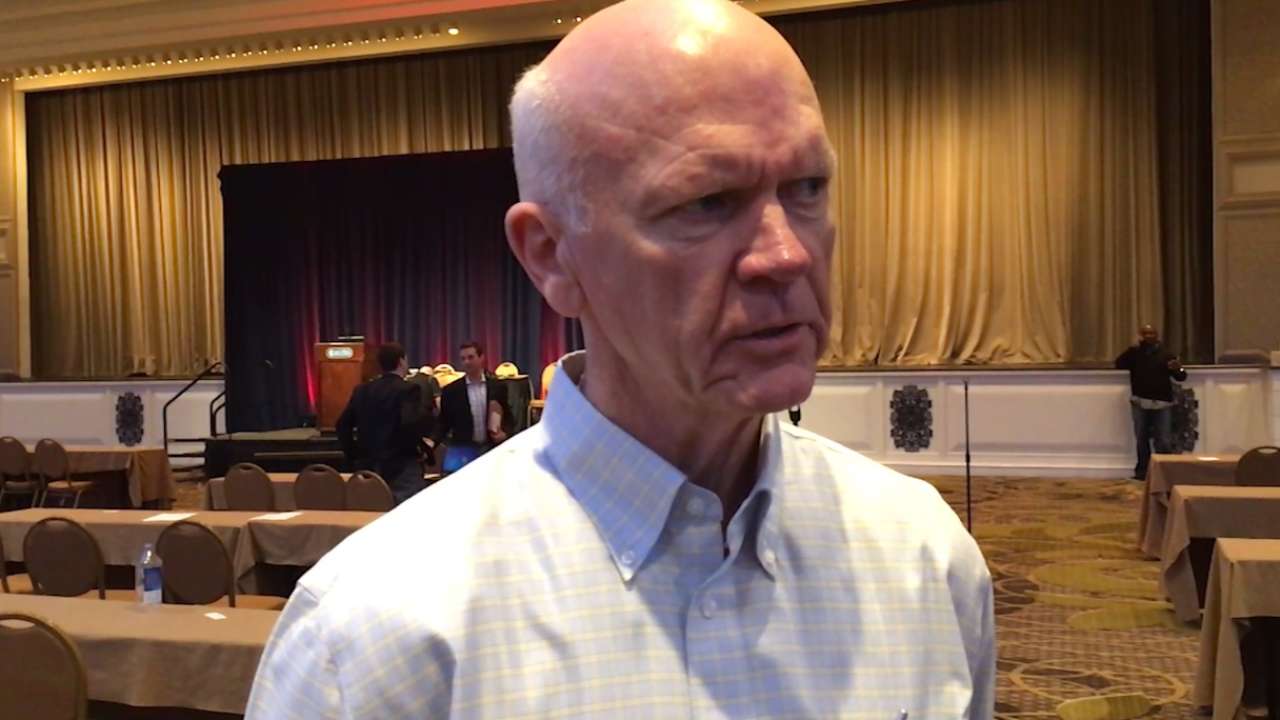 NASHVILLE, Tenn. -- The Twins left the Winter Meetings without striking a deal for relief help, but general manager Terry Ryan said he's not too concerned because he laid down the groundwork for future moves.
The Twins didn't expect it to be a busy Winter Meetings for them, as they already acquired catcher John Ryan Murphy from the Yankees for Aaron Hicks and signed Korean slugger Byung Ho Park. They were looking for a relief arm or two, but weren't able to make a deal.
Winter Meetings highlights
Below were the biggest moves of the Winter Meetings in Nashville, Tenn.
12/9: D-backs acquire RHP Shelby Miller from Braves for OF Ender Inciarte, RHP Aaron Blair, SS Dansby Swanson.
Mets acquire 2B Neil Walker from Pirates for LHP Jon Niese.
Astros to acquire RHP Ken Giles from Phillies for RHP Vincent Velasquez, LHP Brett Oberholtzer, others. Not official.
White Sox acquire IF Brett Lawrie from A's for two Minor Leaguers.
Mets to sign SS Asdrubal Cabrera to 2-year deal. Not official.
Mariners acquire 1B Adam Lind from Brewers for three Minor Leaguers.
12/8: D-backs sign 6-year deal with Zack Greinke.
Cubs sign 4-year deal with 2B Ben Zobrist.
Yankees acquire 2B Starlin Castro from Cubs for RHP Adam Warren, PTBNL.
Cubs sign 2-year deal with RHP John Lackey.
Cardinals acquire 2B Jedd Gyorko from Padres for OF Jon Jay.
12/7: Dodgers near 3-year deal with RHP Hisashi Iwakuma. Not official.
Mariners acquire LHP Wade Miley, RHP Jonathan Aro from Red Sox for RHP Carson Smith, LHP Roenis Elias.
Royals sign 2-year deal with RHP Chris Young.
"This was an odd Winter Meetings for us," Ryan said. "Especially coming in at 40 [on the 40-man roster] and feeling good about the guys we added in November. I didn't think we were going to do a bunch down here, but certainly didn't think I was going to leave empty-handed. But we'll end up supplementing this organization and still end up doing what we're trying to do."
As Ryan pointed out, there's plenty of time for the Twins to acquire a reliever via free agency or trade. He said he expects to add a reliever this month after meeting with agents and clubs all week.
"We had a number of conversations and I expect something to come to fruition as we go through the month of December," Ryan said. "I'd like to get some things accomplished so we can rest a little easier."
But Ryan also noted that the relief market is far from drying up despite a few relievers such as Tony Sipp and Shawn Kelley agreeing to deals with the Astros and Nationals, respectively.
"There's a bunch of free agents out there to this point," Ryan said. "I suspect some players might be getting edgy because they don't want to get squeezed. So we might be able to benefit by it. We'll see."
Deals Done
The only deals done by the Twins were a pair of Minor League deals, as they re-signed infielder James Beresford and also inked fellow infielder Buck Britton. Beresford, an International League All-Star with Triple-A Rochester last season, hit .307/.341/.359 in 129 games. Britton, the brother of Orioles closer Zach Britton, hit .262/.311/.374 in 117 games with Triple-A Oklahoma City in the Dodgers' organization in 2015.
Rule 5
With their 40-man roster full, the Twins didn't make a selection in the Rule 5 Draft. They also passed on the Minor League phase as well. But they did lose hard-throwing reliever Zack Jones to the Brewers. Jones must stay on Milwaukee's 25-man roster the entire season or be offered back to Minnesota for $25,000.
Goals Accomplished
The Twins met with agents and other clubs throughout the week in their search for bullpen help, so they know what it will take to land a reliever via free agency or trade. There's more than two months before the Twins report for Spring Training, so there is plenty of time for them to make a move or two.
Unfinished Business
The Twins remain on the lookout for relief help but also are likely to add a fourth outfielder. They've been linked to players such as Rajai Davis, but also could sign a player to a Minor League deal like they did last year with Shane Robinson, who is now with the Indians.
GM's Bottom Line
"I'm a little disappointed in myself. It just didn't happen yet. But I don't worry about it too much until we get into March. But yeah, I'm a little disappointed I don't have something. I didn't think we were going to get a bunch done here, but I certainly would've liked to have come back with something, but we didn't." -- Ryan
Rhett Bollinger is a reporter for MLB.com. Read his blog, Bollinger Beat, follow him on Twitter @RhettBollinger and listen to his podcast. This story was not subject to the approval of Major League Baseball or its clubs.