Fernandez buzz surrounds Marlins' Meetings
Ace remains with Miami as club refrains from making big moves in Nashville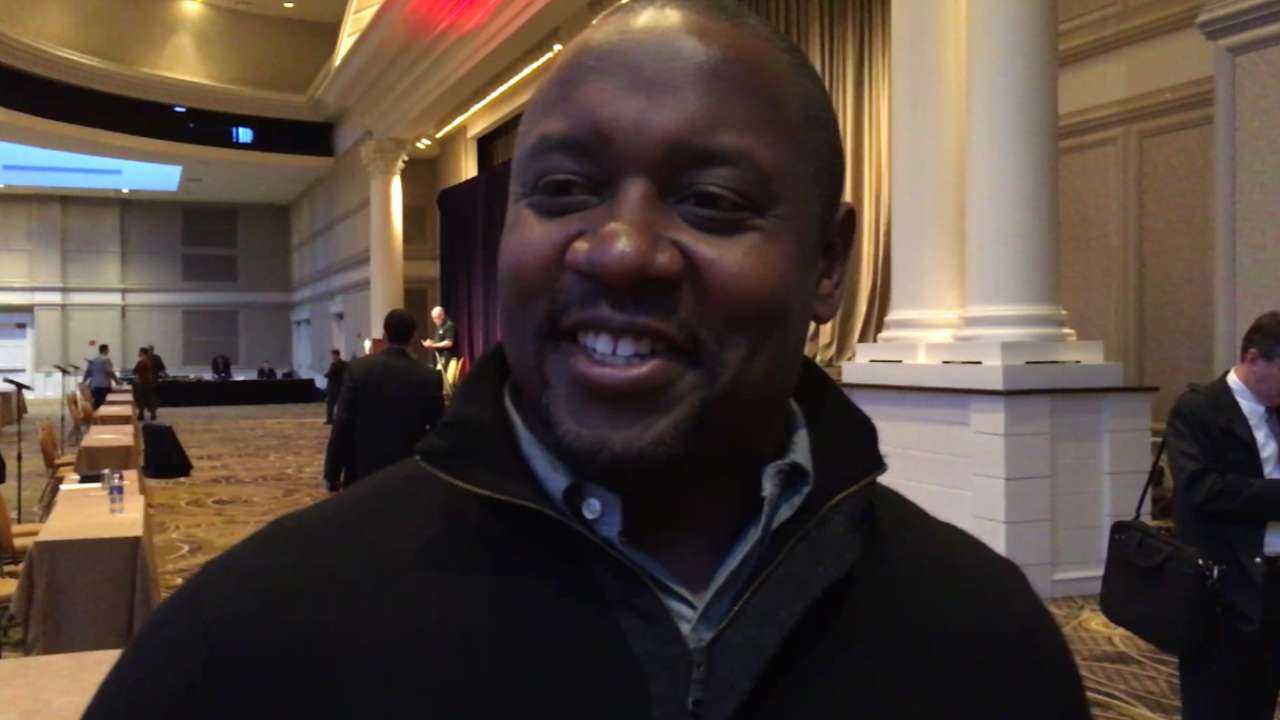 NASHVILLE, Tenn. -- Turning the early portion of the Winter Meetings into the Jose Fernandez Sweepstakes was never the Marlins' intention. It just happened to play out that way as the club spent nearly 48 straight hours fielding calls from roughly 20 teams interested in the All-Star right-hander.
No matter what he said, Miami president of baseball operations Michael Hill was unable to hold back the avalanche of inquiries. If anything constructive came out of the wild experience, it is that the team now has a better idea of what the market looks like for Fernandez.
Winter Meetings highlights
Below were the biggest moves of the Winter Meetings in Nashville, Tenn.
12/9: D-backs acquire RHP Shelby Miller from Braves for OF Ender Inciarte, RHP Aaron Blair, SS Dansby Swanson.
Mets acquire 2B Neil Walker from Pirates for LHP Jon Niese.
Astros to acquire RHP Ken Giles from Phillies for RHP Vincent Velasquez, LHP Brett Oberholtzer, others. Not official.
White Sox acquire IF Brett Lawrie from A's for two Minor Leaguers.
Mets to sign SS Asdrubal Cabrera to 2-year deal. Not official.
Mariners acquire 1B Adam Lind from Brewers for three Minor Leaguers.
12/8: D-backs sign 6-year deal with Zack Greinke.
Cubs sign 4-year deal with 2B Ben Zobrist.
Yankees acquire 2B Starlin Castro from Cubs for RHP Adam Warren, PTBNL.
Cubs sign 2-year deal with RHP John Lackey.
Cardinals acquire 2B Jedd Gyorko from Padres for OF Jon Jay.
12/7: Dodgers near 3-year deal with RHP Hisashi Iwakuma. Not official.
Mariners acquire LHP Wade Miley, RHP Jonathan Aro from Red Sox for RHP Carson Smith, LHP Roenis Elias.
Royals sign 2-year deal with RHP Chris Young.
After the early Fernandez frenzy, the Marlins exited the Winter Meetings at the Gaylord Opryland Hotel & Resort quietly on Thursday without making a major move. The team still is in the market for starting pitching.
"I'd say it was informative," Hill said, summing up the Meetings. "It was a long four days. Lots of meetings. Lots of discussions.
"The offseason is far from over for us. I think we still are in pursuit of opportunities to upgrade our pitching. We'll continue to build on some of the things that may have started here."
Heading into the Meetings, the Marlins were eyeing several pitchers who are now off the board. They made an offer to John Lackey, who instead signed with the Cubs. A couple of trade possibilities, Wade Miley and Shelby Miller, ended up being dealt to the Mariners and D-backs, respectively.
Some of the free-agent options are Bartolo Colon, Yovani Gallardo and Scott Kazmir. Miami also plans on watching the workouts of free agents Cliff Lee and Tim Lincecum.
Overall, the most fascinating part of the week for the Marlins was the nonstop speculation surrounding Fernandez.
"We obviously expected Jose was going to be a big topic here at the Meetings, and he was," Hill said. "Beyond that, I think we got a feel for what the marketplace is and where we fit in that marketplace."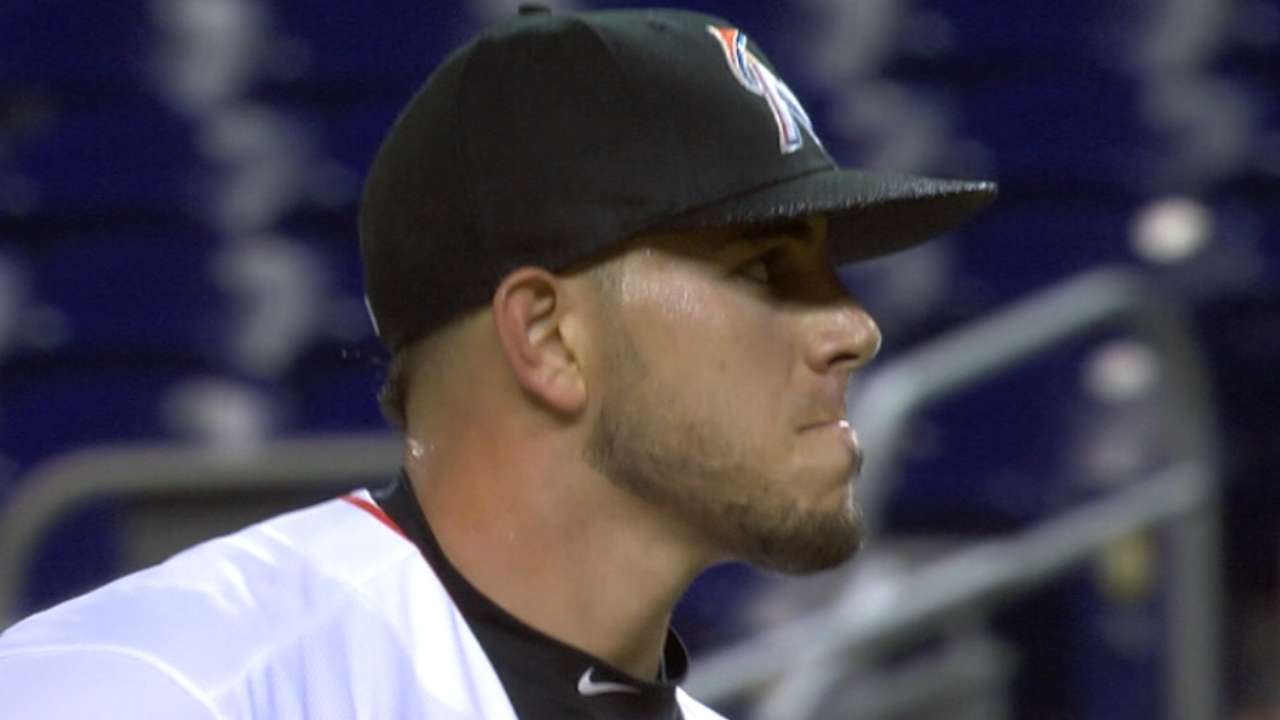 Deals done
Nothing major was pulled off in Nashville, but Miami did announce one acquisition. Lefty Mike Strong, once a Top 20 prospect with the Brewers, was claimed off waivers. The 27-year-old was added to the 40-man roster, and he has an opportunity to compete for a bullpen spot. Right-handers Dylan Axelrod (formerly with the White Sox and Reds) and Dustin McGowan (formerly with the Blue Jays) have signed Minor League contracts with invitations to Spring Training.
Rule 5 Draft
In the Triple-A phase, the Marlins selected right-hander Patrick Johnson from the Pirates' Double-A affiliate and catcher Maxx Tissenbaum from the Rays' Double-A squad. In the Double-A phase, Miami picked right-hander Juan Caballero from the Cardinals.
• Marlins select Johnson, Tissenbaum in Rule 5 Draft
The Marlins lost seven players in the Triple-A phase -- RHP Enderson Franco (Braves), 3B Zack Cox (Nationals), RHP Felipe Gonzalez (Dodgers), LHP Chipper Smith (Orioles), 1B Viosergy Rosa (A's), RHP D.J. Johnson (Angels) and Alex Burgos (Dodgers).
Goals accomplished
There is nothing yet to show in the box score, but four days of networking and meeting with other teams and agents gives the organization a better picture of how the pitching market is shaping up.
Unfinished business
Some news broke on Monday when the Marlins announced they had met with Rick Thurman, the agent for All-Star second baseman Dee Gordon. Thurman, of Beverly Hills Sports Council, recently opened preliminary conversations with Miami on a multiyear contract. The first face-to-face meeting was encouraging, and talks are ongoing.
• Marlins, Gordon work on extension
The bulk of the club's attention was spent exploring starting and relieving options. The club also reached out to the agents of some free agents. The primary goal continues to be to secure a front-line starter.
GM's bottom line
"We've looked at it from all angles. I would say the cost of pitching is high, not just starting pitching," Hill said. "If you look at some of the reliever deals, the cost of pitching has gotten expensive. But you have to look at the starter market, the reliever market to see if there are ways to upgrade your club."
Joe Frisaro is a reporter for MLB.com. He writes a blog, called The Fish Pond. Follow him on Twitter @JoeFrisaro and listen to his podcast. This story was not subject to the approval of Major League Baseball or its clubs.