Forward-thinking Phils make noise at Meetings
Philly agrees to deal that sends Giles to Astros; return includes touted Appel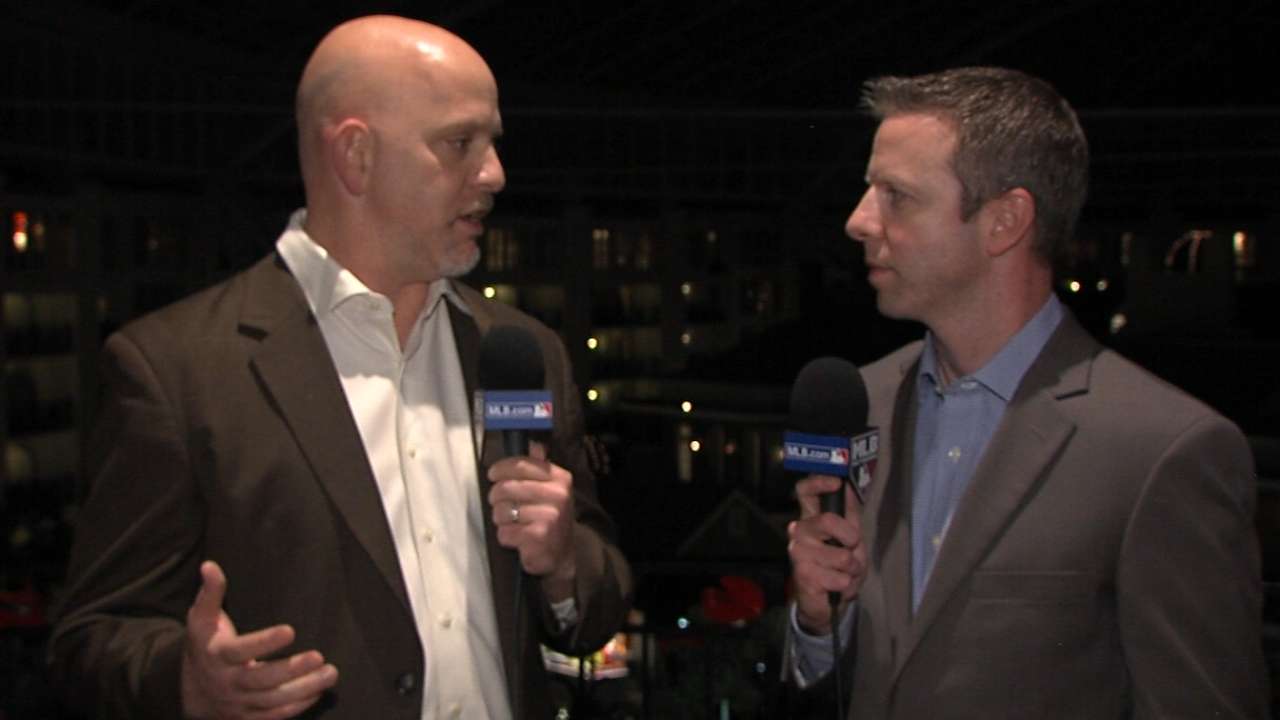 NASHVILLE, Tenn. -- Nobody expected the Phillies to make much noise at this week's Winter Meetings.
But then the Phils agreed to a potentially significant trade Wednesday night. The deal sent closer Ken Giles and infielder Jonathan Arauz to the Astros for five players: lefties Brett Oberholtzer and Mark Appel -- the first pick in the 2013 MLB Draft -- and right-handers Vincent Velasquez, Harold Arauz and Thomas Eshelman.
Folks at the Winter Meetings like the package the Phillies received from Houston.
Winter Meetings highlights
Below were the biggest moves of the Winter Meetings in Nashville, Tenn.
12/9: D-backs acquire RHP Shelby Miller from Braves for OF Ender Inciarte, RHP Aaron Blair, SS Dansby Swanson.
Mets acquire 2B Neil Walker from Pirates for LHP Jon Niese.
Astros to acquire RHP Ken Giles from Phillies for RHP Vincent Velasquez, LHP Brett Oberholtzer, others. Not official.
White Sox acquire IF Brett Lawrie from A's for two Minor Leaguers.
Mets to sign SS Asdrubal Cabrera to 2-year deal. Not official.
Mariners acquire 1B Adam Lind from Brewers for three Minor Leaguers.
12/8: D-backs sign 6-year deal with Zack Greinke.
Cubs sign 4-year deal with 2B Ben Zobrist.
Yankees acquire 2B Starlin Castro from Cubs for RHP Adam Warren, PTBNL.
Cubs sign 2-year deal with RHP John Lackey.
Cardinals acquire 2B Jedd Gyorko from Padres for OF Jon Jay.
12/7: Dodgers near 3-year deal with RHP Hisashi Iwakuma. Not official.
Mariners acquire LHP Wade Miley, RHP Jonathan Aro from Red Sox for RHP Carson Smith, LHP Roenis Elias.
Royals sign 2-year deal with RHP Chris Young.
Velasquez went 1-1 with a 4.37 ERA in 19 appearances (seven starts) with the Astros last season. He has the talent to be a No. 3 starter or a dominant late-inning reliever, like Giles.
Appel, who ranked as the Astros' No. 2 prospect before the trade, went 10-3 with a 4.37 ERA in 25 starts spread across Double-A and Triple-A. He struck out 110 batters and walked 51 in 131 2/3 innings.
Oberholtzer went 2-2 with a 4.46 ERA in eight starts. He is 11-20 with a 3.94 ERA in 45 appearances (42 starts) in his big league career. Oberholtzer projects into the Phils' rotation in 2016.
No pitcher in the history of college baseball threw more strikes than Eshelman. He led NCAA Division I in walks per nine innings as a freshman (0.2), sophomore (0.6) and junior (0.5) at Cal State Fullerton, establishing new records for a single season and a career (0.4). Eshelman projects as a back-of-the-rotation starter.
Giles essentially became a luxury to the rebuilding Phillies. They hope they swapped 65 innings a season from Giles for three pitchers who potentially could throw 200 innings a season, plus a future everyday left fielder in Fisher.
Deals done
The only official deal at this point is a one-year, $3.9 million contract with right-hander David Hernandez, who signed Wednesday. He immediately becomes a candidate to close if the Giles trade is finalized. Hernandez had some success as a setup man in Arizona before Tommy John surgery forced him to miss 2014, plus the first two months of 2015.
• Phillies sign right-handed reliever Hernandez
Rule 5
The Phillies selected outfielder Tyler Goeddel with the first pick in the Rule 5 Draft. He is the No. 19 prospect in Philadelphia's system, according to MLBPipeline.com. The Phils hope he plays like some of the other outfielders pro scouting director Mike Ondo has selected in the Rule 5 Draft: Shane Victorino, Ender Inciarte and Odubel Herrera. Goeddel has potential to grow offensively, and he played all three outfield positions last season, which should make him versatile in the Phillies' outfield. The Phils also selected left-hander Daniel Stumpf, who will compete for a bullpen job. He pitched in Kansas City's system last season.
• Phils take Goeddel with first pick in Rule 5 Draft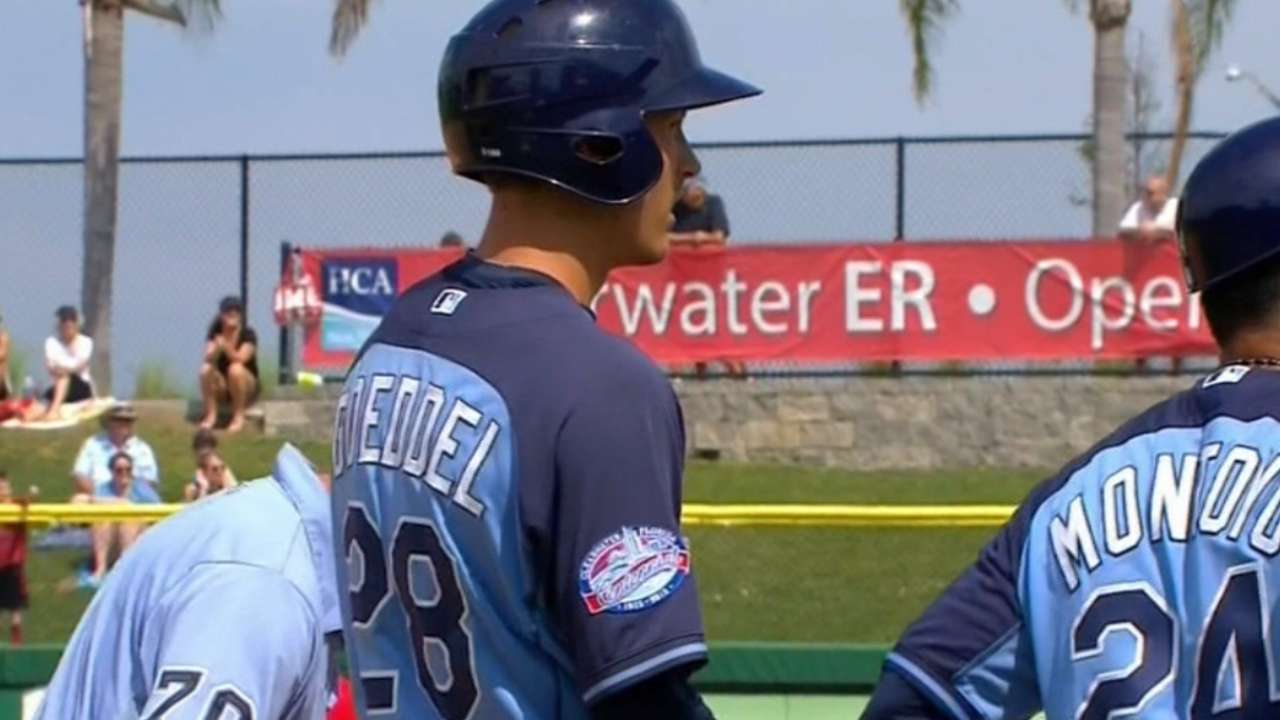 Goals accomplished
The Phillies continue to stockpile pitching and young talent with an eye on the future. Will the Phils compete in 2015? Probably not. But are they putting themselves in position to turn a corner in the future by adding as many young players as possible? Yes. It's a numbers game. Not every prospect is going to hit (see Domonic Brown). But the more prospects a team has in its system, the better chance there is that some of them will hit. And that should help the Phillies win again.
• Hot Stove Tracker: Free agents and trades
Unfinished business
The Phillies can always use more pitching. They currently have Jeremy Hellickson, Aaron Nola, Jerad Eickhoff, Oberholtzer, Velasquez, Adam Morgan, David Buchanan and Alec Asher as candidates for the rotation. But Phils general manager Matt Klentak has correctly pointed out that a team rarely gets through a season with just five or six starters. The more, the merrier.
GM's bottom line
"We're trying to balance it all. That makes us no different from any team. We have a lot of balls in the air, most of which you're working on never comes to fruition. But every once in a while, something will." -- Klentak
Todd Zolecki is a reporter for MLB.com. Read his Phillies blog The Zo Zone, follow him on Twitter and listen to his podcast. This story was not subject to the approval of Major League Baseball or its clubs.