Meetings just the beginning for reigning champs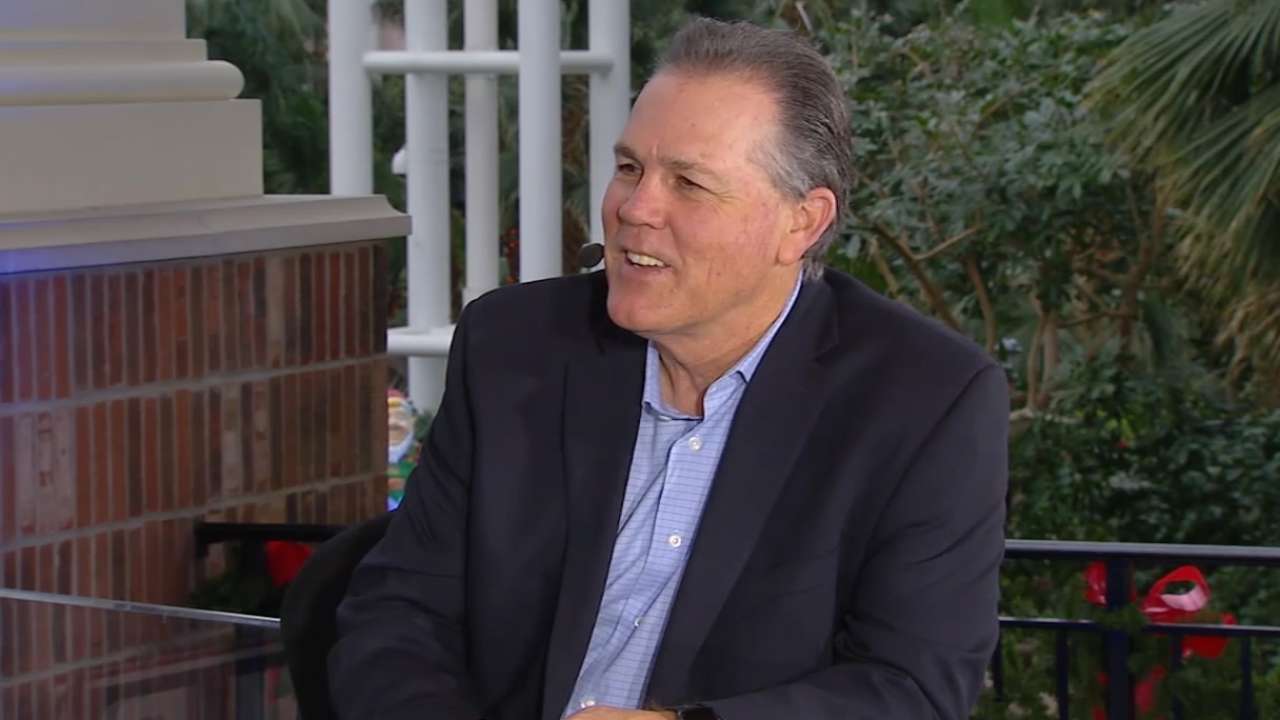 NASHVILLE, Tenn. -- The World Series champion Royals left the Winter Meetings on Thursday morning having checked off roughly half of their wish list.
The Royals signed right-hander Chris Young to a two-year deal and agreed to terms with right-handed reliever Joakim Soria. They are still in need of a corner outfielder and another starting pitcher, as well as possibly more bullpen help.
But as is so often the case with general manager Dayton Moore, he will take his time over the course of the offseason to make the right deal to fill the remaining holes.
"We're a better team now with Joakim Soria and Chris Young -- important additions for us," Moore said. "We're a better team now than we were three days ago.
Winter Meetings highlights
Below were the biggest moves of the Winter Meetings in Nashville, Tenn.
12/9: D-backs acquire RHP Shelby Miller from Braves for OF Ender Inciarte, RHP Aaron Blair, SS Dansby Swanson.
Mets acquire 2B Neil Walker from Pirates for LHP Jon Niese.
Astros to acquire RHP Ken Giles from Phillies for RHP Vincent Velasquez, LHP Brett Oberholtzer, others. Not official.
White Sox acquire IF Brett Lawrie from A's for two Minor Leaguers.
Mets to sign SS Asdrubal Cabrera to 2-year deal. Not official.
Mariners acquire 1B Adam Lind from Brewers for three Minor Leaguers.
12/8: D-backs sign 6-year deal with Zack Greinke.
Cubs sign 4-year deal with 2B Ben Zobrist.
Yankees acquire 2B Starlin Castro from Cubs for RHP Adam Warren, PTBNL.
Cubs sign 2-year deal with RHP John Lackey.
Cardinals acquire 2B Jedd Gyorko from Padres for OF Jon Jay.
12/7: Dodgers near 3-year deal with RHP Hisashi Iwakuma. Not official.
Mariners acquire LHP Wade Miley, RHP Jonathan Aro from Red Sox for RHP Carson Smith, LHP Roenis Elias.
Royals sign 2-year deal with RHP Chris Young.
"We've done a lot of background work and in depth analysis on free agents and in possible future deals, whether they happen before Spring Training or during the Trade Deadline. We'll keep rolling, keep going. We're going to have to make adjustments to our roster if we're going to be able to compete and get back to the World Series."
The Royals will continue to monitor the Alex Gordon situation -- Gordon is a free agent, and the Royals still cling to some hope they can retain him.
The Royals have been linked to free-agent left-hander Scott Kazmir and free-agent outfielder Gerardo Parra, but Moore indicated no deals for any free agents appear imminent. The Royals also are active in potential trade discussions -- one possible fit could be Reds right fielder Jay Bruce, who is in the final year of his contract and whom the Reds appear to be shopping.
Bruce, a strong defender with some power, would be a potential one-year stop-gap as the Royals wait for prospects Bubba Starling and Brett Eibner to perhaps seize a starting job in 2017.
Deals done
The signing of Young was expected -- he landed a two-year deal worth $11.5 million with a mutual option in 2018.
Moore loves high-character players such as Young, and Moore labeled him possibly the MVP of the staff last season.
• Royals agree to deals with Soria, Young
Soria agreed to a three-year, $25 million deal, pending a physical, which could be completed by Friday. Soria started his big league career with the Royals and registered 160 saves. He is expected to join Kelvin Herrera and Luke Hochevar in the rotation of setup relievers to closer Wade Davis.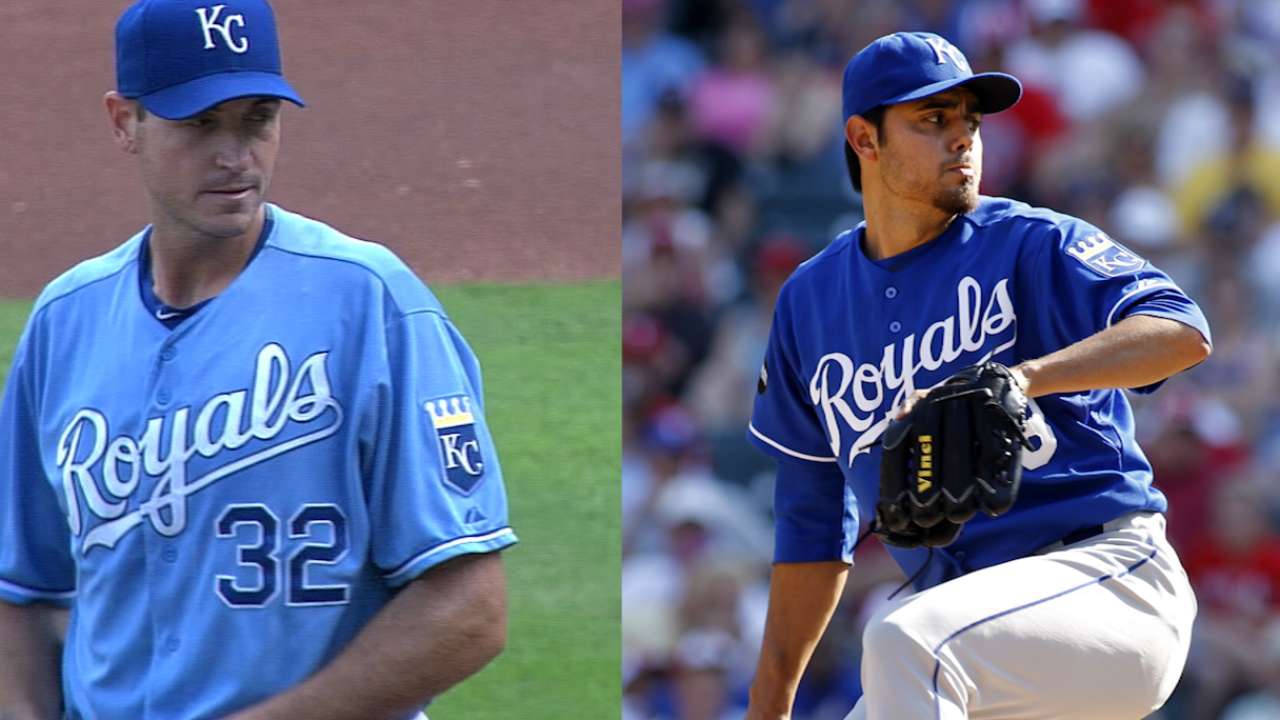 Rule 5
The Royals didn't select anyone in the Rule 5 Draft, and they lost left-hander Daniel Stumpf to the Phillies. Stumpf was a ninth-round pick in 2012.
The Royals also lost catchers Santiago Nessy and Micah Gibbs in the Minor League phase.
But the Royals did not lose first-base prospect Balbino Fuenmayor, their Double-A Player of the Year who is coming off ACL surgery and was left off the 40-man roster.
Goals accomplished
The Royals came into the Winter Meetings looking for two starting pitchers, some bullpen help and a corner outfielder. They got about half of that done.
Young will join right-handers Edinson Volquez, Yordano Ventura and Kris Medlen, and left-hander Danny Duffy in the rotation. Soria essentially replaces Greg Holland (Tommy John surgery) in the bullpen.
Moore always focuses on strengthening his bullpen first, and once again, the Royals figure to have an elite 'pen for 2016.
Unfinished business
Moore also likes to go into a season with six or seven available starters, knowing that throughout the course of a season, pitchers will break down and depth is essential.
That's why Moore is still searching for another starter. Depending upon the ability of that starter, Duffy could wind up back in the bullpen.
The Royals also are only looking for one corner outfielder because Moore indicated they are ready to give Jarrod Dyson the starting job in either right or left.
GM's bottom line
"The free-agent market is what it is. But the truth is, the music is going to stop, and there won't be enough chairs for some of these guys." -- Moore
Jeffrey Flanagan is a reporter for MLB.com. Follow him on Twitter at @FlannyMLB. This story was not subject to the approval of Major League Baseball or its clubs.