Tigers pleased with Meetings, but roster not set
New GM Avila adds two key pieces to revamped 'pen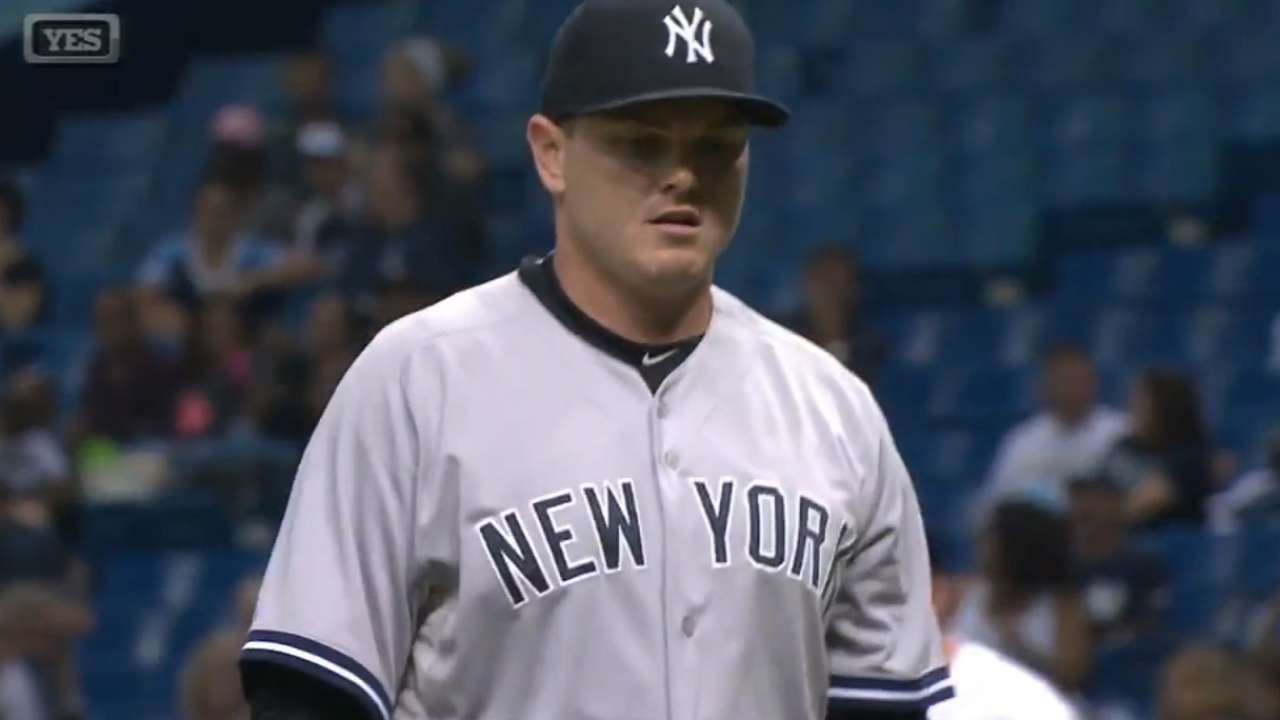 NASHVILLE, Tenn. -- Al Avila sat at the head of the table in the Tigers' suite at the Gaylord Opryland Resort and pondered the question. Behind him, the windows opened onto the vast indoor treescape that served as a lobby for these Winter Meetings, agents and scouts chatting at ground level.
Avila has been part of the action several times, every time the Winter Meetings came to town. He had never been the one at the head of the table. Asked to sum up the challenges in his first Meetings as a general manager, he pondered it carefully.
Winter Meetings highlights
Below were the biggest moves of the Winter Meetings in Nashville, Tenn.
12/9: D-backs acquire RHP Shelby Miller from Braves for OF Ender Inciarte, RHP Aaron Blair, SS Dansby Swanson.
Mets acquire 2B Neil Walker from Pirates for LHP Jon Niese.
Astros to acquire RHP Ken Giles from Phillies for RHP Vincent Velasquez, LHP Brett Oberholtzer, others. Not official.
White Sox acquire IF Brett Lawrie from A's for two Minor Leaguers.
Mets to sign SS Asdrubal Cabrera to 2-year deal. Not official.
Mariners acquire 1B Adam Lind from Brewers for three Minor Leaguers.
12/8: D-backs sign 6-year deal with Zack Greinke.
Cubs sign 4-year deal with 2B Ben Zobrist.
Yankees acquire 2B Starlin Castro from Cubs for RHP Adam Warren, PTBNL.
Cubs sign 2-year deal with RHP John Lackey.
Cardinals acquire 2B Jedd Gyorko from Padres for OF Jon Jay.
12/7: Dodgers near 3-year deal with RHP Hisashi Iwakuma. Not official.
Mariners acquire LHP Wade Miley, RHP Jonathan Aro from Red Sox for RHP Carson Smith, LHP Roenis Elias.
Royals sign 2-year deal with RHP Chris Young.
"You know, coming to these Meetings all these years and going through the process, it's actually been easy in the sense that I've been through it so many years, so many times, over and over, it's almost like automatic," Avila said. "We go through the same Meetings. The biggest difference is that when you're in charge, then everything is on your shoulders. And that responsibility is big. Believe me, nobody should take it lightly."
It's becoming a normal feeling for Avila, but he just completed a quietly abnormal Winter Meetings. The headline-grabbing signing or blockbuster trade that has marked past Tigers ventures here never happened, but Detroit was one of the most active teams all week. They gauged the high-priced bullpen market, signed Mark Lowe to a two-year, $11 million deal when most top relievers have been signing for three years or more, then pulled out of the free-agent lefty market to trade for Justin Wilson for two mid-level prospects.
With that, the bullpen questions that haunted them for the last few years now have some answers without breaking the payroll picture. And that feeling of being the guy in charge, supported by a group of assistants, analysts and scouts that he credited for the legwork he used to do, had to be pretty good.
"I think Al and his staff have done a tremendous job in filling a lot of gaps," manager Brad Ausmus said from one end of the table.
Avila laughed.
"I told him to say that," Avila joked.
Deals Done
The Tigers had an agreement with starter Mike Pelfrey before they left Detroit, but they formally announced it in Nashville. A few hours later, they had an agreement with Lowe after parting ways with Joakim Soria. They turned their attention to the lefty market, cast a wide net in talks with free agents, then quickly engaged the Yankees in talks for Wilson, eventually acquiring the hard-throwing southpaw for right-handed prospects Luis Cessa and Chad Green.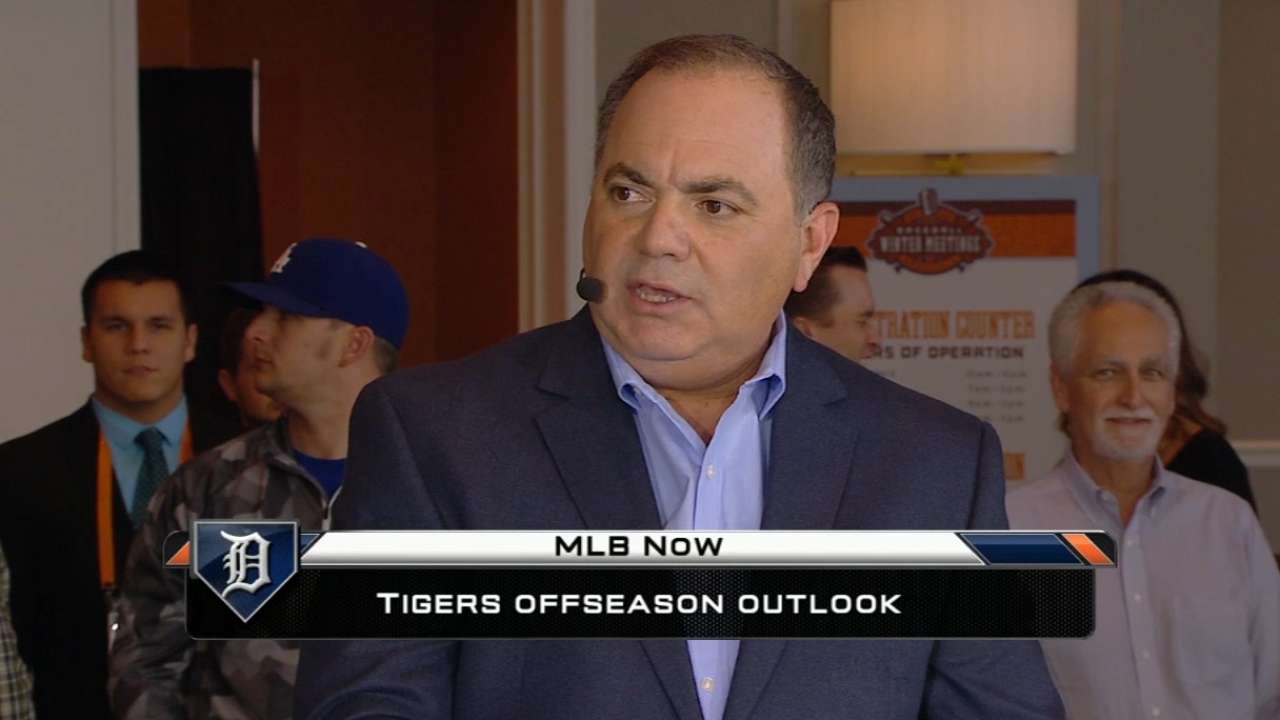 The Tigers also added a left-handed-hitting backup catcher they'd been seeking, signing switch-hitter Jarrod Saltalamacchia to a one-year contract worth $507,500.
Detroit wrapped up its Winter Meetings dealings Thursday by taking care of the last piece of a trade from last month. Detroit sent Triple-A catcher Manny Pina to Milwaukee as the player to be named in the Francisco Rodriguez trade.
Pina joins second baseman Javier Betancourt in the return package for Rodriguez, acquired Nov. 18 to fill the Tigers' void at closer.
Pina was not in the Tigers' top 30 prospects. The 28-year-old Venezuelan, who made it to the Majors with the Royals for five games in 2011 and '12, spent this season at Triple-A Toledo, backing up Bryan Holaday before getting more regular playing time near season's end.
Pina batted .305 (78-for-256) with 19 doubles, seven home runs, 39 RBIs and an .840 OPS with the Mud Hens. He's a career .256 with 50 home runs, 319 RBIs and a .700 OPS in 730 Minor League games.
Rule 5
The Tigers filled their 40-man roster when they signed Lowe, so they couldn't select anyone in the Major League phase. More importantly, they didn't lose anybody, either. Detroit did select a pair of right-handed relievers in the Triple-A phase. Kurt Spomer went 4-3 with a 4.62 ERA as a 26-year-old at the Double-A and Triple-A levels in the Angels' organization, walking 23 and striking out 36. Santiago Garrido came up through the Royals' system, but didn't pitch in pro ball this past summer. He pitched this winter for Aguilas Cibaenas in the Dominican Winter League.
Goals Accomplished
After taking care of their need for a frontline starter and a closer earlier this offseason, Avila and his front office used the Meetings to fill out the pitching staff. With Lowe's signing and the Wilson trade, he accomplished the bullpen fortifications the Tigers had tried to do for years.
Unfinished Business
Avila left the Meetings with his attention on finding a right-handed hitter who could fill a utility infield/outfield role. Others in the Tigers' front office would like to make one more bullpen move to complete the rebuild. The question that will linger as the offseason rolls on, however, will be whether Detroit will make a move for a left fielder.
GM's Bottom Line
"I didn't know if we were going to be able to do the whole thing. It was a methodically laid-out plan. You don't know if you're going to be able to do it. You don't know if you're going to have some bumps along the road. You don't know if it's going to take longer. For us, it developed through the wintertime. We set up a plan and went along with it. We feel fortunate that it all worked out that way. Hopefully it works out come March and April." -- Avila
Jason Beck is a reporter for MLB.com. Read Beck's Blog, follow him on Twitter @beckjason and listen to his podcast. This story was not subject to the approval of Major League Baseball or its clubs.