Winter Meetings brings top prospects, depth
Braves add No. 1 Draft pick Swanson in trade for Miller; agree with Flowers, Bonifacio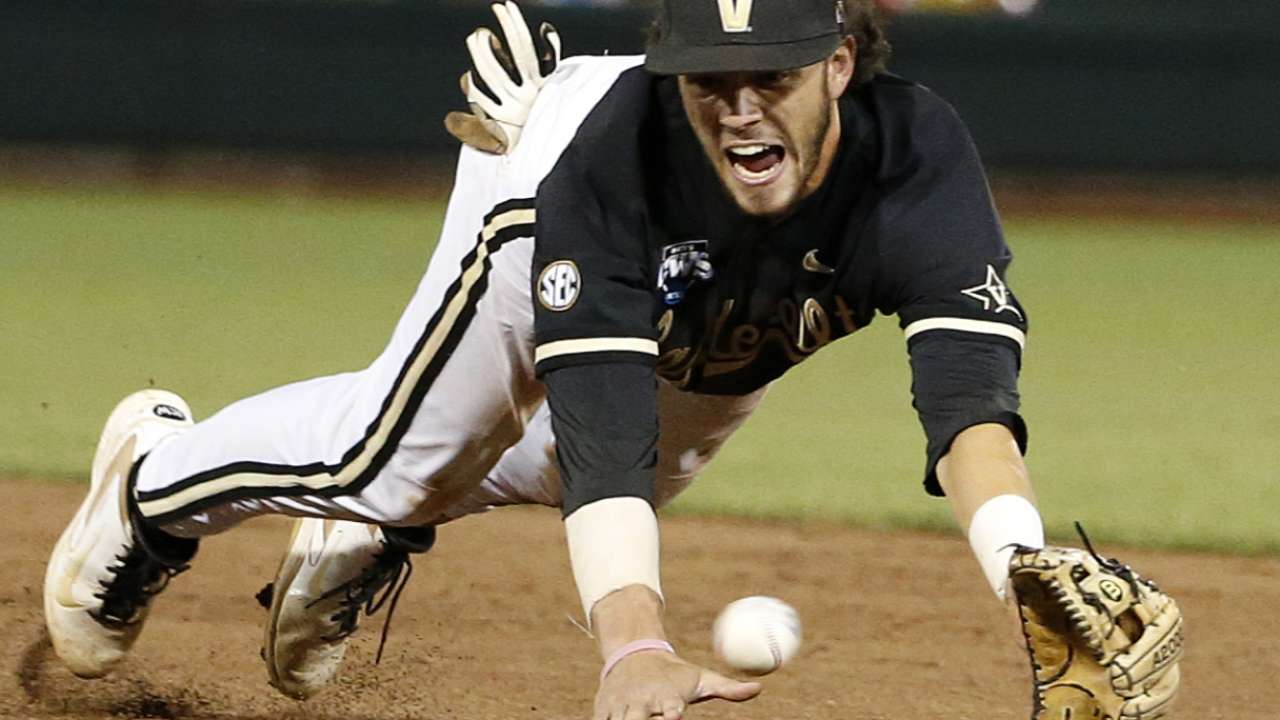 NASHVILLE, Tenn. -- The Braves exited the Winter Meetings on Thursday morning with fewer immediate needs, some money left to spend and the satisfaction of knowing they got even more than was anticipated when they decided to trade Shelby Miller.
It remains to be seen how significantly Atlanta enriched its future when it traded Miller to the D-backs in exchange for Ender Inciarte, Dansby Swanson and Aaron Blair. But the club has received high praise from media members and executives regarding this haul that could provide both immediate and long-term benefits.
Winter Meetings highlights
Below were the biggest moves of the Winter Meetings in Nashville, Tenn.
12/9: D-backs acquire RHP Shelby Miller from Braves for OF Ender Inciarte, RHP Aaron Blair, SS Dansby Swanson.
Mets acquire 2B Neil Walker from Pirates for LHP Jon Niese.
Astros to acquire RHP Ken Giles from Phillies for RHP Vincent Velasquez, LHP Brett Oberholtzer, others. Not official.
White Sox acquire IF Brett Lawrie from A's for two Minor Leaguers.
Mets to sign SS Asdrubal Cabrera to 2-year deal. Not official.
Mariners acquire 1B Adam Lind from Brewers for three Minor Leaguers.
12/8: D-backs sign 6-year deal with Zack Greinke.
Cubs sign 4-year deal with 2B Ben Zobrist.
Yankees acquire 2B Starlin Castro from Cubs for RHP Adam Warren, PTBNL.
Cubs sign 2-year deal with RHP John Lackey.
Cardinals acquire 2B Jedd Gyorko from Padres for OF Jon Jay.
12/7: Dodgers near 3-year deal with RHP Hisashi Iwakuma. Not official.
Mariners acquire LHP Wade Miley, RHP Jonathan Aro from Red Sox for RHP Carson Smith, LHP Roenis Elias.
Royals sign 2-year deal with RHP Chris Young.
"We said at the start of the Winter Meetings that even if we didn't get a deal done, we would be happy," general manager John Coppolella said. "But I think we have shown we're not afraid to do whatever we can to help the Braves' franchise, whether it's for the short or long term."
There is no doubt the Braves' rotation would have been stronger with Miller present for at least the next couple seasons. Atlanta has compiled highly regarded pitching prospects such as Blair and has gained the confidence necessary to make this deal, which also netted Inciarte, who could serve as the starting center fielder and leadoff hitter in 2016, and Swanson, a skilled shortstop who was taken with the first overall selection in the '15 Draft.
Along with creating significant buzz with this trade, the Braves spent a portion of this week satisfying their need for a catcher by agreeing to a two-year deal with Tyler Flowers. They also added another utility man by agreeing to a one-year deal with Emilio Bonifacio. Both deals are pending the completion of a physical.
"We aren't done yet," Coppolella said. "There are still moves we can make, whether it's through trades of free-agent signings. We are always working."
Deals done
With the Miller trade, the Braves gained a little more financial flexibility (approximately $4 million) for the 2016 season and even more (an estimated $10 million) for '17. They have earmarked a portion of this year's available funds for Flowers, who agreed to a two-year, $5.3 million deal, and Bonifacio, who has a one-year, $1.25 million deal in place.
Rule 5 activity
Though left-handed reliever Evan Rutckyj has made just 17 appearances at the Double-A level or above, Atlanta took a chance on him being a part of the bullpen throughout the 2016 season by selecting him with the third pick in the Major League phase of Thursday's Rule 5 Draft. The 23-year-old Canadian struck out 41 percent of the left-handed batters he faced while pitching at the Class A Advanced and Double-A levels for the Yankees this year. He will come to camp with a chance to become the Braves' lefty specialist.
• Braves select Rutckyj in Rule 5 Draft
In the Triple-A phase of the Rule 5 Draft, Atlanta selected Enderson Franco out of the Marlins' system and lost left-handed pitcher Mitch Lambson to the Brewers.
Goals accomplished
The Braves gained the overwhelming return they needed to be prompted to trade Miller, and in the process, they gained a better sense of what their middle-of-the-diamond defense and rotations could look like in the future. Blair is regarded as a solid rotation piece who will likely reach Atlanta in 2016. Inciarte could spend at least the next five seasons serving as a center fielder and leadoff hitter for the Braves.
Swanson's tremendous potential sets up the possibility that he and Ozzie Albies could soon become an impressive double-play combo in Atlanta. Time will tell which of these two highly touted prospects makes the move to second base.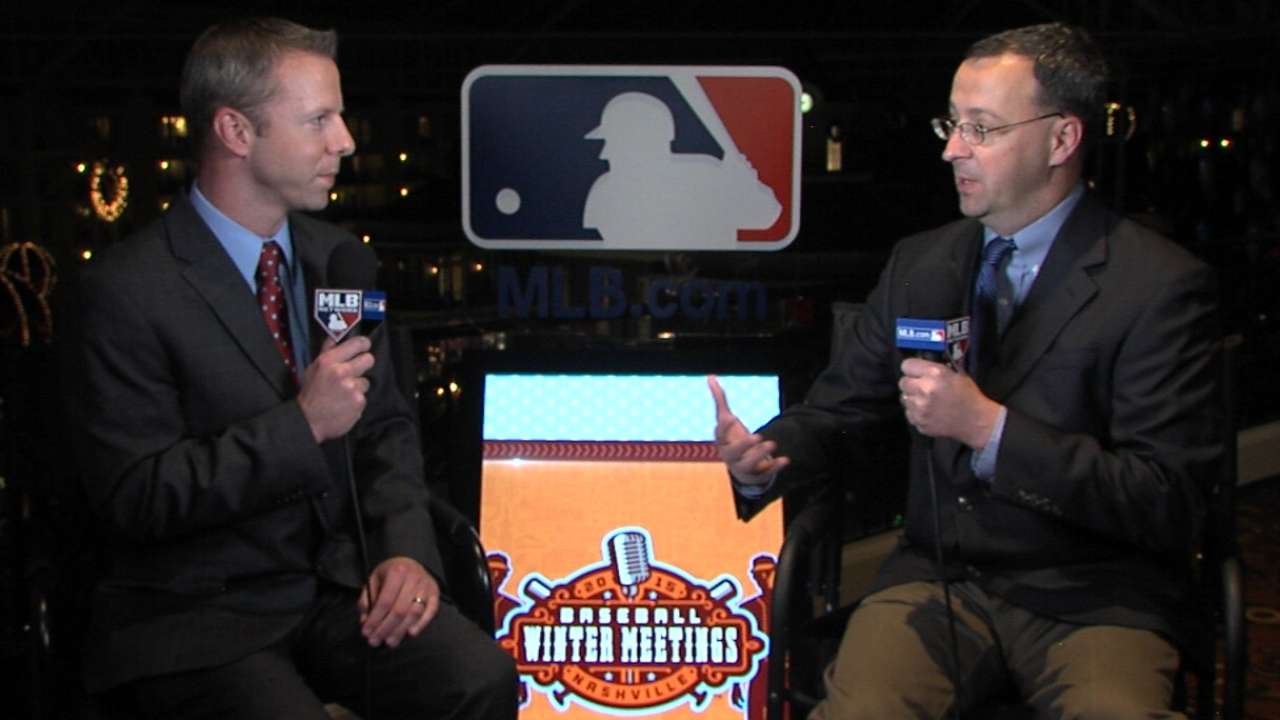 With Flowers, the Braves gained a sound defensive option to share the catching duties with 39-year-old A.J. Pierzynski. They will now further their attempt to trade Christian Bethancourt, who fell out of favor after beginning the 2015 season as Atlanta's starting catcher.
Unfinished business
The Braves have discussed the possibility of adding a veteran starting pitcher to eat some innings during the 2016 season. But they do not want to block the progression or development of any of their young starters who have already reached Atlanta or are knocking on the door. One of the short-term targets being discussed is Bartolo Colon, who played for Braves president of baseball operations John Hart in Cleveland nearly two decades ago.
As the Braves continue to look at left-handed hitters who could spend some time at third base, they have kept open the possibility of bringing Kelly Johnson back. The odds of Johnson returning improved when Asdrubal Cabrera opted to sign with the Mets on Wednesday.
GM's bottom line
"We're trying to look at every possible alternative," Coppolella said. "It's kind of like 7-11. We're always open, even if we're not always doing business."
Mark Bowman is a reporter for MLB.com. This story was not subject to the approval of Major League Baseball or its clubs.