Tribe exits Meetings with better feel for market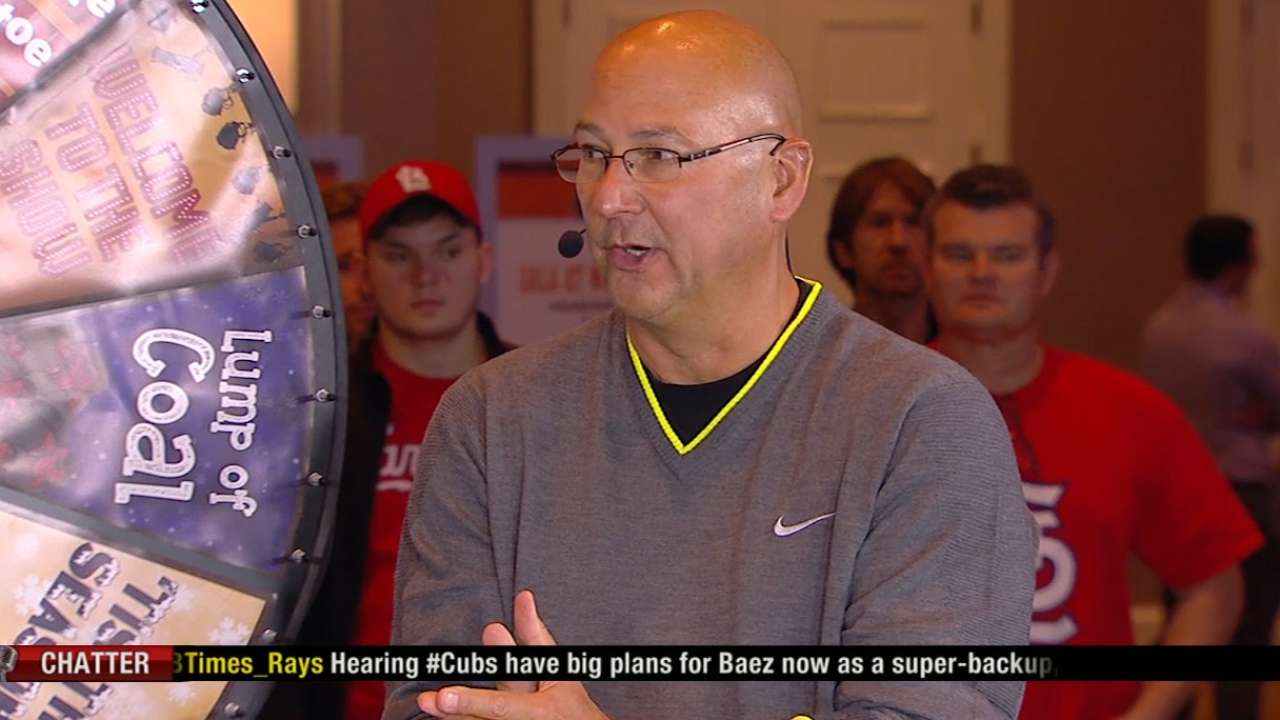 NASHVILLE, Tenn. -- It was a quiet week for the Indians in terms of headlines. Cleveland's contingent did not take the dais to announce any blockbuster moves or drop any jaws with any whirlwind trades at these Winter Meetings. That does not mean the Tribe was not busy behind the scenes.
"Every day, it's literally hundreds of exchanges," said Indians president of baseball operations Chris Antonetti, "whether it's meetings or phone calls or text messages."
The lines of communication between the Indians and other clubs may have been constantly flowing, but the lines remain open. The only deal closed by Cleveland registered as a blip on the Winter Meetings' big board: the claim of outfielder Joey Butler from the Rays on Monday.
There is still a major need for offense and outfield help, especially in light of the fact that left fielder Michael Brantley will likely miss the first month of the season after having right shoulder surgery in November. Along those lines, the Indians had talks with the Reds about third baseman Todd Frazier and explored the availability of infielder Brett Lawrie before the A's shipped him to the White Sox.
The Indians have been linked to players such as Rajai Davis, Pedro Alvarez and Steve Pearce in various reports. Cleveland also inquired about Ender Inciarte before the D-backs traded the outfielder to the Braves as part of a package for pitcher Shelby Miller. The Indians have also reportedly expressed interest in Arizona center fielder A.J. Pollock, but the asking price is steep.
What the Indians did not want to do was make a move strictly under the pressure of the Winter Meetings' bright lights. This week was a time to continue conversations in person and move deeper into negotiations that could linger into the weeks leading up to Spring Training and Opening Day.
"These Meetings help facilitate a lot of dialogue with teams and agents," Indians general manager Mike Chernoff said. "I think that's it. Your decision-making process, your evaluation, doesn't change just by coming here, but it facilitates dialogue. It can lead to something sometimes. Other times ... you can set the groundwork for future discussions."
Cleveland continues to get a lot of inquiries about its young, controllable starting pitchers, too. While that is an avenue that could yield an impact offensive player, the Indians have set a high price for their pitchers given the club's win-now approach to the upcoming season.
"We're not looking to trade any of these guys at all," Antonetti said. "That's not something that we're motivated to do. But again, for any player, there's a right value where it would make sense. So our criteria would be, 'Does it make us a better team in 2016 and beyond?' All of those guys are very meaningful parts of our 2016 team, so any trade would have to meet a pretty high criteria to make it."
Deals done
Cleveland's lone move at these Meetings was claiming Butler from the Rays on Monday. Butler, who has a Minor League option remaining, has hit .274/.330/.412 in 102 career Minor League games (88 last year with Tampa Bay). To clear a roster spot for Butler, the Indians designated lefty Jayson Aquino for assignment. Aquino was subsequently claimed by the Cardinals.
Rule 5 activity
With their 40-man roster at capacity, the Indians were unable to make a selection in the Major League phase of the Rule 5 Draft this year. Cleveland did, however, lose right-hander Josh Martin to the Padres. Martin had a 2.27 ERA with 80 strikeouts against 19 walks in 67 1/3 innings last season with Double-A Akron.
Carter Hawkins, the Indians' director of player development, said the team debated long and hard about whether to protect Martin from Draft exposure.
"He was a guy that was on the list, a guy that we talked ad nauseum about," Hawkins said, "which makes it even more difficult to lose him. But at the same time, just the quality individual he is, the type of worker, he's a self-made player, [we're] glad to have him get that opportunity."
In the Triple-A portion of the Rule 5 Draft, Cleveland selected 27-year-old lefty Brian Moran from the Mariners. Moran was actually picked in the Major League phase of the Rule 5 Draft by Toronto prior to the 2014 season. He was then traded to the Angels and missed that year after needing Tommy John surgery on his left elbow. Moran was returned to Seattle and posted a 3.24 ERA in 27 Minor League games in '15.
"He's a guy that we feel like gives us some left-handed depth in the bullpen at the upper levels," Hawkins said. "[He's a] deception guy. Really good changeup. We feel like coming off Tommy John, there might be some upside there that we can kind of get him back to where he was before that injury."
Goals accomplished
Acquiring Butler added yet another outfielder to the Spring Training mix. Butler and Collin Cowgill (acquired from the Angels this offseason) will compete for spots on the Opening Day roster, along with spring invitees Shane Robinson and Michael Choice. Beyond adding a little more outfield depth, Cleveland continued talks on both the free-agent and trade fronts, searching mostly for offensive upgrades.
Unfinished business
In his sit-down with reporters on Wednesday, Indians manager Terry Francona made it crystal clear that he does not feel his roster is complete. The Indians have holes to fill, especially in terms of their lineup. Cleveland can use all three outfield spots, the corner-infield positions and the designated-hitter role to potentially add an impact bat. The Tribe is also on the hunt for more Major League left-handed relief options.
The bottom line
"We're trying to do what we can to build the most competitive team possible in 2016. If there are ways we can improve and address some of those needs, we'll look to try to do that." -- Antonetti
Jordan Bastian is a reporter for MLB.com. Read his blog, Major League Bastian, follow him on Twitter @MLBastian and listen to his podcast. This story was not subject to the approval of Major League Baseball or its clubs.