Brewers take infielder, pitcher in Rule 5 Draft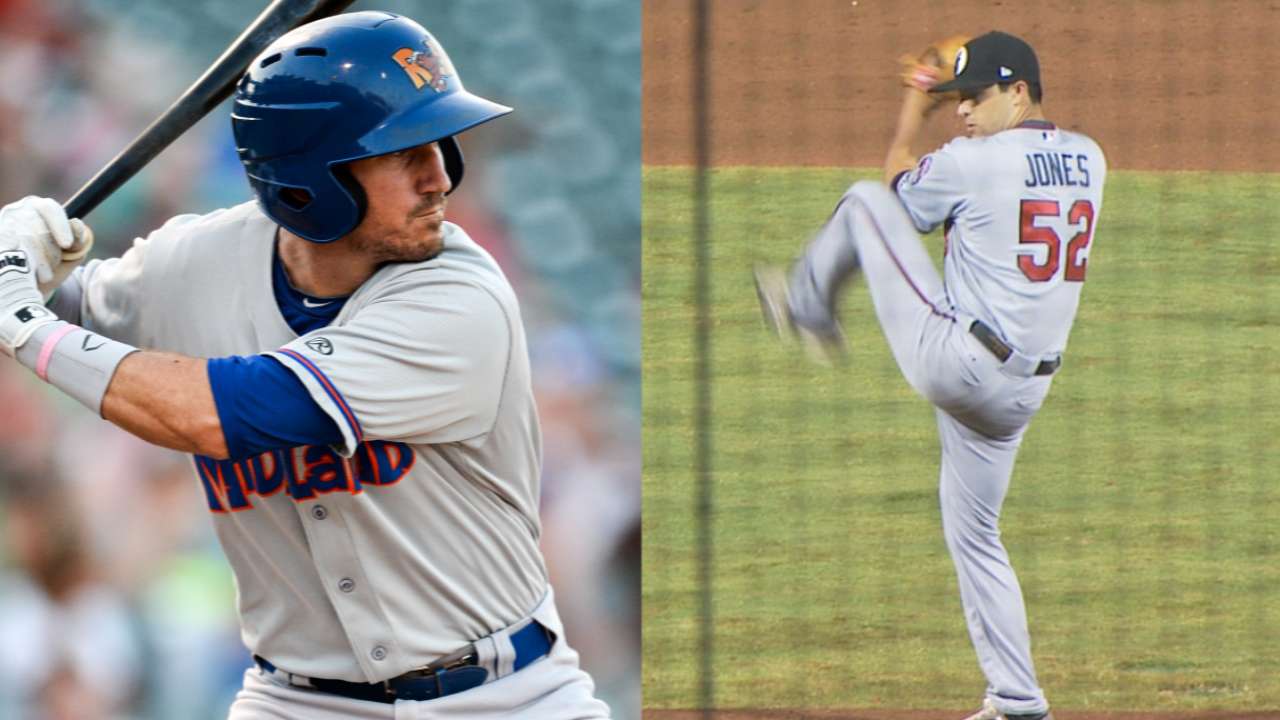 NASHVILLE, Tenn. -- The Brewers have not carried more than one Rule 5 Draft pick on the roster since 2003, when left-hander Matt Ford contributed to the relief corps but infielder Enrique Cruz flopped off the bench. Now they are poised to try again.
The team plucked infielder Colin Walsh, an on-base machine from the A's organization, and right-handed pitcher Zack Jones, a strikeout machine from the Twins, in the Major League phase of Thursday's Rule 5 Draft. The Brewers must keep each player on the big league roster all season or offer him back to his former team.
• Complete Rule 5 Draft results
"We think there is a chance we can keep them," said Brewers pro scouting director Zack Minasian. "But as the offseason goes on, the moves we make will probably help dictate that a little bit more. …
"These are the types of moves that David [Stearns, Milwaukee's rookie general manager] has shown us he's very open-minded to. Take chances on younger players. It's cheap talent, compared to what other players are getting now on the free agent market, where in the past people might have said, 'Oh, you can find a reliever.' Now you're paying him $4-5 million a year."
Walsh, 26, was a 13th-round Draft pick of the Cardinals in 2010 and played the past two seasons in Oakland's system. In 134 games at Double-A Midland, he posted a .447 on-base percentage while batting .302 with 13 home runs and 39 doubles. He's mostly played second base, though he also has experience at third base and the corner outfield spots.
In Spring Training, Walsh will provide some competition for starting second baseman Scooter Gennett, who hit .264/.294/.381 in the Majors in 2015 after a slow start.
"We'll likely work to increase [Walsh's] versatility, make him a little more National League-friendly," Minasian said. "But we really like his bat. He has on-base [skills] that you really don't see anywhere. What he did at Double-A, it's tough to ignore it. It caught our eyes right away. He's not one of these guys just up there looking for a walk, either. When he sees a pitch to hit, he's looking to drive the ball."
The Brewers' analytical team played a role in targeting Walsh. Jones, meanwhile, garnered recommendations from Brewers scout Brad Del Barba and Class A Wisconsin pitching coach Gary Lucas. Lucas came to the Brewers last year from the Twins organization and worked with Jones in 2014 at advanced Class A Ft. Myers.
Jones, 25, was a fourth-round Draft pick of the Twins in 2012 and has 186 strikeouts and .186 opponents' average in 130 1/3 Minor League innings. He had a 4.18 ERA in 45 games between the advanced Class A and Double-A levels in 2015.
"A pure power arm," Minasian said. "He'll blow guys away with his fastball. … We're buying a big, big fastball and we'll see what he can do." Jones joins a group of recent 40-man roster adds with power fastballs, including Jacob Barnes, Yhonathan Barrios and Damien Magnifico.
In the Triple-A phase of the Rule 5 Draft, the Brewers selected left-hander Mitch Lambson from Atlanta and right-hander Kender Villegas from St. Louis. There are no requirements to keep those players at a certain level in 2016.
No Brewers players were selected in any phase of the Rule 5 Draft.
Adam McCalvy is a reporter for MLB.com. Follow him on Twitter @AdamMcCalvy, like him on Facebook and listen to his podcast. This story was not subject to the approval of Major League Baseball or its clubs.