Rays in good place despite quiet Meetings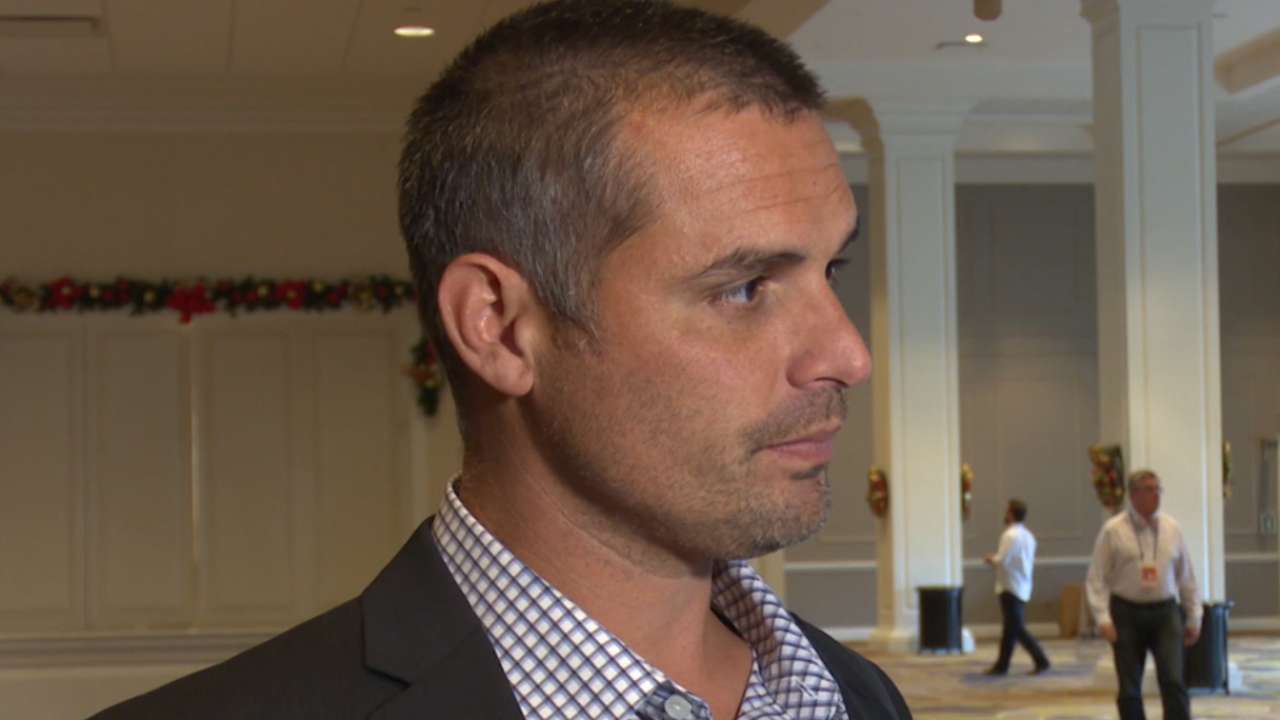 NASHVILLE, Tenn. -- Not everybody makes headlines at the Winter Meetings. Count the Rays among that group following this year's gathering that took place at the Opryland Hotel. But that doesn't mean that Tampa Bay's front office hasn't been busy.
The Rays met with "most everybody" according to team officials, and they had many conversations that might set a deal into motion prior to the 2016 season or up the road for a future season.
The Rays' less-than-aggressive approach was understandable since they got busy early in the offseason, acquiring shortstop Brad Miller, first baseman/outfielder Logan Morrison and right-hander Danny Farquhar in a Nov. 5 trade that sent right-hander Nathan Karns, left-hander C.J. Riefenhauser and Minor League outfielder Boog Powell to the Mariners. They also traded right-hander Kirby Yates to the Indians after he had been designated for assignment, in addition to acquiring catcher Hank Conger from the Astros for cash considerations.
At this point, Tampa Bay feels as though it has a balanced club that can improve on last year's 80-win season and compete for the American League East title.
"We really like our group," said vice president of baseball operations Chaim Bloom. "We like the talent we have on hand. We like the roster that we have and we don't feel pressure do something just because we happen to be at the Winter Meetings.
"I think it's a nice position to be in. We're always looking at ways to improve the talent that we have, improve our organization. But it's also a good position to work from when we feel good about the team that we have. We have a lot of confidence in this group, and so it makes it easier to just assess things as they come, rather than feel pressure that we don't need to feel."
The Rays departed Port Charlotte, Fla., last spring picked to finish with just 80 wins. By the end of the season, after countless injuries, 80 wins looked like an overachievement. Because of the many injuries, Tampa Bay was able to see what a lot of the organization's younger players could do. Many did well, which added to the team's deep and balanced roster.
"[The front office has] really done a nice job of kind of balancing our lineup out," manager Kevin Cash said. "It's no secret, we're going to play matchups. We're going to do platoon splits. Because that's how we're going to win games and that's how we're going to score runs. And they've just added to that equation."
Deals done
The Rays did not make any deals at this year's Meetings. However, look for activity to take place in the coming weeks. Historically, they've had discussions at the Winter Meetings, returned to Tropicana Field and sorted through what they had going on before making a deal. Three years ago, that resulted in a blockbuster deal immediately following the Winter Meetings that sent James Shields, Wade Davis and Elliot Johnson (the player to be named) to the Royals for Wil Myers, Jake Odorizzi, Mike Montgomery and Patrick Leonard.
Rule 5 Draft activity
For a second consecutive year, Tampa Bay furnished the top pick for the Major League phase of the Rule 5 Draft. The Phillies selected unprotected outfielder Tyler Goeddel from the Rays' system wiith the No. 1 pick.
Goeddel, 23, was drafted by Tampa Bay in the first round (41st overall) of the 2011 Draft. He hit .279 with 12 home runs, 72 RBIs and stole 28 bases at Double-A Montgomery in 2015 while playing all of the outfield positions.
The Rays also lost outfielder Joey Rickard to the Orioles, who selected him with the 15th pick of the first round.
Tampa Bay went to the Winter Meetings with no openings on its 40-man roster, so the club was not active in the Major League phase. The Rays did get busy in the Triple-A phase, however, selecting left-hander Adam Kolarek (Orioles) and right-handers Yoel Espinal (Yankees) and Fernando Baez (Cardinals).
Goals accomplished
Unlike two years ago, when the Rays were the talk of the baseball world because of the speculation about David Price getting traded, the club conducted business in the background and did not make any deals. However, Tampa Bay did have conversations with many clubs, and it was able to gather as an organization and evaluate players within the organization.
Unfinished business
After a rather silent week, the Rays' shopping list remains the same as when they arrived in Nashville. The top priority is to find an impact player on offense. Tampa Bay has a well-stocked cupboard of players who could be included in a multiplayer deal to land a special player.
Though the Rays would love to land a player with the "wow" factor, they can proceed with the confidence they already have a solid club if they don't acquire such a player.
Team's bottom line
"I think, generally speaking, we feel like we have a team that's fairly deep and flexible," said vice president of baseball operations Erik Neander. "I don't think [there is] any one particular area where we're really deficient in a sense, so with that, the upgrades become to a higher tier to find things that you're really comfortable with. And those are much more difficult to identify and explore."
Bill Chastain is a reporter for MLB.com. This story was not subject to the approval of Major League Baseball or its clubs.