Texas progresses at Meetings; still work to do
Rangers look to add depth, 'but we didn't come here trying to change up the club dramatically,' Daniels says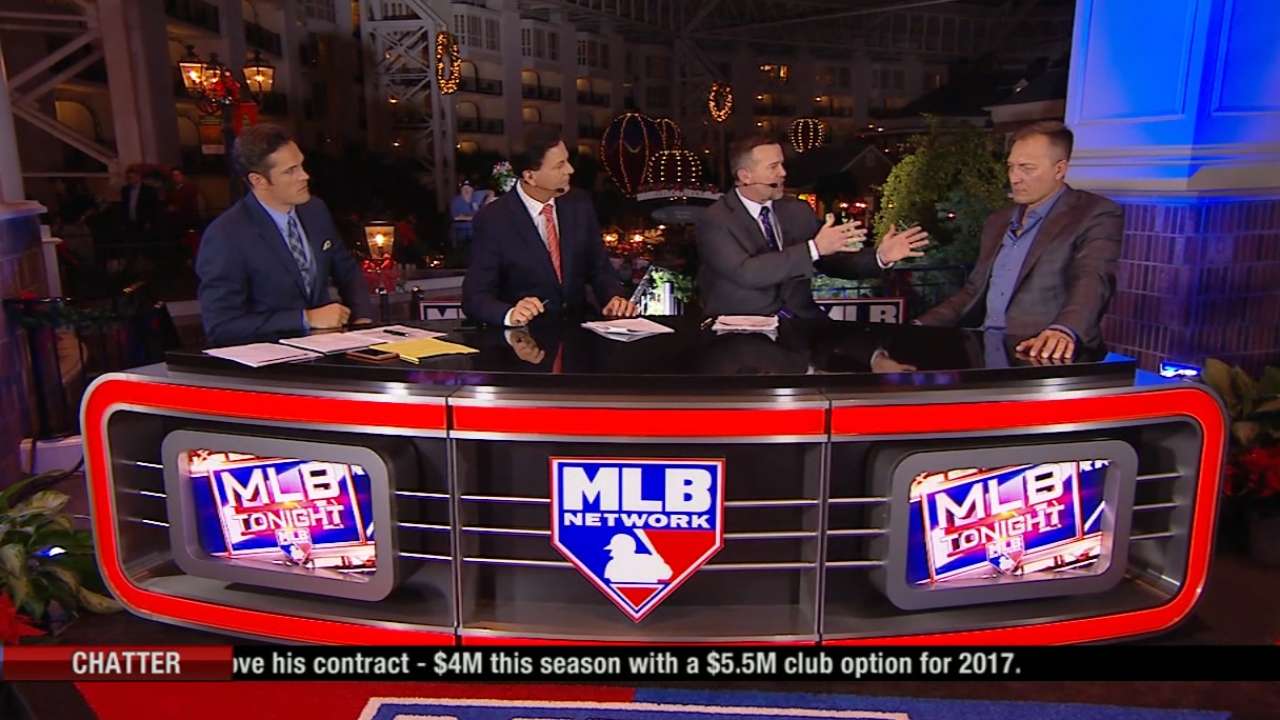 NASHVILLE, Tenn. -- The Rangers showed tangible progress on the final day of the Winter Meetings, reaching a tentative agreement with reliever Tony Barnette on a two-year deal with a club option for 2018.
Barnette, 32, is a former D-backs prospect who has spent the past six years pitching for the Yakult Swallows in the Japanese Central League. He was 3-1 with 41 saves, a 0.89 WHIP and a 1.29 ERA in 2015. The deal has not been announced because it is pending a physical.
"We have interest," Rangers general manager Jon Daniels said.
Winter Meetings highlights
Below were the biggest moves of the Winter Meetings in Nashville, Tenn.
12/9: D-backs acquire RHP Shelby Miller from Braves for OF Ender Inciarte, RHP Aaron Blair, SS Dansby Swanson.
Mets acquire 2B Neil Walker from Pirates for LHP Jon Niese.
Astros to acquire RHP Ken Giles from Phillies for RHP Vincent Velasquez, LHP Brett Oberholtzer, others. Not official.
White Sox acquire IF Brett Lawrie from A's for two Minor Leaguers.
Mets to sign SS Asdrubal Cabrera to 2-year deal. Not official.
Mariners acquire 1B Adam Lind from Brewers for three Minor Leaguers.
12/8: D-backs sign 6-year deal with Zack Greinke.
Cubs sign 4-year deal with 2B Ben Zobrist.
Yankees acquire 2B Starlin Castro from Cubs for RHP Adam Warren, PTBNL.
Cubs sign 2-year deal with RHP John Lackey.
Cardinals acquire 2B Jedd Gyorko from Padres for OF Jon Jay.
12/7: Dodgers near 3-year deal with RHP Hisashi Iwakuma. Not official.
Mariners acquire LHP Wade Miley, RHP Jonathan Aro from Red Sox for RHP Carson Smith, LHP Roenis Elias.
Royals sign 2-year deal with RHP Chris Young.
Barnette would give the Rangers more depth in their bullpen. That is an area of strength, and other clubs have been asking the Rangers for relief help in their trade discussions.
"Looked to continue to build our bullpen depth, strength on strength, I guess, would be one way to look at it," Daniels said. "Prepare for the possibility that we end up trading somebody or make sure it's a really strong unit on the club with the inevitable ups and downs that bullpens have. The way we look at it, the bullpen and prospects are the two areas we've got some depth. I'd think if we complete a trade to help our big league club, it would come from one of those two areas."
Deals done
The Rangers made a minor trade on Thursday, sending left-handed reliever Will Lamb to the White Sox for right-handed starter Myles Jaye.
Jaye, who turns 24 on Dec. 28, spent last season at Double-A Birmingham, going 12-9 with a 1.23 WHIP and a 3.29 ERA. He was a 17th-round pick in 2010 out of Fayetteville, (Ga.) Starrs Mill High School.
"He has had a year and a half at Double, starter mix, good delivery," Daniels said. "He is a guy we liked as a prospect. We're trying to build on our starter depth, and we feel Myles can help."
Lamb was a second-round pick in 2011 out of Clemson University. He split last year with Double-A Frisco and Triple-A Round Rock, going 3-4 with a 4.42 ERA in 47 games.
Rule 5 activity
The Rangers did not take a player in the Major League phase of the Rule 5 Draft. They did take infielder Garrett Weber from the D-backs in the Triple-A phase. He hit .302 with 27 doubles, four triples, nine home runs and 55 RBIs in 114 games between Double-A Mobile and Triple-A Reno in 2015.
The Rangers lost Double-A pitcher Anyelo Leclerc off their Frisco roster, as the Red Sox selected him in Round 2 of the Triple-A phase. He signed as an international free agent in 2010 and was 3-4 with a 5.52 ERA in 30 games between Class A Advanced High Desert and Frisco in 2015.
Goals accomplished
The Rangers reached an agreement with outfielder James Jones on a Minor League contract with an invitation to Spring Training. A left-handed hitter, Jones has played in 136 games for the Mariners over the past two seasons, hitting .238 with a .268 on-base percentage and a .296 slugging percentage. He also stole 28 bases.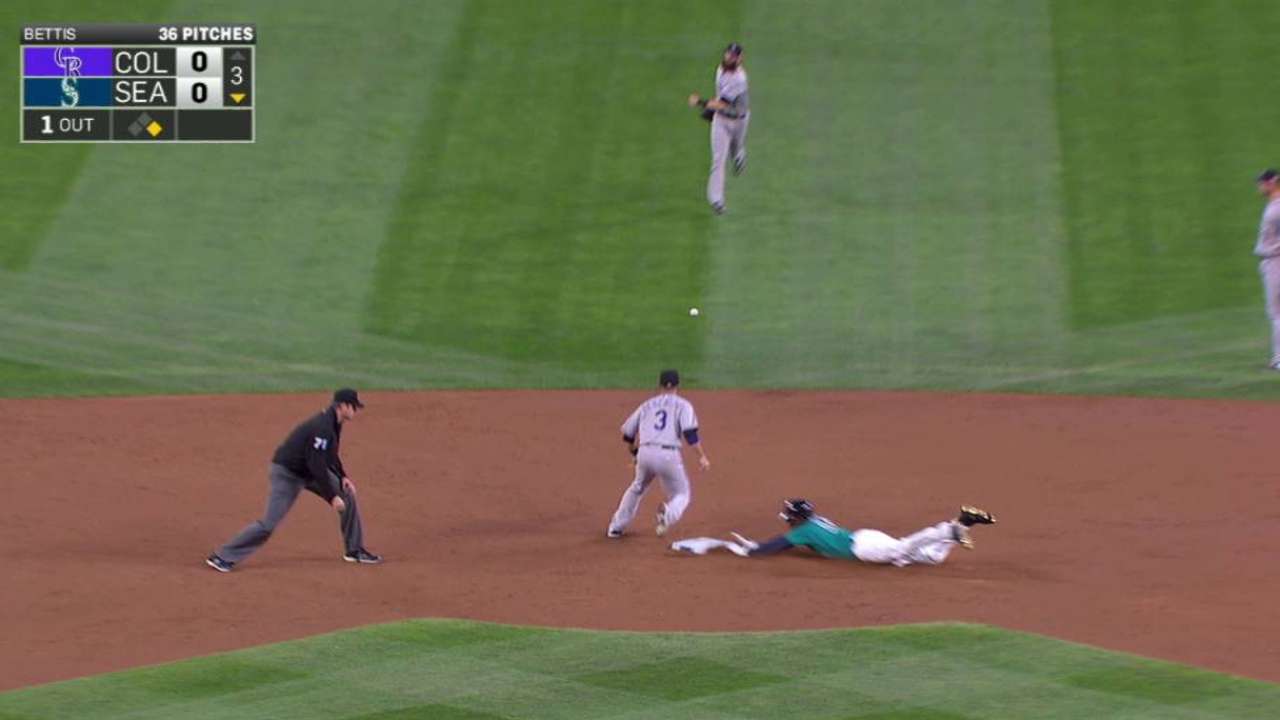 He played in 72 games at Triple-A Tacoma and hit .272 with a .365 on-base percentage and a .381 slugging percentage. He has 128 stolen bases in seven Minor League seasons, and he'll compete for a possible spot as a reserve outfielder in Spring Training.
"We feel like he is a late bloomer," Daniels said. "He didn't get the normal reps typical for a college player. He can run and is a really good baserunner. He has the talent to be a plus defender in center field, plus arm. He is still raw as far as jumps, breaks … but that's an area we feel we can help."
The Rangers acquired Jones from the Mariners last month but non-tendered him before the Winter Meetings to create space on their 40-man roster.
Unfinished business
The Rangers expect to re-engage with Colby Lewis' agent, Alan Nero, after the Winter Meetings. Lewis is a free agent, and the Rangers would still like to re-sign him. But Nero is also talking with other clubs.
"It's a two-way deal," Daniels said. "They're talking to other clubs, and we're looking at our alternatives … more trade than free agents. We could possibly add two more starters, Colby and somebody else. It all depends on the dollars."
GM's bottom line
"We have our work to do, we have things that have to fall a certain way, we have to add some depth in certain areas, but we didn't come here trying to change up the club dramatically. You almost have to be more patient because some of the areas that we're looking at, the market hasn't quite gotten to them yet." -- Daniels
T.R. Sullivan is a reporter for MLB.com. Read his blog, Postcards from Elysian Fields, follow him on Twitter @Sullivan_Ranger and listen to his podcast. This story was not subject to the approval of Major League Baseball or its clubs.