KC relieved to not lose Fuenmayor in Rule 5
Lefty Stumpf selected by Phillies, but No. 27 prospect remains with Royals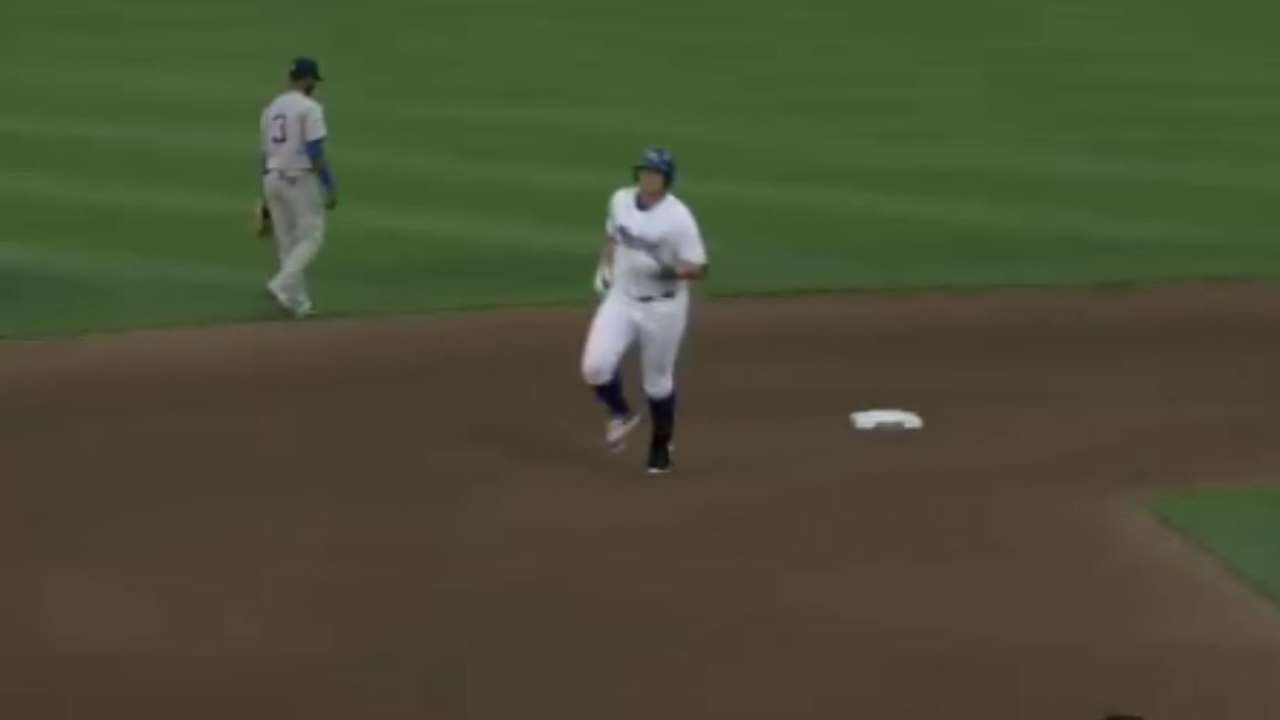 NASHVILLE, Tenn. -- The Royals lost left-hander Daniel Stumpf to the Phillies in the Rule 5 Draft on Thursday morning, plus two more players in the Minor League phase.
The Royals made no selections themselves.
Perhaps the biggest news, though, was whom the Royals didn't lose. First baseman prospect Balbino Fuenmayor, the Royals' Player of the Year at Double-A Northwest Arkansas and No. 27 prospect in the organization, was left exposed off the 40-man roster, but he was not selected.
Stumpf, a 24-year-old left-hander, was the Royals' ninth-round pick in 2012. He went 5-4 with a 3.57 ERA at Northwest Arkansas last season. Royals vice president/assistant general manager J.J. Picollo said he knew there was a chance Stumpf would be selected.
"Not real surprising," Picollo said. "Good left-hander. Has talent and ability. Good arm strength. It's tough to protect everyone."
Fuenmayor is a 26-year-old power hitter with an interesting background. He was an original Draft pick of the Blue Jays, but he never made it past Class A in the organization.
Fuenmayor contemplated retirement, but he then decided to resume his career in 2014 in the Independent Can-Am league. He went on to be the league Player of the Year for Quebec, hitting .347 with 23 homers and 99 RBIs.
The Royals signed Fuenmayor to a Minor League deal. He started off at Northwest Arkansas, where he hit .354 with 15 homers and 51 RBIs in 73 games before being promoted to Triple-A Omaha. In 16 games at Omaha, he hit .377 with two homers and 15 RBIs before suffering a torn ACL in his left knee.
The Royals gambled that other teams would be scared off by Fuenmayor's injury -- he might not be ready by Opening Day.
"We're certainly glad to still have him," Picollo said. "He had a terrific season last year before the injury, and we think he'll bounce back from the injury and have another great season."
In the Minor League phase of the Rule 5 Draft, the Royals lost catcher Micah Gibbs to the Dodgers and catcher Santiago Nessy to the Yankees. Nessy had been acquired from the Blue Jays after the 2014 season for pitcher Liam Hendriks.
Jeffrey Flanagan is a reporter for MLB.com. Follow him on Twitter at @FlannyMLB. This story was not subject to the approval of Major League Baseball or its clubs.