MLB.com Columnist
Anthony Castrovince
Trader 'Stros get Giles; flurry of Winter Meetings action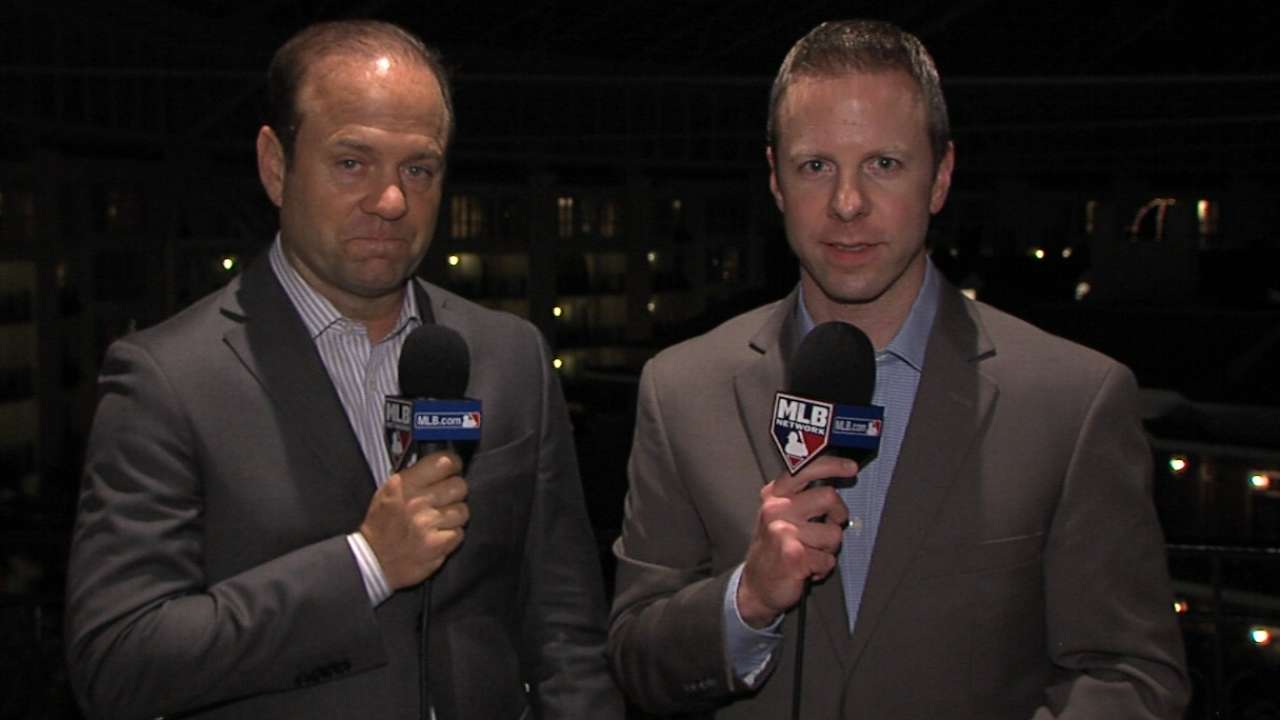 NASHVILLE, Tenn. -- The rule of three applied on Day 3. On the eve of the Winter Meetings' end, three trades -- Ken Giles to the Astros, Brett Lawrie to the White Sox and a Jon Niese-for-Neil Walker swap between the Mets and Pirates -- were wrapped up Wednesday, and discussions about more deals were continuing on into the night at the Opryland Hotel.
Here's a rundown of what transpired on Day 3 and what still might be on the horizon on the transaction wire:
• Wednesday's whopper was the Astros' move to add a high-velocity hurler in Giles to a bullpen that had profiled more as a pitch-to-contact staff in 2015. In exchange for five years of Giles' services, the Phillies got back a big haul: pitchers Vincent Velasquez and Brett Oberholtzer and outfield prospect Derek Fisher. It followed the Carlos Gomez and Mike Fiers acquisitions as the latest example of Houston dipping into one of the Majors' deepest farm systems to fill a pressing need. And for Philadelphia, which, frankly, doesn't figure to have many games to save this season, this was another opportunity to continue to stock what has become a vastly improved system over the past calendar year and speed up the ascension to contention.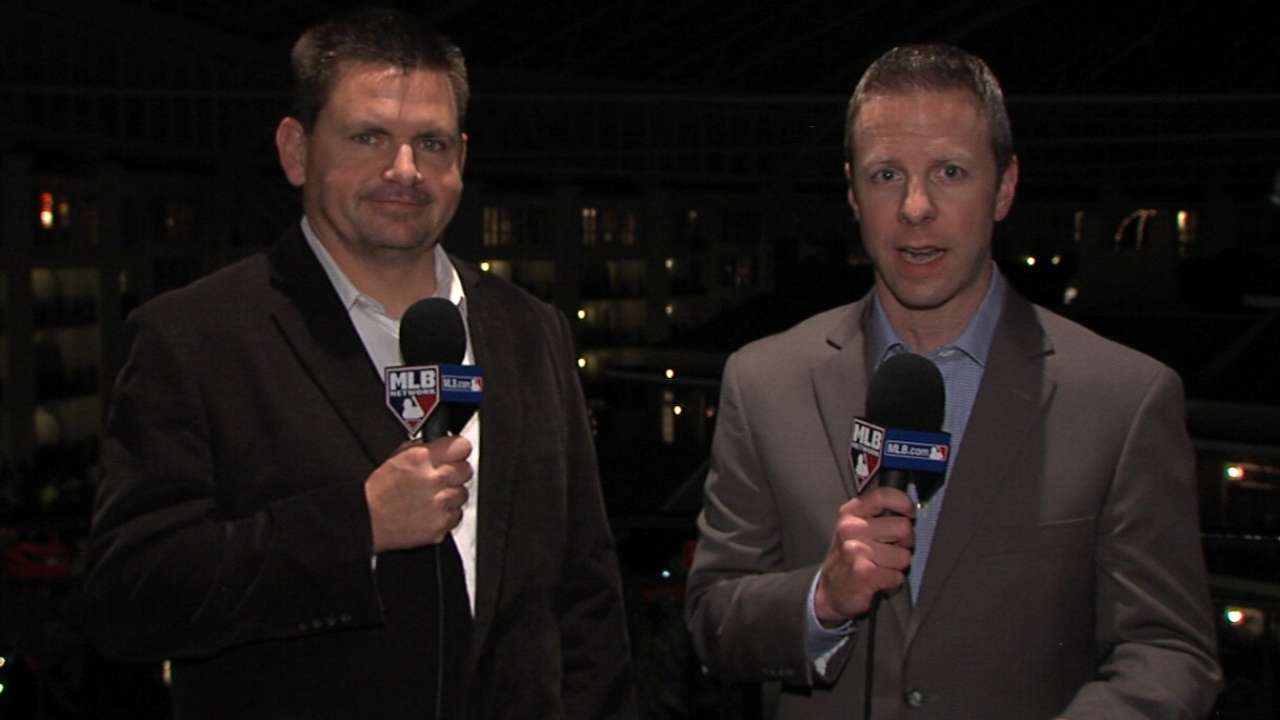 • Lawrie was dealt for the third time in five years, with the White Sox hoping the high-energy infielder's long-expected breakout comes on their watch. Chicago is desperate for an offensive boost after a lost 2015, and Lawrie can either fill its longstanding hole at third base or possibly take over at second, should the White Sox make another addition for the hot corner (and more on that in a moment). The A's were shopping Lawrie from the moment they reacquired Jed Lowrie from the Astros. In exchange for two seasons of Lawrie, Oakland received right-hander J.B. Wendelken and left-hander Zack Erwin, thus adding 12 more years of contractual control to the Josh Donaldson transaction tree.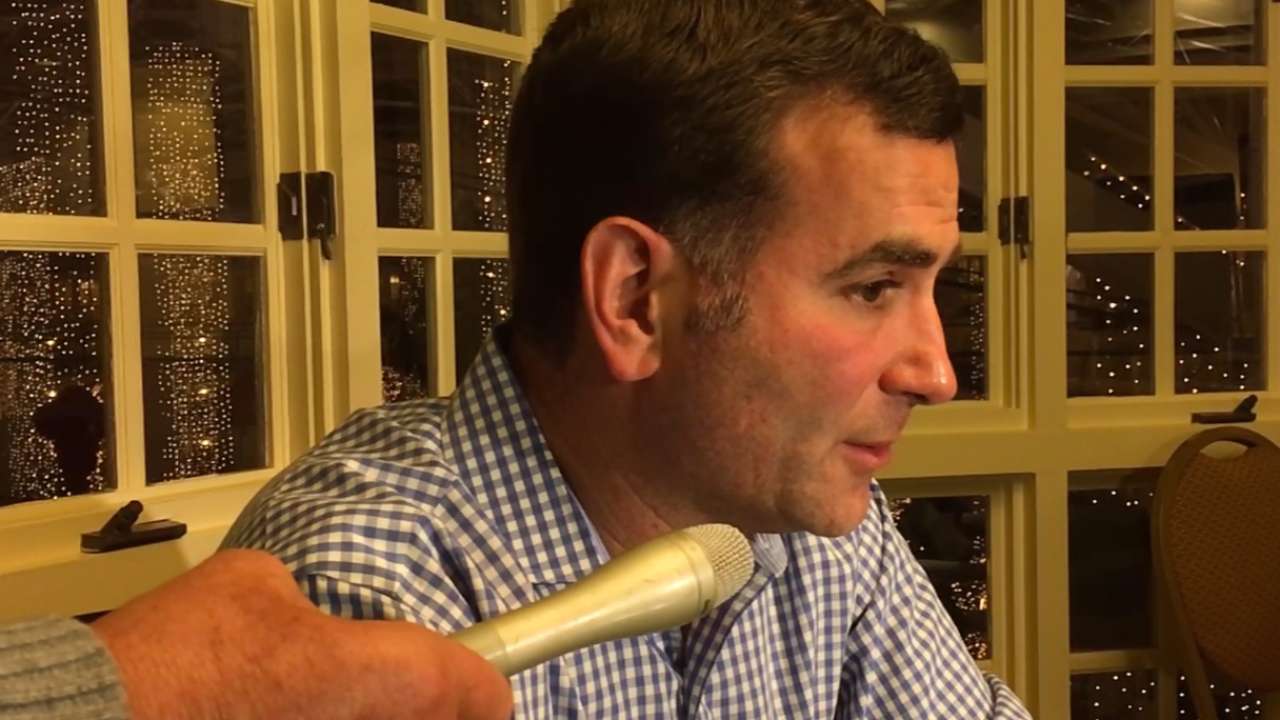 • In a nice, pure swap of Major League talent, two teams filled obvious needs: The Pirates got Niese (4.13 ERA in 33 appearances in 2015) for a rotation that has lost J.A. Happ and A.J. Burnett, while the Mets, having lost out on Ben Zobrist, added second baseman Neil Walker (.269/.328/.427 slash with 16 homers). The $9 million Niese is set to make in 2016 and the money Walker will make in his last round of arbitration figure to be a wash.
• And the Mets weren't done adding to their infield. They've also agreed to terms on a two-year, $16.5 million contract with Asdrubal Cabrera, who will be their starting shortstop and make Wilmer Flores and Ruben Tejada depth options. The 30-year-old Cabrera had a .265/.315/.430 slash with 15 homers and six stolen bases with the Rays last year.
• The Tigers made a sneaky good trade for lefty reliever Justin Wilson to join their new-look bullpen, sending Minor League right-handers Luis Cessa and Chad Green to the Yankees. Green had a 3.10 ERA and 1.13 WHIP with 66 strikeouts in 61 innings last season and is under control through 2018.
• We had a batch of one-year deals come through: The Braves signed Emilio Bonifacio, who is coming off a terrible year (.167/.198/.192 slash line with the White Sox) but has value via versatility. The Blue Jays are bringing Darwin Barney back on a one-year deal in a utility-infield role after he played well for them down the stretch last season. The Angels signed Craig Gentry, who spent most of 2015 in Triple-A, for outfield depth. And according to multiple reports, the Rockies were nearing a one-year deal with power-hitting first baseman Mark Reynolds, and the Nationals were closing in on an agreement with long reliever Yusmeiro Petit.
Bat banter
The Orioles have made a reported seven-year, $150 million offer to Chris Davis, and that offer, in their view, is nearing its deadline. With Davis and agent Scott Boras looking to max out the first baseman's market (one report claims Davis is looking for eight years and $200 million … but then again, aren't we all?), things are at a standstill there.
But because the O's aren't in position to make multiple big offers in this free-agent class (and also have need in their rotation), they may soon get more serious about their backup plans -- Justin Upton, Alex Gordon, perhaps even Carlos Gonzalez in the trade market.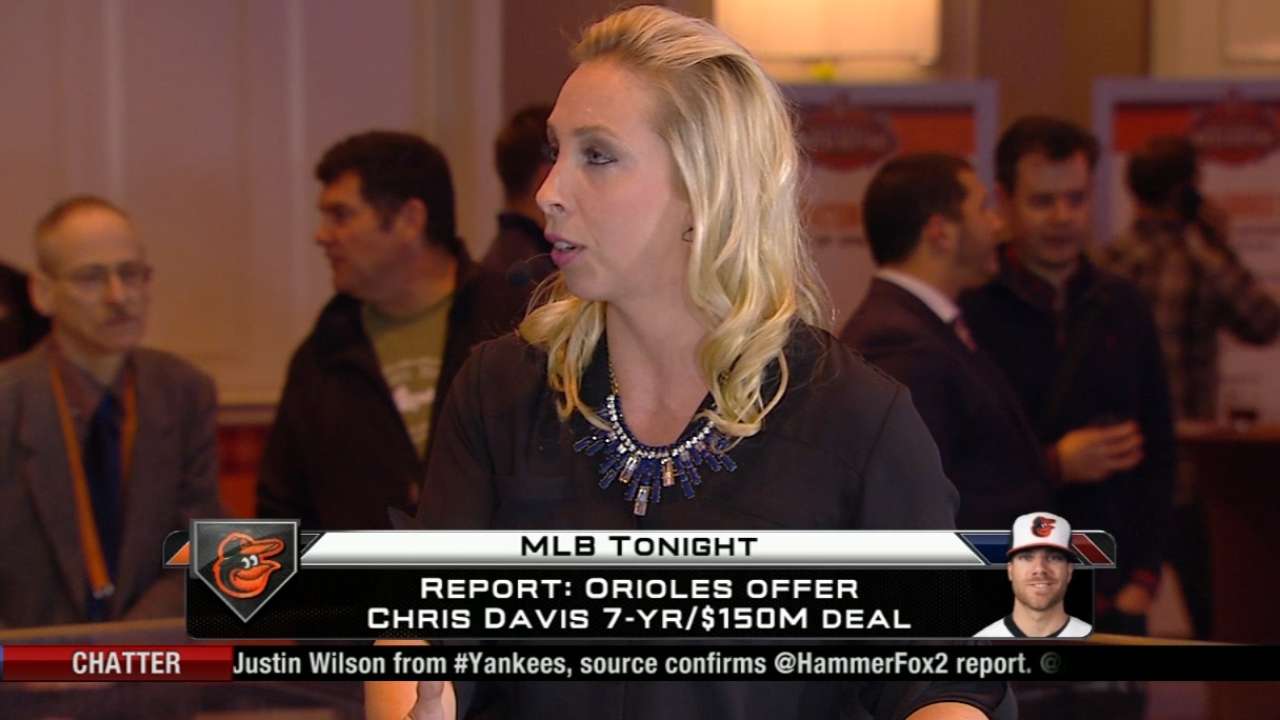 In general, the position-player market is still at a standstill. Zobrist's signing with the Cubs caused some infield dominoes to fall on the trade front, but Jason Heyward -- who is being courted by the Cardinals and Cubs, among others -- continues to gum up the works in the outfield.
Todd talk
The White Sox are still talking to the Reds about Todd Frazier, as are the division-rival Indians. Other clubs are in the mix for Frazier, but, for now, rebuilding Cincinnati says it has been "underwhelmed" by the offers for the reigning Home Run Derby champ.
Because Frazier is as popular as he is productive, the Reds' asking price for Frazier is sky high. They're asking for Chicago's top prospect, Tim Anderson, as a starting point. For the White Sox, that's a non-starter. The Indians' best prospects are in the outfield -- Brad Zimmer and Clint Frazier (and who wouldn't love a Frazier-for-Frazier swap?).
Though the Tribe, in particular, was still discussing this Wednesday night, nothing appears imminent on the Frazier front.
Tribe vibes
Speaking of the Indians, their cost-controlled starters (primarily, Carlos Carrasco and Danny Salazar) continue to generate a ton of discussion -- and no activity. With the Tribe pretty bullish on keeping Carrasco, the D-backs had interest in Salazar, but that interest was dwarfed by their interest in Shelby Miller. Arizona viewed Miller as a more proven 200-inning commodity, even though Salazar comes with two more years of contractual control than Miller does.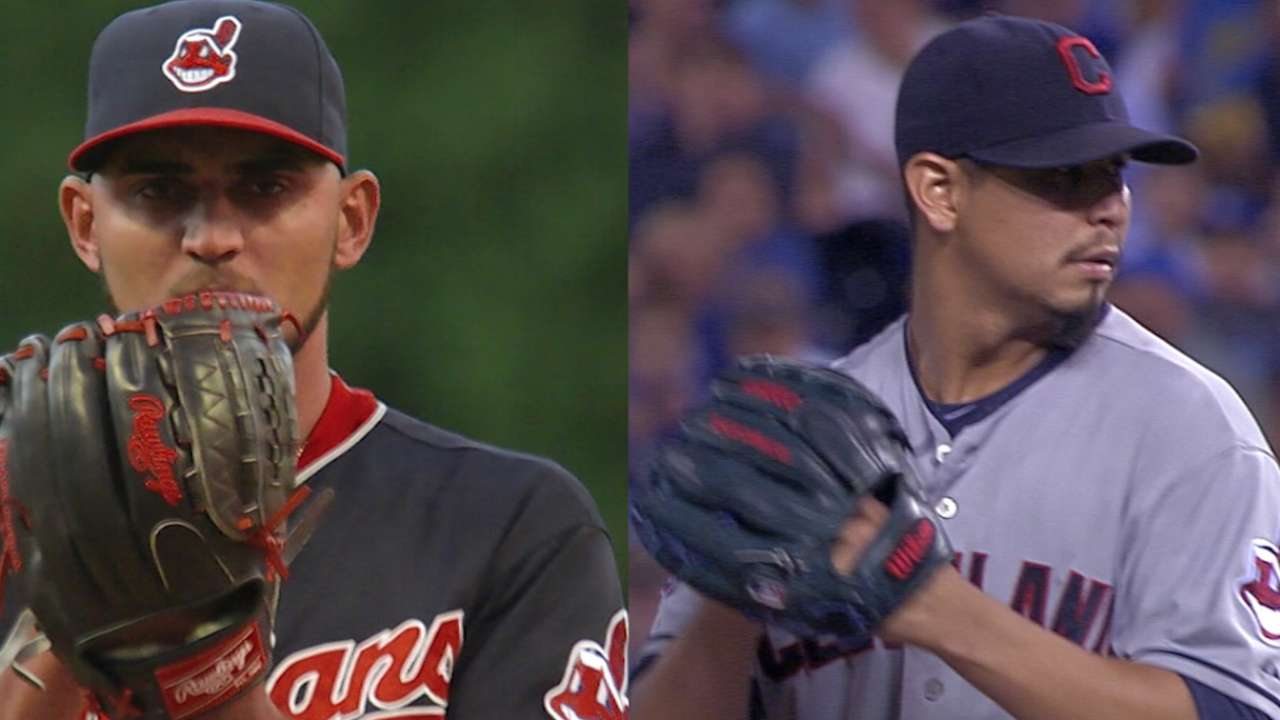 One National League executive speculated that the huge haul the Braves got for Miller probably makes it even less likely that the Indians will move one of their arms, because a potentially unrepeatable bar has now been set.
Fixing a Leake
With Johnny Cueto's high asking price, multiple clubs are looking at Mike Leake as a more affordable and perhaps even dependable rotation option.
Leake is just 28, he's averaged 200 innings over the past three years, he's got an effective sinker-cutter combo and he's athletic, so there's a lot to like here. Oh, and he's not tied to Draft pick compensation, either. Despite no obvious need in their rotation, Nationals GM Mike Rizzo confirmed he's made an offer to Leake, but the Nats' interest (and, ergo, their offer) is not believed to be all that serious.
It does not appear Leake's situation will be settled at these Meetings, but those aforementioned attributes and the now-thinned nature of the pitching market mean something could/should come together soon.
Jose will stay
Calm down, everyone. Jose Fernandez "is not going anywhere," according to Marlins president of baseball operations Michael Hill. You know what that means:
Smokescreen!
Well, OK, probably not. Considering Miami was asking for roughly the equivalent of an entire Triple-A team and a set of fine china for Fernandez's services, an actual barter at these Meetings never seemed especially realistic. But hey, sometimes groundwork toward an eventual deal is laid, and strong stances have been walked back before. Still seems pretty likely the Fish keep their ace, though.
Five alive
The Rule 5 Draft is the traditional finishing touch of the Winter Meetings, and this year's installment takes place at 10 a.m. ET, with live coverage on MLB.com. Last year's Rule 5 Draft featured a record 10 players that stuck with their new club through the entirety of 2015. This year, Rays outfielder Tyler Goeddel will reportedly go to the Phillies with the first overall pick.
Here's a preview of the Rule 5 Draft.
Anthony Castrovince is a reporter for MLB.com. Read his columns and follow him on Twitter at @Castrovince. This story was not subject to the approval of Major League Baseball or its clubs.