Rockies agree to deal with Reynolds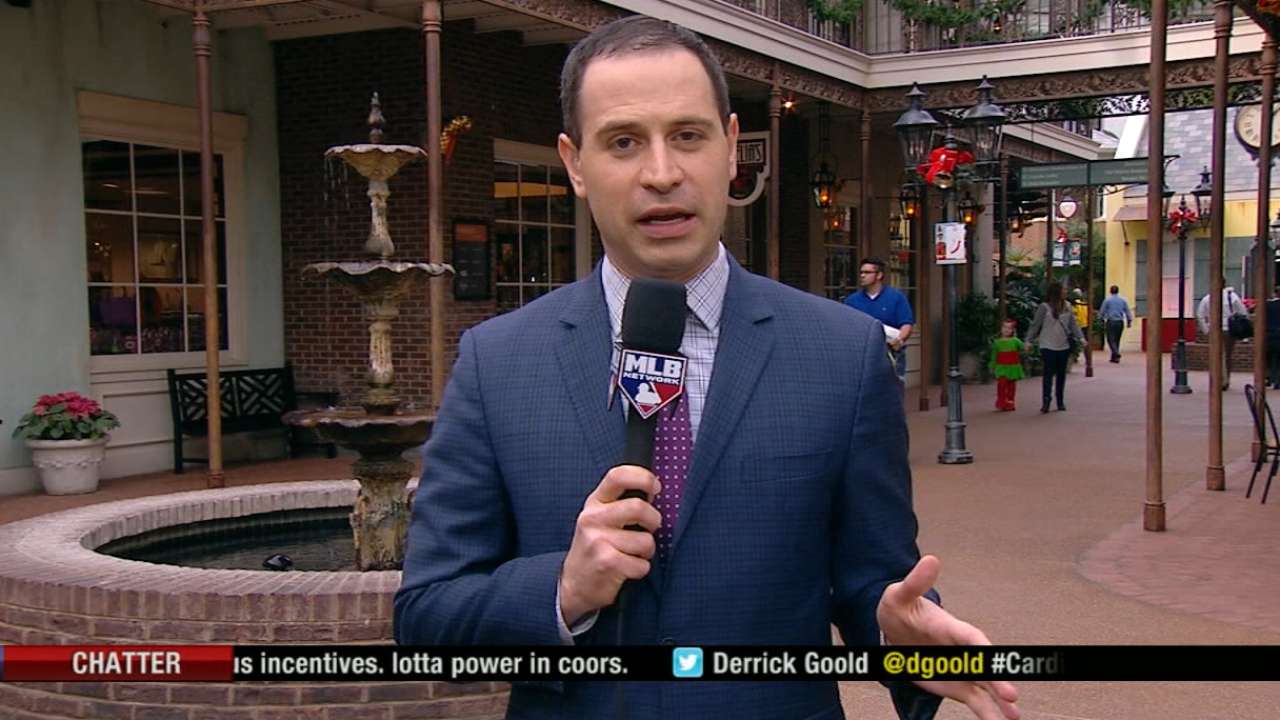 NASHVILLE, Tenn. -- The Rockies have reached an agreement with first baseman-third baseman Mark Reynolds to a reported one-year contract worth $2.6 million plus incentives, a source told MLB.com. The club has not made an official announcement.
Reynolds, who hit .230 with 13 home runs and 48 RBIs for the Cardinals last season, adds right-handed power at first base, where the Rockies also have left-handed-hitting Ben Paulsen.
The move offers a chance at lineup balance. A trade of one of the three left-handed-hitting outfielders (Carlos Gonzalez, Charlie Blackmon, Corey Dickerson) is likely as the Rockies seek pitching. But for now, when Reynolds is in the lineup, the Rockies will have him, second baseman DJ LeMahieu, slugging third baseman Nolan Arenado and catcher Nick Hundley from the right.
Reynolds, 32, will hope to take advantage of Coors Field, where he has played 37 games and is a .287 career hitter with a .405 on-base percentage, eight home runs, eight doubles and 23 RBIs. His OBP at Coors is highest for any park in which he has played more than 12 games. The only park in which he has hit more home runs in a similar number of games is Pittsburgh's PNC Park (10 in 37 games).
Strikeouts have been a constant in Reynolds' career, as he led his league each year from 2008-11. Last year, he finished with 121.
According to the Scoutables website, which updates daily throughout the season, Reynolds saw his rate of popups drop from 11 percent in 2014 with the Brewers to 6 percent with the Cardinals. His percentage of ground-balls-turned-into-outs, however, rose from 41 percent to 51 percent -- stretches of ground-ball outs in June, September and during the postseason. He also sprays enough balls to the right that he isn't the type of hitter against whom teams will employ extreme shifts.
Reynolds, according to Scoutables, was particularly effective against changeups, with a .480 average when he put that pitch in play. That was well above the .320 Major League average.
Paulsen, who also plays left field, was called up from Triple-A Albuquerque as the primary first baseman after Justin Morneau (now a free agent) was out with concussion symptoms and a cervical neck strain. Paulsen batted .277 with 11 homers and 49 RBIs in 116 games.
Reynolds also could spell Arenado at third base, though veteran utility man Daniel Descalso is the more likely option if Arenado is unavailable.
Fantasy spin | Fred Zinkie (@FredZinkieMLB)
A notable home run hitter who has exceeded 20 homers in seven of the past eight seasons, Reynolds has the skills to succeed at offense-inducing Coors Field in a first-base platoon with Paulsen. The right-handed Reynolds owns a lifetime .804 OPS against southpaws, and Paulsen registered just 39 of his 315 plate appearances in 2015 against lefties. Reynolds is unlikely to compile enough plate appearances to help mixed-league owners, but his ability to post a double-digit homer total will make him a popular pick in the late rounds of National League-only drafts.
Thomas Harding is a reporter for MLB.com. Follow him on Twitter @harding_at_mlb, and like his Facebook page. This story was not subject to the approval of Major League Baseball or its clubs.