MLB.com Columnist
Jim Callis
Scouts of the Year honored at Winter Meetings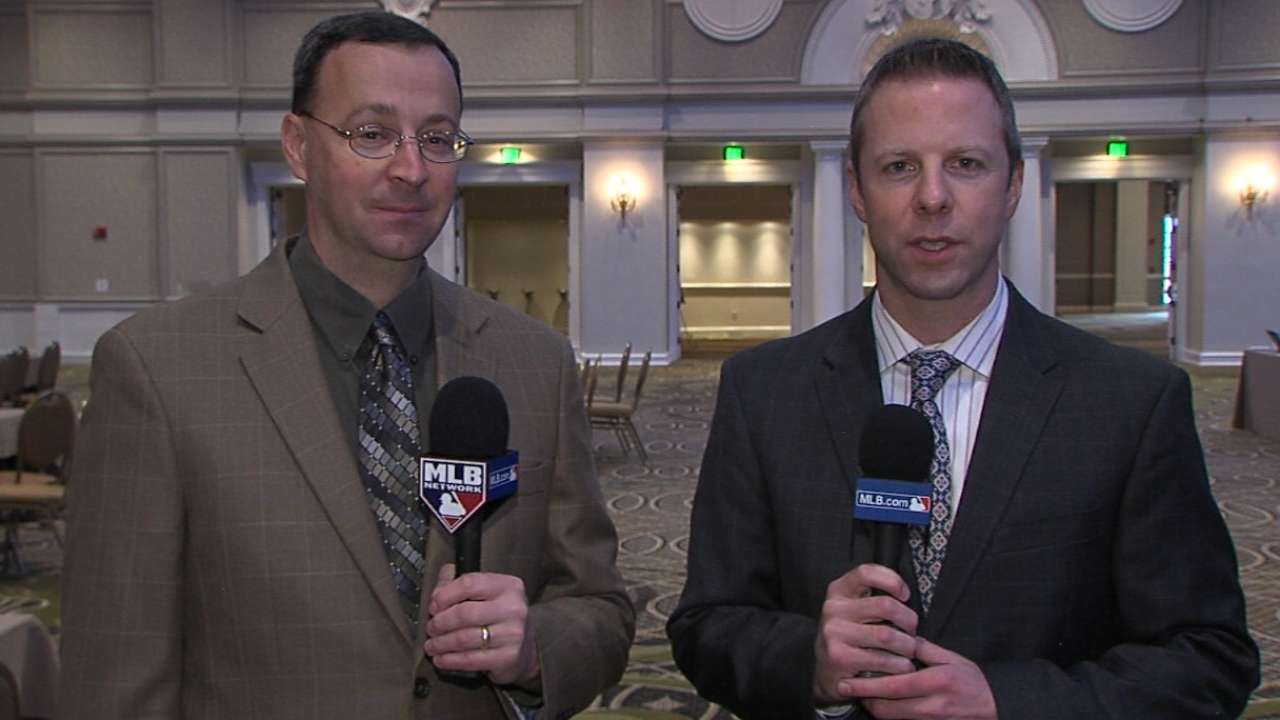 NASHVILLE, Tenn. -- Though he tied a national prep record with 140 career RBIs at Reitz Memorial High (Evansville, Ind.), Don Mattingly didn't overwhelm scouts. They rated him as having below-average power, speed and arm strength, so he didn't profile well as a first baseman or left fielder. He also had opportunities to play college football and basketball, clouding his signability.
But Jax Robertson, a third-year area scout with the Yankees, was intrigued by Mattingly's ability to put the bat on the ball. Robertson convinced his club to draft Mattingly in the 19th round and followed him throughout the Indiana state playoffs afterward.
"I ended up seeing Donnie at least as many times after the Draft as before, deep into June," Robertson said. "I never saw him swing through a ball. He never swung and missed at all. His innate hand-eye coordination was the best I had ever seen. I told the Yankees we needed to sign him.
"I'm not going to tell you I thought he'd have the power production he ended up having -- nobody would. But he was such a smart hitter."
Signing Mattingly for $22,500 proved to be a smart decision. He lived up to Robertson's glowing reports about his bat and developed power, batting .307/.358/.471 in 14 years with the Yankees that included a batting title, an MVP award, six All-Star Game appearances and nine Gold Gloves.
Roberston was celebrated Wednesday night at the Winter Meetings as the East Scout of the Year at the 32nd annual Scout of the Year reception. Mike Arbuckle (Midwest) of the Royals, the late Jeff Barton (West) and Joe McDonald (Director's Award) of the Red Sox were honored as well.
Robertson signed 10 big leaguers as an area scout with the Yankees and Tigers, including another All-Star in Travis Fryman. He selected Tony Clark and Justin Thompson with premium picks as Detroit's scouting director from 1988-91, and was involved in the drafting of Charles Johnson, Randy Winn, Mark Kotsay and Josh Beckett as a national crosschecker with the Marlins from 1992-99. Robertson has been a special assistant to the GM with the Pirates since 2002, helping the franchise recover from 20 consecutive losing seasons to make three straight playoff appearances.
Arbuckle broke into scouting as a part-timer with the Phillies in 1977 before playing a role in rebuilding three franchises into World Series champions. He joined the Braves in 1980, advancing from area scout to national crosschecker in 12 years with the club. In his final two seasons, Atlanta won National League pennants and the first two of 14 consecutive division titles, eventually capturing the World Series in 1995.
He returned to Philadelphia as scouting director in November 1992 and became assistant GM in charge of scouting and player development in 2002, overseeing the drafting of players such as Scott Rolen, Jimmy Rollins, Randy Wolf, Pat Burrell, Marlon Byrd, Chase Utley, Ryan Howard and Cole Hamels. Arbuckle was as responsible as anyone for laying the foundation of the Phillies' 2008 World Series championship club, but resigned when he was passed over for GM when Pat Gillick stepped down that fall. He quickly joined the Royals as a senior adviser for scouting and player development and earned a second World Series ring this October.
Arbuckle acknowledged the value of analytics but said he hoped that teams would continue to realize the importance of scouting as well.
"If you look at every team in the postseason this year, and the Braves who had a long run, and the Phillies who had a good run, all those teams had a core of homegrown players they developed," Arbuckle said. "That core comes from good scouting and good development -- period. Every time teams think they're getting smarter, I think they need to take a good look at history because history is telling us something."
Barton died of cancer Nov. 12 at age 50. A third-generation Reds scout, following his grandfather Larry Barton Sr. and father Larry Jr. (who signed Eric Davis and was the 2004 East Scout of the Year honoree), he joined the organization as an area scout in 1989.
In his first year, he projected that a strong-armed University of Arizona infielder with below-average hitting ability and speed could make it on the mound. Barton signed him in the 11th round, and Trevor Hoffman would blossom into one of the best closers in baseball history. Promoted to West Coast crosschecker in 1994, Barton was involved in the drafting of Aaron Boone, Joey Votto, Justin Turner and Mike Leake.
"He was so talented as a scout and had a great work ethic," Reds scouting director Chris Buckley said. "He was so great at managing people. This is a total tragedy that we lost someone so young, such a good person. We're going to miss him so much. It's a cliché, but he was a great scout and a better person. I couldn't say enough good things about him."
McDonald was an original employee of the Mets, joining the expansion franchise in 1962 as a statistician before moving into baseball operations. He helped run New York's first three Drafts in 1965-67, when the club landed Nolan Ryan, Ken Singleton and Jon Matlack, served as farm director from 1968-74 and took over as GM from 1975-80. McDonald went to the Cardinals as assistant GM in 1981 and rose to GM from 1982-84.
After spending a year with the Phillies as an area scout, McDonald became the Tigers' vice president for player procurement and development from 1987-90 and spent a third stint as a GM with Detroit in 1991-92. Since then he has scouted with the Angels, Rockies and Red Sox. He has won five World Series rings in his 54 seasons in baseball -- with the 1969 Mets, 1982 Cardinals and 2004, 2007 and 2013 Red Sox -- and was directly or indirectly responsible for assembling a third of the roster of a sixth champion, the 1986 Mets.
McDonald reminisced about working with Whitey Herzog to build those championship teams in New York and St. Louis.
"We enjoyed life. We enjoyed developing players," McDonald said. "I like to think we had success because we developed half of the players who constituted the Amazin' Mets in 1969. Then when my time was done with the Mets, he asked me to join him with the Cardinals and we won another World Series."
Jim Callis is a reporter for MLB.com. Follow @jimcallisMLB on Twitter. This story was not subject to the approval of Major League Baseball or its clubs. This story was not subject to the approval of Major League Baseball or its clubs.