MLB.com Columnist
Jonathan Mayo
Rebuilding Phils get quality haul for Giles
Former No. 1 overall pick Appel highlights players heading to Philadelphia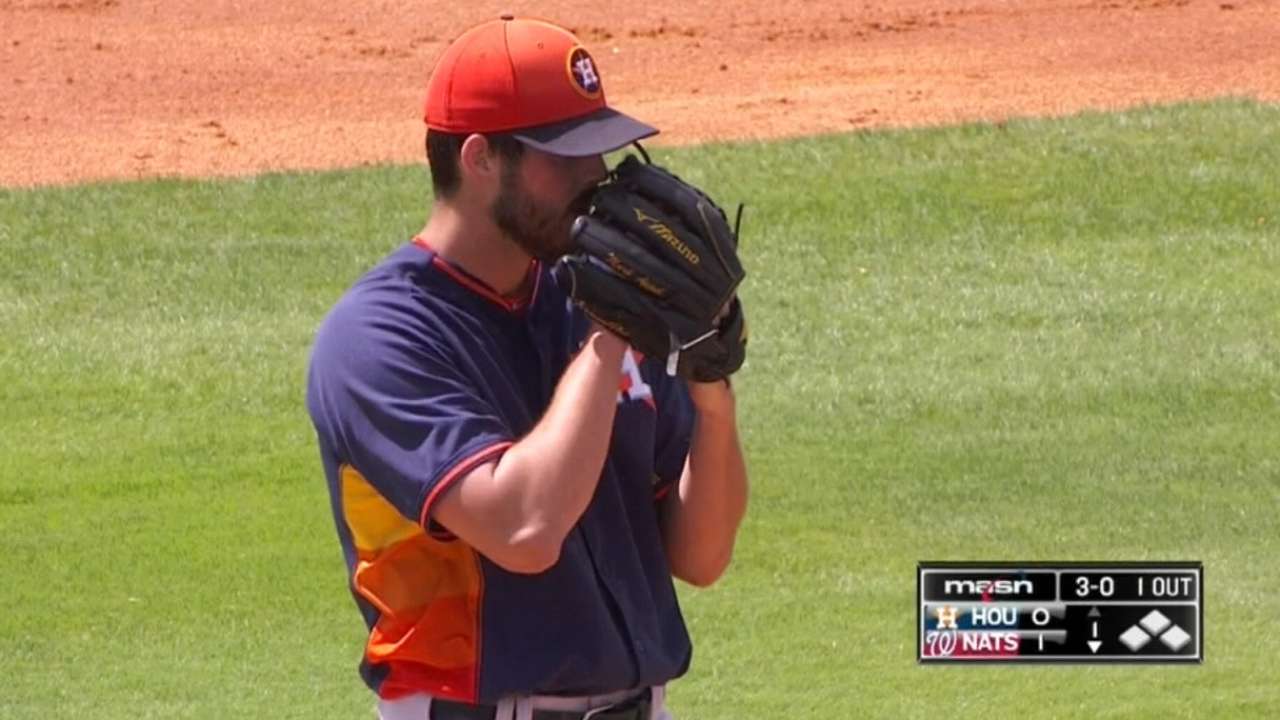 With the Phillies in full-on rebuilding mode, it seemed just a matter of time until they found a buyer for closer Ken Giles. That time finally came on Saturday afternoon, when the group of young players changing hands were a bit different than the initially reported stable of prospects.
On Wednesday evening at the Winter Meetings, it was believed the Phillies would be receiving right-hander Vincent Velasquez, outfield prospect Derek Fisher, right-handed pitching prospect Thomas Eshelman and lefty Brett Oberholtzer.
The final deal was a little different. Instead of Fisher, it was former No. 1 overall pick Mark Appel going to Philadelphia, as well as right-handed pitcher Harold Arauz, with infielder Jonathan Arauz heading in the other direction to Houston.
The key to the deal is now Appel, ranked No. 43 on MLBPipeline.com's Top 100 list. Appel, the No. 1 pick in the 2013 Draft after returning to Stanford for his senior season (following being taken No. 8 overall by the Pirates in 2012), still has outstanding stuff, though that hasn't equated to dominating results in his Minor League career.
Appel is the second former No. 1 pick to be dealt in the past week, after infielder Dansby Swanson was traded from the D-backs to the Braves. The most recent No. 1 overall pick that still plays in the system of the team that drafted him is Houston's Carlos Correa.
The right-hander split the 2015 season between Double- and Triple-A and finished with a 4.37 ERA, .266 batting average against and 110 strikeouts in 131 2/3 innings. It was an improvement over his first full season, which began with an injury and started with disastrous results in the hitting-friendly California League. A very strong showing in the '14 Arizona Fall League helped him head back in the right direction and prepare him for the upper levels of the Astros' system.
Appel still gets high grades for his pure stuff, a three-pitch mix of above-average to plus offerings. His fastball can sit in the mid-90s and touch 98 mph at times, and he backs that up with a very good slider and changeup. He's always had a good feel for pitching and perhaps just needs to trust his stuff better to obtain results that match his repertoire. He does give the Phillies a pitching prospect with top-of-the-rotation potential, one just about ready to get a shot at the big league level.
Velasquez technically is no longer considered a prospect because of service time in late August. But he's a young, 23-year-old right-hander still very much in career-establishing mode. At the time of his removal from top-prospect lists, the 2010 second-round pick had been re-ranked at No. 69 on MLBPipeline.com's Top 100 list, and sat at No. 4 on the Astros' Top 30. If he were still eligible, he'd slot in at No. 5 on the Phillies ever-improving Top 30 list.
• Hot Stove: Track free agents
Velasquez has the chance to have three Major League average or better pitches and commands them all well when he's at his best. His fastball will sit in the low-to-mid 90s with life, and his changeup is his second above-average offering. His curve isn't quite as good but should be a quality breaking ball when all is said and done. He has good mound presence -- when he's on the mound. The one thing Velasquez has struggled with has been staying healthy, with both Tommy John surgery and a groin issue on his medical resume. The Astros had moved him to the bullpen after he threw fairly well in the rotation to monitor his innings and get him through a season in one piece. If he can stay away from the disabled list, he could be a future No. 3-type starter.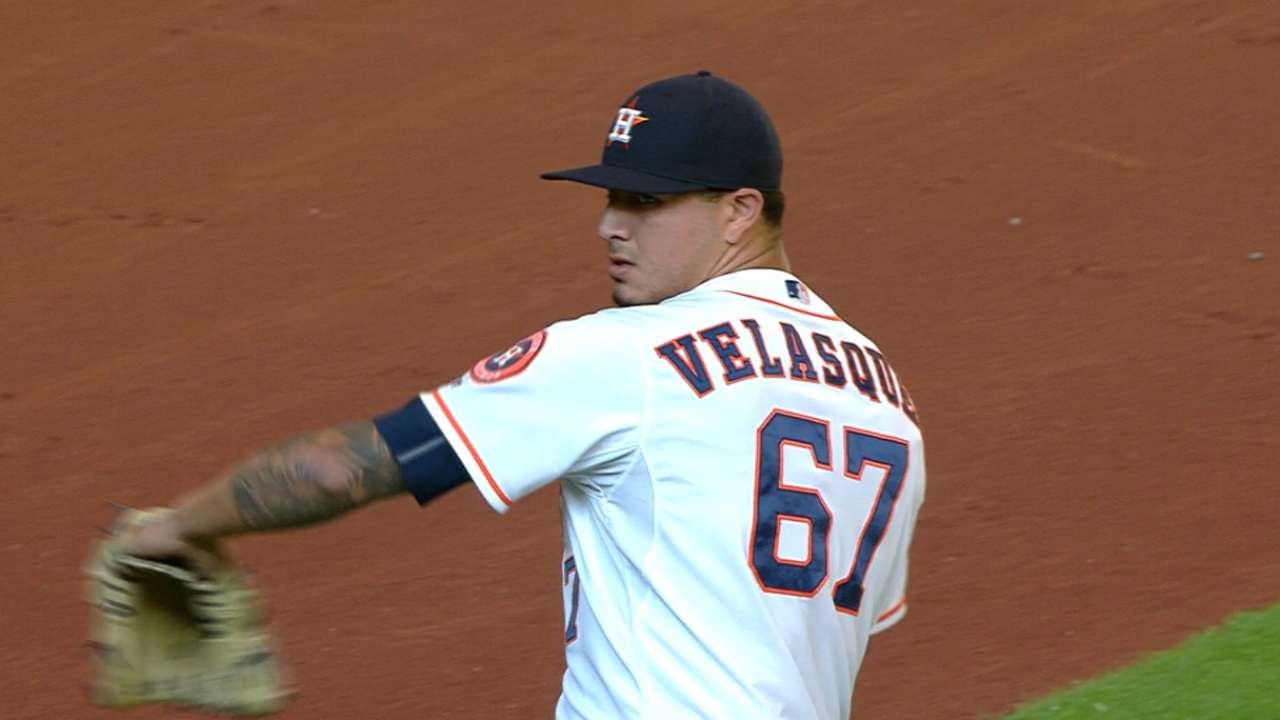 Eshelman becomes the third 2015 draftee to be dealt under the new "Trea Turner rule," which allows Draft picks to be traded after the World Series following the June Draft, as opposed to a full year after they were drafted, as was the case under the old rule. The Cal State Fullerton product, who led NCAA Division I in walks per nine innings in all three years he was on campus, gets a 70 grade for his control. His stuff is average, at best, across the board, but he can throw any pitch in any count and put it wherever he wants. The Phillies had success with control artist Aaron Nola, their 2014 first-rounder, and Eshelman is kind of a poor man's version with slightly less stuff. Still, his high floor means he's a good bet to fulfill his potential as a No. 4 or 5 starter.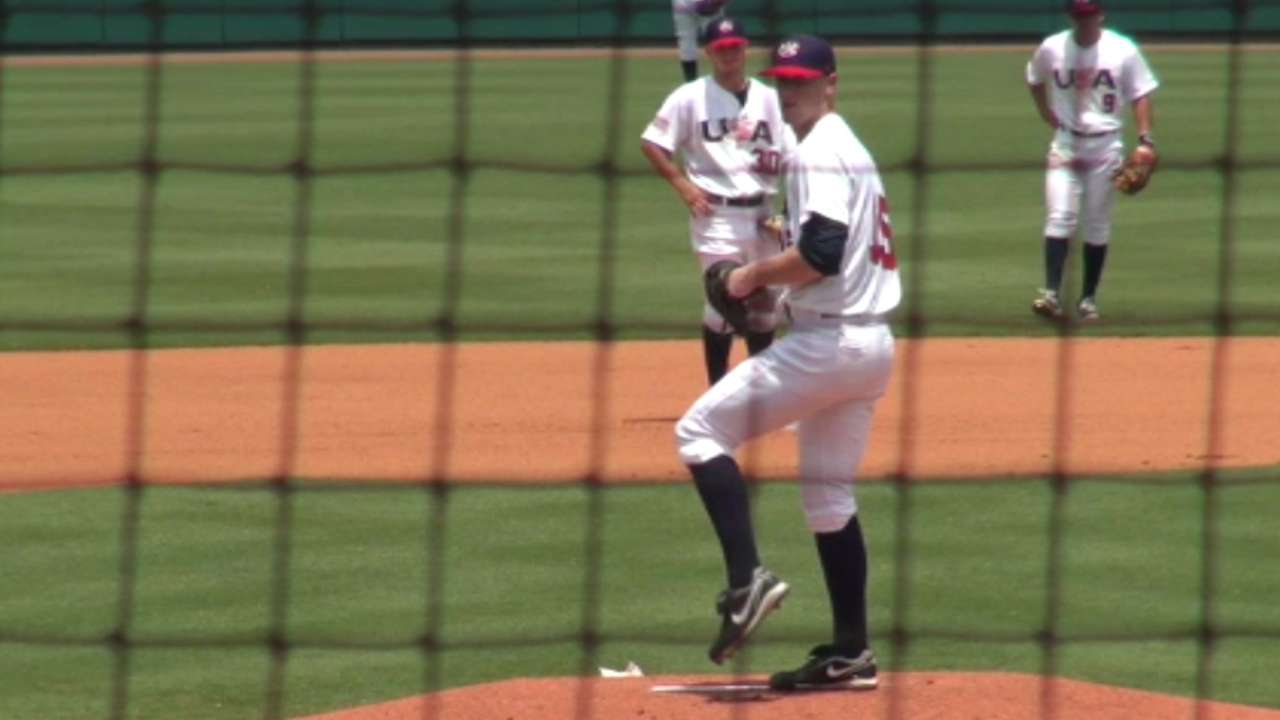 Oberholtzer is a 26-year-old finesse lefty who is a year removed from making 24 big league starts. He had some blister problems in 2015, making eight starts for Houston, and has yet to find consistency in the Majors. He has the ceiling of a No. 5 starter.
Jonathan Mayo is a reporter for MLBPipeline.com and writes a blog, B3. Follow @JonathanMayo on Twitter. This story was not subject to the approval of Major League Baseball or its clubs.