A's land 2 Minor League arms for Lawrie
Trade with White Sox frees up everyday role for Lowrie
NASHVILLE, Tenn. -- Dealing from an area of surplus, the A's traded infielder Brett Lawrie to the White Sox on Wednesday evening for two Minor League pitchers.
Oakland received right-hander J.B. Wendelken and lefty Zack Erwin in the deal, one that had come to be expected within the past 24 hours in the confines of the rumor-crazed Winter Meetings.
The 25-year-old Lawrie leaves after just one season with the A's, who identified him as a vital piece when sending Josh Donaldson to Toronto in a shocking trade last winter. He proceeded to stay off the disabled list for the first time in five Major League seasons and gave the A's a career-high 16 home runs and 60 RBIs, batting .260 in 149 games.
But he quickly became expendable when the A's reunited with versatile infielder Jed Lowrie through a trade with the Astros last month, and several clubs took notice.
"We talked to a number of teams about Brett over the last six weeks or so," A's general manager David Forst said. "Certainly when we got Jed from Houston, people who checked in were made aware we might do something else on the back end."
Forst praised Lawrie's ability to stay on the field, where he finished the season at second base after Danny Valencia's August arrival prompted a move from third.
"He worked really hard to keep himself out there on the field, and he deserves a lot of credit for that, because that was the biggest knock on him coming in here and it wasn't an issue," Forst said.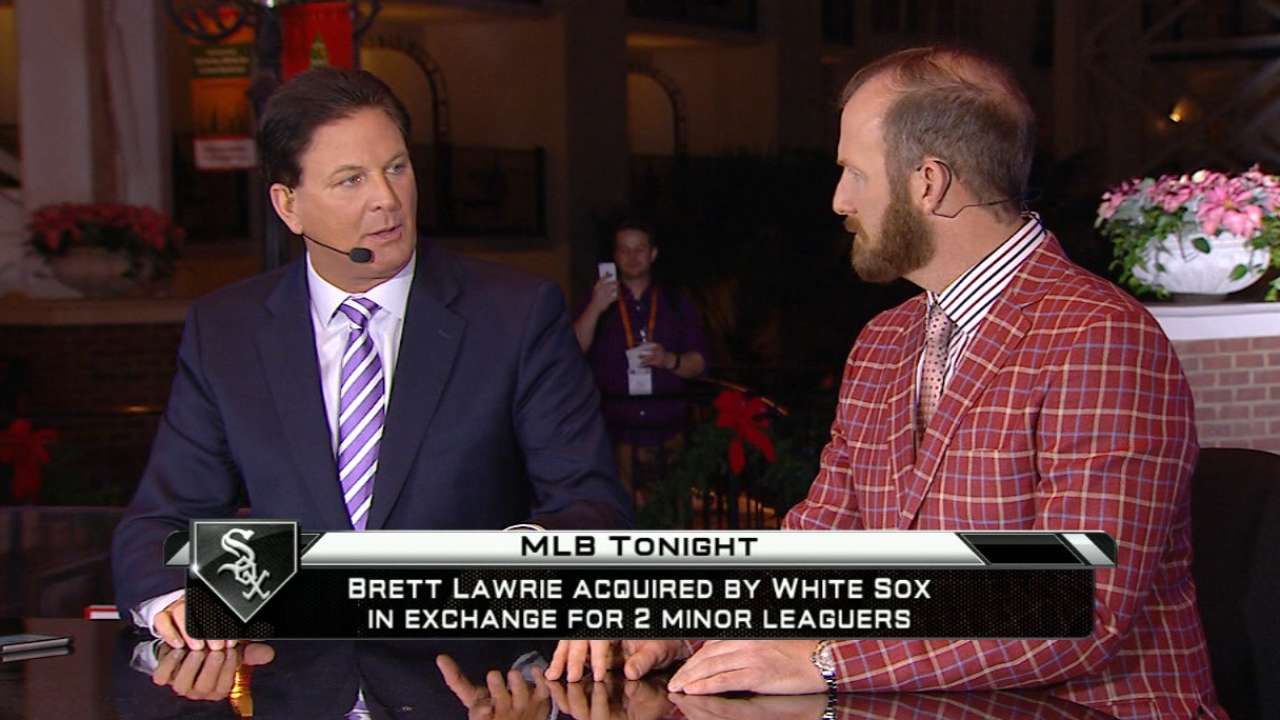 With Lawrie out of the mix, Forst foresees Lowrie spending the majority of his playing time at second base, with Marcus Semien staying put at shortstop while Valencia guards third. Eric Sogard will serve in a utility role.
Wendelken, Forst said, could join the big league group as soon as 2016, after jumping to the Triple-A level last season following a move from the rotation to the bullpen. The 22-year-old righty compiled a 3.20 ERA with five saves in 39 relief appearances between Double-A Birmingham and Triple-A Charlotte, striking out 69 next to just 16 walks in 59 innings.
Hate to see @blawrie13 leave. Love that guy. But welcome a friend and fellow alumni of SEHS JB Wendelken. Same hometown. Same MLB team

— Josh Reddick (@RealJoshReddick) December 10, 2015
Erwin, 21, finished 2-2 with a 1.34 ERA in 15 games, seven starts, in his first professional season, split between Rookie-level Great Falls and Class A Kannapolis after being drafted by Chicago in the fifth round out of Clemson. He did not allow a home run in 40 1/3 innings.
Erwin joins a strong class of starting hurlers at the lower levels of the A's Minor League system, which also includes 2015 Draft picks Bubba Derby and Boomer Biegalski.
"To add another starting pitcher to that group and have them come up together is a nice thing to have," Forst said.
Jane Lee is a reporter for MLB.com. This story was not subject to the approval of Major League Baseball or its clubs.