Niese's exit may open door to Bartolo's return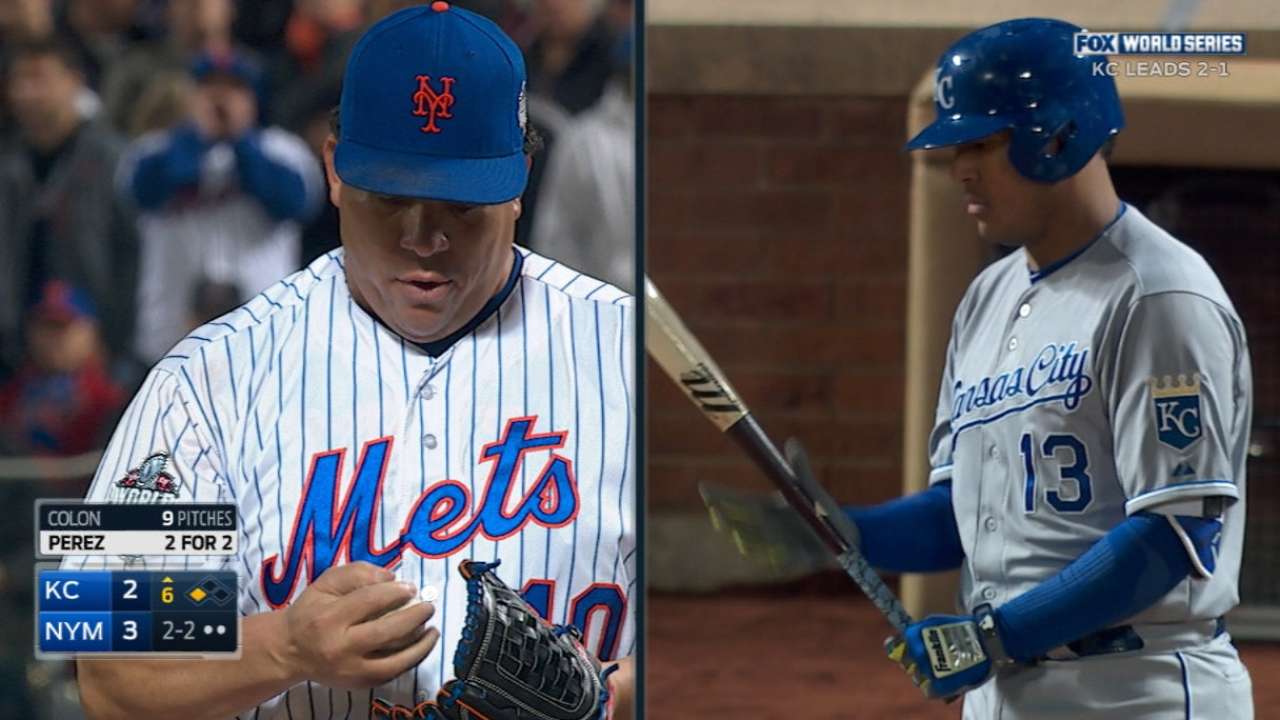 NASHVILLE, Tenn. -- With Jon Niese departed, heading to Pittsburgh in a trade for second baseman Neil Walker, the Mets no longer have a clear starting five heading into next season. Matt Harvey, Jacob deGrom, Noah Syndergaard and Steven Matz will be back, anchoring things four out of every five days, but the Mets have no obvious fifth starter, making it possible that they could reunite with Bartolo Colon.
The team has already touched base with Colon's representatives, according to assistant general manager John Ricco, and could sign him if he is willing to accept a swingman role with some appearances out of the bullpen.
"That's something we'll have to discuss with him," Ricco said. "Obviously, he pitched for us out of the 'pen during the playoffs and did pretty well. ... He did look pretty good in that role. From what we've learned of him, he's pretty much a 'team first' guy, but he's a free agent now. We've talked to him. We have some guys in-house we like as well, so I'm not sure what's going to happen on that front."
Internal fifth-starter candidates include Rafael Montero, Sean Gilmartin and Logan Verrett, with Zack Wheeler ready to rejoin the rotation by June or July. The Mets will at least consider supplementing that group with Colon, who went 29-26 with a 4.13 ERA for them from 2014-15, starting 62 games and appearing twice out of the bullpen. Entering his age-43 season, Colon is unlikely to command anything more than a one-year deal on the open market.
"The nice thing is we do have a lot of options -- Montero, Gilmartin, Verrett -- and we do have Zack Wheeler on the horizon," Ricco said. "So we're going to regroup and continue to look at that. I don't think we have to go out and get another starter, because of those guys I just mentioned. But if we want to or if we see someone who can make us better, I think we'll pursue that as well."
In other free-agent news, Denard Span's desire for a multiyear deal could take the Mets out of contention for his services, though the Mets have only just begun their search for a left-handed-hitting center fielder to pair with Juan Lagares.
"Leadoff hitters are in demand, they're hard to find, and [he's] a guy who plays center field on top of it," Span's agent, Scott Boras, said on Wednesday. "He offers teams a very unique skill set. And I think the only thing they need to see is just the fact that he's back at 100 percent. He had [season-ending hip] surgery in July, so he's really been, you know, going at it pretty hard here now for the last six weeks."
The Mets have looked at both Span and Gerardo Parra, another left-handed free agent, to fulfill their center-field wish list. But they could stick with the status quo, giving Lagares the bulk of playing time, with Kirk Nieuwenhuis and Darrell Ceciliani serving as in-house platoon options.
"We're looking at any way to make this team better," Ricco said. "We like Juan a lot. He brings a lot to the table. But the general context is trying to get better, and one of the ways would be trying to find someone who complements him."
Anthony DiComo is a reporter for MLB.com. Follow him on Twitter @AnthonyDiComo and Facebook, and listen to his podcast. This story was not subject to the approval of Major League Baseball or its clubs.