Indians put premium on their starting pitching
Free-agent market could drive up asking price for potential deals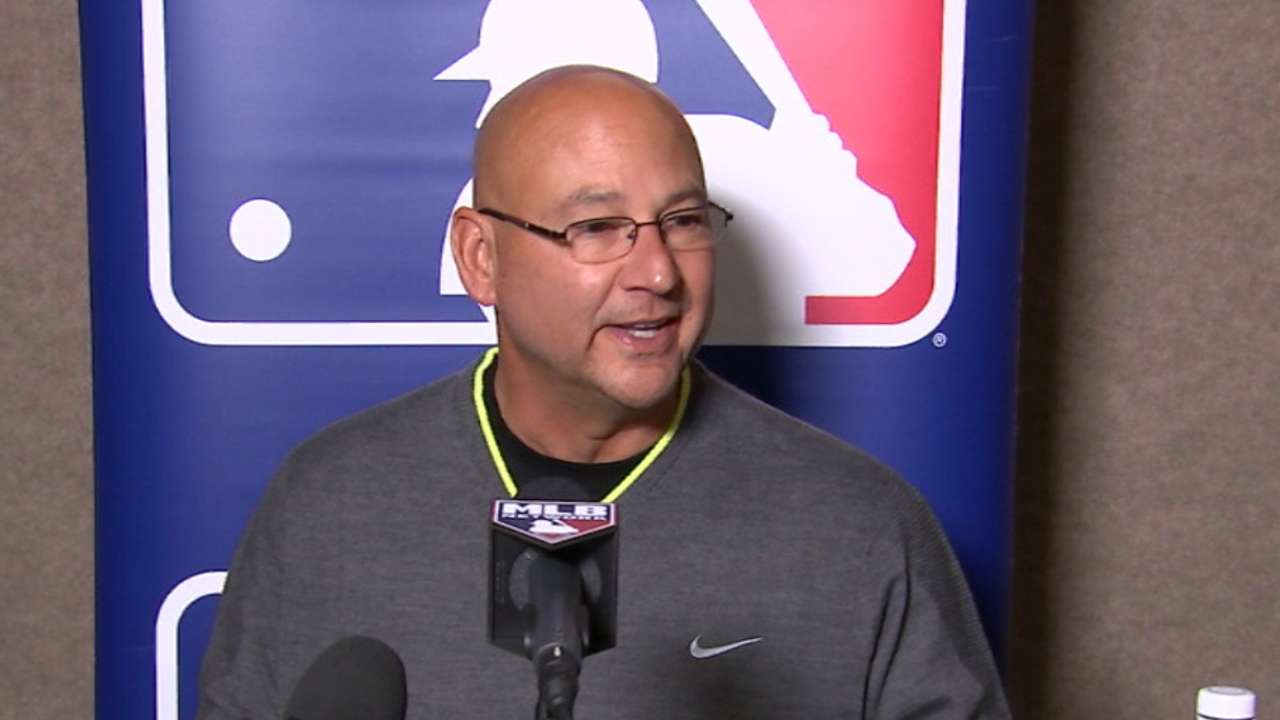 NASHVILLE, Tenn. -- The value of starting pitching continues to reach new heights. Whether it is through mammoth free-agent contracts or jaw-dropping trade packages, know that the Indians are keeping a watchful eye on just how valuable arms are perceived on the market.
At the Winter Meetings on Wednesday, the Opryland Hotel remained abuzz over the deal struck between the D-backs and Braves. Arizona landed pitcher Shelby Miller for an impressive return of outfielder Ender Inciarte, shortstop prospect Dansby Swanson (the No. 1 overall pick in last June's Draft) and pitching prospect Aaron Blair.
• Francona knows Indians still have work to do
That type of deal could in turn raise the asking price on Cleveland's starting pitchers.
"I think it just shows the high value of Major League controllable starters," Indians general manager Mike Chernoff said. "So, whether it's on the free-agent market and you're seeing what guys are getting in terms of dollars, or you're seeing on the trade market what teams are giving up for controllable starters, I think it just reaffirms the value of those guys."
The Indians are not motivated to trade one of their top four starters -- a group that includes Corey Kluber, Carlos Carrasco, Danny Salazar and Trevor Bauer -- but that has not stopped teams from calling. Cleveland, in the name of due diligence, is always willing to listen, especially with the need to upgrade its offense.
Consider that aces David Price and Zack Greinke fetched a combined $423.5 million through free agency this winter. Righty Jeff Samardzija -- the American League leader in hits, earned runs and homers allowed last season -- signed a five-year, $90 million contract with San Francisco, too.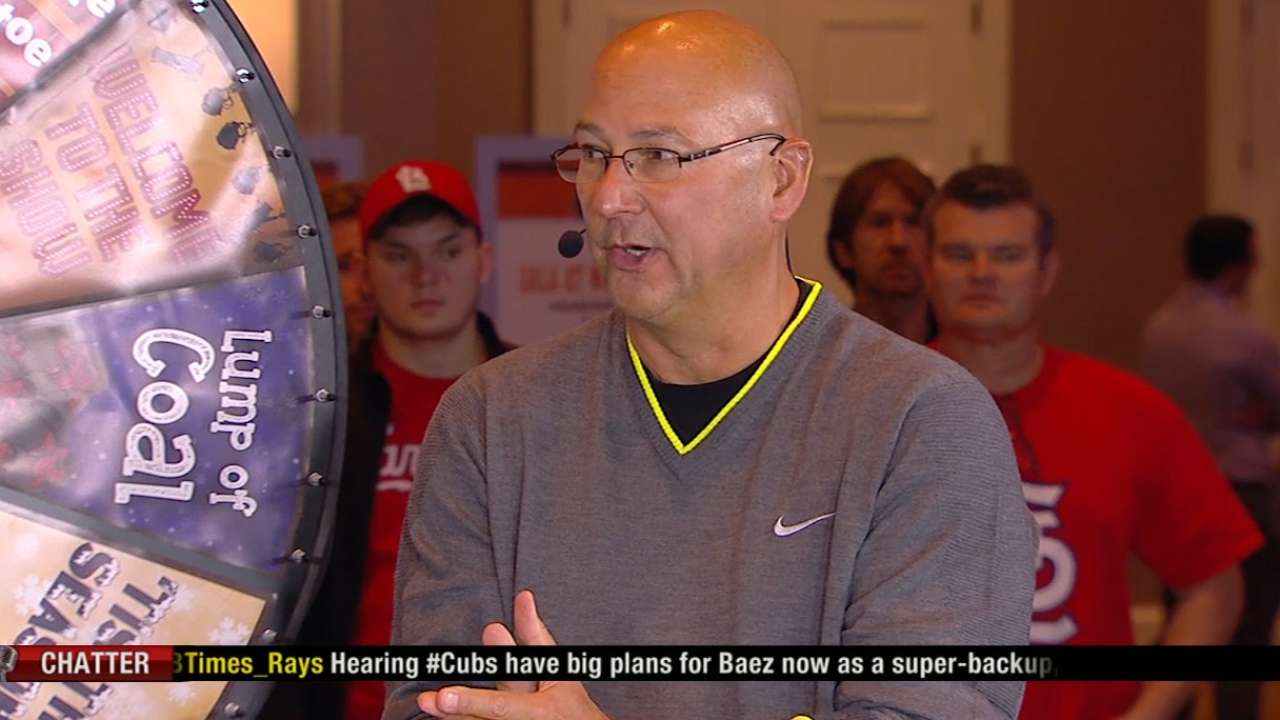 Kluber and Carrasco, are owed a guaranteed $54.5 million combined over long-term extensions. Meanwhile, Salazar and Bauer have yet to hit their arbitration years.
"If you're looking specifically at our starters, we have a lot of control on those guys," Chernoff said. "So, they themselves have long-term value to us. It's not just a short-term, Major League-now, 2016, fit. So, I think as we assess, whether it's those guys or any other player, we have to think both about short-term and long-term."
Earlier this week, president of baseball operations Chris Antonetti said the Indians have set a "high bar" in any trade talks for their coveted starters. On Wednesday, Andrew Baggarly of the San Jose Mercury News reported that the Indians asked for Joe Panik and four top prospects from the Giants in discussions about Salazar.
If a rival club balks at the asking price and hangs up the phone, that is fine with Cleveland.
"We value our young pitching so much, and I think rightfully so," manager Terry Francona said. "The goal would be to try to get more offense without sacrificing the pitching or the defense that really helped us the second part of the year. ... You see the demand for pitching right now, and, fortunately, that's the one thing we really have and we're glad. We realize that it's hard to get pitching. You see what it costs."
What complicates the situation, though, is the Indians' need offense and outfield depth.
Chernoff said the club's position -- trying to win now -- can make it difficult to swing trades with teams also looking to contend in 2016. The GM noted it can sometimes be a little easier to deal with a team that is in a rebuilding situation, because offering prospects for Major League talent better fits both clubs.
Along the lines of the latter, the Indians have spoken to the Reds about third baseman Todd Frazier, who could offer right-handed power, solid defense and is under control for two seasons. As Wednesday wore on, reports surfaced indicating that the teams did not appear to be a match, though.
Even if Cleveland does not complete a major trade, Chernoff said he feels the team can still contend in 2016.
"We have a really strong group of players," he said. "I think we have some spots that we can fill and can potentially improve."
The Indians could use the outfield, corner infield spots or the designated hitter role to add offense.
"You can look around our diamond and see spots where we have established Major League players," Chernoff said, "and then find other ones where we could potentially upgrade. I think as we explore alternatives in free agency and trades, we can cast a wide net because of that and it allows us to seek alternatives at different spots, and see where the right value lines up for it."
Aligning on value to acquire one of Cleveland's starting pitchers looks like a tall task for rival clubs.
"We have to try to score more runs," Francona said. "But, if we do it at the risk of giving up more runs, it's almost a wash. We don't want to do that. We're trying to balance both, and that's hard."
Jordan Bastian is a reporter for MLB.com. Read his blog, Major League Bastian, follow him on Twitter @MLBastian and listen to his podcast. This story was not subject to the approval of Major League Baseball or its clubs.