Green eager to settle roster, formulate plan
New Padres manager has met with some players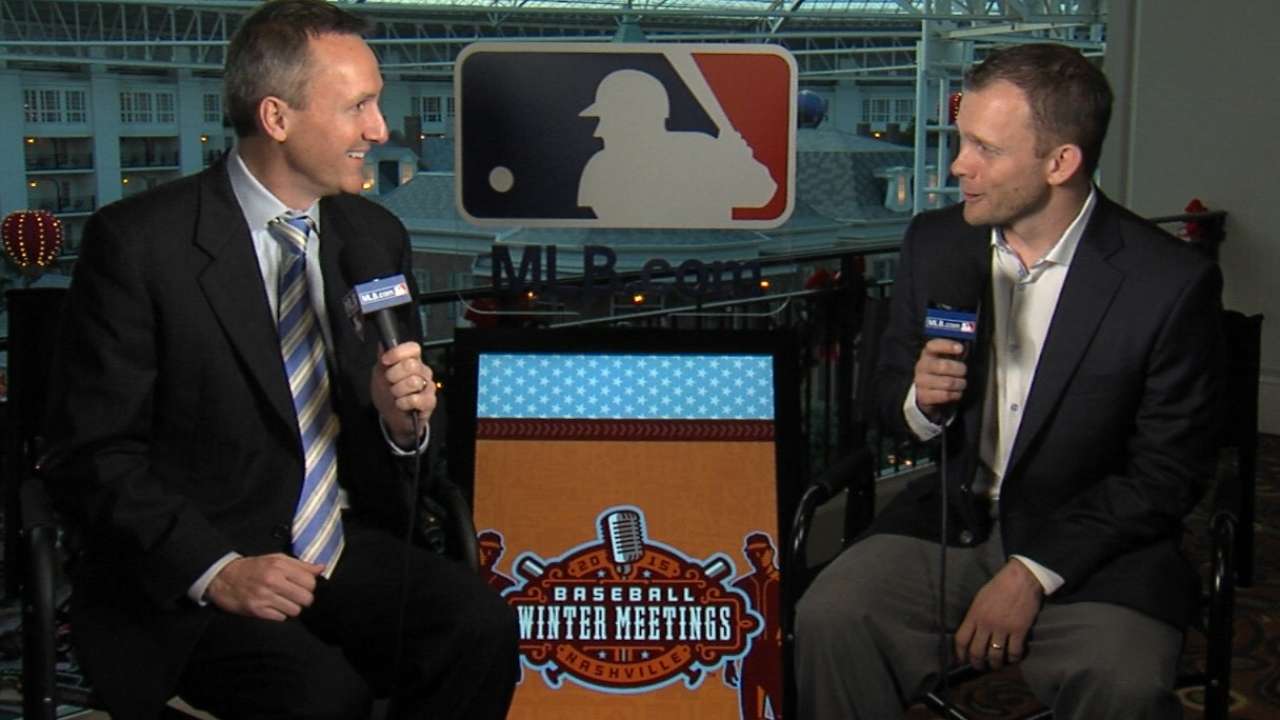 NASHVILLE, Tenn. -- For as much as Andy Green would love to dream a little with what his potential Opening Day lineup might look like, the first-year manager of the Padres still isn't to the point where he can play with the possibilities.
Not on Dec. 9. And certainly not with a lot left to be done to the team's 25-man roster.
"More than anything, our club is in the midst of a redesign to some degree … it's hard to put down [names] when you don't know the pieces," Green said during his session Wednesday with reporters at the third day of the Winter Meetings.
In other words, give Green -- and general manager A.J. Preller -- some time to put the roster together before he can sketch out on a napkin what the 2016 club will look like.
"I think you have to be in the moment right now," Green said.
For Green, the moments have flown by fast since he accepted the Padres' offer to be their new manager on Oct. 29. Since then he has essentially poured himself into meetings with Preller and the front office.
Green also had to hire a coaching staff and, when time allowed, find a place for him and his family to live in San Diego. The next time he comes up for air might be the first time he comes up for air.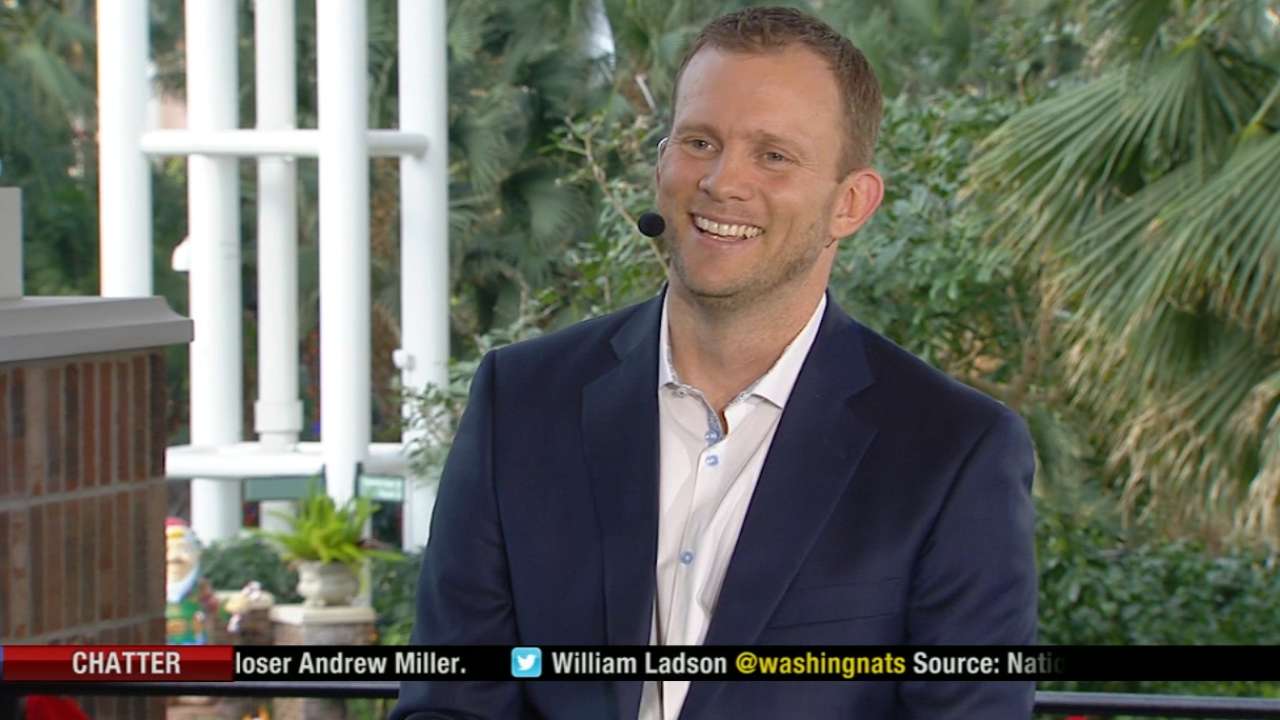 But don't get the wrong idea here. Green is enjoying himself to no end, especially since he has already had the opportunity to meet and build relationships with some of his new players.
Green called it his "favorite part of the job" on Wednesday and his eyes lit up as he talked about the importance of getting to know many of the players who will be a part of the 2016 team.
"My favorite part is sitting across from Tyson Ross having breakfast … finding out who he is as a person and how driven he is, coming in the day after Thanksgiving seeing him dripping in sweat because he's working out and he has a passion to be the best he can be," Green said, smiling.
"[It's] seeing [James] Shields and his intensity, and who he is as a person and how desperately he doesn't want to experience what happened last year in San Diego and how hungry he is to experience what Kansas City experienced."
If there was one prevailing sentiment from Green's early discussions with players it was this: Disappointment that stemmed from a 74-88 season that started with lofty expectations and ended with a fizzle.
"All of these guys have inside of themselves a steadfast desire for this club to be way better than last year," Green said. "… And they have great ideas, things that went wrong last year that they don't want to see happen again this year."
Green admitted that a large part of these conversations with players has been -- and probably will be, for now -- one-sided. He's fine with that, too.
"[It's] empowering them to verbalize those ideas and shutting my mouth and listening for a while," Green said. "I think these guys have a vision of being great."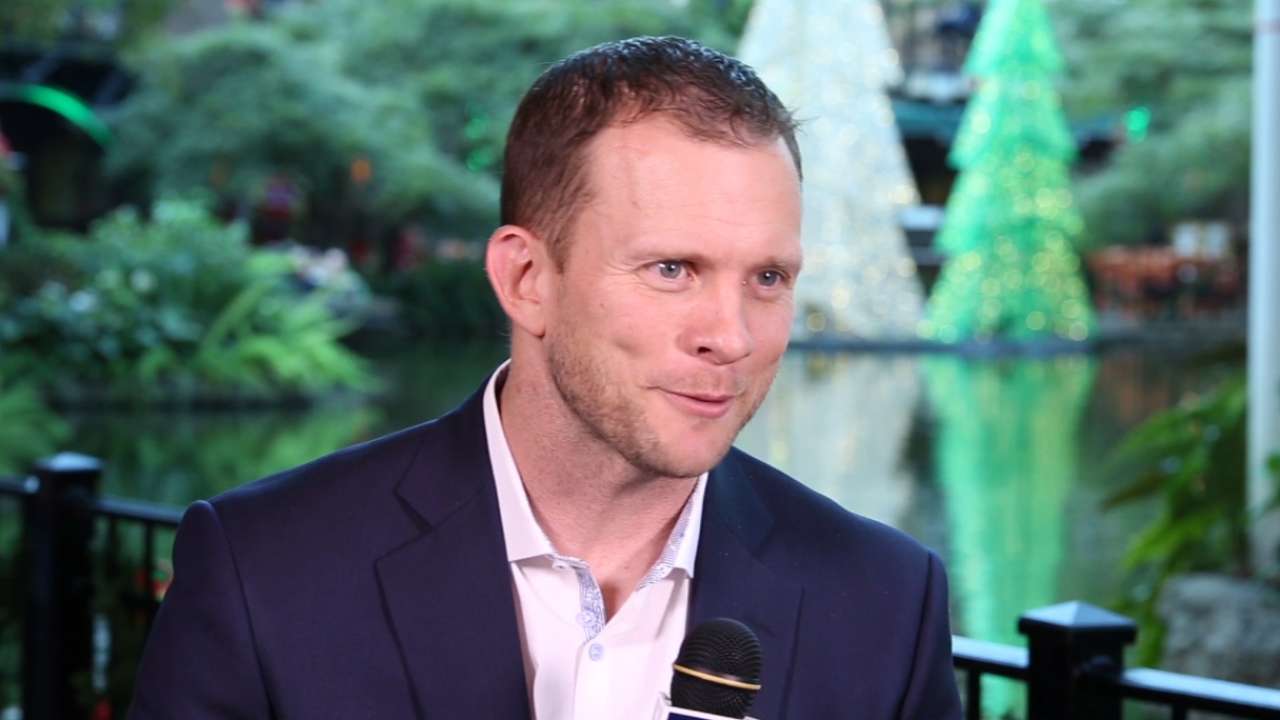 How much greater will largely depend on the moves Preller and the Padres make in the coming weeks to improve the roster so that the team doesn't end up down the path it ended up on a year ago.
"They went through a lot of transition. They went through a lot of change," Green said of the 2015 Padres. "You have a managerial change in the middle of the season, you have a whole new collection of guys that haven't been around each other and now they are together for the first time.
"They didn't probably gel the way they would have liked, and that's part of the listening process for me is hearing what struggles each person went through."
Corey Brock is a reporter for MLB.com. Keep track of @FollowThePadres on Twitter and listen to his podcast. This story was not subject to the approval of Major League Baseball or its clubs.