Francona knows Indians still have work to do
Outfield help among primary targets during Winter Meetings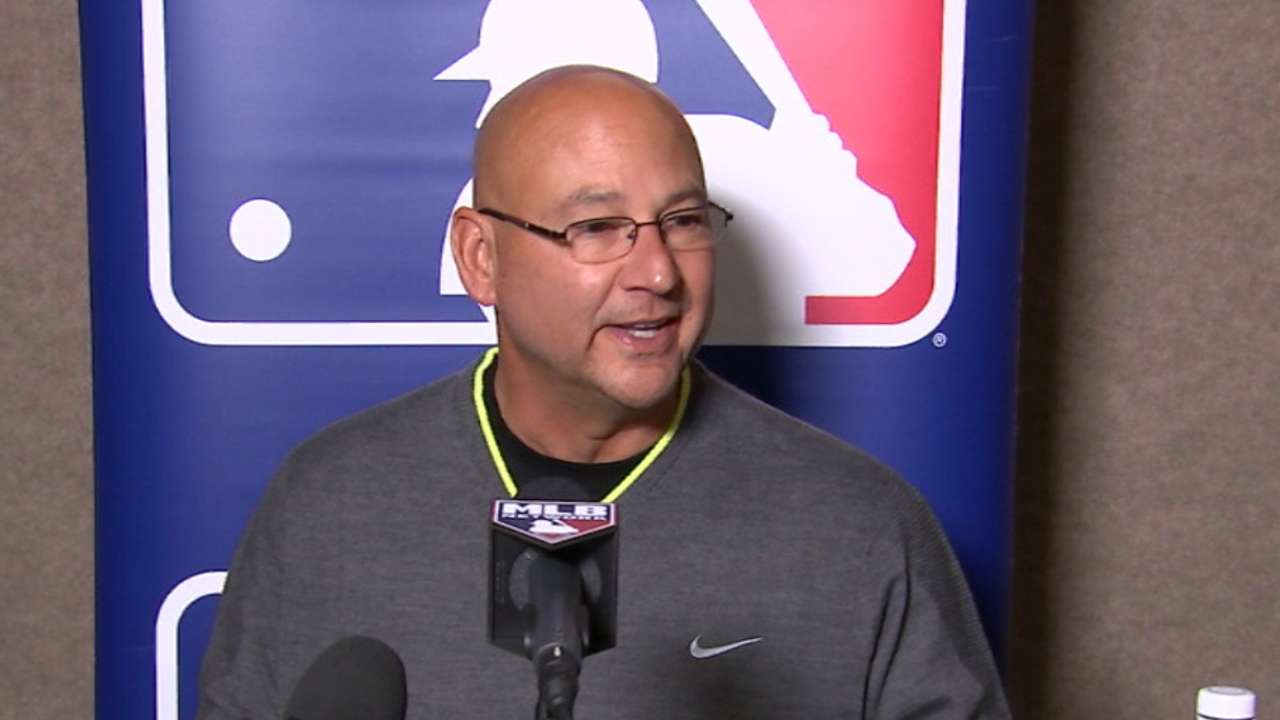 NASHVILLE, Tenn. -- The Indians believe they have a team capable of contending next season. Fortunately, there are still three-plus months remaining before next season begins.
During a sit-down with reporters on Wednesday at the Winter Meetings, Indians manager Terry Francona made it clear that his club still has a lot of work left to do in order to improve the roster. Chief among the needs is help for the outfield, which will be without left fielder Michael Brantley for at least the first few weeks of the 2016 season.
• Indians put premium on their starting pitching
"We're not ready to start the season," Francona said. "We know we have some things to do. ... We know that we are not ready to go down to Spring Training."
If the season did begin now, the Tribe's outfield would consist of Lonnie Chisenhall in right field, Abraham Almonte in center and a big question mark in left. The Indians have made small outfield additions so far this winter, acquiring Collin Cowgill from the Angels, claiming Joey Butler from the Rays and bringing Shane Robinson into the fold as a non-roster invitee.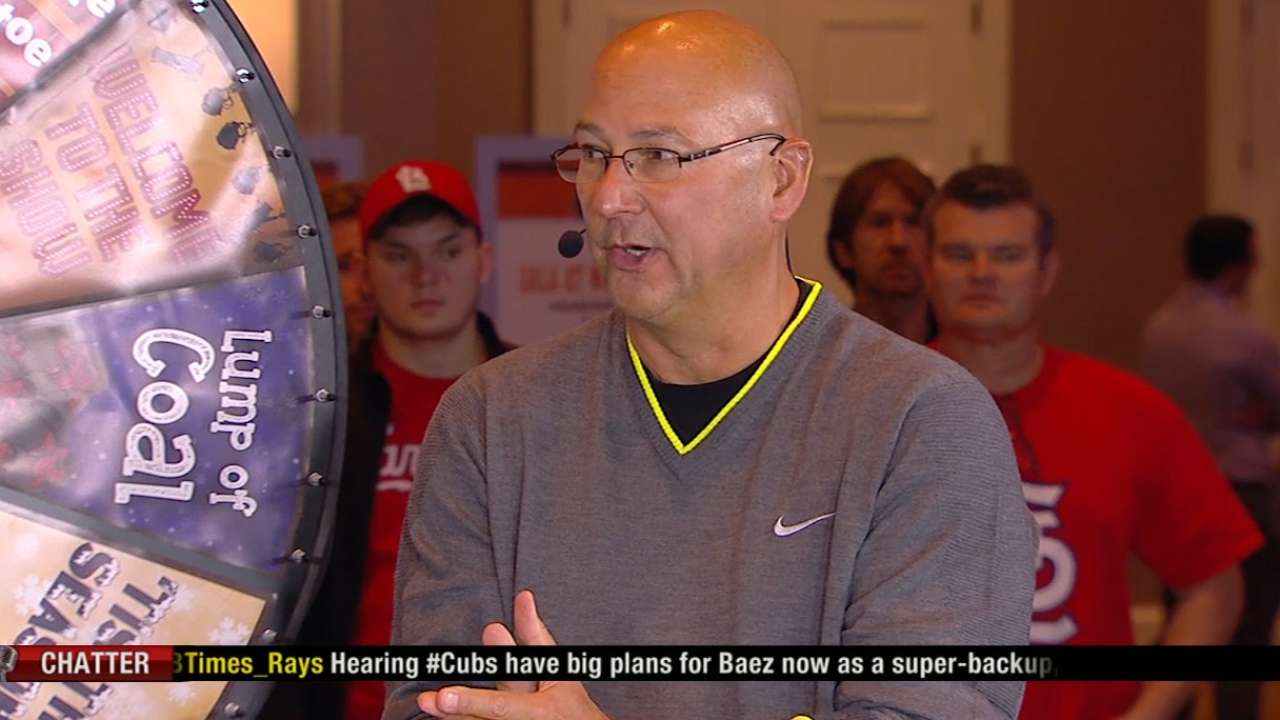 What Cleveland is weighing is whether Almonte is best served as a starter or a fourth outfielder, while also balancing the fact that Brantley could be back by late April or May. The Indians might need to target a temporary starting left fielder who is willing to later transition to a backup role. The other option is to aim for an impact player for center field.
Brantley underwent surgery on his right shoulder in November and has a checkup with Dr. Craig Morgan, a surgeon, on Tuesday in Delaware. Indians general manager Mike Chernoff said "all signs were positive," noting that Brantley's timetable to return remains the same.
Francona stressed that the club does not need to make a move this week, just because all of baseball is under the expansive roof of the Opryland Hotel.
"Sometimes things happen here," Francona said. "Sometimes the groundwork is laid for later."
Along those lines, the Indians have been reportedly linked to free agents such as Rajai Davis and Steve Pearce over the past couple days. Cleveland will continue to canvas that second-tier group of outfielders, while also examining alternatives on the trade market. President of baseball operations Chris Antonetti said this week that he is trying to obtain as many options as possible right now.
"We have some holes to fill," Francona said.
Francona described Almonte as being a "really interesting" possibility.
Last year, the Indians acquired the switch-hitting outfielder on July 31 from the Padres in exchange for left-handed reliever Marc Rzepczynski. Almonte initially went to Triple-A and the deal barely moved the needle in terms of pubic reception from Tribe fans. After Almonte joined the Indians on Aug. 8, he provided solid defense in center and a useful bat.
Almonte registered one Defensive Run Saved and a 7.9 UZR/150 rating in his 440 1/3 innings in center. In 51 games for Cleveland, he turned in a .264/.321/.455 slash line to go along with five home runs, 16 walks, 19 extra-base hits, 20 RBIs and 30 runs scored. The Indians need to decide if that two-month showing is worth giving him a look as the starter in center.
"We have some places in our offense that we need to fill," Francona said. "Probably depending on where we fill it, some of that might determine ... who is a complementary piece and where it fits. But, if you're asking if we liked what he did, yeah."
Helping ease some of the outfield search burden right now is how Chisenhall developed as a right fielder last season.
A former third baseman, Chisenhall posted 11 Defensive Runs Saved with a 35.3 UZR/150 in 354 1/3 innings after returning from Triple-A on July 30. He hit .246 overall last season, but Chisenhall turned in a .288 average and .756 OPS in his last 54 games of the season. Once considered a potential non-tender candidate for this winter, Chisenhall is now a projected starter in the outfield.
"I hate to say you get surprised, because it feels like maybe we didn't do our homework," Francona said. "But, I do think it kind of surprised all of us how good he got so quick."
Beyond those two options, and the role players added this winter, the Indians clearly need more help in the outfield.
Francona said he hopes they can achieve that goal without trading away a starting pitcher.
"We'd like to find a way to score some more runs," Francona said. "But, we value our young pitching so much, and I think rightfully so, that the goal would be to try to get more offense without sacrificing the pitching or the defense that really helped us the second part of the year."
Jordan Bastian is a reporter for MLB.com. Read his blog, Major League Bastian, follow him on Twitter @MLBastian and listen to his podcast. This story was not subject to the approval of Major League Baseball or its clubs.