MLB.com Columnist
Phil Rogers
Maeda, small in size, brings big intrigue
Japanese ace to enter tightening market for starters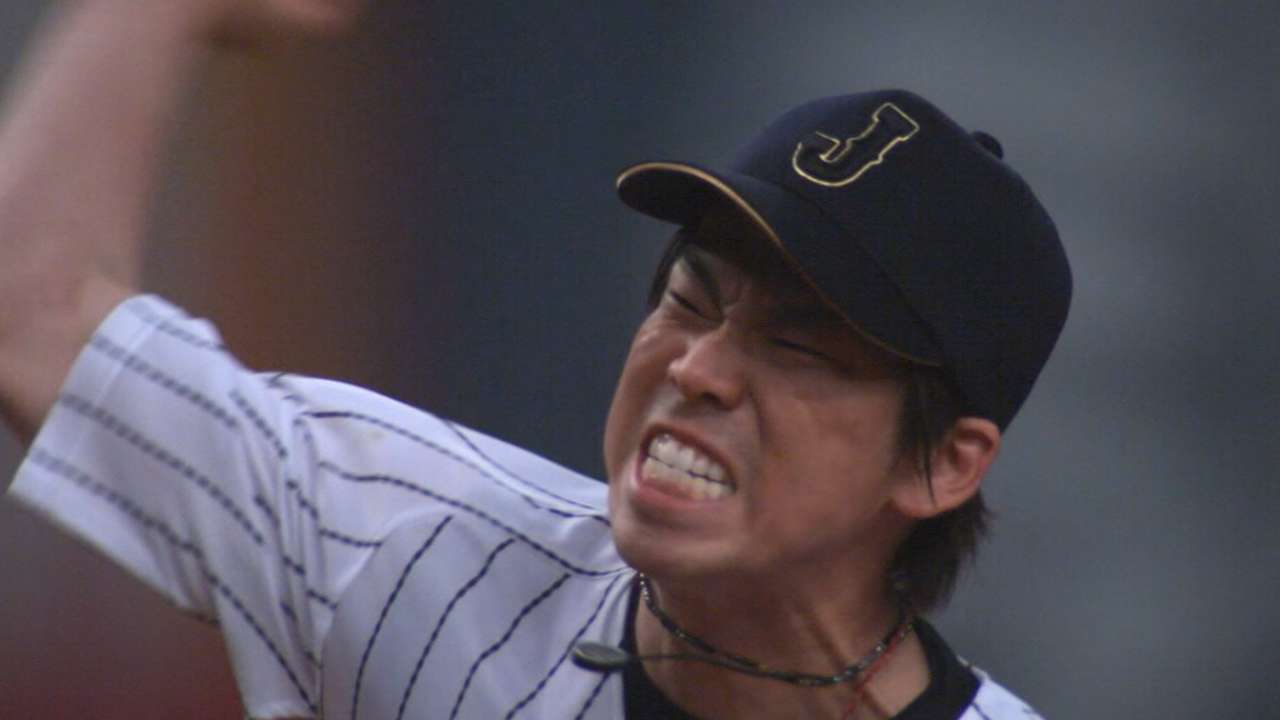 NASHVILLE, Tenn. -- So your team is leaving the Opryland Hotel with the same starting pitching questions it had when it arrived?
Or maybe it added a pitcher but not one of the caliber that will move the needle where you want it to go. You got some pitching but not quite enough to go from also-ran to contender or from contender to favorite.
Don't despair. A new name is arriving on the market, right on schedule.
And all you have to do to reserve your shot at Japanese ace Kenta Maeda is agree to pay a $20 million posting fee to the Hiroshima Carp. Then you'll have 30 days to sell the undersized, ultra-fit strike-thrower on signing with your team.
Outside of Johnny Cueto, there's not another another arm left on the free-agent market with the potential impact of Maeda. It's going to be absolutely fascinating to find out how many teams are willing to chase him over the holidays and into the New Year.
No one should think Maeda is the second coming of Yu Darvish or Masahiro Tanaka. He's more like another Hisashi Iwakuma than Darvish, Tanaka or Shohei Otani, the 21-year-old Hokkaido Nippon Ham Fighters ace who dazzled scouts in the recent Premier 12 tournament.
Maeda is listed at 6-foot-0, but that might be on his tiptoes. Some sources list his weight as low as 153 pounds and others as much as 178. Split the difference and that's 166.
Here's a list of guys 166 pounds or less who pitched in the Majors last season: Shane Robinson, Sam Freeman, Raudel Lazo, Everett Teaford, Zach Davies, Jesse Chavez and Severino Gonzalez.
Well, Padres shortstop Alexi Amarista also pitched, but that's a story for another day.
The point here is that there aren't many big leaguers who look like Maeda. But between them, Chavez and Davies made 32 starts, so we're not talking about somebody trying to do something that isn't being done.
Maeda was sold in some quarters as being Japan's Greg Maddux when he pitched for Japan at AT&T Stadium in the 2013 World Baseball Classic. He would like to have a mulligan on that night, when his low-90s fastball wasn't its best, but there are those who have since lowered the Maeda comp to Aaron Nola.
Sure, this might be damning with faint praise. But it's praise neverthelesss, as the 22-year-old Nola went 3-1 with a 3.58 ERA in 13 starts after joining the Phillies last summer.
There might not be a rotation in Major League Baseball that wouldn't have room for Nola next April. Likewise, the Mets might be the only one where Maeda wouldn't be an immediate fit.
"Every club, I think, is intrigued by him,'' Bruce Bochy said on Tuesday, acknowledging the Giants' interest. "Good talent.''
Maeda comes with question marks, of course, like all of the other pitchers who have migrated from Asia to MLB. He's been used to throwing once every six days, not every five. Maeda's size adds to questions about his durability.
But Maeda wasn't good in Japan. He was dominant. Maeda is a two-time winner of Japan's equivalent of the Cy Young Award, and he holds a career 2.39 ERA over eight seasons. He's struck out 7.4 hitters per nine innings for his career and almost never gets himself in trouble with walks (38 in 199 1/3 innings last season). Maeda will pitch at 28 next year and have a shot at his fifth 200-inning season.
Jake Arrieta, the National League Cy Young Award winner, was 29 this season, when he surpassed 200 innings for the first time.
There's no way to reliably handicap where Maeda will end up. But the Dodgers start out as the closest thing to a default option.
There are two reasons: their post-Zack Greinke need and Maeda's long relationship with Iwakuma, who signed a three-year deal in Los Angeles this week. Maeda seems as good of a fit (and a bet) now as Hyun-Jin Ryu did three years ago, when the Dodgers went through the posting process to get him.
But watch out for the Orioles and even the Pirates, who have front offices that have historically scoured the globe for talent. Ditto the Mariners, with their rich history of Japanese players (not to mention the lack of a proven No. 2 starter).
Then there are ambitious franchises that simply might see this as a chance to add 200 solid innings without trading young talent or giving up a pick to sign a compensation free agent. That list has the Giants, Nationals, Angels, Twins, Yankees, Blue Jays and Cardinals.
Every team willing to pay the Carp $20 million for the right will have 30 days to work out a deal (teams that don't land Maeda are released from the $20 million commitment). Maeda has hired Adam Katz of Wasserman Media Group to represent him.
Wherever Maeda lands, he'll be fun to watch. His track record suggests he could make the offseason for a team and its front office. There's risk involved, for sure, but for the Dodgers or another team in need, the reward could well make it worth a leap.
Phil Rogers is a columnist for MLB.com. This story was not subject to the approval of Major League Baseball or its clubs.