'What a city:' Mattingly embraces task in Miami
New Marlins skipper talks about generating excitement for players, fans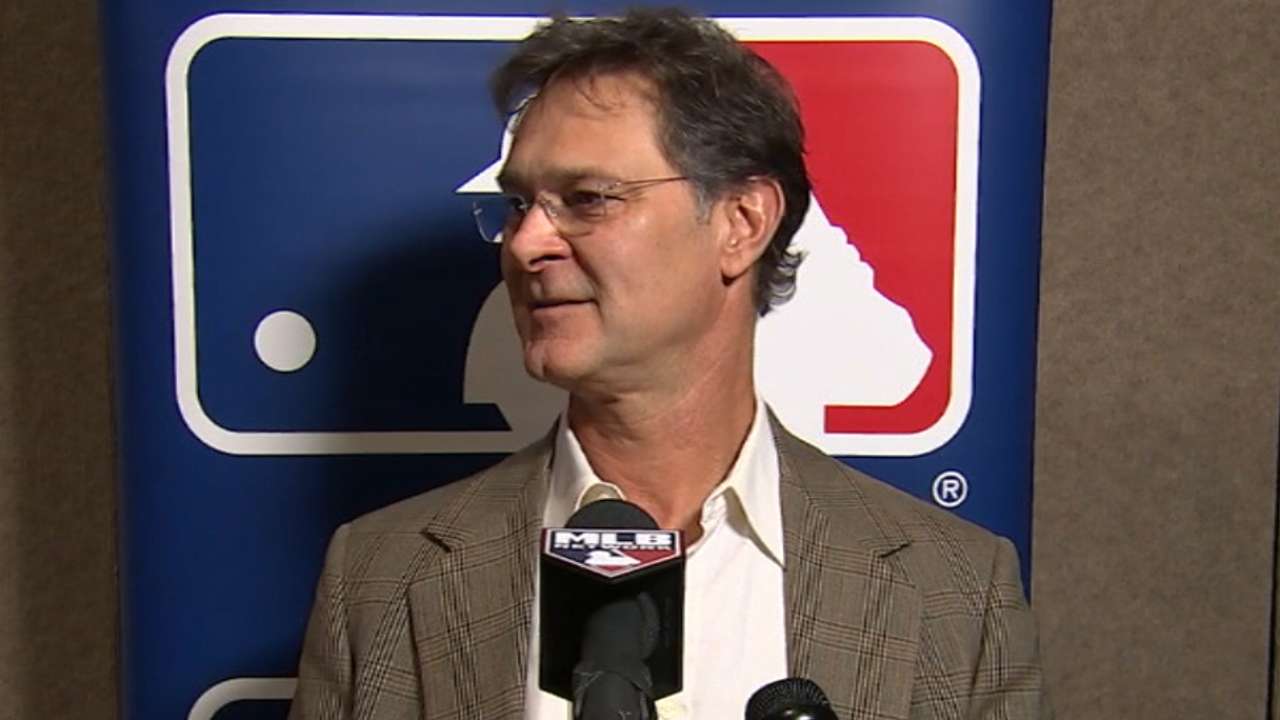 NASHVILLE, Tenn. -- He's worn pinstripes with the Yankees and been cloaked in Dodger blue. In the next chapter of his baseball life, Don Mattingly wants to be part of making the Marlins fashionable in Miami.
The Marlins' seventh manager since 2010, Mattingly embraces the challenge of waking up what could be a sleeping giant in Major League Baseball.
• Winter Meetings interview with Mattingly
"I look at it like Miami, what a city," Mattingly said. "To me, it's a place that, if I'm playing and I'm raising a family, it sounds pretty good to me. I've got great weather. I get a lot of stuff going on. I've got the [Miami] Heat. I've got the [Miami] Dolphins. It's a great city to be in. Why not want to go there as a player?"
Winning tends to cure all. It's something the Marlins haven't done in a while. Their last winning season was in 2009. Since then, they've endured more than their share of drama, with turnover in players, coaches and managers.
One reason Mattingly was hired after managing the Dodgers the previous five seasons was to stabilize the franchise. At the Winter Meetings on Wednesday at the Opryland Hotel & Resort, the 54-year-old met with the media. Mattingly spoke confidently about building a culture players will embrace and putting a product on the field fans want to see.
"We have to create the environment that says, 'I want to be there. I want to play with those guys. I want to play on a team like that,'" he said. "Hopefully we can create some excitement and get some people in the stands and draw some energy in like that. But we have to create the environment that says, 'I want to be there. Miami's a great city.'"
Mattingly is no stranger to the spotlight, having played and coached in New York and managed in Los Angeles. Miami is yet another attractive destination.
"I've been fortunate. I went from New York City to L.A. and now South Beach," he said. "Next stop is Cuba, I guess. I'm going warmer. I'm not going colder."
The Marlins are coming off a 71-91 season with a squad that has a solid core of players, headlined by All-Stars Giancarlo Stanton, Jose Fernandez and Dee Gordon.
The team is short on starting pitching, an area the club is aiming to address by the time Spring Training begins in mid-February.
If they can find a dependable starter or two -- and stay healthy -- the Marlins could be in position to snap their 12-year postseason drought. Miami has not been to the playoffs since winning the World Series in 2003.
"I don't so much worry about anything that's happened in the past and the drought," Mattingly said. "I really worry about our process and making sure we're doing our work and that we're prepared -- taking care of our own business, turning us into the best club that we can be. Hopefully that's going to be enough to get us there."
Coaching and development will be a big part of what the team is stressing. Mattingly has put together a high-profile staff, with newcomers Tim Wallach (bench coach) and Barry Bonds (hitting coach). If the players follow the process of being prepared and executing, the results should follow.
"Making sure we know what we're doing out there and we're ready to play," Mattingly said.
Joe Frisaro is a reporter for MLB.com. He writes a blog, called The Fish Pond. Follow him on Twitter @JoeFrisaro and listen to his podcast. This story was not subject to the approval of Major League Baseball or its clubs.