Cubs introduce Zobrist with 4-year deal
Second baseman says Maddon was important factor in his decision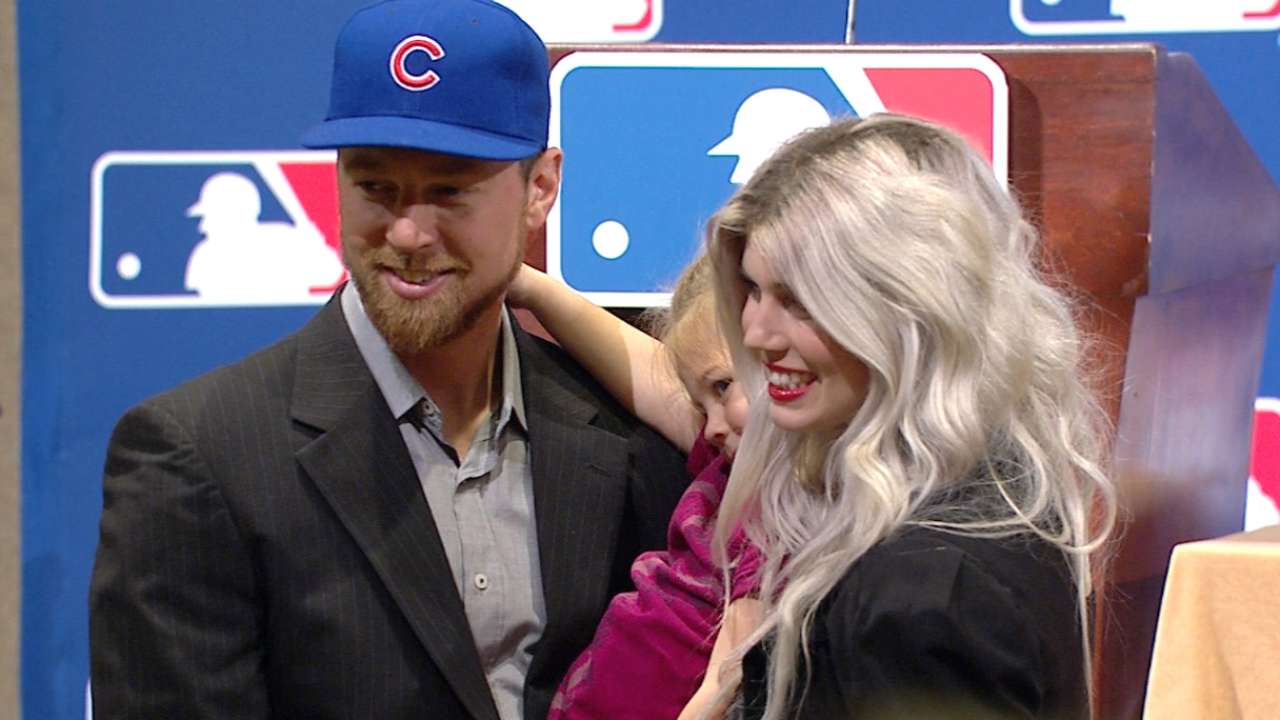 NASHVILLE, Tenn. -- Growing up in Eureka, Ill., Ben Zobrist admits he was a Cardinals fan, but his family was happy that he will be playing in the Midwest, even if it is for St. Louis' rivals, the Cubs.
"My father was so excited -- he said, 'I can't believe I'm so excited to be a Cub fan,'" Zobrist said Wednesday at a news conference to introduce him as one of the team's newest additions.
Zobrist signed a four-year, $56 million contract with the Cubs, which was announced on Tuesday. Now a Nashville resident, Zobrist and his family, including son Zion, who was already decked out in a Cubs jersey and cap, talked about how important manager Joe Maddon was in helping them make their decision.
"I called Joe myself just to talk about where he felt like I fit, to talk about the team a little bit more," Zobrist said of a conversation he had about three weeks ago. "I was still getting a feel for the teams [who were interested]. He was just ecstatic about the guys on the team. He told me a little more about the young guys and their work ethic and how he feels about this team. To me, that's all I needed to know about the situation is how he felt about the young guys and what he felt like I could do."
The Cubs had talked to Zobrist early in the offseason but asked him to be patient because they needed to open some room on the budget. On Tuesday, the Cubs did just that by trading Starlin Castro to the Yankees.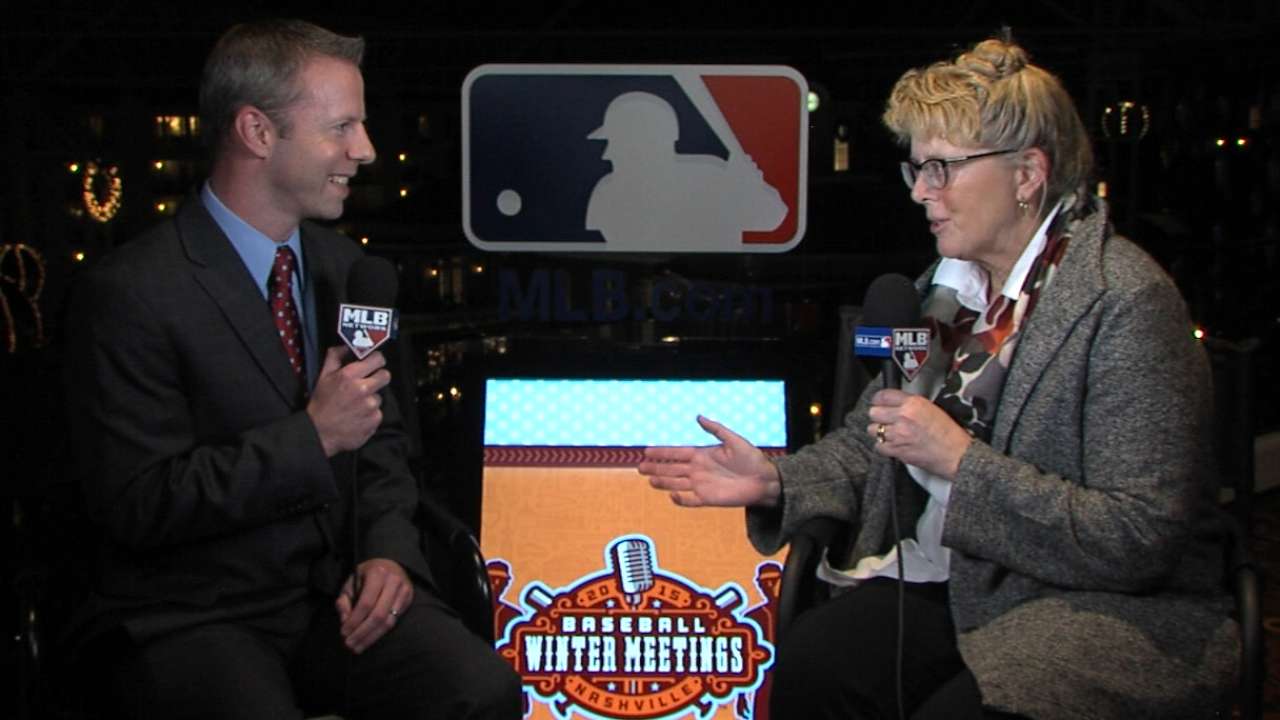 Zobrist didn't watch the Cubs much in the postseason -- he was a little busy with the Royals -- but said both Maddon and bench coach Dave Martinez, who he knows from their days together at Tampa Bay, raved about the situation in Chicago.
"They were like, 'Man, it's great over here,'" Zobrist said.
"He's a player who fits our roster incredibly well, both offensively and defensively, and perhaps even most importantly, makeup-wise," Cubs general manager Jed Hoyer said. "His longtime manager, Joe Maddon, swears by him, and felt like he was a perfect player to bring into our mix."
Maddon said he sees Zobrist as a much-needed veteran position player who can help the youngsters on the Cubs' roster. Maddon recalled their days together at Tampa Bay when Zobrist was shuttling between the Major Leagues and Minor Leagues.
"All this guy ever talked about, seriously, was wanting to be able to stay there because he thought he wanted to be a part of that winning moment in Tampa Bay," Maddon said. "Zo is only about one thing. He's the consummate team player professional. The kind of impact he can have on our young position players, to me, is going to be phenomenal."
Zobrist is projected for the top of the Cubs' lineup and will be the primary second baseman, but he also can play the corner-outfield spots if needed. Being in the National League now, Maddon will take advantage of Zobrist's super-utility skills.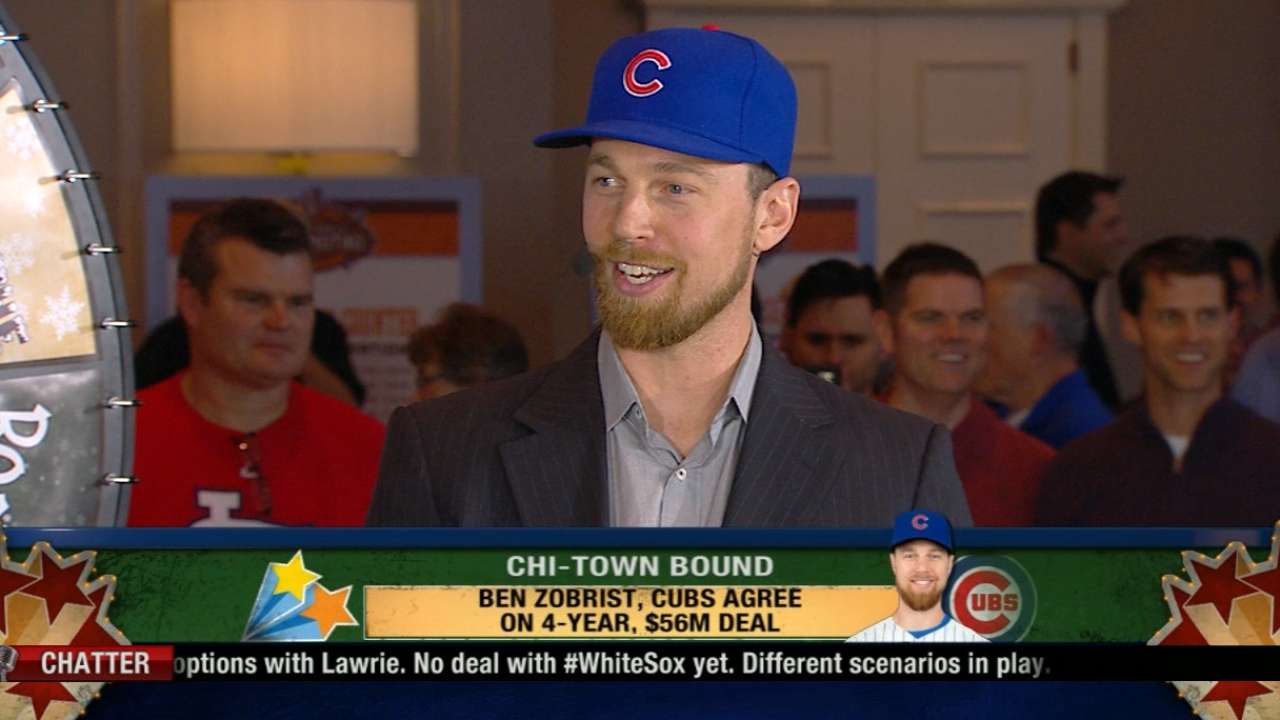 "I was excited to come to the National League for that fact, to know that, hey, when there's switches that happen in the middle of the game, that's what I'm made for," Zobrist said. "That's the way God made me as a player. I'm excited to be on a team where I know that can be put to use at the same time."
Now Zobrist's family will have to buy some new Cubs jerseys and gear. When he considered the offers, it came down to being in the Midwest near their Nashville home and being back with Maddon. There was one other factor.
"In the end, the deal that I signed was exactly where I wanted to be as far as money goes, and the fact that it was the Cubs and the lure of not only playing in Wrigley, but winning a championship in Chicago," Zobrist said. "That outdid a lot of the dollar amount figures in my mind."
Carrie Muskat is a reporter for MLB.com. She writes a blog, Muskat Ramblings. You can follow her on Twitter @CarrieMuskat and listen to her podcast. This story was not subject to the approval of Major League Baseball or its clubs.