Winter Meetings interview with Terry Francona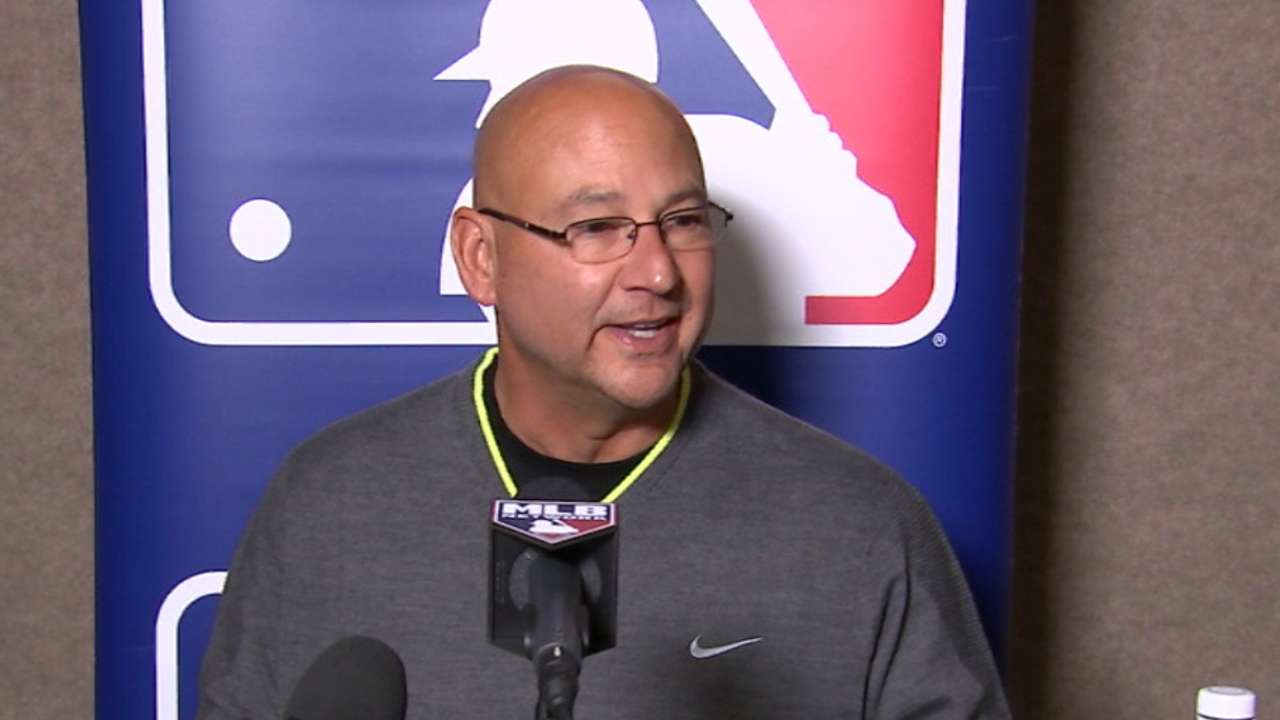 Q. Terry, how would you describe your outfield right now, the state of your outfield?
TERRY FRANCONA: Well, we're not ready to start the season, which the good news is we're not starting the season. I think we knew that with Brantley going to be late -- and we have some holes to fill, like whether it's free agent -- we know we have some things to do.
But I think what happens, a lot of people think that the Winter Meetings are because we're here a finite amount of time, that doesn't mean if you don't do something here, that you're not going to. I mean, sometimes things happen here. Sometimes the groundwork is laid for later. But we know that we are not ready to go down to Spring Training.
Now, it's December, but we know that.
Q. Are you comfortable not necessarily with the offense you have now, but the fact that at least you can't point to the rotation and the pitching staff as a strength and know that even if maybe you add a piece or two to the offense?
TERRY FRANCONA: I think we've tried to be really honest when we evaluate where we are, and not just even as an organization but Major League team as an organization. And we'd like to find a way to score some more runs.
But we value our young pitching so much, and I think rightfully so, that the goal would be to try to get more offense without sacrificing the pitching or the defense that really helped us the second part of the year.
So those are all things that we take into account when we're talking about players, or talking about trades, whatever, is trying to just make us better, not just for tomorrow, but for the next year. And you see the demand for pitching right now, and, fortunately, that's the one thing we really have and we're glad. So we realize that it's hard to get pitching. You see what it cost us.
Q. Do you get nervous when you hear about the rumors of Salazar since almost the end of the season, one of those guys may be traded; do you get nervous when you hear that?
TERRY FRANCONA: I don't get nervous because I know what's happening. I saw things online, or Mickey saw it coming from L.A. about Cody Allen. I know what's going on.
No, I don't get nervous for that because I sit in the room and I hear what they are doing and stuff. So, again, I don't really feel the need to pay much attention to that, just because I know what's going on.
Q. Did you see enough of Almonte in the two months to think he could do that for a full season?
TERRY FRANCONA: That would be -- I think is at least really interesting. Again, you know, we have some places in our offense that we need to fill. Probably depending on where we fill it, some of that might determine who we get or necessity, how he hits right handed and things like that; who is a complementary piece and where it fits.
But if you're asking if we liked what he did, yeah. And I think he did it in a way -- I think I used the phrase "pay attention to detail," because that's kind of how he played. It was pretty impressive, because he played at a high speed, but he played very intelligently and he impressed all of us.
Q. Can you point to anything -- you spoke about some of the additions being kind of the jump start to how well you played defensively in the second half; is that kind of going to be the standard moving forward? Will it be get off to a better defensive start?
TERRY FRANCONA: We would love to, because we saw how much it helped us. Even when we were struggling to score runs at times, we were in games because we had gotten so much better. Urshela was really good at third. Lindor was really good at short. Lonnie was really good in right. Almonte was really steady in center, and that was four positions where we probably upgraded in the middle of the season, and you could tell in our record.
Now, the idea is, okay, we have to try to score more runs, but if we do it at the risk of giving up more runs, it's almost a wash. So we don't want to do that. We're trying to balance both, and that's hard.
Q. How important was Lonnie's development as a right fielder, especially as you sit here today?
TERRY FRANCONA: I hate to say you get surprised because it feels like maybe we didn't go our homework, but I do think it kind of surprised all of us how good he got so quick. We were like two, three games in, made a sliding catch.
And I remember the first game we played him, I think it was in Oakland, I looked at Millsy and said, Should we take him out in the eighth inning? He had only been out there in one game, and I didn't want him to embarrass himself. And Millsy like, Ah, he's okay. He's doing okay out there.
Two days later he's going there for defense, and he never turned back. He made plays play after play. I remember telling you guys how I thought he was going to right center and how Almonte -- that was the one play where Almonte really was struggling, and that night Lonnie was back there behind the ball, very easily. And he throws so good and it ended up being kind of a weapon for us.
Q. How intrigued are you to see what Lindor can do over a full season, building on the success he had?
TERRY FRANCONA: It's nice to know we're going to Spring Training and he's our shortstop. There's no question marks there. There's no ambiguity. Where in the lineup is maybe the question mark.
And we'll certainly sit and talk with him a lot, because coming out of the gate in April is not the easiest thing to do. And expectations are going to be so high. So we'll make sure we talk to him about that. But being able to see what he's capable of doing, he is really excited. He is a good, good player, and he's going to be a good player.
Q. Were you surprised, like his maturity level was so off the charts for a young player, and even when he didn't win the Rookie of the Year, he said how humbled he was and how much he enjoyed seeing other rookies and everything? Is that just something so refreshing?
TERRY FRANCONA: There's a lot of things refreshing about him. I mean, one is the way he plays the game. But I think he is mature beyond his years. And when he does make a mistake, as all 21-year-olds do, he would listen and try not to do it again. There's a lot to like about this kid.
Q. What's been the feedback on what Trevor, what his off-season has been like?
TERRY FRANCONA: You know what, I have not talked to Trevor. Mickey has been in touch with him, and Mickey and Jason Bere and all of the pitching guys are actually going out to Goodyear I want to say next week. Because Mickey and Jason are going down to the ranch, there's some speakers down there or something. All the pitching guys are going out to Arizona to meet, kind of like an organizational, philosophical retreat, which is great.
And I think obviously Trevor's name comes up in those discussions, and some of the Minor League pitchers, too. I think it's a really good idea.
I was talking to Ruben Niebla about it yesterday and the fact that Mickey and Jason are willing to go -- matter of fact, all of them, right before the holidays, I think it's really healthy for us to get better.
Q. What comes to mind when you think about David Ortiz, and were you surprised that he decided to retire given he's been playing so well the last few years?
TERRY FRANCONA: You know, I haven't talked to David a ton. I say hello to him, when he comes up to the plate, he kind of tips his hat before he takes that monster swing that scares you. So I don't know. I'm glad he's able to do it on his own terms. I think when you've played and had a career like his, it's nice that you can do it however you want to do it.
Some guys, some guys want the uniform to really be ripped off their back. That's okay. Here people get criticized for playing too long; maybe that's what they want to do, even if it doesn't end perfect. David has made his mind up that what he wants to do. Good for him.
I think a long time ago David realized that the older you get you have to work that much harder, and he's done it and he's maintained a really high level. And now he's going to be able to do something else. Knowing David, he'll probably be a movie star or a rapper, and he'll be good at it.
Q. Do you have any favorite Ortiz stories that you can share in front of cameras and microphones?
TERRY FRANCONA: I was going to say, probably not in front of the microphones.
They are more general with David. Like all the big hits, all the big moments. And I was a first-year manager there, and he just continued to kind of put us on his shoulders. And I think at times when players go to maybe Boston or New York, they can shrink from that, and it just seemed like David just blossomed.
I know he had his moments, I know that, but it seemed to bring out the best in David. I owe him a lot. I mean, this guy, there's a big reason why I got a couple rings. I've been through a lot with him. I had to pinch-hit for him a couple times. That still to this day stings for him. And you know what, it may have been a mistake on my part, I don't know.
But you do the best you can, and you fight your way through it sometimes, but to David's credit, we did, we fought our way through it, but we got through it and came out better, and that's the goal. Not always going to be smooth sailing.
Q. We're talking to John Farrell later today. What do you think about how he's come through his cancer diagnosis and treatments, and how much do you keep in touch with him still?
TERRY FRANCONA: Well, we are obviously pretty good friends. I probably say things to him I shouldn't. Like we're getting our picture taken today, and I was teasing him, I said, The cameraman says why are there two guys with cancer? Because I look worse than him (laughter).
I'm so impressed. He doesn't complain. I know there was no way he was feeling as good as he said during that time, but he would go to the ballpark. He's strong. He always has been and he always will be.
You know, he was telling me, he was laughing, he goes, I'm a little heavy. I'm like, You're alive, man. Who cares? I'm so damn happy for him. Every time I see him, I give him a big hug and slapped him on the back. Good days are ahead for him. That's exciting.
Q. You were with him at the very beginning, 15 weeks later, he's here doing everything. How amazing is that? I know you know the man and there was never any doubt, but to go through it all as quickly as he did and to be here?
TERRY FRANCONA: Yeah, I mean, proud of him, the way he did it. But I think that he's probably in the right place to -- if you're ever going to have something like that, that serious, he was in the right place. I know walking in that day, and Larry Ronan was there, who, if you ever have something wrong with you, you can't find a better person. I mean, he had those doctors lined up waiting for John. I know it made John feel better, but I know it helped me. He was in good hands.
I know John knew he had a lot of people caring about him, and if that meant something, he had already had it beaten.
Q. Torre probably would have had some opportunities to be a manager. What does it say about John Farrell that he kind of put that on hold, even if there was an option just to come back and be part of that?
TERRY FRANCONA: Certainly kind of a unique scenario, and I thought it seemed like it got handled by everybody really well, with the ballclub, Torre, John. And that's a lot of times what happens when you have good people and a good organization. It got handled really uniquely, and really well done.
Q. Did you see Dave Roberts got the manager's job?
TERRY FRANCONA: I saw him this morning. We thought our meeting started at 9:00. Didn't start till 11:00. I was like, what the hell am I doing here? And Dave was down there doing the same thing. So I felt a little better.
I was thrilled. I thought, actually, they were in a win-win when they had gotten down to those last names. I thought whoever they hired, it was a win for them. I know both guys a lot, and they couldn't have made a bad decision. But I was thrilled for David.
Q. Speaking of Los Angeles, your son has risen very quickly since joining a Major League front office. Does that surprise you? Not a lot of guys move up as fast.
TERRY FRANCONA: Well, he's a pretty smart kid. Fortunately took after his mom in a lot of ways, so that's good. But he's very passionate about what he's doing. He's in a situation where, I mean, if you can't learn from Andrew and Farhan and Josh Byrnes and Gabe Kapler, I mean, my goodness, it's like he's going to the Ivy League of baseball. I think he's smart enough to keep his eyes open.
Q. Do you feel that you guys got an accurate assessment of Gio last year, just given all the injuries he had?
TERRY FRANCONA: No. No. We saw him defensively make all the plays and then some, but we also saw how hard it was for him to get the ball to first. We saw it and we talked about it. And I think offensively, we knew he probably wasn't quite ready anyway. But then he had so many -- shoulder, knees; so no, I don't. When he comes to Spring Training next year, is it going to be different? I don't know. We'll see.
He's having a good winter. Part of it probably depends on the makeup of our club as to maybe how ready he is. But the good thing is he catches the ball really well. He never let his offense get in the way of anything, which is a pretty big compliment, especially for a young kid with that little of experience. But he was banged up and he started chasing out of the zone so much, and I think some of that was due to his shoulder. Some of it was due to lack of experience.
I guess my point is, that will get better. How good, we don't know. But it will be better.
Q. Will it be different for you not having Mark Shapiro this year?
TERRY FRANCONA: Yeah, but in a different way than maybe people think. And because Mark really did so much of the business side, and I see him every day, or most every day. But he would be coming through on his way to working out or pop in to say hello, and we're really good friends, but our baseball stuff really hasn't changed.
I know Chris and Derek's titles have all changed, but it's really the same. You know, you miss Mark as a friend, but so much of what he was doing in Cleveland was, like I said, the business side, or maybe working with Chris, and then I'd talk to Chris.
It really hasn't changed, but as a friend, yeah, I miss him. But the happiness for him outweighs -- same with Ross. I was thrilled for Ross. I miss Ross like crazy, but I was thrilled for him. When we found out, the coaches were out in Pebble Beach playing golf last week and we got off the course and found out, and we put him on speaker and started yelling at him. He picked up first ring. We were thrilled for him.
Q. Do you feel for him and Mark a little bit? They are taking a lot of heat up there right now.
TERRY FRANCONA: You know what -- that will change. Yeah, I do. That will change. People will warm to how hard they work and what kind of people they are. That's just sometimes those things happen. I'm sure it makes the first couple weeks or month not as fun as you'd like it to be, but it will get better. When they see how they do things, it will change in a hurry.
Q. Are you worried about Lindor? He had such a -- 12 home runs, he did everything right. He set the bar so high as a rookie.
TERRY FRANCONA: That's what I'm saying about April. You see guys come out of the gate, you never know. It's cold in April, but we know what he can do. And he knows what he can do.
So, regardless, I guess that takes some of the worry away. It wasn't like he had a hundred at-bats and had a little hot streak. This kid, he made his adjustments to the League, not the other way around. And he's a good player. And when he doesn't get hits, he can make plays at short.
No, I really don't worry. We'll certainly spend some time talking to him, because I think we owe it to him. But he's good. Probably going to find ways to get better.
Q. How do you feel about your left-handed relief situation?
TERRY FRANCONA: We're still trying to look. Crockett is still young, and even by his own admission, he got a little bit inconsistent this year in some ways where maybe he had not his first year. It was probably his first time he got hit around a little bit, went to AAA. That happens. He's not necessarily a dead left-on-left guy.
Soto may have some more of that ability in him because he can spin the breaking ball, but it's also hard to ask a kid after he's got a month of Major League service to come in with the bases loaded and get the best left-handed hitter out in the lineup.
So we are looking at things. The one thing we don't want to do is just have a lefty to have a lefty, because we like our righties so much. But there comes a point where times you ask a lot of your right-handers, and they can do it, but you're asking a lot.
If you can find a guy that you trust to get that lefty out just to make it easy on the righties, that works. But if you have a guy and you don't use him, that doesn't work.
We are trying to kind of sift through how we feel about that.
Q. Where do you see a guy like Jose Ramirez right now, finished the year, can move around to a couple different spots?
TERRY FRANCONA: He's had an interesting couple years. He came up the end of 2013 and really helped us. Played a little bit of third, pinch-ran, walking around with the shoulders like he owned the place, full of confidence. Comes out in 2014, doesn't do much.
Send him back, comes back and plays well. Same thing last year. Start of the season, just couldn't figure it out. Goes back to AAA and comes back and is a different player.
So we've got to figure out, one, okay, where -- and again, some of where he plays could depend on how our roster is constituted. Does he play a position every day; is he a utility guy. Some of that is probably going to depend on where we end up in the spring. But the one good part is we know he can play. We've seen it. He's still younger and striving for some of that consistency. But he can do some things to help you win.
Q. Do you like the idea of maybe using him like a Euliss? Euliss was in there semi-regularly.
TERRY FRANCONA: You know what, that could happen but I don't want to sell him short, either. I think Jose has the ability to play every day. Sometimes when a guy is able to move around, you sell him short as far as maybe what he can do. And I don't want to do that. I mean, you look at his AAA numbers, I think he had .840 OP -- I mean, that's kind of like the big boys do. And he's young. Just because he's not the biggest guy in the world -- he switch hits. He started hitting with more authority than we've ever seen, so you don't want to sell him short, either.
Q. Murphy would be the first Hall of Famer since Kirby Puckett to get inducted at that position --
TERRY FRANCONA: I had not given it any thought. You know, baseball goes maybe in -- like remember for a while, the shortstops, it was Ripken and A-Rod, there was like six -- Larkin. It was just like a joke. Some guys couldn't make the All-Star Team, but they went to the Hall of Fame.
Kind of baseball goes like that. I had not researched it, but there's some pretty good ones there now that five years after they retire, they will be there.