In trade to Yanks, Castro embraces role
Position switch this past season set up second baseman for New York opportunity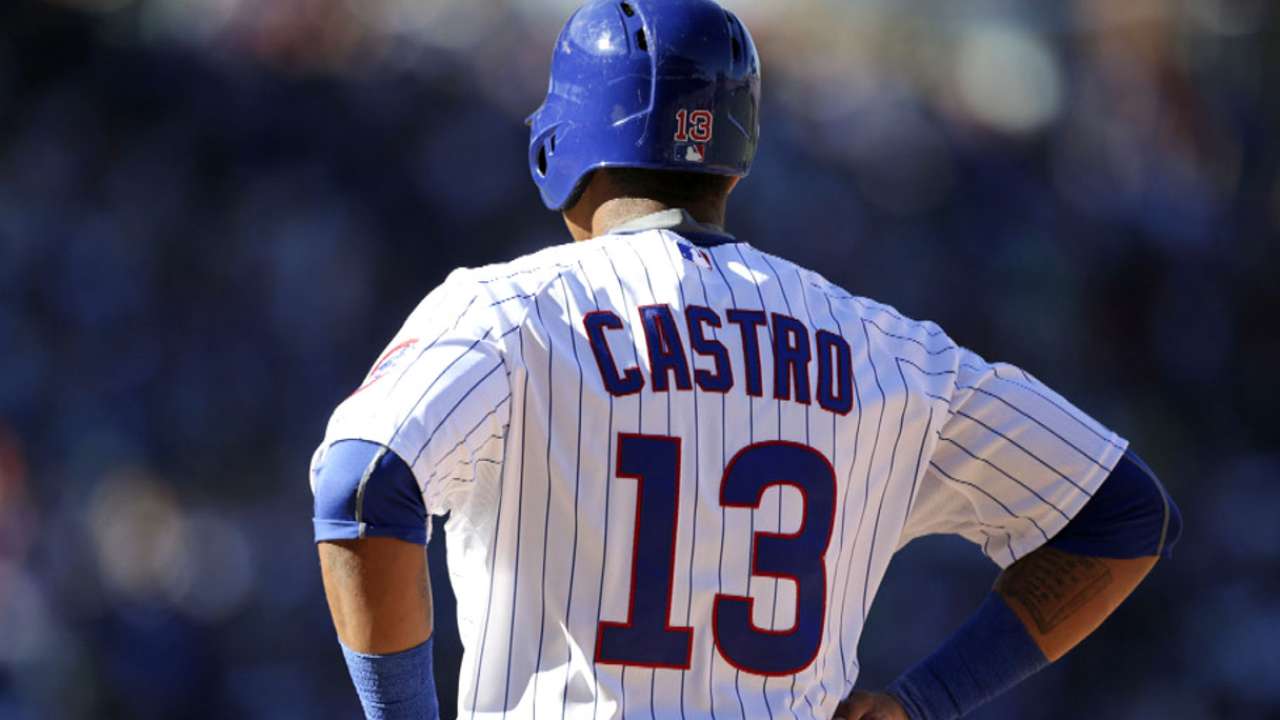 NASHVILLE, Tenn. -- When Starlin Castro started 29 games at second base for the Cubs over the final two months of the regular season, it validated what the Yankees suspected from afar, that he could transition nicely to the other side of a keystone combination.
Having that experience proved it to the former shortstop as well. Castro said on Wednesday that he was excited after being informed of the change in scenery and is looking forward to solidifying the Yanks' second-base situation in the years to come.
"The first two games that I played there, I feel like a little bit weird," Castro said. "You know, after that, the most difficult thing that I feel like is the double play. After I played three or four games there, I feel pretty good. I think I've been really good at third, too. I'll keep working hard, and I think I can play second base."
Yankees general manager Brian Cashman said that Castro "looked like a different player" after the position switch, which was prompted by the emergence of young prospect Addison Russell and some of Castro's defensive lapses.
Castro said that it was difficult, but he opted not to hang his head and instead embraced the opportunities that came his way. After Aug. 11, when Castro made his first appearance at second base, the 25-year-old batted .353/.373/.588 with six home runs and 23 RBIs in 47 games, helping propel the Cubs into the playoffs.
"Every player has a struggling moment, and that happened to me," Castro said. "I never stayed down, I just continued working hard and using the talent that I've got. I just play hard every day, and you see the difference the last two months."
• Castro on to next chapter after growing up with Cubs
Castro said that listening to the advice of former Yankee Alfonso Soriano, a teammate during his earliest seasons in Chicago, helped a great deal.
"I think I learned a lot," Castro said. "That's the guy that taught me how it is in the big leagues, especially the first time that I got called up. He took me to his house to live with him, and I appreciated that a lot. I just really would hang with him every day, work out every day and every morning, just work out with him. I think that's the most important thing, because he helped me a lot and he [taught] me how it is in the big leagues."
A three-time All-Star, Castro's stock tumbled in recent seasons, enduring rough campaigns in 2013 and '15 -- part of the reason why the Yankees were able to snag the former top prospect for right-hander Adam Warren and a player to be named, expected to be infielder Brendan Ryan.
Jim Hendry, a special assistant to Cashman, believes that some of the issues stemmed from the pressure of being elevated into a prominent lineup spot on weak Cubs teams.
"All of a sudden, you're hitting three-hole," Hendry said. "He probably put a lot of pressure on himself and got out of his comfort zone a little bit."
Though Castro acknowledged that there were times that it felt like he and Anthony Rizzo had to carry the rebuilding Cubs, he projects to bat in the bottom third of the Yanks' lineup, adding an aggressive right-handed bat capable of impacting left-handed pitching.
"I feel really excited. I feel really happy," Castro said. "I think that's a really good opportunity for me with my new team now. Chicago is the team that I started with, but I feel really happy to be part of the Yankees."
Bryan Hoch is a reporter for MLB.com. Follow him on Twitter @bryanhoch, on Facebook and read his MLBlog, Bombers Beat. This story was not subject to the approval of Major League Baseball or its clubs.