Winter Meetings interview with Buck Showalter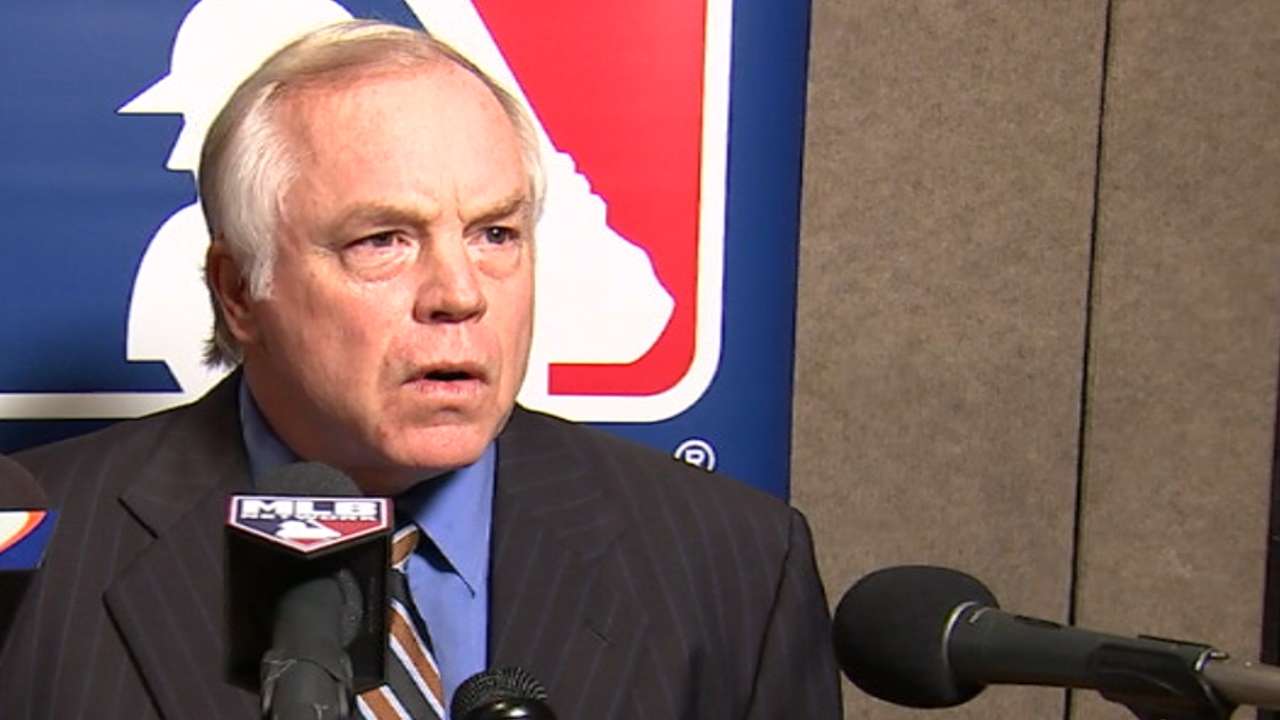 BUCK SHOWALTER: Had a good off-season so far. We added -- not added, but re-add, Darren and Matt. That's a good start. Added Trumbo and Riefenhauser. What's the correct pronunciation? Is it Rife or Riefenhauser? We've got to come up with a nickname.

Q. Are you expecting any more moves before the day ends?
BUCK SHOWALTER: Was Rule 5 considered a move?

Q. No.
BUCK SHOWALTER: That's tomorrow morning. Could be. We got a lot of things that branch off of, obviously, what we do with Chris or what Chris does with us, the decision he has to make. I guess he's making the decision. I think a lot of things branch off that.

We've got a lot of things about the pitching. That was the biggest difference last year was the pitching, our starting pitching. I've got a lot of confidence that those guys are going to pitch more to what they're capable of. They had some good outings.

I think in a lot of cases you compare it to Miguel returning to form, Chris seeking the level that he's capable of. Right on down the line. Gaus, we think he's going to make a move on that rotation.

Q. Buck, have you had much interaction with Chris Davis over the last few weeks?
BUCK SHOWALTER: What's interaction nowadays?

Q. Call, text, talking.
BUCK SHOWALTER: We try to stay out of that part of it a little bit. I respect -- we had plenty of opportunities to talk -- I talk to Chris, obviously, every day. At some point, he's going to have to make a decision if that's enough or how much is enough.

Believe me, he's going to make a good call where he wants to go with his baseball and his career and his life. We're prepared to go either way.

Q. Do you kind of view it almost as a win-win for you guys, that you can retain a guy like Chris, who's so important and so popular? But if not, you can use those funds to improve in other areas? And the fans realize you're committed to spending because word has gotten out on the offer.
BUCK SHOWALTER: I'm not sure there was an offer made, and I'm not sure who's reporting all that or how certain things work this time of -- I don't know. I'm not privy to that. Maybe you all know more than I do.

We know how some people use those type of things to develop other things. So I try to keep reality in mind. I know we're interested, and they've done some things to try to move that along.

At this point, I'd like to have Chris, but I'm thinking about opportunities that might be around the corner for a guy like Chris and Walker or Trey Mancini. There's not people in the minor leagues that have better numbers than Day, and Christian had another big year too. Obviously, Trumbo's there, and there's some other things out there.

First thought would be hopefully to bring Chris back, but the game will move on without me, without anybody. We think we create a great opportunity for Chris and see where it goes.

Q. Buck, in Philadelphia we're just now getting to know the new general manager Matt Klentak and spent some time with him. What can you tell us about him and working with him?
BUCK SHOWALTER: They've got a quality team put together, starting with Joe Jordan and their farm director. I believe Joe is still doing that, isn't he? And Matt and, of course, Andy. I saw him last night. You're in good hands. You're going to like the direction that's going to go.

It will be very, very solid and well thought out, and they'll treat people well, and they'll put together a product that the people of Philadelphia would be real proud of.

Q. With Matt specifically, just from the baseball operations side --
BUCK SHOWALTER: I know him real well, when you're around him almost 12 months. Energy, knowledge, good people skills, very competitive, good, good slow fire. He'll get to the finish line.

Q. Buck, if Matt Wieters is healthy enough to play 135, 140 games, that would relegate Caleb Joseph --
BUCK SHOWALTER: That's a lot.

Q. Are you going to be able to get Caleb Joseph enough time --
BUCK SHOWALTER: I'm not going to talk about it until he's here. Is he still here? Caleb, let's talk about it. Caleb lives here. Big David Lipscomb guy. Do you know the nickname of Lipscomb?

Q. I don't know.
BUCK SHOWALTER: Bisons. What are their colors? Red?

Q. Purple and gold.
BUCK SHOWALTER: Close. No, there's plenty of time for everybody. We're all exciting, including Caleb, about having Caleb back because it helps us win and that's what we want to do.

We have a good luxury that we have two guys capable of catching extensive games, and we wouldn't bat an eye with either one of them back there.

Q. What does it say about that guy, though, that he was so excited to have Matt Wieters back?
BUCK SHOWALTER: You want to win. If Matt Wieters is on your team, you've got a better chance to win.

I think Caleb is mature enough to know -- they're both about the same age. Once you've been on both sides of the mountain, you realize really what's important. At the end of the day, it's about winning baseball games.

Also, Caleb's return, I've noticed plenty of at bats around. There are things that, if you carry that criteria and that makeup, things seem to work out. I'll find plenty of bats for everybody. They'll get to crying uncle when it's over.

Q. Buck, in the search for left-handed hitters, if the Orioles acquired a right-handed hitter with very good numbers against right-handed pitching --
BUCK SHOWALTER: I don't care. At this point, I know what it looks like aesthetically on paper. I don't think Toronto had much trouble with the right-handed hitters they had all in the lineup last year. I'm more looking for quality offensive performers, if they happen to be left-handed, so be it.

You see a lot of those splits kind of reverse as we go forward. Strikeouts are at an all time high. Walks are at an all time low. I think you're going to see certain skill sets kind of evolve as the game goes forward.

Q. Buck, you talk about Chris, waiting on him to make a decision.
BUCK SHOWALTER: Not that long. I won't wait forever.

Q. But how difficult is that knowing you can't really wait that long?
BUCK SHOWALTER: We haven't. We've got Christian Walker, Trey Mancini, Mark Trumbo. Who knows what happens with Steve Pearce? I bet Caleb Joseph could play first base if he wants to and Matt Wieters could too. We have options.

In the whole scheme of things, my biggest concern is that we get better in the pitching department. We scored enough runs to win last year. Everybody thought, when we lost Nelson and Nicky -- we ended up scoring more runs last year. We'd like to have both those guys back if they want to give them back for free.

Q. Was Miguel okay when he got back from that injury in June?
BUCK SHOWALTER: Probably not.

Q. He rushed back?
BUCK SHOWALTER: Nobody's 100 percent. We don't rush back. We did everything possible. But there's a different level when you're pitching in a game than a sim game and a rehab start. You don't completely know where a guy is physically until they get in the major league anyway. So it wouldn't surprise me if that was the case.

I'll tell you, he's really getting after it. Guys like him and Tilly, and I talked to Ubaldo. He's getting married this week. They've got a really strong burn to get back to the level because they know, most importantly, what it means to our club.

Q. How important is it to you to have a left-hander in the rotation?
BUCK SHOWALTER: Just like the hitters. I'm fine. I'd rather take a real good right-handed pitcher as opposed to a mediocre left-hander. For me, it works.

Sooner or later, right-handed pitchers have to get left-handed hitters out, and left-handed starters have to get right handers out. That's the way the lineup goes.

If I have a good left-handed starter like I had last year, that's fine. We've got some good left-handed options that are here but may not be completely ready.

Chris Jones had as good a year as anybody had in triple A, and he's in our roster now.

Q. Now that Darren O'Day is in your bullpen, how are you set up now?
BUCK SHOWALTER: We're doing well. We've got a couple of spots open. You all know the situation with Dylan. Dylan is going to get the ball a lot this spring and see if he's ready to take the load. We're still kicking around some things in the bullpen market.

There's two ways to look at it. You can try to build from one end, which you know is very, very expensive, or you can build from the other end which sometimes isn't quite as expensive. Some people may not agree. Where Darren is concerned, Darren earned every penny he got.

Q. Some say you weren't aggressive in terms of getting left-handed hitters. Do you feel like the front office, Dan, you, everyone is maybe more aggressive this year than in off-seasons past?
BUCK SHOWALTER: I think it's got a lot to do with the date moving up on the Fan Fest. I'm kidding.

Q. It's a conspiracy theory.
BUCK SHOWALTER: We've got Fan Fest this weekend. I ain't getting up on stage in front of our season ticket holders naked, all right, in more ways than one. I'm just kidding.

It's what's presented itself that's worked. If the timetable is quicker, that's why. It's just it presented itself as such. The backbone is always going to be the people we have in our system, like Caleb and everybody else.

If you look at our third basemen from our system, our shortstop was acquired through people from our system, our second baseman is from our system, our catcher is through our system, our first baseman might be through our system if it doesn't work out with Chris. I can go right around the diamond.

I like where we are in the off-season. I like the irons we have in the fire right now that fits who we are and how we have to do things.

Q. Do you have any -- what you know about your lineup now with Wieters and Jones and Hardy and the rest, what would be the ideal fit for an outfielder, either in left field or right field, the type of hitter? Would it be an on base guy, another power guy? How would you look at that?
BUCK SHOWALTER: I take each case as it comes. You look at it, there's not that many prototype leadoff hitters anymore. They're getting harder and harder to find the way that we used to view them. That doesn't make it right or wrong. I'm looking at who we have, there's three on the roster now.

Dan talks to me every day about possibilities out there. I know he said no to someone last night that he didn't like the people we were giving up. I like our guys. We like the people. If we give something up, we need to get something back for it.

Q. Do you think you need to sort of diversify your offense, have more speed guys, have more on base --
BUCK SHOWALTER: Where are they? Who? Would you give up Caleb Joseph for that guy? No. It's pretty handy having him here. Caleb is a sneaky runner too.

It's all about scoring runs. Can you score runs? How you go about it. Everything comes with a price and comes with a caveat. What about this guy? Well, he's got medical issues. What about this guy? Well, he wants seven years. What about this guy? It requires trading your best prospect for him. So that's where you go back and forth on it, and that's why free agents -- that's why you want to develop your own. So far, with the exception of Trumbo, we haven't liked the reciprocal part of it.

Q. One of the guys you developed and you really like is Jonathan Schoop. Can you talk about what most you thought he advanced his game as? What part of his game?
BUCK SHOWALTER: Jon is going to -- like this time of year, is somebody going to be as good as they're capable of being? And Jon will be. Not only Jon, but the people around him, and make the right demands of him and he makes of himself. I look at Kevin Gausman hitting his stride next year. I think there's a lot of room there for Jon to grow. I think Manny's -- he went to another level last year. I think there might be another level there.

J.J., believe me, he's got a nice burn going this time of year. I think you're going to see him healthy, hopefully, next year. Adam didn't completely have -- Adam wants to do it all. I think it was just some people that have a really good frame of mind about what they want to contribute next year compared to last year.

Q. How strong do you think the Red Sox look in the AL East now, especially with the addition of David Price?
BUCK SHOWALTER: What have they done now, Price and who else?

Q. Kimbrough. Chris Young. Boston picked up Young.
BUCK SHOWALTER: You know the prices and everything, it seems that type of payroll, when they take the what ifs, that's really what hurts us. Chris Young, that's a great pickup for a team that kind of -- he'll end up playing a lot at -- I don't pay a whole lot of attention to what they're doing. It's a given they're going to spend and develop and do what they can do. I do the same thing. They're good. They're always good.

Q. Buck, do you think it would be hard for the Orioles to part with the 14th pick, or is there a right scenario that you do that?
BUCK SHOWALTER: We talked about something the other day that would require that. It would have to be something that really fits. But we would if we had to. But one of our big days is going to be the -- in June, we got seven picks in the first 100 in the draft. I don't know if we've ever had that. This is big for us. We can solidify our already strong system.

That's who we are. We've got to hit this draft like we have. If you look at -- because we're not drafting the first three or four, like when we got Matt and we got Manny. Gausman was, what, fifth or something? Those kind of jump out at you.

Q. With having a lot of picks, does that make it easier to part with the 14th in the right --
BUCK SHOWALTER: We're not going to give it away just because it's there. 14th is a pretty good player. I'm sure our guys will be looking at a lot of those Friday night pitchers around the country. We've already got them lined up. I know a lot of people are looking forward to the draft.

Q. You talk a lot about knowing who you guys are as a team.
BUCK SHOWALTER: And who we're not.

Q. In terms of that, though, obviously, the payroll has steadily increased the past few years, and right now you guys are already reaching to surpass that $100 million mark. Is who you guys are changing just maybe a little bit?
BUCK SHOWALTER: No. If you look at who -- everybody's going up somewhat. We were always kind of at the top of the second tier. If you look at baseball, there's a front third tier, middle tier, and we always kind of fit -- I know we're trying to correctly pay people.

I've heard Dan talk about it where they make sure the pay scale fits that. So we're right -- I said many times, our ownership has been great since I got here. We've got every resource we need to compete with these people. We just have to be good at things that they may not have to be.

Q. You talk about building the bullpen one way or the other. Are those arms at even more at a premium now? Used to be you have a closer and a setup guy, and now teams are looking to shorten that game three innings or more.
BUCK SHOWALTER: You're always trying to, in a perfect world, develop that from within. The old-fashioned way, it used to be you start out in the bullpen and worked your way to a starter. But I think because starting pitchers going deep in the game is so challenging that the more pieces -- it used to be you try to expose the underbelly of the bullpen of those guys that pitch in the fifth and sixth inning. That's why you try to get that starter out of there.

But now in one of the meetings we had, it came out the average velocity is the highest we've had in the history of the game, and the average location of pitches is better than it's been. So you're talking about guys who are throwing harder, locating better. And I think a lot has got to do with the bullpens.

People have to realize that it's a little less challenging sometimes to find some guy who can pitch one inning as opposed to six or seven, or eight or nine. And it's a lot cheaper.

Q. People are showing interest in Zach now for teams looking for closers?
BUCK SHOWALTER: I'm sure there is. We're not moving him. Zach was pretty excited about Darren coming back, the way I understood it. I haven't heard that broached. We've got him, what, two or three more years? That's exciting. We've got Brock, a big year. We're looking to add potentially another piece to add to your bullpen.

Q. What did Brock do to take --
BUCK SHOWALTER: He graduated a little bit. I think he got out of his own way. He had periods where he'd get off his horse, but he got right back on it. It's about the trust that he allows me to have in him, and when he'd take a little step back, I knew that next time out he wasn't going to wallow around in self pity, and he's going to get after it again. That created a lot of trust for everybody in Brad.