MLB.com Columnist
Alyson Footer
Evolving EWC offered plenty of '15 highlights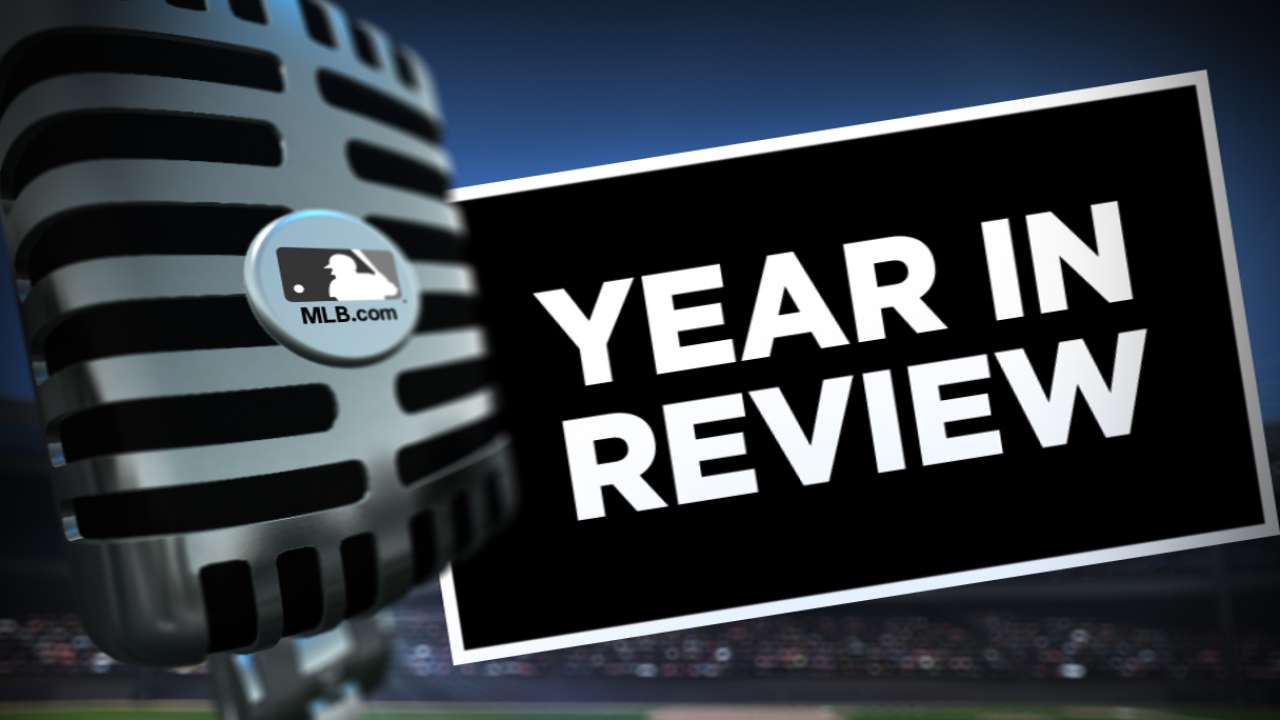 It started, quite literally, as a two-person show.
The booth at Dodger Stadium was just big enough to fit two moderately sized individuals and maybe a camera operator, if he didn't mind ducking while he worked. And that's just about it.
They weren't exactly sure where this project was headed. They just knew they wanted to find a place where sports and entertainment could come together, in a fun, relaxed environment, where celebrities could let their proverbial hair down and just be regular Joe Fans.
Back then, MLB.com had a vision, and the Dodgers had the space to offer. From there, "Express Written Consent" was born.
EWC started in 2012 with a basic but unique premise -- MLB.com host Jeremy Brisiel welcomed famous Hollywood types who were also baseball fans into a small booth on the broadcast level at Dodger Stadium. The celebs, with some guidance from J.B., would try their hand at a little play-by-play, as if they were sitting in a radio booth channeling their inner Vin Scully.
Today, EWC has evolved into much more. It is now more of a landing spot for celebrities just to hang out and chat about whatever comes to mind -- albeit with J.B. providing a little prompting and prodding, just to get the party started.
From there, the floor is open, whether it's about baseball, careers or just life in general.
The content has evolved, as have the surroundings. EWC is now taped from a spacious suite at Dodger Stadium, filled with A-list accommodations.
The high-tech camera equipment used during these shoots is almost as impressive as the dinner spread, and on any given night during an EWC shoot, the number of celebrity sightings can range from three to more than 10.
Actor-comedian George Lopez perhaps summed it up best when he gave his take to J.B. during his most recent EWC taping.
"You know what they say -- when you're really cool, you don't read about it in the paper, you don't read about it in social media," Lopez said. "You hear about it on the street. And I've heard from some of my peeps that this is the place to be. So I thought, 'You know what? I'm in.'"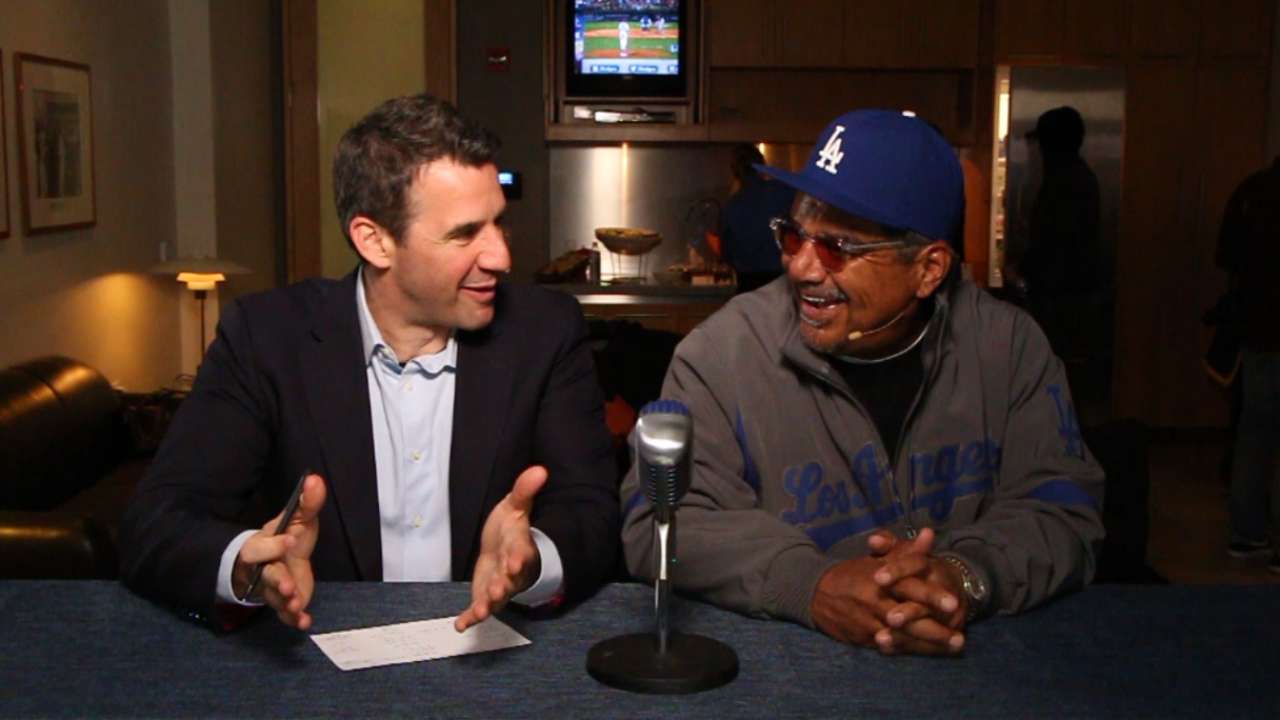 He's not the only one. The list of EWC guests is long and impressive. Hank Azaria, Tom Arnold, Garry Marshall, Larry King, Marcia Gay Harden, Vivica A. Fox, Rob Riggle, Raymond Cruz (Tuco from "Breaking Bad") and on and on.
A quick glance at the 2015 EWC highlight video shows how far the show has come since its early days. Guests are free to say and do whatever they please, encouraged to reveal as much or as little of themselves as they'd like. If baseball factors into the conversation? Even better.
"This is the way my father-in-law says goodbye to me on the phone," Azaria offered. "A loving goodbye to him is, 'I'll talk to you next week. Mets suck.'"
Marshall, the legendary television producer who refers to each cast member of "Happy Days" by his or her real first name except for one, whom he just calls "Fonzie," recalled his earliest baseball memories -- as a scorecard seller at old Yankee Stadium.
"You got a half-cent for each card sold," Marshall said.
King, 80, is a regular at Dodger Stadium, having been a season-ticket holder for the past seven years. On any given night, he can be spotted from his seats behind home plate. He has also made his way up to the EWC booth on occasion.
"Dodger baseball runs through my blood," King proclaimed.
Judging from the line of celebs who have dropped by the EWC booth, he's not the only one.
Alyson Footer is a national correspondent for MLB.com. Follow her on Twitter @alysonfooter. This story was not subject to the approval of Major League Baseball or its clubs.